Munch in Oslo's Bjørvika was designed by Spanish architect Estudio Herreros and houses the world's biggest collection of works by the artist, including a painting of 'The Scream' (1893).
Munch rises to a height of 60 metres and includes spaces for permanent and temporary exhibitions. It was built using low-carbon concrete and recycled steel.
The attraction is five times bigger than the original museum in Tøyen and features culture, art and F&B across 13 floors, as well as spectacular views of Oslo from an observation deck.
"The building is part of a generation of new museums all over the world that are redefining cultural institutions, and that are moving forward from the concept of an historical archive to become venues for social gatherings," said Juan Herreros.
Munch launches in Oslo in October 2021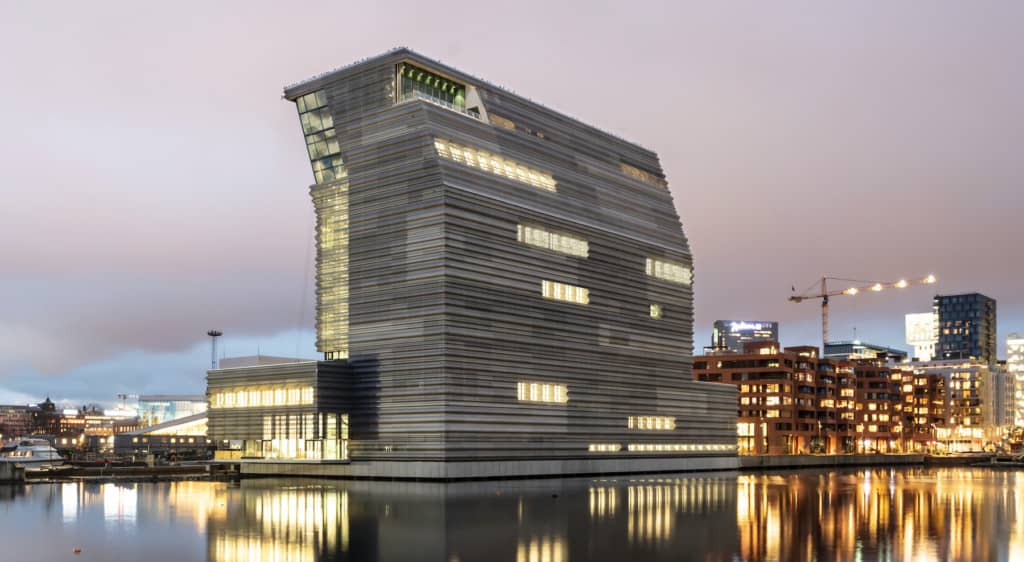 Munch is one of the world's largest museums devoted to a single artist, with more than 200 Munch artworks on permanent display. The attraction boasts 11 galleries and 4,500 square metres of gallery space.
Spread across 26,313 square metres, the museum also features concert halls and a cinema, as well as a restaurant, café, bar and shop.
"Greeting people both day and night, Munch is a new reference point in Oslo's skyline that gives locals and visitors an overview and orientation within the city, the surrounding mountains and the Oslo fjord," said Herreros (via Dezeen).
"The new Munch proposes to experience art within a broader set of public spaces and social experiences," said Estudio Herreros.
Munch is a new home for 'The Scream'
"It will be an extension of the public urban space in Bjørvika, inviting everybody to enter and transforming the museum into an everyday life facility."
The National Museum of Art, Architecture and Design, the largest art museum in the Nordic region, is also opening in Oslo on June 11, 2022.
"The diversity of gallery spaces distributed over an even larger number of storeys allows for wide variations in ceiling heights and room sizes," Estudio Herreros added.
"The neutrality of the galleries and their integrated design enables optimum facilities to be allocated for both permanent and temporary exhibitions, giving all protagonism to the art."
Munch is scheduled to open to the public on October 22.
Images: Munch