Madrid is set to welcome a Willy Wonka-style attraction called Sweet Space Museum, opening at the ABC Serrano Shopping Centre on October 10.
Sweet Space Museum will feature nine fantastical themed rooms, including a candy forest and ice-cream lab, and will be similar to New York's Museum of Ice Cream.
The experiential and immersive exhibit will be dedicated to all things candy, including interactive exhibitions that visitors can smell, touch and taste (via TimeOut).
As well as candy floss palm trees and a lollipop waterfall, Sweet Space Museum will boast ideas and designs by Spanish artists.
Smell, touch and taste at Sweet Space Museum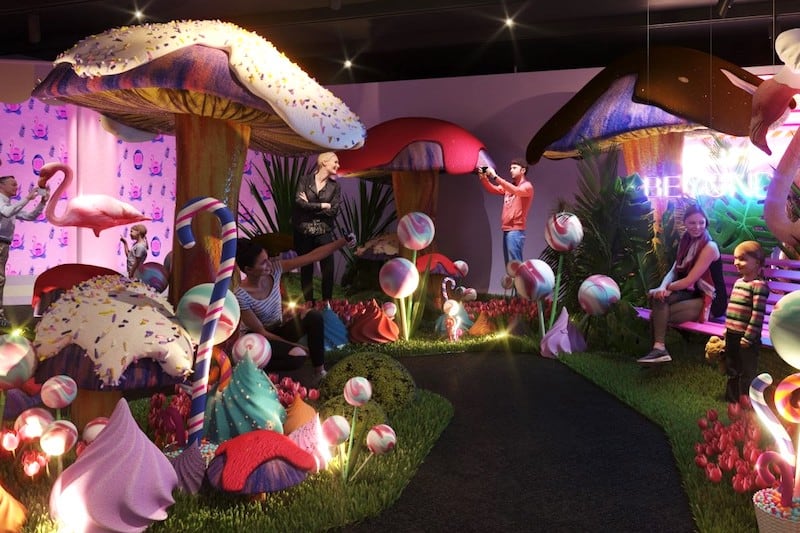 These include fashion designer Ágatha Ruiz de la Prada, who created a sweet vision of heaven, and muralist Okuda San Miguel, who built a slide into a parallel world.
In addition, artist Antonyo Marest created sugar clouds, Ivanna Gautier provided a 'video-game rocket', and Christian Escribá created the candy forest.
Lindt has also launched a Willy Wonka-style chocolate museum called Lindt's Home of Chocolate, featuring the world's highest free-standing chocolate fountain.
The attraction features the world's highest free-standing chocolate fountain, with 1,000 litres of melted chocolate flowing to cover a giant Lindor ball.
Spanish artists' designs at Sweet Space, Madrid
The Museum of Ice Cream previously launched its first flagship attraction in New York City, housing new installations and its biggest sprinkle pool yet.
MOIC NYC features 13 multi-sensory installations, including a New York-inspired 'Celestial Subway' and a giant ball pit filled with sprinkles and balloons.
Meanwhile, Hersheypark reopened to the public in July, with the $150 million Hershey's Chocolatetown expansion and Candymonium – the tallest, fastest, and longest coaster at the park.
Tickets are now on sale for Sweet Space Museum.