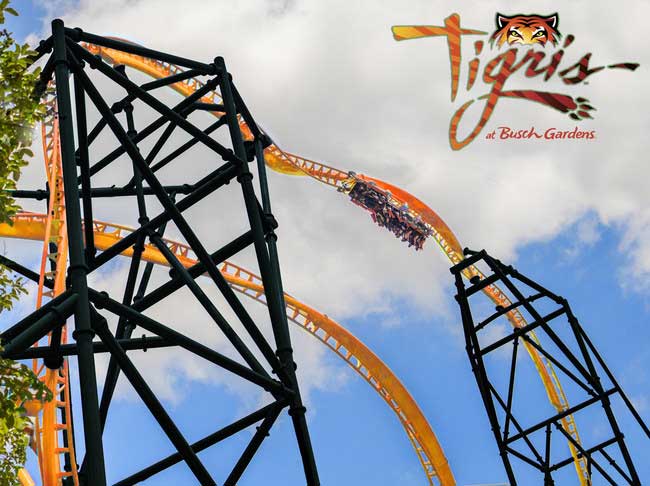 Busch Gardens, Tampa Bay, has announced Tigris: a new triple-launch steel coaster that will open next spring, 2019.
Inspired by tigers, Tigris will stand at 150-feet tall, and features drops, an inverted heartline roll and forward and backward motion. The ride travels at more than 60 miles per hour over 1,800 feet of track.
Stewart Clark, president and general manager of Busch Gardens Tampa Bay, said: "Tigris will be a strong addition to our family of world-class thrill rides. With three intensely exciting launch points, this ride is unlike anything we have in our coaster collection. This new attraction is a testament to our continuing investment in the park, and bringing new and innovative experiences to our guests."
The park has also announced that a second thrill ride will open in 2020, in the Gwazi area of the park.
The queueline will educate guests about the plight of tigers in the wild. There will be information about how conservationists – including the SeaWorld & Busch Gardens Conservation Fund – are doing to help save them. Merchandise bought in the Tigris gift shop will also help the tigers. 5% of the sales price will be donated to the SeaWorld & Busch Gardens Conservation Fund.
Attendance at SeaWorld parks is up to 9.64 million guests in the first half of the year, from 8.93 million in the same period last year. The park attributes the increase to new pricing strategies, new marketing and communications initiatives and the anticipation of new rides and attractions. SeaWorld is set to open a Sesame Place theme park in the US, and a park in Abu Dhabi. The company says that poor weather in the first half of this year did have a negative impact. The weather slightly offset the positive factors.
Busch Gardens' Bier Fest event was also credited with improving the fortunes of the company.
Image courtesy Busch Gardens