James Sinclair is founder and CEO of The Partyman Company and Partyman World of Play. He is also the co-founder of the Entrepreneurs Network, which was set up to connect other start-up founders. 
Having established a portfolio of children's attractions across the UK, James Sinclair, now a sought-after and charismatic business speaker, has grown his business in twelve years from two employees to an industry-spanning business empire. He has a staff of 350 and turns over more than £10 million a year. Sinclair talked to Blooloop about building The Partyman Company empire, the principles that led to his success, the current factors and issues impacting on businesses today, and the direct action he is taking to tackle them.
Young beginnings
"It all started when I was about 15 years old, doing magic shows at kids birthday parties. I've always been a confident kind of chap. I like entertaining, and I come from a very strict upbringing. If I wanted money, I had to go out and earn it. So I did."
Undaunted by going straight into the workplace at a very young age, he made it work. He says, "I can barely spell now, or string a sentence together. But I spend a lot of time reading books, trying to educate myself with practical stuff. I was never a big fan of the education system. It works for some people, but not for me. I've always been quite entrepreneurial, looking at opportunities. That's what I see entrepreneurialism as, seeking opportunities and taking them. That's the sort of life that I have always tried to lead."
Lessons along the way
As his popularity as an entertainer grew, he went on to build an agency, supplying children's entertainers, then moving into corporate entertainment, and hiring out equipment. He says: "That was really hard work. We then looked into starting to open our own venues."
Identifying the elements of his success, he says: "It was always about having a unique selling proposition, and using personality as a way of driving business. When I was starting, back in the early days, I would entertain the whole family, adults and children, which was a bit of a taboo. Traditional children's entertainers just entertain the kids, while the adults are left alone. I sort of broke the mould on that. And I think we try and do that in our businesses as a whole. 
"What I learnt with the entertainment business was that you made all your money with your body or your hands. There are only so many hours in the day. Because of that, if you were fully booked you couldn't increase income unless you increased prices; and there was a ceiling. I thought, right, I need to build a business; a proper enterprise that works without me doing the day-to-day. And that is what I worked hard to try and build."
The growth of the business, the beginning of The Partyman Company
"The Partyman Company is the original entertainment company. Then we started Partyman World. We opened a Farm Park, and a little theme park; which was more of a family adventure park, right on the beach at Eastbourne. This was a failing business that we bought and turned round. It's got a splash park, outdoor and indoor play, and a food offering. It's a tough business to run, because it takes most of its income over eight weeks of the year.
"We then opened a chain of day nurseries. We supply leisure attractions; we've got a build-a-bear business, called Teddytastic. These are soft toys that children can make at our attractions to add to their offering." 
He adds: "It seems like a sporadic business, but everything folds into the existing empire. Each business helps another, sharing the management, the database, knowledge, or space. For example, our distribution warehouse and Teddytastic are based at Marsh Farm. Marsh Farm uses Teddytastic; Partyman World uses Teddytastic; so we try and build businesses where, if we start something new, another business that we own will benefit."
The art of entrepreneurialism
Sinclair's biggest business is Marsh Farm Animal Adventure Park, a 70 acre destination in Chelmsford, Essex. He says: "We are continually investing in and growing that, and growing our visitors numbers year on year. We also have a chain of about 10 self-managed indoor play centres. The Farm Park, I have found, needs to be entrepreneurially-led, because there are so many anomalies and things are changing all the time, so I'm quite hands-on there."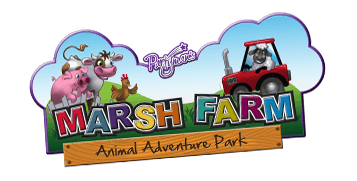 Is Sinclair's talent as an entrepreneur innate, or learned?
"I think entrepreneurialism can be a natural, raw talent. Something like singing, or athleticism, or drawing, but it can be learned too. And, like anything, if you work on it, it will get better and better. For me, building things, doing things, getting things done, are a natural aptitude. I have a drive for those things. And over the years, I have just worked on it increasingly."
While there is more of an appetite for leisure than ever before, Sinclair believes that there are certain trends that need to be contended with.
Politics and the leisure industry
"I think the biggest change in our business right now in the United Kingdom is the tax on turnover; the high VAT, the extremely high business rates, the employment taxes. They are going up all the time. National insurance premium tax has gone up: we reckon that 50% of our turnover goes on various taxes. Out of the other 50%, we have to pay the labour, the utilities, et cetera. The constant tax on turnover is really eating away at profits. The overheads are increasing each year and squeezing the margin. There's only so much that prices can be put up by. I've always said value has to outweigh price."
Sinclair is tackling these issues head-on. "I wrote to the Chancellor of the Exchequer, the Prime Minister and some MPs a couple of weeks ago to set up a meeting to relay my issues."
He adds: "I have had meetings with them before, but it has never changed policy. And I don't think I ever will, but it certainly makes me feel better."
Instead, he says: "We just have to be so on top of efficiency and overheads, more than ever before. There is no room for relaxation. And business has to improve continually."
Automation to survive
Projecting into the future, he predicts the knock-on effect of heavy taxation. "I think what will happen in our business is being self-serve ready. The world is becoming a very self-serve place; buying tickets online in advance, automatic ticket entry, self-service on the catering areas. You see it in places like McDonald's, Costa and Starbucks, and every supermarket is becoming self-serve efficient."
If the tax on employment keeps rising, businesses, Sinclair believes, will be forced to automate as far as possible in order to survive. "What we will do is automate the transactional stuff. Then we use some of that saving to invest back into entertainment staff; people that make people feel good. If you look at supermarkets, where they started off with six self-serve checkouts, they now have 12. I can see in 10 years' time you're going to have six people on the tills, and 28 self-serve checkouts. Or, you'll walk in, scan everything on your phone, and it will automatically debit from your bank account."
A self-service future
"The government is taxing businesses and entrepreneurs to the point they can't afford to employ people, and look to survive by reducing costs, which is very sad. I feel that rather than getting everyone used to the self-serve world that we are going into, what we're doing is accelerating that approach. So rather than it slowly happening over 15 to 20 years, I think we are really going to start seeing the impact in 3 to 5 years. Which is not going to be good for lots of people that are in those sorts of job who are going to have to retrain, and quickly.
Internet retail has taken years and years to become the way it is, and the retail industry has had a lot of time to prepare. There has been a slow dynamic of people beginning to order online, and people have been able to retrain as delivery drivers, or programmers, for example. But this self-serve thing is going to take over so quickly that within five years people are going to be thinking, wait: how did that happen?
If I were the government, I would be creating tax breaks through employment, rather than taxing people to employ staff. This self-service future is going to happen, but it could be slowed down so that people have a chance to prepare."
Entrepreneurs Network
In 2015, Sinclair, along with business partner Mark Creaser, established Entrepreneurs Network, a membership based organisation offering business coaching. He says: "The Entrepreneurs Network is a business coaching and training organisation, where we coach throughout the community, and educate business owners. We produce a monthly magazine." 
"It's not just led by us – our members help other members as much as we help them. We are very much content marketers, and content marketing is something that I try and do aggressively in the Entrepreneurs Network, and increasingly in the Partyman business as well. We are looking to create a TV show for kids on the Internet, for example. Putting content marketing out there is both incredibly low barrier to entry, and incredibly high barrier to entry. It's something anyone can do, but it's a lot of hard work.
Content marketing is hard work, but it works
A generation ago, to do content marketing, it would have been necessary to start a newspaper.
Sinclair says: "That's so high barrier to entry. Now, if you want to get a following like a newspaper would, you produce a blog or a vlog. Sometimes we will put out 10 edited videos in a day. Most people can't be bothered to keep up the consistency. We think we put out more edited content than EastEnders each week. The point is that we religiously put videos out, and that is content marketing. It absolutely works, but it is hard work, and you have to continue to do it.
"We haven't even scratched the surface yet of where we think we should be."
All images courtesy of James Sinclair, Entrepreneurs Network, and The Partyman Company.