Leading adventure attraction specialist, Kanopeo has supplied its Saferoller® belay system to the world's highest aerial adventure in Penang, Malaysia.

Located on the 65th floor of the Komtar Penang in George Town, The Gravityz offers thrill-seekers a truly towering experience 239 metres above the ground.
Set to open in February, the adventure platform will feature a Flying Fox Zip Line and a challenge course with six obstacles, including a Confident Path, A Great Bridge, Z-Wire, G-Rocky, High Bench and X-Point.
"The most challenging obstacle challenge is the zip line, which is the fifth obstacle," explained The Gravityz Chief Executive Officer and Founder, J Hong Low, at a press conference in Penang.
"The entire experience will take an hour, which will comprise briefings for the participants, the wearing of gears and the course challenge itself."
The team behind the The Gravityz were looking to create something unique for the Komtar Tower. The idea of a ropes course came out of a brainstorming session and was seen as the perfect way to add a new level of excitement to the more usual viewing deck experience.
Before embarking on the design process, the team checked out the Macau Tower 'Skywalk' which gives intrepid guests the chance to walk around the outside of the tower 233 metres above ground.
The Gravityz at the Komtar Penang in George Town expects to welcome 20,000 visitors by year end
J Hong Low hooked up with Kanopeo's Vincent Hueber at the Asian Attractions Expo to discuss the options for the project. The Saferoller® continuous belay system offered an ideal solution. Not only is it safe, it is also cost effective, allowing for both easy installation and low maintenance.
With safety a top priority, The Gravityz features a double safety line: one for participants and one for instructors and rescue purposes.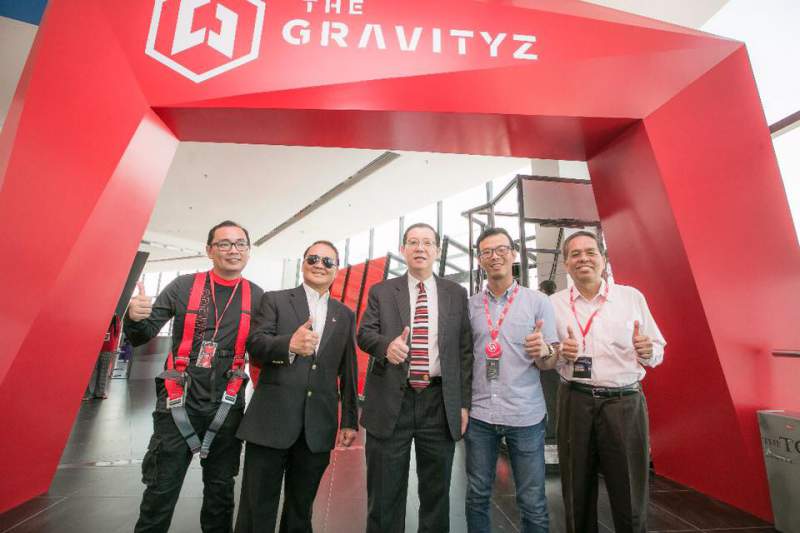 As you'd expect from such a high-flying project, there were a number of challenges to overcome. These included the need to design a new anchor point to address existing load restrictions, physically getting the material to the work site and working at height during installation. Despite this, the project took just 6 months from concept to creation.
The Gravityz expects to welcome 20,000 visitors by year end. There are 24 Saferoller® units in use, 6 per group. The course will be open daily from 10am to 6pm, weather permitting.