Kanopeo's Saferoller continuous belay system is powering a new high ropes course at Aspen-Antwerpen indoor ski park, Belgium.
The new aerial attraction adds an extra dimension to the park's offering and makes clever use of the space beneath the indoor ski slope.
Suspended on poles, it features a single course with 10 obstacles, 6 metres above ground. Special elements include the 'Death Ride' and 'Snowboard on Wheels'.
Located in Flanders, Aspen-Antwerpen promises visitors perfect snow 365 days a year. The winter sports area ranges from 16m to 64m in elevation.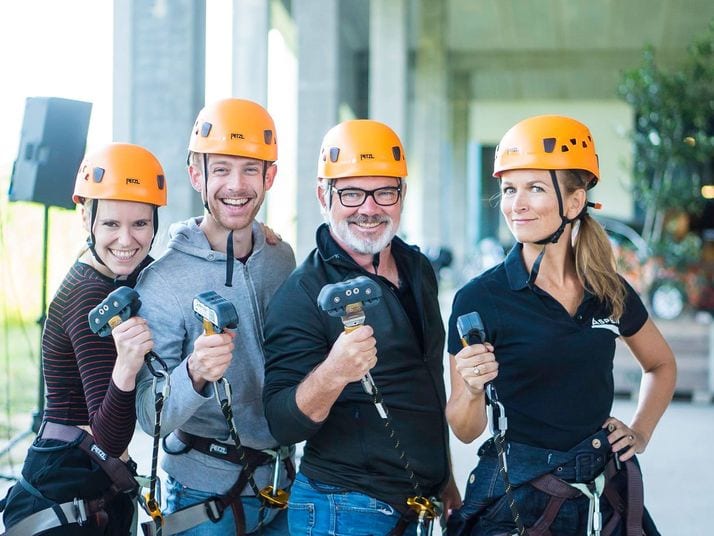 The course was designed and built by one of Belgium's leading adventure parks experts, Mamm'out. Swiss-based Kanopeo is the exclusive hardware supplier to the project. The two companies have a proven relationship, having worked together on numerous adventure attractions. Mamm'out selected Kanopeo's Saferoller continuous belay system at Aspen-Antwerpen for being safe and cost-effective, as well as allowing for quick assembly and low maintenance.
According to Mamm'out's owner, Axel Vosters, the project presented a number of challenges:
"The most challenging part was the construction under an indoor ski slope," he says. "Another challenge: the building itself – creating the feeling of 'green nature' surrounded by concrete structure."
Aspen-Antwerpen ropes course expands ski park's offering
Mamm'out collaborated with Slovenian adventure park manufacturer, Vevrca, on the project. Both companies chose to build the ropes course structures in-house, allowing complete control of every detail, however small. The structures were then dismantled and transported to Aspen-Antwerpen for construction on-site.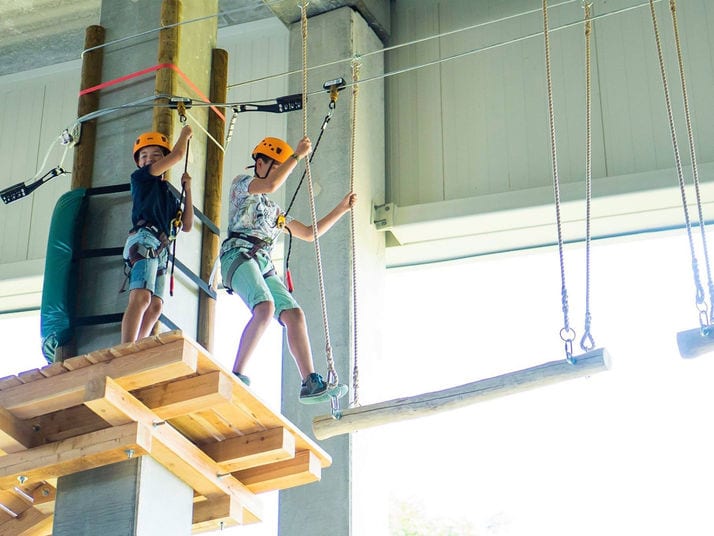 "With Klemen from Vevrca, we have a very good relationship," explains Vosters. "This is now the 2nd project that we realise together and there is already a next one waiting."
Aspen-Antwerpen's An Polfliet anticipates that the high ropes course will attract participants from a wide variety of sectors:
"For 2018, we expect teambuilding, a combination of business and leisure, and many school classes," says Polfliet.
The new course is open to everyone aged 10 and above.