Merlin Entertainments' London attraction Shrek's Adventure! has added a new character to its How to Train Your Dragon exhibit. The dragon figure, named Light Fury, was produced by Scruffy Dog Creative.
It features as part of a wider themed set that includes UV flowers, rock and replica items from the new movie, How to Train Your Dragon: The Hidden World. This is the first time Light Fury has been produced in physical form inside an attraction. Other characters from the film, including Toothless, Viking Chief of Berk and Hiccup can already be seen at Shrek's Adventure.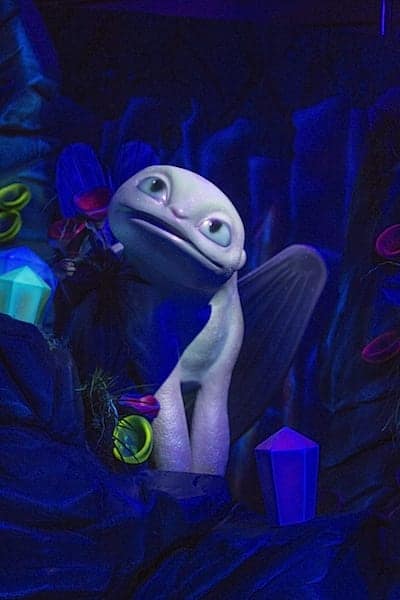 Producing Light Fury for the London venue, which share a building with the London Dungeon, Sea Life London and London Eye pre-show, represented the first IP-led project at Scruffy Dog for Dylan Lardner Burke, the company's new production director.
"It's always a pleasure to work with Merlin," says Lardner Burke. "They have such a great portfolio of attractions and brands, and we were thrilled to be given the opportunity to create the additional character Light Fury, as well the extension of the already incredibly set."
The project was realised within six weeks.
Scruffy Dog provides turnkey creative design and theming from its studios in London, Barcelona, Dubai and Shanghai. It also has a production facility in Birmingham, England. The company specialises in masterplanning, concept design & development, project management, manufacturing and fit-out. It is a regular collaborator with Merlin.