The Red Sea Development Company has located positions for its overwater restaurants and villas as construction progresses on the luxury Red Sea Project.
Construction on the Base Camp of the Red Sea Project started in February 2019. This luxury tourism experience aims to be sustainable and safeguard the environment.
Coexisting in harmony
Establishing the location of these overwater assets is an important milestone for the project.
"The marking of locations for our overwater assets is another milestone reached for the project, and is indicative of the progress being made at the site," said John Pagano, CEO of The Red Sea Development Company.
He continued, saying "This activity was an essential step in the identification of suitable locations which will allow our hotels and other assets to coexist in harmony with their surroundings while providing our visitors with an immersive experience and stunning views."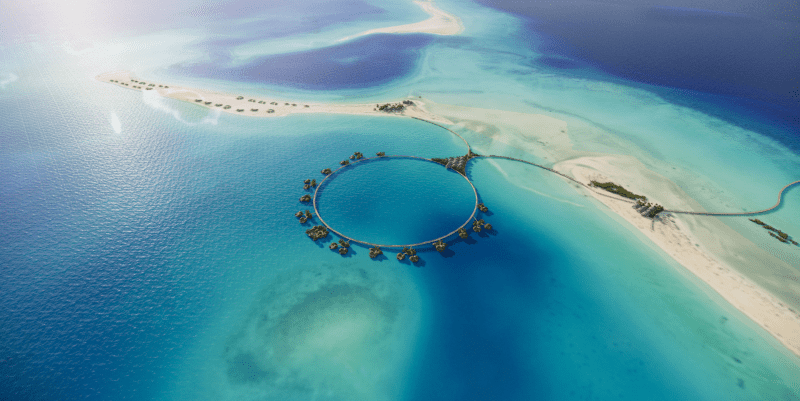 Protecting the natural environment
This activity took three weeks. The primary purpose was to set out the location of these assets without damaging the coral reef and minimising the impact on the environment.
Local, experienced boat captains were needed to navigate the coral reefs as members of The Red Sea Development Company construction team placed buoys and concrete blocks. Scuba divers and snorkelers were also needed to ensure no coral reefs were damaged as this took place.
Ian Williamson, Chief Development Officer of TRSDC said that "This is a challenging and highly collaborative exercise that required the work of various teams to deliver, coupled with invaluable involvement from our boat captains who come from the local community and have navigated the lagoon waters for many years.
It has provided an essential visual aid for the TRSDC Executive Management team and our global design teams to get a feel for the resort planning, proximity to the near-shore islands and the customer experience."
Completing the master planning process
Once the buoys were in place, drones marked their location using GPS coordinates. This means the company's designers and engineers can now refine and finish the master planning process.
The islands of Ummahat Al Shaykh will host one hyper-luxury and one luxury island hotel. It is important that the layout of these hotels is functional from an operational perspective.
The project is expected to welcome its first guests at the end of 2022. 3,000 hotel rooms are expected to be completed by this point across five islands and two inland locations. By 2030, when the project is completed, there should be 8,000 hotel rooms across 22 islands and six inland sites.
This project will emphasise renewable energy and water conservation and re-use.