Walltopia, a world leader in the climbing and adventure & leisure industries, has developed an artificial cave experience that combines exploration and learning with sports, fun, and a dose of adrenaline.
The caves have been created to look and feel as realistic as possible, with authentic features like stalactites, stalagmites and fossils. There are two material options – a glass fibre reinforced concrete (GFRC) that sculptors shape the concrete on the spot, or a glass fibre reinforced plastic (GFRP), composed of moulds taken by natural cave rocks.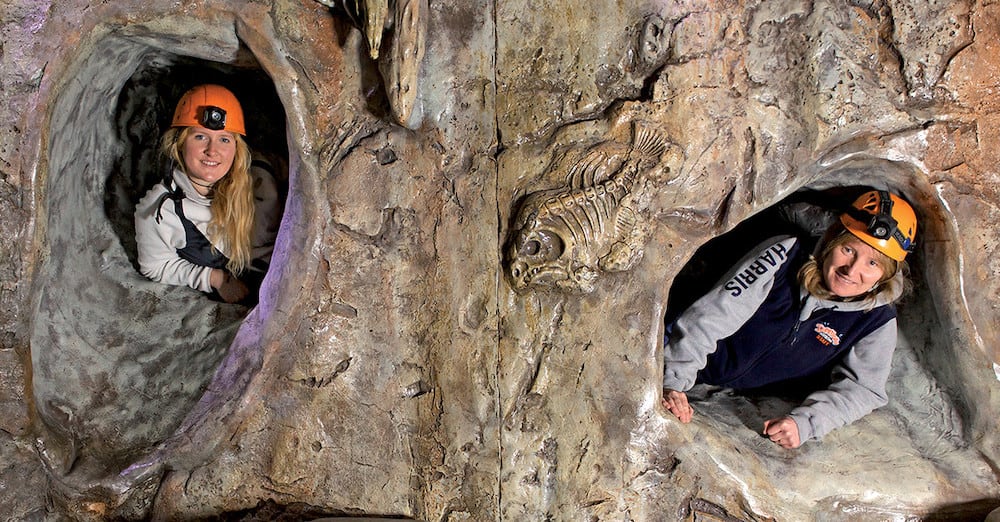 Unique edutainment
The adventurous experience begins with a briefing from the operator, and guests can then enjoy a guided or a non-guided tour, depending on the length and complexity of the cave. These tours provide a fun experience that visitors will also learn from, making them ideal for educational institutions.
As the guide takes the group through the dark spaces, they can direct visitors where to stop and look at different features, such as hand markings or animal paintings. Guests will learn about different rock formations as they crawl through tunnels and small spaces, overcoming different obstacles just as they would in a real-life cave.
In addition, the experience can also be gamified for extra fun. Walltopia's Gamifier platform allows young visitors to collect points as they hunt our hidden fossils, fill a volcano with lava or repeat patterns of shining lights.
A safe caving experience
The children are equipped with helmets, headlamps, knee and elbow protectors and torches before they begin the adventure which also features authentic sounds and lighting effects. The caves are fully ventilated and include emergency exits every 10 metres. Operators can also opt for LED emergency lights and fire-resistant GFRP.
Speaking about the product, Walltopia says:
"Caves are rich in stories and are an unforgettable experience for both adults and children. They give you a sense of what life looked like as far back as 500 million years ago. You can even feel it by touching the rock formations which hide fossils of some of the first living beings ever to roam the planet.
"The experience allows one to walk in the steps of ancient humans and see traces from their life, including the earliest artworks in existence, see the handprint of a Neanderthal who lived in a Spanish cave some 64,000 years ago or a bull drawing made by a Borneo island inhabitant some 40,000 years ago. These artefacts give us information about our ancestors and bring us closer to their way of life."
Walltopia has also recently designed and introduced a new Equipment Lease Financing Program with special payment terms to support operators in their continued growth in 2021.
Top image: Sunshine Coast Recreation Center, Australia