Swiss designer and manufacturer of continuous belay systems, Kanopeo, has provided its Saferoller system to a brand new zipline trail in the Zilvermeer recreational area, Belgium.
Centred around a lake, Zilvermeer has a white sand beach, a waterpark, camping facilities and offers a wide range of outdoor activities.
In April, it opened what is believed to be the longest zipline in Flanders.
"The track is in total about one kilometre long and is up to sixteen metres high," explains Zilvermeer Director, Toon Claes.
"You literally float between the treetops of our beautiful domain."
Billed as a 'total experience', the new adventure trail has been designed to offer something for all ages and abilities. It is divided into three levels that increase in both height and difficulty: the obstacle course, the 'practice' zipline course and the zipline course for advanced users which 'flies' riders over the lake.
The attraction features a three-storey central tower that rises over sixteen metres high, topping the location's existing fifteen-metre-high slide in the playground.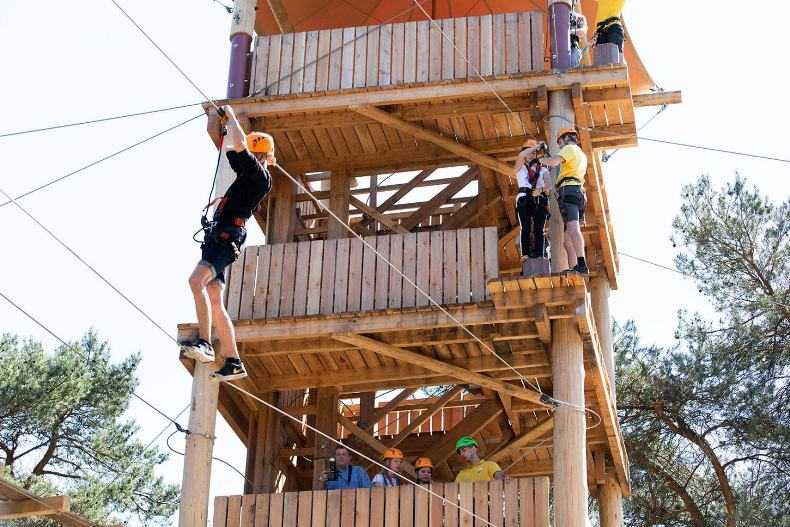 Zilvermeer visitors increasingly looking for a 'fun experience' 
The zipline route runs from the tower's top level, passes twice over the boating lake and eventually brings riders back after a breathtaking journey through the treetops – all in complete safety thanks to Kanopeo's Saferoller belay system. Over 3.5 kilometres of steel cables and 30 large support poles where used in its construction.
"Zilvermeer makes it a priority to deliver a high quality and challenging offer to our holidaymakers. The construction of a completely new, challenging, original and sustainable course fits into this picture," explains Jan De Haes, Representative of the Green and Recreation domains.
"The construction of this zipline course also fits in with visitors' increasing desire for a 'fun experience'.  Where previously the emphasis was mainly on sporting activities, we notice that a total experience at recreational level now more and more appeals to our visitors," adds De Haes.
Vevcra built the zipline course together with Axel Vosters from Mamm`out.
Images ©Zilvermeer, ©Foto Vanderveken