Research shows that about 80% of early learning is acquired through vision. Poor eyesight not only affects children's eye development but will affect them through to adulthood too.
By Harry Lu, Founder and CEO, Sindrax Technology 
Eye diseases like myopia have become increasingly prominent among children and young people and they are showing a tendency to appear at a lower age.
In addition to genetic factors, one of the main reasons for a higher occurrence of myopia in children is the inappropriate lighting of a space.
Inappropriate ambient lighting
Since the healthy development of children is a major concern for the education industry, the overall environment design of children's classrooms can be properly controlled by education experts. The indoor playground is a commercial space with different levels of operation and design standards, ambient lighting design is not usually taken into serious consideration. This article focuses on the indoor playground space.
A child's eyesight is gradually developing and changing. In order to attract children and enhance the thematic atmosphere, some indoor playground operators will create a dark environment in the children's space without enough illumination. It may also have a variety of strong light effects in certain areas, to bring children and parents a dramatic visual experience.
However, if the playground space is poorly illuminated just to create a sense of mystery, the strong lighting effects caused by these large illumination differences will seriously irritate the visitors' eyes. Staying in such an environment for a long time can harm a child's eyesight and hinder normal development.
Indoor playground lighting design specification
Good lighting design provides a comfortable ambient lighting environment that protects
children's eyesight and creates an enjoyable experience for children and parents.
1. Light must be bright
There are several international standards like EN 12464, ISO 8995 for the ambient lighting design in children's spaces, which can be found in the IESNA Lighting Handbook. And with reference to China's "architectural lighting design standards" GB 50034-2004, indoor playground illumination standards needs to achieve 300lx or higher, with uniformity of 0.6 or higher. Areas involving reading shall refer to classroom standards, which also need to meet 300lx.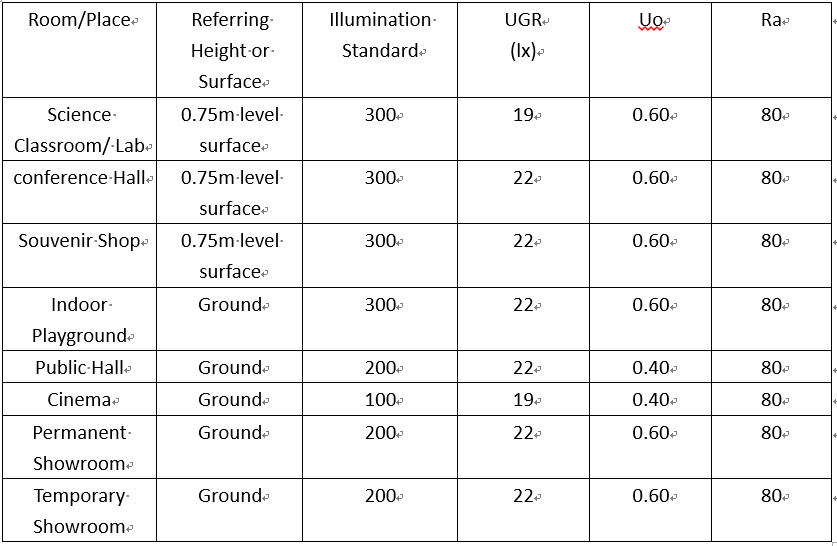 2. Illumination uniform
Indoor playground's ambient lighting design should be based on overall lighting, to ensure uniformity of light in the space and to make light bright and suitable for children's eye development.
3. Avoid glare in lighting design
If the lighting is much brighter than the general indoor environment, people will feel the glare.
From the table above we know that the "UGR" of a children indoor playground should not exceed 22. This requires the use of low-gloss surface decoration materials on the equipment and masking lighting to prevent children from looking directly at the light source. It is also important to avoid the reflection of lights on the screens of entertainment equipment, which can cause glare.
4. Choosing the Right Color Temperature
The 'Architectural Lighting Design Standards' states that the 'Ra' of the lighting source shall not be less than 80 for rooms or places where long-term work or stays are performed. If the color rendering index of the light source in the children's space doesn't meet the standard, it will affect the children's color recognition ability and reduce the product presentation effect in the children's space.
The children's playground lighting should be warm. The lighting is recommended at a color temperature of 4000k, a color temperature that provides a warm peaceful feeling for the kids.
5. Avoiding strobes
Studies have shown that strobes can have varying degrees of impact on human health.
If there is a serious strobes problem with screens and light sources in the playground, it can cause headaches, eye strain, poor eyesight and be a distraction.
Lighting design should try to use high-quality lighting and screens, to avoid problems.
Tips for choosing indoor playground multimedia equipment
In recent years, more and more indoor parks have added a large number of digital multimedia interactive products to enhance the user's experience. Traditional projectors are often chosen due to the low brightness however over time the brightness and color saturation can degrade during operation.
These projectors used in brightly lit indoor spaces can result in a poor quality projection and cause visual fatigue, affecting children's eye development and eyesight, as well as spoiling the customer's play experience. These projectors have been phased out of the multimedia market.
With the increasing maturity of laser technology, laser projectors are gradually taking over the market. While inheriting the advantages of digital display technology, it also solves the problems of uneven light and large color gamut color reproduction in display technology.
1. Laser projectors to enhance screen brightness
Laser projectors use a laser beam to project an image with a wide color gamut and uniform light. Its color rendition capability is more than twice that of a regular projector, and its color saturation is extreme. A Laser projector's brightness doesn't decrease over time, and at the same brightness the laser projector provides higher clarity. It can maintain high brightness and saturation for a long period of time, even in bright spaces.
2.  Laser Projectors to extend the life of the equipment
Traditional lamp projectors use a Metal Halide Lamp or Halogen Bulb, which typically has a lifetime of about 5,000 hours.
The laser projector uses a solid-state laser as the light source, and the laser light source can last for more than 20,000 hours. Based on 12 hours of use per day, the service life is at least 4.5 years. Laser projectors do not require frequent lamp replacement and have low failure rates and low after-sales maintenance costs.
3. High-performance Processors to enhance the interactive experience
In the planning of an interactive experience in addition to the choice of the projector, the choice of system processor is also very important. Some indoor playgrounds choose low-performance processors for their  interactive equipment planning in order to keep costs low.
However, the performance is too low to meet software requirements and achieve smooth visual effects. This is especially obvious when it comes to quick game interaction, where the screen can cause strobes. Because of this, the experience is greatly devalued and has a negative effect on children's eye development.
Intel® Core™ processors are gaining traction in the children's entertainment industry. The processors feature higher-performance Intel® Core™ graphics cards that support higher resolution Ultra HD 4K multimedia and high frame rates streaming (FPS) processing.
The processor is well suited to the demanding requirements of image processing, resulting in a smoother interactive experience that protects children's eye development and eyesight, as well as bringing a pleasant play experience that increases the chance of repeat visitation.
Sindrax Technology joins hands with Intel. "Technology + Scenario" 
As a leader in children's entertainment industry, Sindrax is the first to launch an industry
partnership with Intel. Supported with Intel's IoT end-to-end solution, Sindrax provides its Intelligent Gamified Kids (Pre-School) Education Solution to the attractions industry.
The solution integrates emerging interactive multimedia, natural human-computer interaction technology, animation content and preschool education concepts. The company provides a range of digital interactive gamified education products for children aged 2-6 years. Applications include kindergartens, early childhood education institutions, children's museums, retail stores and kid-friendly restaurants.
The solution is powered by Intel® Core™ processors to ensure a smooth display of interactive content and improved picture quality. The processor provides powerful back-end management capabilities to easily manage devices, content and data across all scenarios. As a result, this helps offline children's indoor playgrounds build 'interactive experience + data-driven' intelligent children's play space.
The solution uses laser projection equipment and anti-glare high-definition touch screens. These integrate bright and vivid visual effects into the various play equipment. It also offers unmatched advantages in terms of long-lasting brightness, image quality, form factor, zero consumables and low maintenance costs.
As a result, the product brings more joy to children's experience while reducing glare effect and visual fatigue. This will safeguard children's eye development and eyesight health. Sindrax is dedicated to further help upgrade the traditional indoor playground and create multimedia interactive playgrounds. Now Sindrax products have covered 3000+ play scenarios in China and abroad.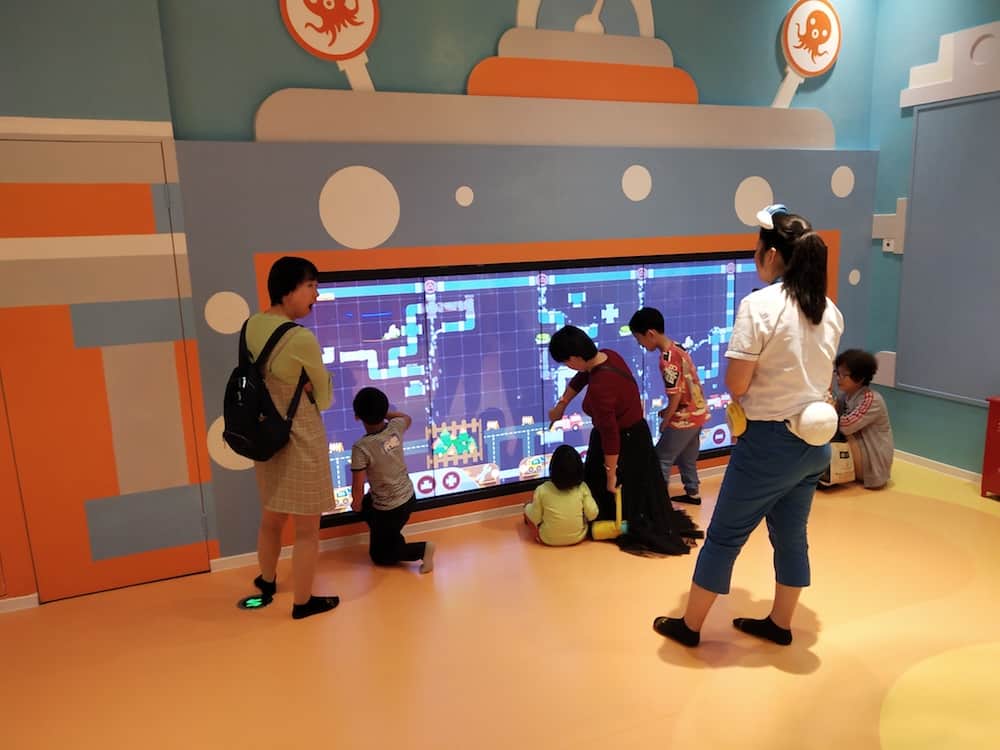 Children's health and safety is our responsibility and mission. As a result, we have to further enhance the understanding of child safety and development. This will create suitable environments for children to play and ultimately win the trust and support of customers.