Bart Kresa is a master projection designer who has contributed to works including the mapping of NASA's Endeavour Space Shuttle, and the Game of Thrones series premiere party.
His groundbreaking Sviatovid projection sculpture debuted at ISE 2019 in February. Bart Kresa gave the opening address before the sculpture moved to the Centre for the Meeting of Cultures in Lublin. Sviatovid is a multifaceted, five-metre-tall projection sculpture. It marks the launch of the new BARTKRESA Academy of Projection Design at BARTKRESA studio.
The academy offers recent art school graduates the chance to learn projection mapping on a training course at the studio. Bart Kresa spoke to Blooloop about his work, its evolution, and the projects BARTKRESA studio is working on. He also gave some insights into projection design and where he envisages it going in the future.
Bart Kresa's early career
"In 1990 when I was about 22, I was a professional musician. I moved to the States and found an interest in photography. Then I met a teacher at the school of photography who was doing multimedia installations.
"They were using a number of slide projectors and sounds. I really liked that, because I could write the music and then work with the images."
In the basement of the house where he lived, he had a small studio with instruments and slide projectors. "I started experimenting with slide projection. And in 1995 I went to Arte Multi Visione, a multimedia festival in Italy.
"When I was there I designed a show with a group of artists from Italy and San Francisco. It was a 3-minute-long segment that was projected onto this architecture of a beautiful villa. The experience blew my mind. And it was at that moment I knew I wanted to do architectural projections."
Taking inspiration from music and theatre
Music continues to inform Kresa's work. "It gives me inspiration in a big way, definitely," he says. "And when our shows have music I produce the music, working with the sound studio."
While projection mapping began in 2004, examples of projection tracking in the theatre began long before this.
"It started way before people imagine it did. In 1956, after the second world war, Czech set designer Josef Svoboda started using projection techniques and technologies in the theatre. He believed theatre should be a combination of projection and live acting, so he could take the audience into a different world.
"For him, working with the set and the sound just wasn't enough. He found that projection really held the audience. It transported them to a different world."
Early projection mapping
In 1969, the Haunted Mansion ride at Disneyland showcased a 3D mapping installation. The Grim Grinning Ghosts had singing faces projected onto 3D busts.
"In the 70s we have a lot of examples of artists taking the projection technology that was designed for opera houses, and doing outdoor installations," says Kresa.
"And then in the 80s, we have wonderful examples of Krzysztof Wodiczko's 'monumental projections'."
From 1980, Wodiczko created more than seventy large-scale slide and video projections of politically charged images, on architectural façades and monuments worldwide.
"When I teach, I go back to the second world war because it's important for people to know the history of projection. Otherwise, they think they are doing something new and experimental, which is not the case. Once you learn about its history, then it all makes sense."
Telling a story
When working on a project, Kresa considers both the technical aspects and the story.
"When I look at the space, I see its limitations," says Kresa. "And when I look at the request, I try to see how we can go beyond these limitations. Or, how we can incorporate them into the design process. So it looks like we designed something on purpose, rather than looking as if we simply worked out how to tell this story within this space."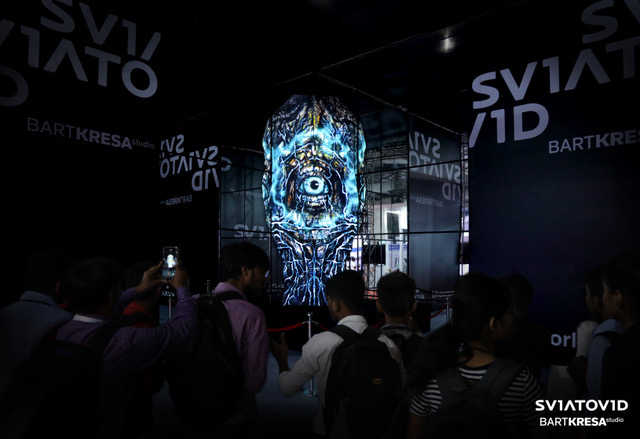 Keeping the technology hidden is important:
"The more invisible it is, the more magical the show becomes. When people see the projector, part of the magic goes away. So we always try to use the projection to express something while keeping it invisible."
The importance of sound
While the visual elements of an experience are important, Kresa says the sound is key. "The sound is, in a way, more important than the visual parts. With the optical aspects, the brain will, to an extent, fill in the parts that are missing.
"If we see a picture that's low quality, the brain fills it in to compensate. But when the sound is bad it's annoying and creates discomfort."
"Still, we do focus, of course, on all the senses. I know from the user experience that all the things are important, down to how it smells: we look at everything."
BARTKRESA studio
BARTKRESA studio is at the forefront of digital art installations and large scale projections. It specialises in developing one-of-a-kind projection solutions throughout the world.
The studio is also renowned globally for combining artistry, originality and industry-leading technology to create immersive projection environments.
"The main reason BARTKRESA studio was formulated was because we got a big account with Universal Studios in Japan," says Kresa. "Part of their requirements was to be incorporated. So that's really why we moved from a team of people working together to a formal company."
BARTKRESA studio has won numerous event and themed entertainment awards. For example, from AV magazine, Biz Bash, IAAPA, and the Themed Entertainment Association. Clients include Universal Studios, Disney, ABC, HBO, Fox, General Motors, Warner Bros, The Grammy Awards, Playboy, Bulgari, and T-Mobile.
BARTKRESA studio and Universal
One of the biggest projects was for Universal Studios in Japan last year. The Night Parade spectacle was an ambitious undertaking. It featured the world of Harry Potter, Jurassic World's dinosaurs, the Transformers universe and a Minions disco.
The transformation of the park was achieved through the synchronisation of projection mapping, lighting and show orchestration technology alongside the floats, immersing onlookers in the action.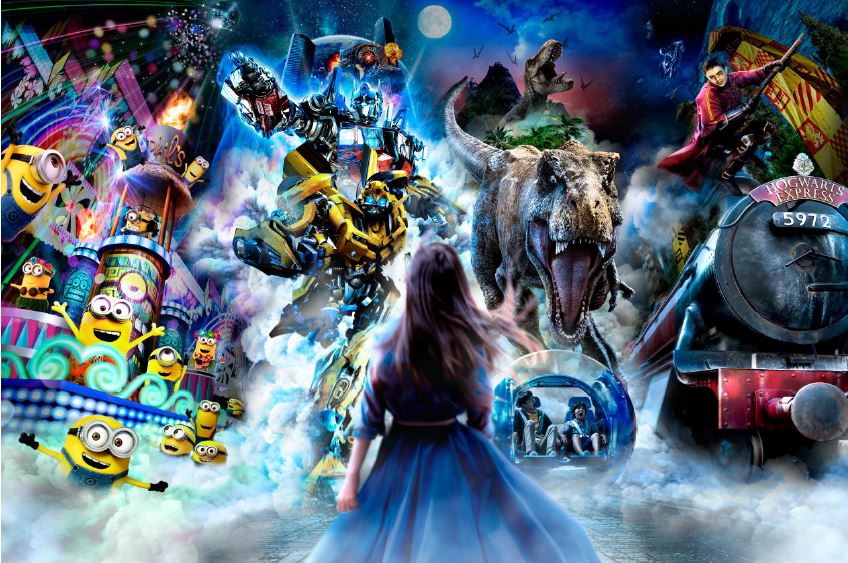 "We created projections for a large environment on the four themes," says Bart Kresa. "As the floats move through the park, the corresponding themes move with them, on the surrounding buildings. It was very interesting. Nobody has done anything like this before, where the theatrical platform stages with actors and props are floats, with the story reinforced by the projected background. The kids go crazy."
"It was a really big project. There were many challenges to solve over the course of four years. We spent a year planning, and then three years producing the visuals. Synchronising with the movement of the floats was a major challenge in itself.
At the end of the day, what we do is create an illusion…We cast a spell.
Projections and illusions
"At the end of the day, what we do is create an illusion. It's not all about being strictly technically correct, but about the effect it has on the audience. We cast a spell.
"We started with the movement of the float. Sometimes the float has one building behind it, sometimes there is a wall of seven buildings connected together.
"We have one bit where a Transformer – a robot – on one of the floats gets up and is fighting with the projected robots. We had to synchronise it to make sense visually.
"It is definitely the biggest, most challenging project we have done. And that project won the most prestigious award in the theme park industry."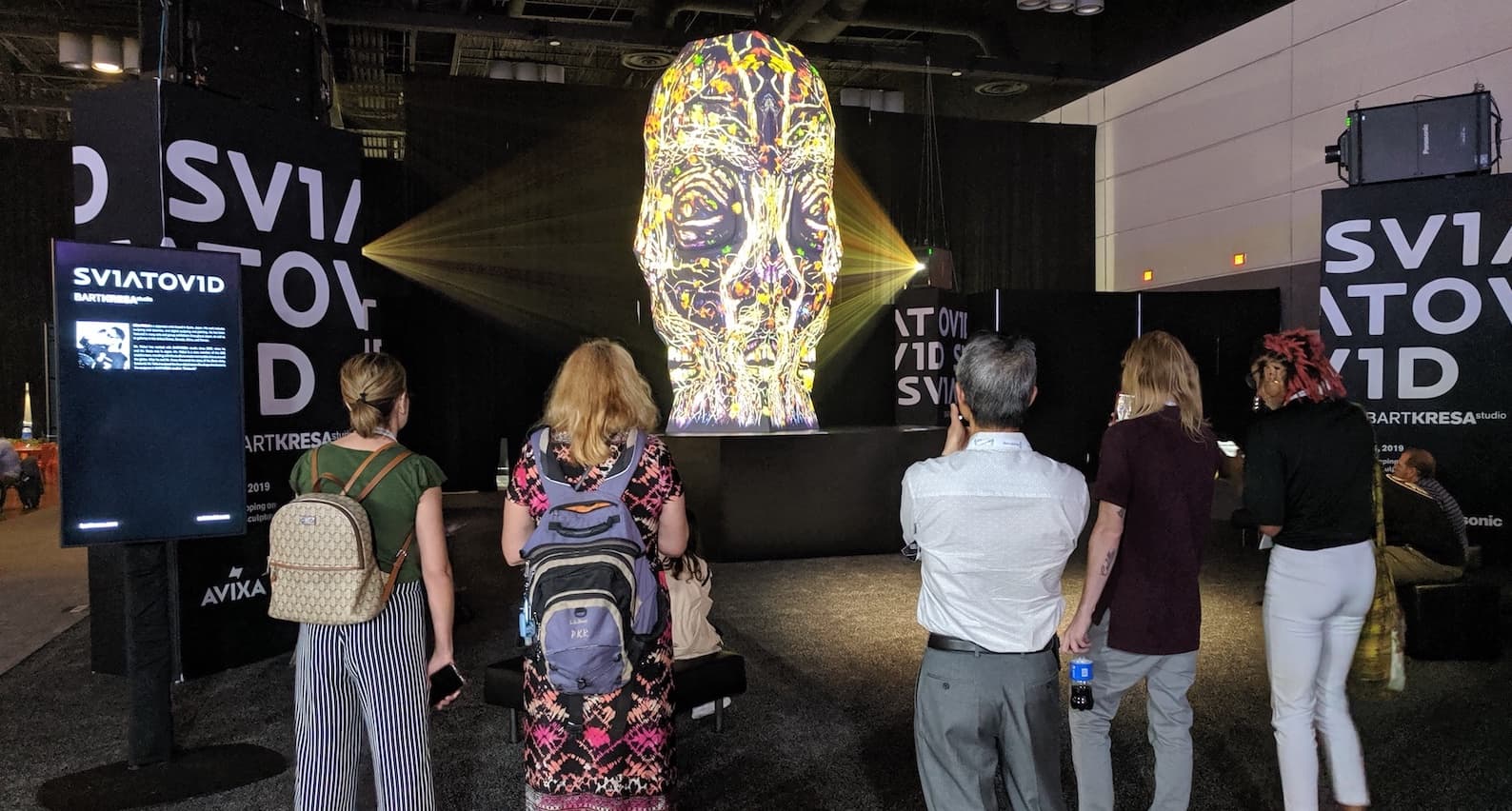 The experience economy
The growth of the experience economy, with an increasing trend for immersive experiences, is accelerating the evolution of projection.
"We are experiencing something like an explosion," says Kresa. "There are two or three types of request that we get at BARTKRESA studio. Some people know that it takes time to build, to plan ahead. They will tell us about some experience inspiration they have in mind for the next year. Others expect to be able to have that experience right away.
"We are entering into the experience economy. Projections are the perfect tool for creating unique, immersive experiences. My outlook on our industry is that we are beginning a golden age of projection."
"I also challenge myself and my studio to stay on the edge, learn new things, and explore new ideas. For the last few years, we have been exploring 360-degree projection-mapped sculptures."
Bart Kresa's Sviatovid
"Sviatovid, our newest piece, is a 15-foot-tall sculpture. For this, we designed and built a library of amazing, musically driven animation. It premiered at ISE in Amsterdam and has appeared at the Centre for the Meeting of Cultures in Lublin, Poland. The piece has also appeared at InfoComm in Orlando. I love creating pieces that activate architecture and public spaces with light and art."
Sviatovid showed at the LUMA Projection Arts Festival from 6 – 7 September 2019.
"Everybody was saying that this was their favourite thing; Sviatovid blew them away.
"We had a show inside of an amazing 19th Century church. Every 15 minutes we had almost 500 people, so around 16 000 people came over the two nights."
The idea behind Sviatovid
The inspiration for Sviatovid lies in a 9th-century Slavic deity:
"There was this God that we don't know much about in Poland during Pagan times before Poland became a Christian country. We know people believed that he was all-powerful because he had four faces. His name means 'world' and 'vision'. People believed that he could see everything."
Bart Kresa's Sviatovid follows an earlier 360-degree projection sculpture, Shogyo Mujo. This was created in 2014 in collaboration with sculptor Josh Harker.
Sviatovid and Shogyo Mujo are both representative of the exploratory, unique and personal pieces of art Kresa has continued to produce. This is alongside the transformative, high-profile corporate and private projection experiences for which BARTKRESA studio is known globally.
Bart Kresa on Art and Artificial Intelligence
"What I am focusing on at the moment is how to incorporate Artificial Intelligence (AI) into our work. It's a huge challenge. It is an interest for a lot of people at this point.
"I have spent the last few months educating myself. Watching hundreds of interviews and documentaries about AI. I have gotten to the point where I know enough to come up with concepts about how to use it in our design work.
"We already have a few projects that are focusing on aspects, for example, of co-creation. We can mould a design to a point where the AI algorithm is allowed to add elements to the design in real-time. It can help to organise the design, creating layers of elements, making the structure more interesting.
"There is a lot of software out there that's ready to use. There are algorithms that we can just grab and use because they're in public domain space.
Bart Kresa believes that incorporating AI will be transformative. He says it is conceivable that AI will drive art, and art will in turn drive AI.
The human selects different ideas, and the software helps to organise them. At the end of the day, it's still a human designer choosing if the visual effect is pleasurable or not. So we can work back and forth."
"At BARTKRESA studio, we want to use AI in a creative, fun way to bring joy to our projects."