The huge potential for a spectator experience IRL is only just being explored. How will the eSports arena of the future immerse us in the video game experience?
Professional players of games like League of Legends and Dota 2 attract phenomenal viewing figures via platforms such as Twitch. The industry's evolution is fast eclipsing predictions, growing revenues and attracting investors.
According to BusinessInsider.com, Goldman Sachs valued the global eSports market at $500 million in 2016. The sector is predicted to grow at 22% annually over the next three years into a more than $1 billion opportunity. Industry statistics are already backing this valuation and demonstrate the potential for massive earnings from sponsorship and providing an immersive spectator experience.
This is a new market, with a young, digital native demographic operating at the borders of virtual and real life. Cosplayers are its cheerleaders.
Blooloop spoke with industry experts Professor Andy Miah and Brian Mirakian about the growth of eSports and what this will mean for the visitor experience.
Professor Andy Miah: "an exciting time"
Professor Andy Miah is Chair in Science Communication and Future Media at Salford University. He is a bioethicist, academic and journalist whose research focuses on the big questions facing humanity.
"I write about the philosophical and ethical questions that new science and technology compels us to consider before it's too late," he says.
In July, the International Olympic Committee (IOC) announced that it will meet with eSports companies and players at a summit in Lausanne.
Professor Miah said this was an "important meeting". Because "it brings all the major sports federations around the world together to address this agenda. This is quite a shift in terms of the sports world responding to eSports developments. At the same time they have also begun to produce eSports events alongside the Olympic Games. This is with a view to potential integration in future years.
"It's an exciting time to operate around this. It would have been unthinkable, four years ago, that we could imagine having eSports as part of the Olympic Games. Now that's a possibility."
An attractive proposition
He attributes this shift in perception to a number of factors. These are the way that the industries are working, the development of technology and the development of youth culture. "All these together," he says "combine to make for an incredibly attractive proposition for the world of sports to be involved with."
Professor Miah believes that the announcement from the IOC will quell the naysayers. This is because they are "a highly influential body in the sports industry." He also cites the backing of major worldwide partners more usually associated with traditional sport:
"One good example is Coca-Cola. For over a hundred years we have had Coca-Cola sponsoring the most celebrated athletic sports event in the world, and now it has its own eSports YouTube programme, and has become a global sponsor for various eSports competitions.
"There has been a dialogue for a while in the industry around where eSports is going – and then it began to generate a momentum that we are beginning to see come to fruition."
In Korea, the Winter Olympic Games this year began with an eSports tournament, won by a female player which, Miah says, was exciting:
"Another agenda item within the eSports world is an anxiety about it being male dominated, so it sent a very interesting message to the world."
Players or athletes?
eSports is, essentially, competitive computer game-playing; the content of the most prolific titles has nothing to do with sport.
There are exceptions to this, such as the FIFA football game, but that one is rare in that it has sport at the heart of the game experience.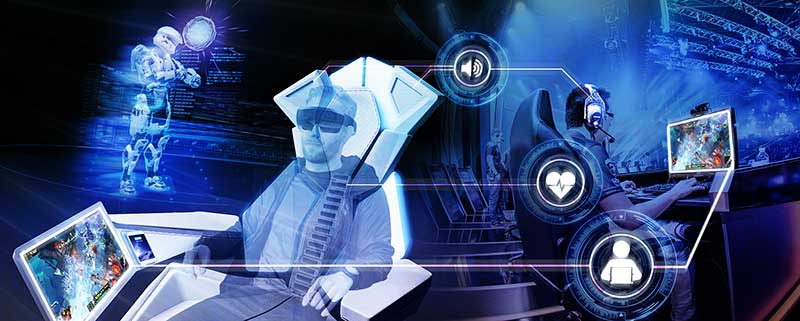 "The others are mostly fantasy based games," says Miah, "like League of Legends or StarCraft. So there is a kind of conceptual challenge for the world of sport to  integrate these activities, which have nothing directly to do with sport, aside from it being a competitive endeavour that is skill-based and requires a certain kind of talent."
However, over the last few years the rise of eSports has resulted in the recognition at a domestic level across the world of the players as athletes.
"Something as simple as giving an eSports player an athlete's visa, enabling them to compete for money in different parts of the world, is the sort of legislative transformation that allows eSports to become recognised as a sport, and those things are happening quite quickly."
The audience for eSports
eSports appeals predominantly to a very young audience: the peak age range is between 10 and 24, and elite eSports YouTubers are the new stars.
Miah says, "Spencer Owen is a big football YouTuber, and I remember hearing a story from a friend of mine who was working with him. They were walking around London with one of the England players, when these kids came up to them. They had no idea who the England player was, but they wanted Owen's autograph: he was a big celebrity to them."
eSports and physical fitness
Miah challenges any preconception that in following eSports, the young are turning away from keeping fit:
"Over the last few years, the elite players have become beacons of athletic virtue. I was involved with a documentary with the BBC a couple of years ago. It followed eSports players around the world. These kids were training a lot during the day, keeping physically fit, eating well and resting well. They were leading a good athletic life, in order to be fit for competition."
He likens this to Formula One racing drivers, whose function may seem only to involve sitting at the wheel of a car, but who maintain a peak physical condition in order to perform at their best.
"I think what is actually required of any sports player in terms of decision-making is that incredible physical fitness, and the idea of the sedentary lifestyle is false."
Bringing sports together
This may not automatically trickle down to the grassroots immediately. However, Miah believes having eSports role models who are athletes will inevitably become a trend with the amateur players.
"One of the aspirations I have is to bring these two worlds together, to develop what I'm describing is an augmented reality gym within which you have these digital physical interfaces as part of the environment. We are at a point where we are only beginning to see the development of eSports architecture, but conceivably these could be environments where you have not just sitting-down playing games on consoles, but mixed reality, physically active experiences.
"We did a prototype of this last October as part of Manchester Science Festival, where we created something called the game lab, which combined elements of computer games with keyboards and consoles, but also physical and virtual reality experiences."
"One of the key things I would say that is that the way in which we see eSports today is going to be very different from how we see it 20 years from now. While now we are still talking mostly about computer games, keyboards and sitting down, I think that will change, and partly because of factors like the involvement of the Olympic Committee, that crossover will begin to happen."
Disney applied for a patent this month for moving floor technology to enhance VR experiences.
Mobile apps pioneering new attitudes to eSports
It is, he points out, already beginning:
"If we consider exercise, most people use some kind of mobile fitness application on their phone. The elements of the design of those experiences are gamified.
The popular running app, Zombies, Run! [a 2012 mobile exergame co-developed and published by Six to Start and Naomi Alderman and Rebecca Levene for iOS and Android platforms] is an interesting example of where eSports could go, using creative writing as an expansion of the field.
Miah says:
"We can look at the history of sports as a narrative; it's about storytelling; we buy into the athletes' stories, and that is where something like Zombies, Run! responds to that desire that we have for making physical activity more like a storytelling experience."
Real life applications of eSports
There is research evidence to demonstrate that some games allow the player to develop skills and dexterity with a real-life application. There are games to develop a surgical dexterity, for example – where gaming is in the service of medicine.
This, Miah says, is an instance of the industry cutting across sectors:
"The most powerful graphics, animation and video comes out of the industry to develop computer game technology, but can then be applied to things like surgical visualisations, which help surgeons get a better understanding of how to fix someone. So the industry feeds into lots of other sectors."
"Your best pilot for a tank might be a child. Which is quite dystopian."
One example cited by Miah was of a Russian tank. Its control system was based on the controls of a Playstation. He says: "a couple of things come out of that, for me, which are more philosophical than industry focused, but you can imagine that if you are facing the control system of the simulator on a gaming machine, then the most compelling or effective operators may in fact be young people, like, 12 year old kids."
"Your best pilot for a tank might be a child. Which is quite dystopian."
Data and computer modelling
The quantity of data eSports produces and the potential for computer modelling creates more potential for real life crossovers.
Miah says: "here we have a community of multimillions of football game players. They are generating data through their games. This can then inform how a coach may make decisions about their squad on the actual pitch. If you play a FIFA game with seasoned players, the data is updated. This means that if a player gets injured within the game, the data is updated to reflect that injury."
"There is a range of simulations playing out through the hundreds of thousands of games. These then inform decision-making with the actual team. So there is this interesting crossover between the game and the reality. This is generated by the massive amount of data that is coming out of the game experiences. We know of managers that are basing their decisions on that information, and it's a trend across the world: big data can be informative for all sorts of decision-making."
Prof Miah will be speaking at blooloopLIVE on September 14th 2018.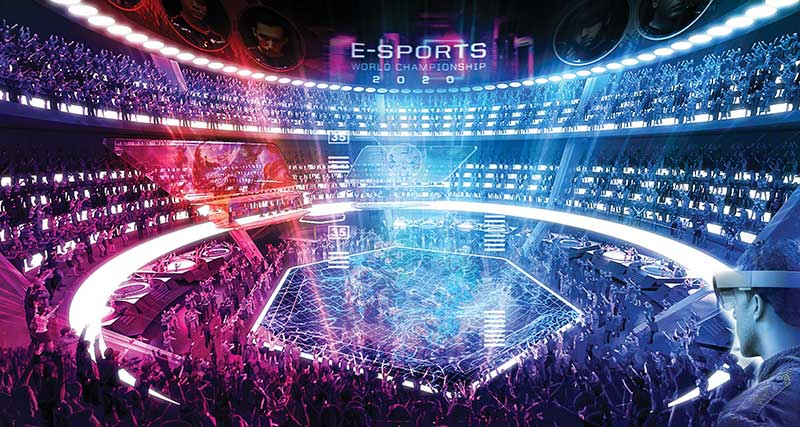 Brian Mirakian: experiencing eSports
Sports has been, from its very beginnings, tied to a much richer history of storytelling, ritual and drama.  eSports, and the custom-built stadiums that are in development, capitalise on this.
Brian Mirakian is Senior Principal at Populous, innovative design firm dedicated exclusively to creating environments blending architecture, interiors, product design, graphic design, and branding platforms, with  a core focus on future project types and emerging entertainment and consumer trends.
eSports have been a primary focus for Populous for the last five years. The company is currently in the process of designing a next-generation 18,000 seat spherical arena. This will host eSports events and music for the Madison Square Garden Company (MSG) in London. They are also planning an almost identical arena in Las Vegas.
Details are being kept under wraps for now. However, we know that inside, the sphere will feature the largest and highest-res media display to date. Externally, the globe will be covered in digital screens for promotional purposes.
Named MSG Spheres, the arenas will be equipped with cutting-edge technology.
Online and physical presence
One of the factors driving the increasing global popularity of eSports is, says Mirakian , its online accessibility.
"The mobile streaming content is ubiquitous; it's everywhere. Look at YouTube, look at the proliferation of Twitch."
However, just as with traditional sports, there is a feeling that there is no real substitute for attending a physical venue:
"People want to be together," says Mirakian, "it's in their DNA. People want to experience a sporting event together with their friends, with their families. There is no substitute for being at a physical venue, watching a game on Sunday afternoon with 70,000 people."
"With eSports, we feel these live events are a cultural moment. And regardless of the mobile platform that they watch from, if they have the ability to come to a venue, come together, experience that cultural experience together, be able to meet the teams, to  see the characters, to have that  moment where they are all cheering together for those exciting points in a match, you cannot replicate that spectacle in an online world. I think that's really going to be the driver that is going to continue to propel the sport."
Hosting eSports
The venues have very specific requirements, including loading and production requirements.
"For instance," says Mirakian, "we spoke to the people who put on the Dota 2 Championship eSport international event at Seattle's KeyArena. They have more production equipment to bring on site in trucks than a Lady Gaga show."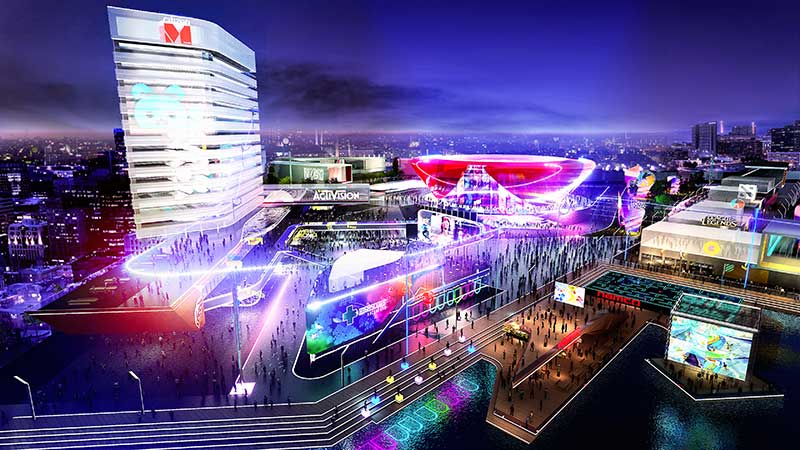 The level of production that goes into the events is formidable.
"A building as the infrastructure that can first and foremost support the types of production  requirements is critical: the technology backbone with high-density Wi-Fi so you can do streaming, augmented reality experiences, and the data transfer that supports all this."
"Not to mention just the back of house requirements for the teams themselves, the warm-up rooms, and, on the production side, beside production of the event itself, the production of on-site content."
Mirakian says the challenges associated with designing an eSports venue are "unique to any sort of sporting stadium or arena that we may design.
"And then the premium types of products driving the modernisation strategy have to be taken into account. There's a whole different modernisation strategy to these buildings, because this is a different audience."
Audience engagement for eSports
In many respects, Mirakian claims, eSports audiences are similar to traditional sports audiences, hwoever there are also distinct differences:
"Over the past 30 years as our practice has evolved, we have seen the way behavioural patterns in traditional sports audiences have formed, and have been able to collect decades of information around how fans want to engage with the sporting event."
This data shows how audiences want to sit and how they migrate through concourses. It shows the type of food and beverage experiences they seek and the type of amenities that they gravitate towards. It dictates the way the sponsorship activation is integrated into these building types.
"While many of those same principles apply to the way that we believe that this next-generation, or this new generation of buildings for eSports is going to unfold. We also see that  eSports fans have very distinctive and different ways in which they watch the event. In a soccer match or an NFL or certainly in the NBA, fans want to be as close to the pitch or the playing field as possible. They want to be as close as they can to the action. The first row of seats is typically some of the most premium territory in a building."
"In eSports, however,  large-scale events are often not even ticketed around specific seat locations at all. Fans will sit much further back, even in the upper seating levels. There they have a better sight line to the screen."
Differences in purchasing behaviour
"The other thing that is uniquely different," says Mirakian, "is the food and beverages."
"In a traditional sports venue, there's a lot of alcohol sales. But because of the age of the fans at eSports events, many are actually under 18 years old, alcohol sales are not a large part of the overall strategy. Fans are gravitating instead towards energy drinks."
While in traditional sports venues, the concourses are mainly just concessions and restrooms, eSports requires a different set up:
"Because of the nature and duration of events, which can last anything up to eight or nine hours, there are many periods of time when the fans want to socialise, to migrate and gather in peripheral areas. They want to engage in fun things like cosplay, meeting the characters, taking part in broadcast experiences, meet-and-greets with the teams, and so on."
"So while there are similarities, there are also ways in which the model is completely switched. And this is where purpose-built venues designed specifically for the needs of these fans and this next-generation audience is going to be super-critical."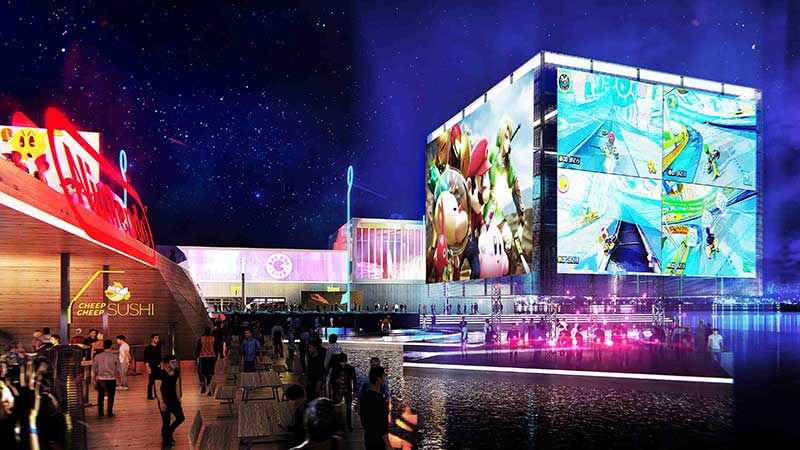 The tech behind eSports
The technology experience that supplements the main event, Mirakian says, is critical to the overall success of these purpose-built venues:
"Look at the characteristics of this next-generation audience. It is a digitally native audience. They live almost every aspect of their lives through the lens of their mobile device. Every choice connects back to that mobile device."
"We see a completely unchained experience. We see seamless integration of the mobile experience with  the live event and the live and physical venue. The experience will extend well beyond the boundaries of the event itself. It's a fantastic opportunity."
"We envision a whole menu of à la carte experiences that the audience member can choose from. Via their mobile device, they will access all sorts of ways in which to customise the event experience. This might be through through retail, food and beverage for example. They will also have access to the teams for meet and greets. Furthermore, there will be in-event experiences. Via data capture they are able to personalise their experience in a one to one relationship with a competitor."
Greater interactivity with the players
"There will be the opportunity, as a competitor is playing in a game, for instance, to capture biometric data such as heart rate and body temperature, and to transfer that directly to the spectator."
There is an accessibility and immediacy that is unique to eSports events. Mirakian explains:
"Look at the streaming gaming platforms, taking Twitch as an example. As the event is occurring you see thousands of people engaged in a conversation through a chat with that gamer. That's something you won't see in  NFL; you don't have the ability to have that chat with Tom Brady on the sideline. But with eSports, that one-to-one sort of communication certainly can happen in the venue as well. We think that's crucial."
Augmented Reality
"We see augmented reality becoming a huge driver and a huge experiential opportunity in the venue."
"Imagine when spectators are in the venue and watching the event. They will be able to have augmented reality experiences that unfold as the gameplay is occurring. Characters can begin to populate the space, as atmospheric things occur. Spectators will be able to have the AR experience on their mobiles. The devices will supplements the live event, blending the virtual and the real experience. We think this is going to be important."
eSports villages
The future model for these venues in a broader entertainment approach, Mirakian says, is the eSports Village.
"What we see in current day stadiums is a very rare occurrence actually, where the building sits in isolation.
"If you look, for instance, at Tottenham's new building which we are designing in London. It has a peripheral entertainment component that will surround and envelop the building.  T-Mobile in Las Vegas, another of our projects, is also a great example. It's part of a broad scale mixed-use entertainment complex, as is the Sun Trust ballpark in Atlanta. We built that as part of  a billion-dollar entertainment development.
"We think this approach is going to be central to the next generation of ESports venues. A 365 degree critical mass can be created around eSports. Whether or not there is an event happening in the large-scale venue, we can have activity.
"People can experience everything. From access to food and beverage experiences, to all sorts of peripheral entertainment. This may include drone racing, a condo or a hotel and elite training facilities. There will also be small gaming labs and places for developers to prototype next-generation games. In addition, there will be Plaza experiences for outdoor types of event and everything related to ESports and gaming. Wider entertainment programming will happen where that  critical mass around ESports drives a much broader monetisation strategy. Ultimately it is just great for fans."
eSports: an evolving space
On the 19th of June, Peruvian DOTA 2 team Thunder Predator was disqualified from competing in Valve's premiere tournament. This was when a team member was caught using an off-the-shelf programmable gaming mouse. This would have been incomprehensible less than a decade ago.
ESports is a rapidly growing and constantly evolving space. Gen-Z internet natives are finding new ways to pioneer that space.
Images: Populous