The IAAPA Expo 2017 took place at the Orange County Convention Center in Orlando. With pushing 40,000 attendees, the record breaking show was a whirlwind week of parties, new product launches and ground-breaking technology. And virtual reality (VR), lots of VR.
By Martin Howe, CEO, TEQ4 Ltd.
Here we are again, the International Association of Amusement Parks and Attractions' annual show, the IAAPA Attractions Expo 2017. This is the year that VR made its way into mainstream amusements and attractions. Or didn't, depending on who you listened to.
What was clear was just how far and wide and deep VR has infiltrated the show, and therefore one might presume, the market. I lost count but something with VR was always within eyesight, wherever you stood. Heck, we even had one, a VR Paragliding experience called Paradrop! (shameless plug)
V-Aargh!
As I was wrapping up the IAAPA Attractions Expo 2017 on Friday afternoon I was sitting with some friends on a booth. We were discussing opinions of the week, and in particular, VR. "VR wont' last" said one, "it's unreliable and the experience is poor, I spoke to one operator who told me that he's taken his VR system out." So this is a man from the 'VR equals V-Aargh' camp.
V-Aah!
Just then, two more of the group came running over, fresh with lines imprinted around their eyes from 'headset-face', having just experienced Zero Latency, the wear-VR-and-run-around-a-warehouse experience. "It was amazing, so realistic, we could see virtual avatars of each other. Really exciting. Really scary too, the Zombieees" they said, still buzzing and a little shaken from an experience that finished probably 20 minutes earlier. These two are clearly in the 'VR equals V-Aah' camp.
Chinese Food and Cheetahs
So what is it? V-Aah, an amazing, unique experience that will draw guests and create long lines, or V-Aargh, a ghastly, poor quality waste of time, and money? Based on my own experiences I'd say it's both. There's plenty of V-Aargh around, which is really not helping the VR cause, but alongside there's a rapidly rising tide of V-Aah too. And it's rising quickly.
Off the show floor I tried out Starbreeze's VR headset, arguably one of the best around with the widest field of view and highest resolution. Very nice. Then I got a sneak-peak of their DK3 version launching next year. Wow! I was in a zoo, and a Cheetah was walking towards me. As it came closer it felt like it was next to me. When it tried to put its nose on mine, still looking sharp and far too lifelike for comfort, I was physically backing away and I nearly fell off the chair. And I swore, apologies to those around me.
VR can be good, it is good, and it's getting better all the time. But like every other technology, and every other thing, it all depends how well it's done. Like Chinese food or an X-Factor contestant, far too varied to compartmentalise.
Immersion
What VR promises, and does deliver when implemented well, is immersion, placing the guest in a virtual world, or a copy of the real one. Yes normally VR is a solitary experience but implementations using avatars such as Zero Latency make it feel like, and be, a group experience. So that's that, good VR will evolve and prevail. Probably.
Virtually Flying at the IAAPA Attractions Expo 2017
Combine the reality of good virtual reality with a little motion and you get an even more immersive experience. Combine it with a lot of motion, like 2 metres of up and down, and you get an exhilarating one!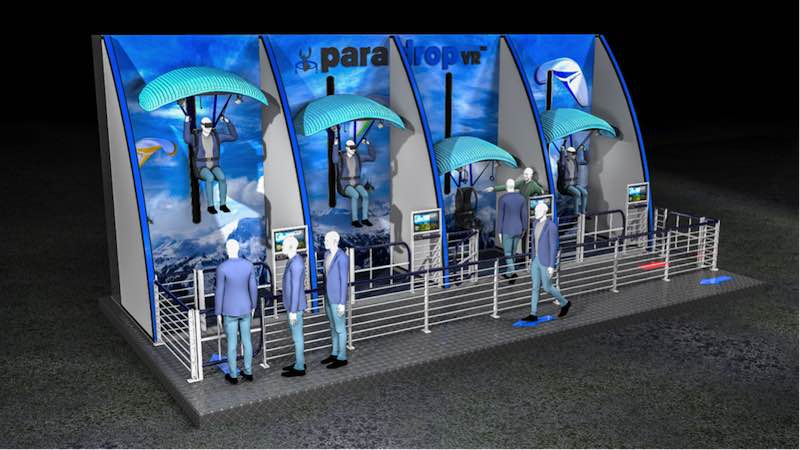 That's the premise behind Paradrop and other similar VR rides that are pushing the barriers. What this flying example becomes is like a personal flying ride, of the genre pioneered by Soarin' Over California. But for a lot less cash.
Flying theatres and soaring attractions
So what happens when you lavish out a little more cash and start scaling up? Well then you break out of VR and back into the nearly-real-world of the projected attractions that are also becoming ever-more popular. Like this neat little package from Simworx.
A 'small' 20 person Flying Ride that can be had for the low-end of a 7-figure sum. OK, that's a lot more than 'a little more cash' but relatively it is 'cheap', making this format of attraction increasingly affordable.
Put it all together and what have you got?
Immersion, flying rides, some money and avatars. If some money means a whole mountain of money, then you can put it all together and build a real mountain, theme it as if you're really on an alien world and then fly 150 or so people up and down by a few meters and create the most stunning, emotional, jaw-dropping experience on the planet right now.
Avatar Flight of Passage at Walt Disney's Animal Kingdom is just that. Without exception, everyone I spoke to the next day who rode it, could relive their emotion and recall from their visual memory scene by impressive scene. This is the epitome of all those things that we all work so hard to deliver. The people who worked on this particular project have proved that with enough time and money, we, the international community of people who work in and around attractions and amusement parks, can make magic.
Aren't we lucky?
We are lucky to be in a time when all the cool things are possible, and right now it's only mostly limited by our imagination. Which this show proves time and again, isn't limited.
In 2014 I wrote about Hogwarts at Universal Studios; IAAPA had laid on VIP passes with exclusive access to this superb attraction. It was a rare privilege. Well this year, 2017, IAAPA did it again, VIP all the way, Disney style.
Its easiest if I just demonstrate how lucky we are by sharing this email which I sent to my fiancée Kirstie, only four days after moving in together…
"Had a tough time at the Disney party last night. Ok, it did help that they shut the entire park for us. And that there was free booze and food all night. And music, and rides, and buses laid on. But I still had to queue for the Avatar ride. Though when I say queue, I mean walk along the queue. Which still took 20 minutes. But that's only because it takes 20 minutes to walk the entire length of the queue without spilling your wine. So I can't complain that much really. Rather be there with you laying turf though". (She had been gardening in the rain all day!)
It was a fantastic end to another fantastic IAAPA, topped off by this years' best-of-the-best.
So what did I miss?
I probably missed quite a lot as I was busy bustling between booths and customers and
mostly on the UK DIT (Department of International Trade) with Robothespian doing his thing. Although it wasn't actually his thing; he was in telepresence mode most of the week being the façade of a superbly amusing chap called Dave (probably) in Essex.
By the end of the week he had become so good at being a Robot, that he had queues of people lining up for a high-5 and an insight into a Robots' mind (although it wasn't, it was Dave's). So many people wanted it to be real they were prepared to believe it was.
I liked the people at Geotourist, and what they were doing, and even more, how little they were charging for what they were doing. Two-grand for a customised app-based geo-location based city tour/adventure-park/theme park experience, as long as you provide your own narrative and narration. Still, amazingly good value when you think of the utility that it offers; customised localised experiences. Download Geotourist at Google Play Store or the Apple App Store and try it for yourself. It's the future man.