Billed as 'Holland with a Twist', the flying theatre aims to divert visitors away from the overcrowded capital's tried and tested tourist trail.
Step inside the distinctive circular building on the north bank of the river IJ and you'll be greeted by a huge high-heeled clog.
"Please note we don't actually wear these anymore," This Is Holland (TIH) representatives told Instagram followers recently. "But, since they're such a big part of our history, we just had to add this giant clog icon."
The state-of-the-art, media-based experience in its contemporary setting is clearly not afraid to celebrate a few familiar Dutch traditions along the way. The clog, just like the oversized tulips, is a playful touch since such footwear is traditionally flat-heeled.
The first flying theatre in the Benelux
At the heart of the attraction is a 40-seat i-Ride system from Brogent Technologies. It gives This Is Holland the bragging rights for not just the first flying theatre in the Netherlands, but Benelux as a whole (NL, Belgium, Luxembourg).
The visitor experience was designed by the Leisure Expert Group (LEG).
"We know there are a lot of parks considering a flying theatre," says LEG's Managing Director, Marjolein van de Stolpe. "As a standalone attraction it works just great. It is very easy for tourists to Amsterdam to do and doesn't take you all day, or even half a day."
Tourists with an hour or so to spare can take a free ferry from outside Amsterdam Centraal station towards Buiksloterweg. After disembarking, they should look for the 'iconic' TIH building between the A'DAM Lookout observation deck and EYE film museum. Originally, this cylindrical structure was intended for use as an office building.
Joost van Berkel (right), This Is Holland's Commercial Director, explains why it caught the attention of the attraction's investors: "We were aiming for a different location at first; more central. But, in the end, we choose this building and the location because it offers a new, more developing and vibrant environment.
"This area, Amsterdam North as it is called, is also supported by the municipality. The centre of Amsterdam is getting so crowded now, and they really want to spread people out over the city."
Nice problem to have or victim of its own success?
Between 2005 and 2016, the annual number of visitors to the Dutch capital leapt from 11 to almost 18 million. This, along with a moratorium on new hotel development, surely accounts for the high room rates in the city today. Amsterdam's tourism boom follows a concerted effort by the municipal authority to boost visitors in the wake of the 2008 global financial crisis.
It was that same year that the BRC-reimagined Heineken Experience opened – now a top attraction with over one million annual guests. The city's Museumplein was also bolstered in 2015 when the Van Gogh Museum reopened after a €26.5 million renovation.
Merlin Entertainments' Amsterdam Dungeon and Madame Tussauds attractions continue to do good business near Dam Square. But, things are overheating. Restrictions have been placed on certain types of events in the square, and new shops targeting tourists in the historic centre are now banned.
"The chemist, the fishmonger, the hairdresser and the shoe shop have all disappeared, replaced by shops that sell ice cream, souvenirs and cannabis seeds," consultant Els Iping told The Guardian recently.
Flying high on the banks of the IJ
With its anticipated 60-minute dwell time, This Is Holland arguably caters to a similar market as Merlin's 'Midway' attractions. Tourists will have to veer a little off the well-beaten path to find it, but they do get the bonus of that free ferry ride across the IJ. The attraction's investors hope to attract around 300,000 visitors a year.
Despite its obvious role as an "ambassador attraction", This Is Holland was built without any government support. However, a partnership has been formed with UNESCO in recognition of 10 Dutch World Heritage sites featured inside.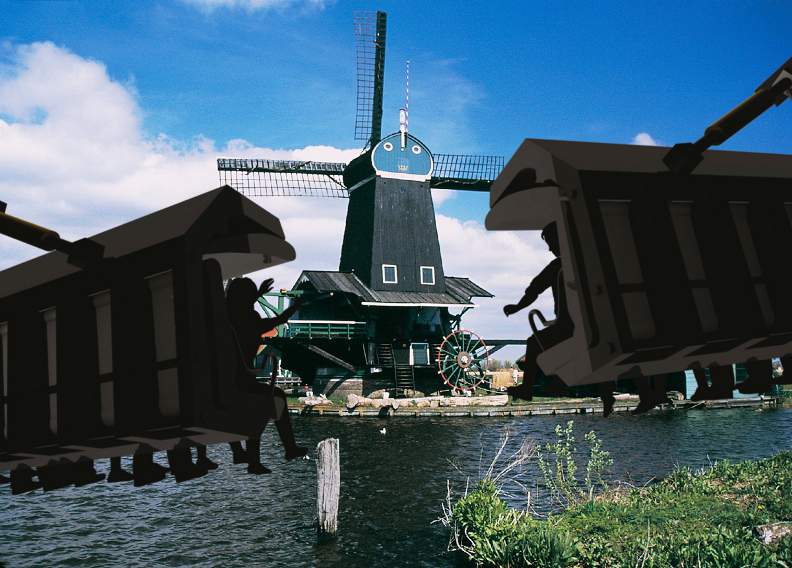 Passengers soar over a rich tapestry of Dutch scenery during the nine-minute ride film. To extend the experience to an hour, this is complemented by two pre-shows and a post-show.
For clarification, it's worth noting that the film includes scenes from elsewhere in the Netherlands, and not just the two provinces that constitute Holland. There is an 'elephant in the room' here, of course. The region is not known for its dramatic topography.
Tulip fields, transport and water
"One of the investors was a little concerned when we were developing the attraction," recalls van de Stolpe. "'Holland is a flat country', he said to me, 'won't it be a little boring?' We are a small country, yes, but logistically very interesting with Schiphol airport, the port of Rotterdam etc. So, transport links, as well as water, play a major part in the movie."
During 22 scenes, tidal landscapes are interspersed with sights such as the canals of Amsterdam, Château Neercanne and Palais Het Loo. Wind, mist, scents and a stirring symphonic soundtrack add emotion to the experience. In addition to foreign visitors, it is hoped the attraction will appeal to Dutch audiences, too.
"We want people to be surprised by their own country," says van Berkel. "Tourists will be able to see the windmills, smell the tulip fields and feel the wind in their face as the fly through the landscape. But, there is so much more in the film."
This is Holland (with a storm)
Over 30 hours of footage was captured by helicopter and edited together to create the final nine minutes. Added CGI content includes a storm sequence at the Oosterscheldekering barrier which simply wasn't possible to capture for real.
"We were concerned that people would find this sequence a little inauthentic," says van de Stolpe. "But, it is one of the things audiences are most excited about. We want to show that water is our friend but also our enemy. The spray effects and the movement of the i-Ride really bring it to life."
Weather conditions, inevitably, hindered filming on occasion. Yet, they also created unexpected opportunities. "At a certain point it was getting very cold in the Netherlands," remembers van de Stolpe. "Early one morning, Joost and I were texting one another: 'Hey, there's 2cm of ice, let's go skating'. So, we started filming at around 8am and got these really great scenes of people skating against a beautiful Frisian landscape. By 11am or 12, the ice was melting."
A journey through a nation (and a building)
Van de Stolpe says one of its biggest challenges was how to condense the story of a nation into 60 minutes. As well as the themes of water management and landscape design, Dutch architecture and entrepreneurship are addressed in the pre and post show areas.
After a photo opportunity in the queue line, guests are split into two groups of 20 and taken on a journey of "how", "now" and finally "wow" as they move up through the building. Interactive walls, projection mapping and a Pepper's ghost effect are used to interpret information before and after the ride.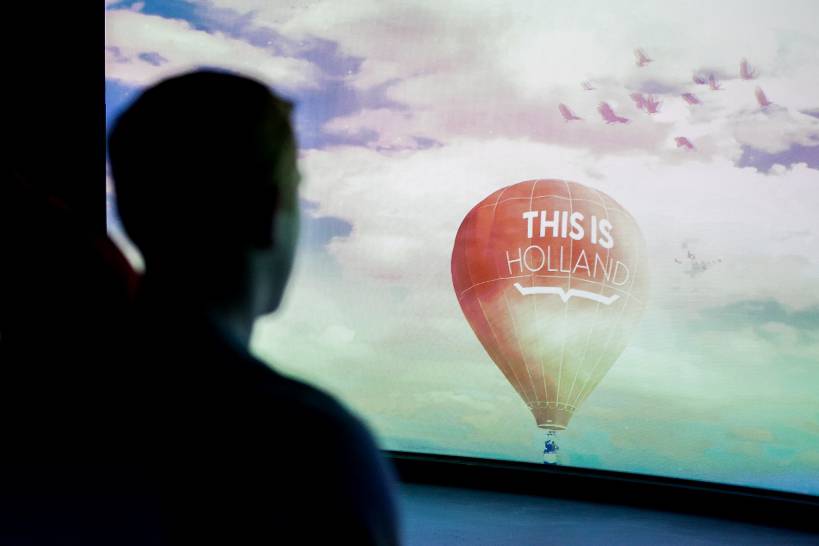 Depending on their allocated group, guests board the i-Ride on either level three or four. After the flight, they are then ushered into a free-flow post-show area on level two. Photos and merchandise can be collected in the "buy and bye" area at ground level.
The post-show area will double as an event space as This Is Holland attempts to pick up some of the corporate business already enjoyed by neighbouring attractions such as A'DAM Lookout.
Easy installation, successful collaborations
This is Brogent Technologies' second i-Ride installation in Europe. It features four units of 10 seats split over two levels. As the single projector system is different to the larger double theatre Voletarium at Europa-Park, it required EN certification by the TÜV. Similar systems are already in use at Fuji-Q Highland in Japan and Shang Shun World in the Brogent's native Taiwan. The latter was installed on the sixth floor of a building. The third floor installation in Amsterdam was therefore relatively easy, although minor adjustments had to be made to the screen to fit it into the circular building.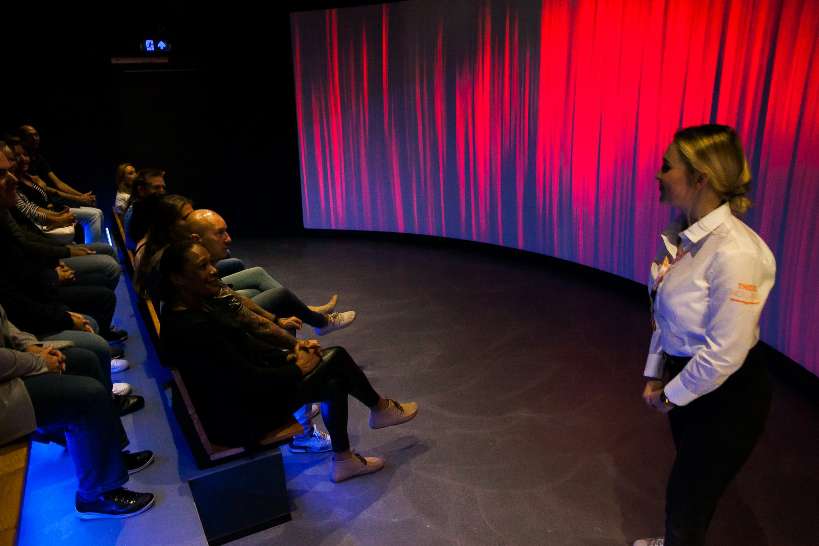 "We were very pleased with the co-operation with Brogent," says van Berkel. This Is Holland was created using a largely Dutch team (the manufacturer's European representative is Vekoma Rides Manufacturing). "And, we were very happy with the knowledge and service offered by the Leisure Expert Group. They have created a total experience."
Dutch repeatability
Van Berkel says the quality of the product was key to securing partnerships with names like UNESCO and KLM (the airline features in the Schiphol scenes). He now hopes to partner with other Amsterdam attractions on co-marketing initiatives. Already a This Is Holland combination ticket is available to tourists taking one of the city's popular canal tours.
At present, riders must pay €16.50, or €9.50 for under 13s, for either walk-up or online. A same day repeat ticket is also available. "We often hear people asking 'Can we do it again?' as soon as they get off the ride," says van Berkel.
The challenge, of course, will be encouraging repeatability in years to come. But, for now, This Is Holland has a ready supply of Amsterdam tourists to tap into. It is surely only a matter of time before enough of them hop on that ferry and turn it into a hit.