The experiential entertainment company Two Bit Circus sees Millennials as key to a new type of play experience.
Two Bit Circus is an experiential entertainment company that creates immersive experiences using a fusion of technology and spectacle. The team of performers, inventors, artists and educators builds social games and experiences to engage, inspire and ultimately to reinvent the way people play.
Their STEAM Carnival has entertained tens of thousands.  Public installations comprising original virtual reality content have included the Super Bowl and the Olympics.  They also provide interactive games for corporate events and conferences, and custom exhibits for Fortune 500 companies.
Family entertainment
Brent Bushnell is CEO and founder of Two Bit Circus.  He is also the son of famous Atari co-founder Nolan Bushnell.  Bushnell senior was named as one of Newsweek's "50 Men who Changed America".  He has started more than twenty companies and is a founding father of the video game industry.  Entertainment clearly runs in the family.
Kimberly Schaefer is the former CEO of Great Wolf Lodge, North America's largest chain of indoor waterpark resorts.  In March 2017 she came on board Two Bit Circus to complete the leadership team. Schaeffer will lead the company's expansion into the micro-amusement park business.
Blooloop spoke with both Brent Bushnell and Kimberly Schaefer about the company's inception, development and future.
From creative collaboration to contracts
"Two Bit Circus started because of a collaboration with a community of talented engineers and artists," says Brent Bushnell. "We spent our free time at nights and weekends on all sorts of fun and ridiculous projects. We all shared an interest in getting people playing together in fun new ways. We'd craft some new interaction and then take them to parties and events as soon as we could.
"In time, companies began taking notice and we started getting contract gigs to take our games and inventions to corporate events.
"Two Bit Circus' capabilities weave multiple disciplines from electronics, programming, fabrication and fun with technology and spectacle. We branched from doing events for other people to throwing our own event with our STEAM Carnival.  After a number of successful events we then decided to make the programme a permanent entertainment complex.  We'll be installing it in Los Angeles this year."
The exposure Two Bit Circus received from the corporate events led to additional clients. "Many clients began inquiring about whether we could create similar inventions and activations but using their own intellectual property."
A disarmingly simple ethos
"We are extremely fortunate to have such an incredible team," says Bushnell. "Two Bit Circus is a cross disciplinary team of artists, inventors, educators and performers.  Every single one of us brings something unique to the table. In addition, we find that the more diverse the contributors and the more varied their backgrounds, the better the creation. "
The ethos underpinning the Two Bit Circus phenomenon is disarmingly simple.  "Two Bit Circus is focused on the future of entertainment," says Bushnell. "We are focused on getting people back together in public and off their screens.  We then use technology as a facilitator to create magical experiences.
Anarchy meets the mainstream
The mix of offerings include public installations, interactive games, STEAM Carnival, and now the micro-parks. How does Bushnell keep all those balls in the air? "It's definitely an eclectic mix," he says. "It's an evolution. Our core focus is the micro-parks.  Many of the attractions at the park are made available for STEAM Carnivals. "
There's a wonderful anarchy to some of the aspects of Two Bit Circus.  However it's sufficiently mainstream to have provided installations at the Super Bowl and the Olympics. Bushnell explains how they found – and maintain – that balance.
"Two Bit Circus certainly has an anarchic feel," he says.  "However we focus a lot on ways to get people back together in public.  To that end, we often need to theme those experiences. They are more in line with the brand of our partner than the core branding elements that make up Two Bit.  However we always focus on our core mission."
Creating social opportunities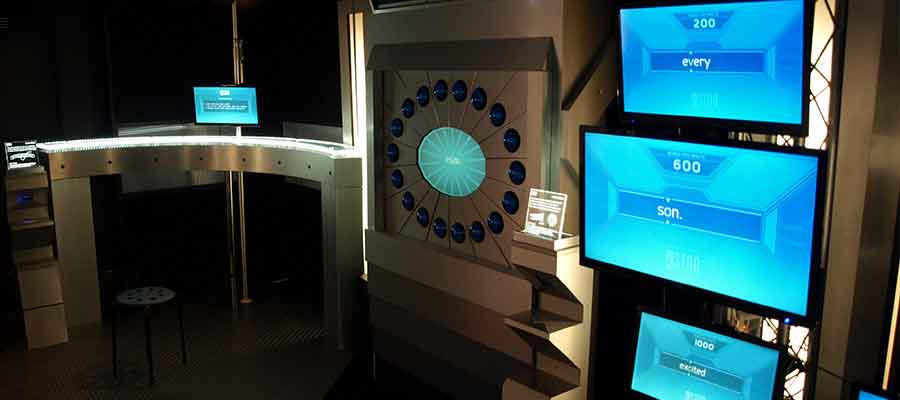 Bushnell explains that Two Bit Circus answers the need for social opportunities. "We help get people out of their homes and into the world, interacting in fun and meaningful ways.
"We generally like our content and experiences to have some goal beyond fun.  It could be as simple as getting people collaborating.  We like there being a fundamental goal with each experience.  Our foundation exists to take the approach we use inside Two Bit.  We apply play and whimsy to engineering and make it available to new learners. "
Education is the cornerstone 
Education is a cornerstone of the underlying ethos.  "As big nerds, we're also passionate about inspiring the next generation to go out and be inventors," says Bushnell.  This led to STEAM Carnival merging with an LA non-profit.
"T4T.org has been providing STEAM-based programs around LA for almost a decade," he says. "They were very involved in all of our Carnivals.  At the end of 2016 we therefore decided to merge programs. This created the Two Bit Circus Foundation.  It offers everything from STEAM materials and training, to lab and carnival design.  The full stack offering provides any school, library or community with all the resources to be able to incorporate our approaches to STEAM learning into their program."
A focus on next generation micro-amusement parks
"We were fortunate enough to raise enough capital to build a portfolio of next generation micro-amusement parks," says Bushnell. "These will be approximately 30,000+ square feet of immersive entertainment.  They include the latest in multi-person virtual reality and mixed reality and in addition social play experiences, group games, etc.
"Overall, we will be providing visitors with a variety of immersive, fun, social experiences. The business model for the micro-amusement parks is very simple – food, beverage, entertainment and select brand partnerships. "
Kimberly Schaefer is joining the company to focus on the micro-amusement parks.  "We are thrilled to have Kim join the company," says Bushnell.  "We worked a lot with Kim when she was at Great Wolf and we always talked about doing more together.  Her 18 years of experience in operational entertainment and brand development makes her an incredible addition to our executive team.
"The bulk of our time in the future will be focused on scaling our micro-amusement parks. We look on Los Angeles as a template that we will scale across the country and around the world. We are focused on the future of entertainment in its entirety, and the micro-amusement parks are a great way for us to introduce new experiences to consumers.   Baked into our model is an evolution of that content so we look at each zone as a living entity that will shift over time."
Building a portfolio of twelve resorts
Kim Schaefer brings nearly 18 years of real estate entertainment experience to Two Bit Circus. "I was an accountant by education," she says. "After a short career in public accounting, I discovered a love for the hospitality industry. When Great Wolf Lodge came to fruition I found a passion for branding and operations. We were a start up in a new industry so there wasn't an established path to improve.  Instead we had a brand to build and industry to set expectations for."
Schaefer was instrumental in the company's impressive growth, and also in its transition from a public to a private organization. "Great Wolf Resorts started as a small Midwest company," she explains. "It evolved from the summer travel patterns that families took to favourite drive-to destinations. We were thoughtful and deliberate on building our business and our brand.  As a result, this led to a well-recognized family destination getaway.
"The quality and superior experience led to growth and ultimately a solid reason for an IPO. After substantial growth and 12 resorts we no longer felt a strong need to be public.  Furthermore, we felt a private company could help with our next phase of growth and capital improvements."
"Perfect timing" to transition to Two Bit Circus
Schaefer is excited about her new role with Two Bit Circus. "I will have the opportunity to leverage my experience in both operational entertainment experience and brand development to help launch our next generation micro-amusement parks."
Schaefer has been an advisor to Two Bit Circus, "since we first pitched our tent", as Bushnell puts it.
"Brent and I have known each other in a professional capacity for many years," says Schaeffer. "We have always had a mutual respect for what we were doing in an industry that was ready for a transformation.  It was therefore perfect timing when Brent decided on a location-based facility and I had transitioned from Great Wolf Resorts.
"Two Bit Circus is a unique company," she adds.  "It focuses on experiential entertainment in such a fun way, incorporating technology and spectacle. I think they are so successful because they create public installations that other companies would never be able to. The imagination of the company is also unparalleled and is one of the factors contributing to their popularity."
Millennials the drivers behind new play experiences
Because of this, "I cannot wait to be a part of Two Bit Circus' growth," says Schaeffer. "Over the next few months the company will be focusing efforts on our first micro-amusement parks."
The micro-amusement parks will provide a further dimension to the Two Bit Circus phenomenon. They will also provide fans with a permanent location to experience their inventions.
"Two Bit Circus often creates these incredible installations that get used for one corporate event or another.  Then they are left in a closet with no place to live when the event ends. These micro-amusement parks will give these installations a home."
As a result, she is highly optimistic about the future.  "We can and will grow this brand across the country. The amusement industry and technology are converging and so it is an amazing opportunity for a new type of play experience. The audience is evolving mainly because Millennials behave differently. They are social but technology-driven. They are more interested in experiences than possessions, and they are the main drivers of these new experiences."
With two seasoned ring-masters cracking the whip, it's unlikely there will be any wobbles on the high wire for Two Bit Circus.
Images: top Pixel Toss, one of the high-tech games at the STEAM Carnival (Photo credit: CuriousJosh), all others Two Bit Circus.