AREA15 has officially opened in Las Vegas, with the experiential art and entertainment complex literally blowing the doors off and 'unleashing the extraordinary'.
AREA15, an immersive playground in one vast and vibrant space, opened its first phase on September 17, with further experiences planned throughout fall.
Meow Wolf's Omega Mart, which is set to debut in early 2021, will be "unlike anything visitors have seen before", boasting an even richer storyline than Meow Wolf's installation in Santa Fe, the House of Eternal Return.
AREA15 features a combination of immersive activations, art installations, events, extraordinary design, state-of-the-art technology, retail and F&B.
Experiences include 'Art Island', a permanent gallery exhibiting artwork inspired by festivals, and the self-explanatory 'Birdly Virtual Reality Experience'.
F&B outlets include 'Emack & Bolios', 'The Beast Pop-up Food Experience', and 'Oddwood', which boasts an ever-changing Japanese maple tree and a canopy with more than 5,000 LED lights.
'Haley's Comet' is the first indoor, electric dual-track suspension ride in the US, while 'Gallerie 360 Inside The Portal' is an immersive audio and visual experience inside AREA15's 360-degree projection mapped room.
'Sanctuary by Ibuku Design Studio' is a tranquil place to gather and rest, and 'Shogyo Mujo by Bart Kresa Studio and Joshua Harker' is an interactive giant skull covered in 3D projection mapping.
Visit the immersive playground of AREA15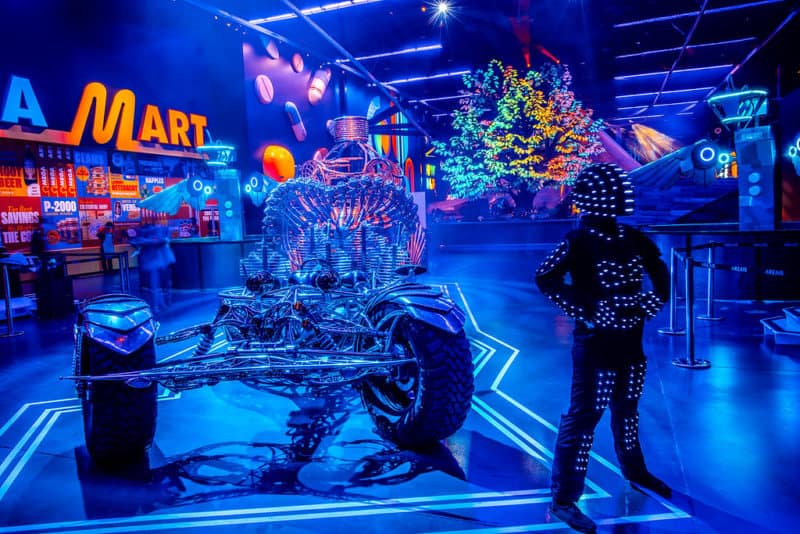 Other attractions include 'The Spine', an ever-changing corridor featuring art installations and F&B, 'Valyrian Steel by Henry Chang Design', a kinetic art car, and 'Wild Muse Boutique', a unique retail bazaar.
As well as Meow Wolf's Omega Mart, more experiences are incoming, including 'Wink World', 'Lost Spirits Distillery', 'Dueling Axes', and 'The Beast Food Hall by Todd English'.
'Wink World: Portals to the Infinite' comes from Chris Wink, co-founder of Blue Man Group. The art and entertainment project is his most ambitious since leaving the group in 2017.
Wink World boasts six infinity-mirror rooms, each featuring a production number with black light and dynamic stage effects that evoke 'life force' and inspire wonder.
Described by Wink as "equal parts psychedelic art house and carnival funhouse", Wink World will also display everyday objects transformed into art or entertainment.
AREA15 CEO Winston Fisher will be speaking at the blooloop V-Expo, running from October 13 to 15. Don't miss out – register here today.