AV Stumpfl, Austrian award-winning creator of mobile and installation projection screens, multi-display and show control systems, is celebrating the opening of a new experience, Studio 100 Story Studio, based on the Meir in Antwerp, Belgium.
The immersive AV attraction is a collaboration between Studio 100 and CityCubes. It brings together life-size projections with an audio story told through headphones to transport visitors to new worlds. The hour-long show starts every 15 minutes, with up to six shows being run in parallel from a single AV Stumpfl PIXERA master server.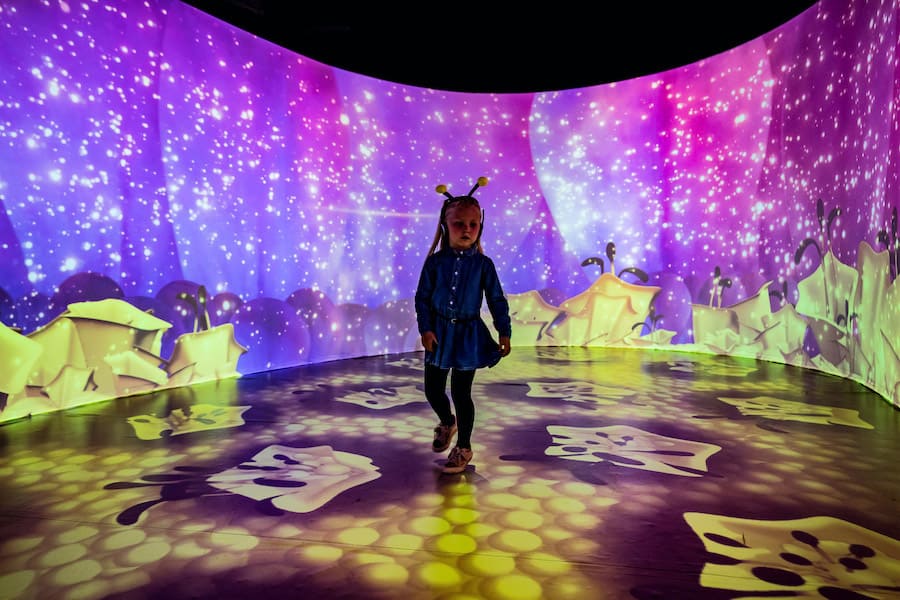 Discovering Atlantis
During the experience, a key story is that guests are joining an archaeology ship trying to discover the lost city of Atlantis, travelling through six different rooms that take them to different times, locations and dimensions.
Another story explores the world of "Maya the Bee", a classic children's book and successful animated series. This interactive experience sees visitors of all ages being asked to dance, fly and shake as they follow Maya through a series of immersive worlds on a hunt for a beehive party.
52 Panasonic projectors support the attraction's visuals, all of which are controlled and driven by AV Stumpfl PIXERA servers and software (one master and five render engines). All of the floor projections are handled by one PIXERA RAW server, with 15 outputs split by Datapath FX4 and routed through an IDK FDX-32 Modular Matrix Switcher. Meanwhile, all the wall projections in each room have a dedicated PIXERA server, playing backup to 12K wide uncompressed content per server.
In addition, the portable wireless headsets used by visitors, which are synced by timecode, are also controlled by the PIXERA master server. Extra audio outputs play commercials and effects in some of the rooms.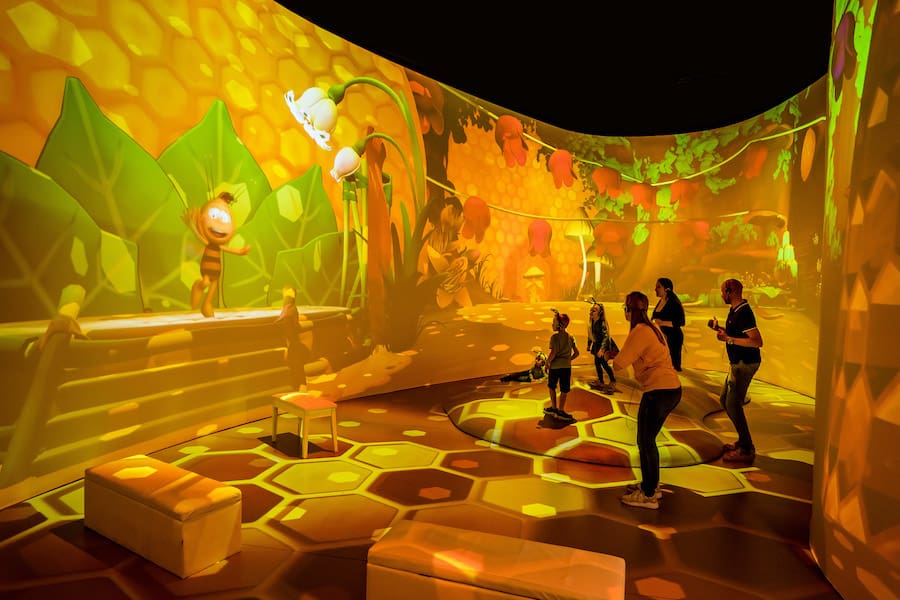 A reliable set-up
Speaking of the importance of a reliable system setup, CityCubes' creative partner Dieter Veulemans says: "What we created here in Belgium was a "never-been-seen-before" technology project for which we put all our trust in our partners and PIXERA.

"It's crucial that our shows stay on for several hours each day and this for several months and that we feel assured by all the AV equipment in use. Everything depends on the systems and the hardware and I can assure you we fully trust in these systems and that I sleep well during the night."
Sander de Schrijver was responsible for the programming of the PIXERA system and all of the technical equipment was supplied by AED Display. Visual content was created by Prismax and formatted as uncompressed TIFF sequences. Other companies involved in the project include The Production Box and Flex solutions.

More stories and experiences will be added to the attraction in the future, in. order to bring in visitors of all ages.
"Studio 100 Story Studio is a beautiful addition to our current activities and represents a new step for Studio 100 at the same time," says Studio 100 CEO Anja Van Mensel. "It is a new form of entertainment in which we put our full trust. Together with our partner CityCubes, I am convinced that we are making a mark when it comes to providing quality relaxation for the whole family."
AV Stumpfl also recently provided its PIXERA mini Quad server and Fullwhite screens for a new exhibition at the Museum of Science and Industry, Chicago, called Pioneer Zephyr.

Photo credits: CityCubes