CAP.Co, the adventure play specialist, has shared drone footage of its innovative adventure playground Tumblestone Hollow at Stonor Park in Oxfordshire, one of the UK's oldest stately homes.
Tumblestone Hollow is located on the grounds of the estate. It takes inspiration from the park's ancient stone circle and brings to life a new children's book called The Legend of Tumblestone Hollow.
William Stonor, founder of Tumblestone Hollow, commissioned local drone pilot Russell Cleaver to explore the playground with his purpose-built racing drone, offering a 'drone's eye view' of the attraction.
Cleaver has worked on Hollywood movies such as Astral (2018) and The Voice of Sin (2020). Check out the video below to fly through Tumblestone Hollow.
Tumblestone Hollow 'drone's eye view'
Tumblestone Hollow, which launched earlier this year, is designed for children and made from sustainably sourced chestnut. It is surrounded by peaceful parkland in the Chiltern Hills.
"The planning of Tumblestone Hollow has been nearly eighteen months in the making," Stonor said in February. 
"We decided to focus on providing families and children with something truly magical and exceptional, somewhere they would feel free to explore, discover nature and enjoy safe, outdoor play."
Stonor said CAP.Co were "the obvious partner for us to bring these amazing stories to life in a structure which blends perfectly with Stonor's rich heritage".
Stonor Park's ancient stone circle has been replicated for the adventure playground. Other attractions include walkways, climbing nets and bridges, connected by a central tower.
Stonor Park's new adventure playground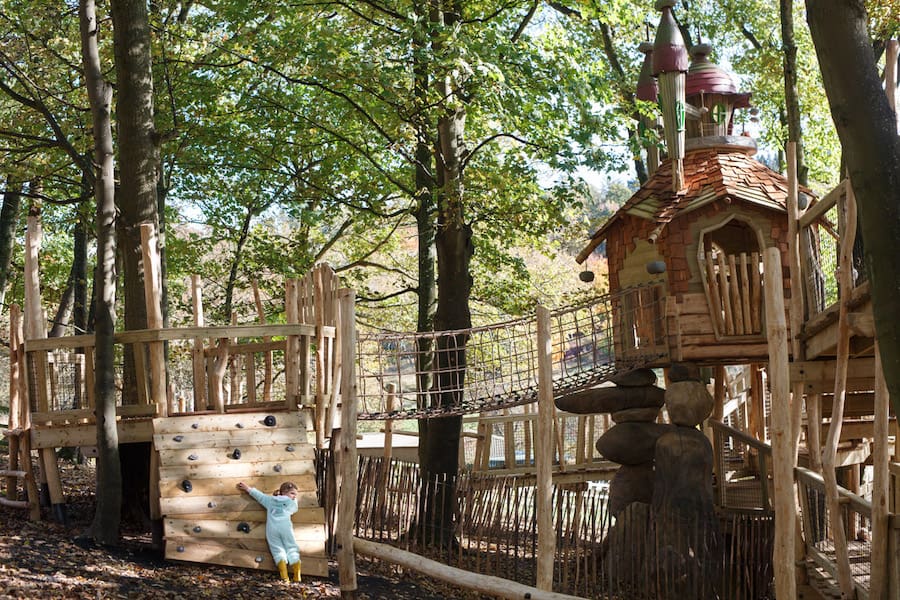 The tower's spiral steps take children to an observation deck with views across the park and access to the connecting bridges and towers. Parents can relax on giant wooden benches and enjoy F&B from the Hollow Hut.
CAP.Co director Simon Egan said: "Working with William and his team at Stonor Park over the past eighteen months has been fantastic.
"The park and house, which are one of the most historical in the UK, presented lots of opportunity for our designers to be their creative best."
"There are so many wonderful stories and myths connected with this ancient site, Stonor is perfectly suited to storytelling and we are immensely pleased to be working with Simon and his team at CAP.Co," said Lady Ailsa Stonor.
CAP.Co completed several new projects last year, including the Boundless Playground in Bermuda, Fritz the Pike's Playground in Norfolk, and the Nansledan Adventure Play in Cornwall.
Images: CAP.Co