The Calais Dragon was created by François Delarozière's company La Machine to accompany the €46m renovation of the Calais seafront.
The mechanical creature, which is made from steel and sculpted wood, is able to interact with Calais visitors while breathing fire, smoke and water.
The Calais Dragon can lie down, stand up, run at up to 4km/h and flap its huge wings. Passengers can climb onto the beast's back via a staircase on its tail before taking a trip along the Calais seafront.
Calais Dragon created by La Machine
Ahead of the inauguration of the renovated Calais seafront, which includes a wooden boardwalk, skate park and 'solarium', the Calais Dragon has enjoyed its new route to Blériot-Plage.
The Calais seafront project will be inaugurated on July 13 and 14, as will the Calais Dragon. The mechanical attraction will be escorted to the event and will launch a pyrotechnic show, produced by Delarozière, on July 14.
The French city's reptilian offering first arrived in 2019. The Halle de La Machine, a performing arts theatre in Toulouse, is hosting an exhibition of 250 photos titled 'Building the Dragon of Calais'.
"It seemed important to us to focus on the Calais Dragon because it is the most monumental machine that we have ever made to date," said Delarozière.
Calais seafront inauguration in July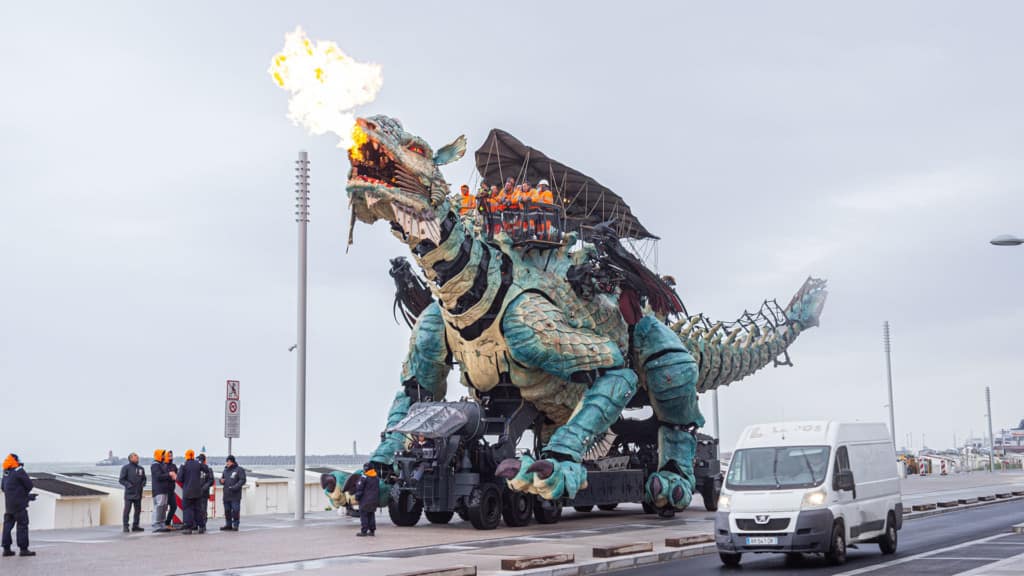 Delarozière's other creations are on display at Les Machines de l'Île, a tourist attraction in Nantes, France. These include the famous Grand Éléphant, as well as a mechanical spider, manta ray and heron.
La Machine's Frédette Lampre spoke to Blooloop about the Nantes attraction back in 2018: "We want to make the city of tomorrow a place to live in, a meeting place, a place of enchantment."
"Les Machines' ambition is to accompany the urban [re]development of the island of Nantes in the heart of the city," Lampre added.
Images: La Compagnie du Dragon