Epson, the laser projection specialist, has teamed up with Berghaus to create an immersive escape in the midst of the urban jungle.
Epson is pleased to announce the success of its latest project, a collaboration with British outdoor clothing and footwear brand Berghaus. The brand has over 50 years of experience in creating performance wear and wanted an innovative way of showcasing its latest collection in order to create a stir at this season's fashion trade shows.
In this latest campaign, Berghaus has switched the focus of its advertising from the products themselves to the brand's identity and its emotional connection with its customers. It created an installation that builds on this passion for the outdoors by transporting visitors at the London Design Biennale in Somerset House to a tranquil retreat from the city. More than 35,000 visitors escaped from the hectic city to experience the immersive installation on the campaign's theme of 'Emotional States'.
A new type of sales pitch
Berghaus made the decision to change from the traditional way of selling new lines through flat panel displays to a new type of sales pitch, one designed to engage with the audience. Berghaus worked with Pentland Brands to connect with its brand values.
"The exhibition's 'Emotional States' theme tapped straight into an aspect of Berghaus that we have been exploring for some time," says Katie Greenyer, Creative Talent and Network Director at Pentland Brands. "At the heart of the brand is a deep love of the outdoors and encouraging us all to get outside and enjoy experiences that can be genuinely life-changing. Through the installation, we invited visitors to explore their relationship with everyday life alongside the benefit of escaping outdoors."
The campaign sparked interest among retailers, enabling Berghaus to reach more key players within the industry than ever before. It also meant that the brand was able to communicate its core values in order to connect with its audience on a personal level. Following the six-week campaign, Berghaus received several first-ever orders from major companies.
Technology to create an immersive experience
For more impact, the installation featured a 'chaos tunnel' which visitors has to pass through before reaching the peaceful 'outdoors' section. It was designed to invoke the stressful atmosphere of a morning commute on the underground, complete with loud noises and ringing phones. Messages were also written on the floor, representing the hectic modern life.
After this, visitors were struck by the dramatic contract as they entered a light-filled, full-height space, where a watercolour painting of a tranquil outdoor scene was projected onto a huge canvas.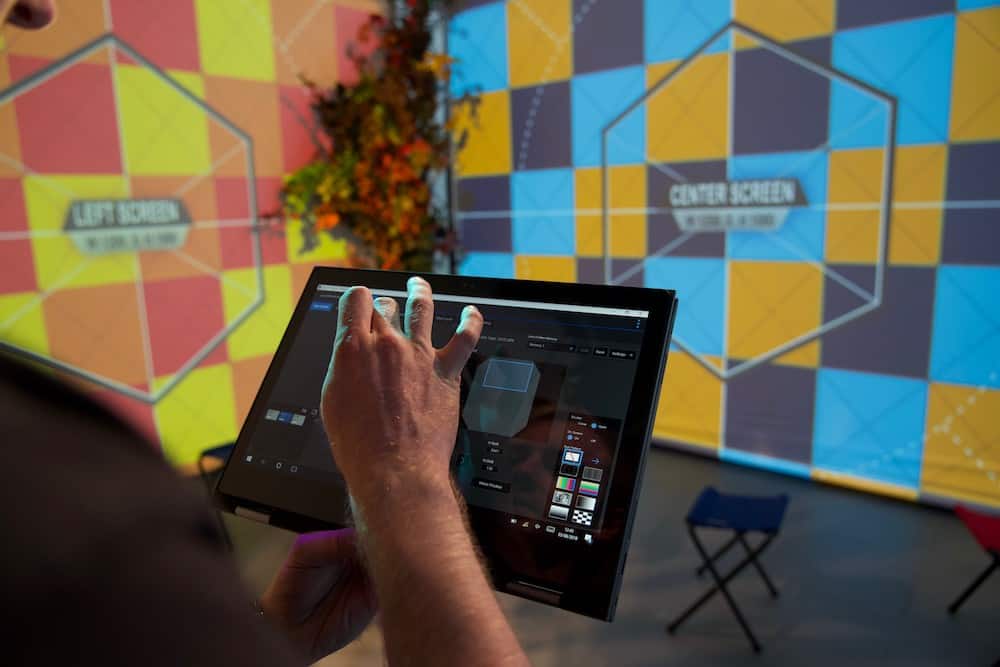 To make it an experience with impact, Pentland Brands worked with AV equipment rental service Blue Elephant. The project used the latest laser projection technology, delivered by two Epson EB-L1405U 8,000 lumens laser projectors with ultra-short-throw ELPLX01 lenses and one Epson EB-L1505UH 12,000 lumens laser projector with ELPLX02 ultra-short-throw lens.
Designed specifically for large venues, the projectors from Epson offered bright, clear images in rich, vivid colours that brought the installation to life. By using the zero-offset ultra short throw periscope lenses, the projectors could be placed virtually anywhere to create a borderless floor-to-ceiling truly immersive experience.
"We have recently invested in these projectors from Epson and as soon as the brief came from Pentland Brands, we knew that they would be the right choice for this project. They did a brilliant job, impressing not just the typical art lover at Somerset House, but also the fashion buyers with their business hats on," says William Kemp, Managing Director at Blue Elephant.
Epson recently announced new collaborations with three leading UK attractions, providing technology for the National Theatre, Stonehenge, and the Serpentine Sackler Gallery.