Star Wars: Rise of the Resistance will open on December 5, 2019 at Disney's Hollywood Studios in Florida, and on January 17, 2020 at Disneyland in California.
Rise of the Resistance will be one of Walt Disney Imagineering's most ambitious and advanced project's yet, merging fantasy and reality.
Visitors will be recruited to join Rey and General Organa at a secret rebel military base in the forest, next to the Black Spire Outpost on Batuu.
Walt Disney Imagineering merges fantasy and reality
Guests will board a full-sized transport shuttle before they're captured by a First Order Star Destroyer and witness a battle between the First Order and the Resistance.
Rise of the Resistance will feature Star Wars characters including Rey, Poe and Finn, as well as Kylo Ren and General Hux.
It is one of the biggest attractions that Disney has ever created, housing two full-size AT-AT walkers as well as a Star Destroyer hangar bay, featuring a TIE fighter and Stormtroopers.
It also combines multiple ride systems, and a new simulator experience will give visitors the sensation of falling from space to crash land on Batuu.
Meet Kylo Ren, Poe, Finn and General Hux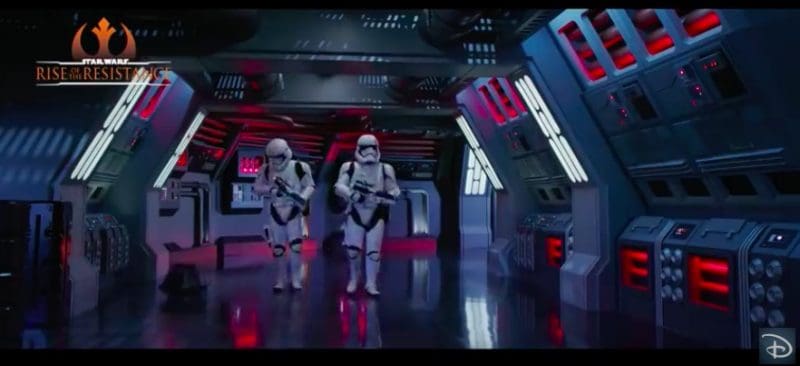 They will also race through a Star Destroyer in a trackless ride vehicle, which includes an onboard droid reacting to its surroundings.
Star Wars: Galaxy's Edge finally opened at Walt Disney World Resort yesterday (August 29), with guests at Disney's Hollywood Studios describing it as "incredible".
Meanwhile, an immersive two-night hotel experience, called Star Wars: Galactic Starcruiser, is heading to Walt Disney World Resort.
Walt Disney World also unveiled Epcot's transformation, teasing a Mary Poppins attraction, a Guardians of the Galaxy storytelling coaster, and 'Journey of Water', inspired by Moana.
Trackless ride vehicle and new simulator experience
Disney's D23 Expo 2019 recently revealed more about upcoming theme park projects, which include the Avengers Campus and Frozen and Zootopia expansions.
Images: Disney