Frontgrid is pleased to announce that its unique immersive attraction, ParadropVR, will soon be installed in its second location in the MENA region, following a successful year at Dubai Mall's VR Park. ParadropVR will entertain visitors at Alshaya International's cutting-edge new entertainment centre, TEKZONE, which opens this spring at the Red Sea Mall in Jeddah, Saudi Arabia.
ParadropVR first arrived in the region in March 2019, where it has consistently ranked at one of the top-performing attractions at Emaar Entertainment's popular VR Park in Dubai Mall.
ParadropVR in the MENA region
In addition to this, Frontgrid has also confirmed two further installations in the region in 2020, one in the UAE and another in Qatar. Several installations have recently been completed elsewhere in the world too, including five units at Landmark Group's Tridom FEC at Hyderabad, India and four at RW Genting's Skytropolis Indoor Theme Park, Kuala Lumpur.
This announcement follows a positive reception for ParadropVR at trade shows and industry events around the world, such as IAAPA Expo, IAAPA Expo Europe and the Saudi Entertainment and Amusements Summit (SEA).
Attendees at SEA 2020 witnessed a new ParadropVR Booster Pack in action, which gives access to a collection of exclusive games for the attraction. Frontgrid has also developed marketing tools such as an events app, created to increase repeat play and operator profits.
The Frontgrid team will in Dubai for the Dubai Entertainment Amusement and Leisure Exhibition (DEAL) show from 23 – 26 March. Attendees can email to book a meeting and VIP test flight.
Raising the bar
"Frontgrid is delighted to be bringing ParadropVR to the Kingdom of Saudi Arabia at TEKZONE at the Red Sea mall in Jeddah," says Matt Wells, CEO and co-founder of Frontgrid. "As a dynamic enterprise with a consistent record of growth and innovation – our two businesses have a lot in common. We look forward to working with Alshaya Group to deliver the very best experience to guests at TEKZONE Jeddah and at future locations across the region."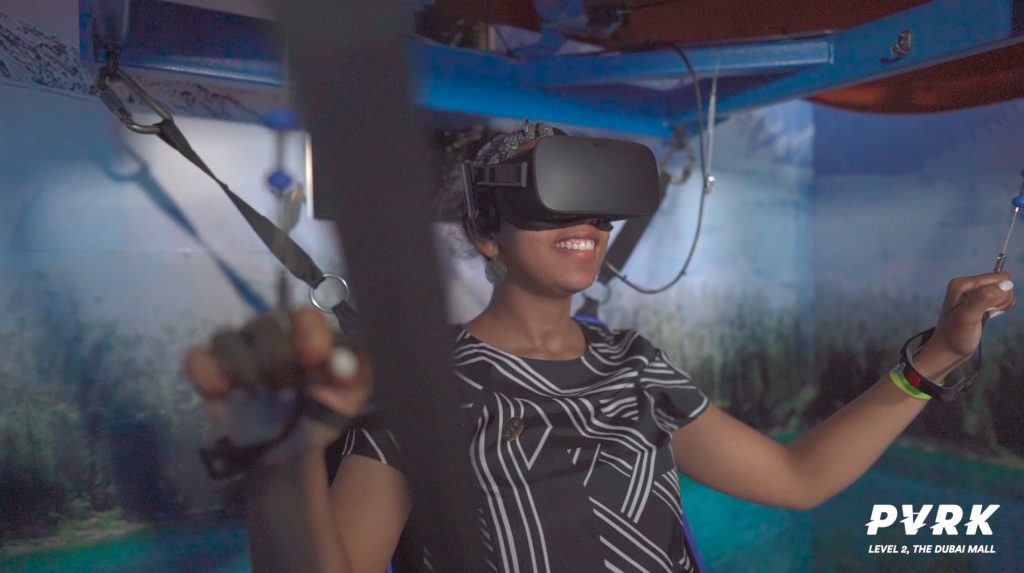 "When it comes to options for leisure and entertainment, consumers in KSA are spoiled for choice. Operators need to constantly raise the bar in terms of the quality and range of experiences they offer, as well as the techniques they use to attract and retain guests. ParadropVR delivers the type of exciting, innovative immersive experience consumers demand, backed-up with service, support and results."
Steven Putzeys, Leisure and Entertainment Operations Manager for Alshaya adds: "Our goal with TEKZONE is to bring together the world's most exciting indoor attractions, games and immersive experiences to create an innovative, state-of-the-art entertainment space. As such, ParadropVR is a great fit. We're looking forward to seeing the reaction when TEKZONE Jeddah starts welcoming guests."
Last year, ParadropVR City Flyer was selected as a finalist for Best Leisure Concept of the Year at the 2019 MAPIC Awards.