During the recent InfoComm trade show in Orlando, Blooloop and its partner Avixa ran an education session looking at interactivity trends in visitor attractions.
The largest trade fair for AV professionals in North America, InfoComm was held June 12 to 14 at the Orange County Convention Center.
The session featured three speakers with different backgrounds, but with specific expertise in creating engaging visitor experiences with interactive technologies.
Wearable tech enables a seamless visitor experience at Bear Grylls Adventure
https://youtu.be/yGfHP0UTMUQ
TJ Christensen, Executive Vice President, Sales and Marketing, accesso, talked about how the company's wearable tech had created a "completely seamless experience" at the new Bear Grylls Adventure.
The Bear Grylls branded Bear Tag allows visitors access to lockers, payments, photos and activities in an environment where carrying a mobile phone is difficult.
TJ also talked through how access to data can help improve the guest experience and drive up per cap spend. Real time insights into guest behaviour can allow attractions to personalise their in park offerings to guests.
Smartphones are now part of the museum experience
Dana Duran, Director of Content, Guru, says that smartphones are now an integral part of the museum experience. They can be a "tool for enhancement, engagement, sharing and interactivity".
Great examples highlighted by Dana are Artlens at the Cleveland Museum of Art, the scavenger hunt aboard the USS Iowa and Guru's recently opened "Visual Magic: Dali's Masterworks in Augmented Reality" at the Dali Museum.
The Getty Villa has cleverly found a good IP match, taking inspiration from the Percy Jackson books. The Demigods audio tour combines story telling, game mechanics and personalisation. Visitors discover their own godly parent who then takes them around the exhibits and all the way through to the gift shop. "Suddenly an Apollo bracelet that meant nothing before means everything to you!"
Dana closed a fascinating presentation by encouraging us to check out BBC CivilisationsAR preview, which we did:
Two Bit Circus – weird stuff, play and micro friendships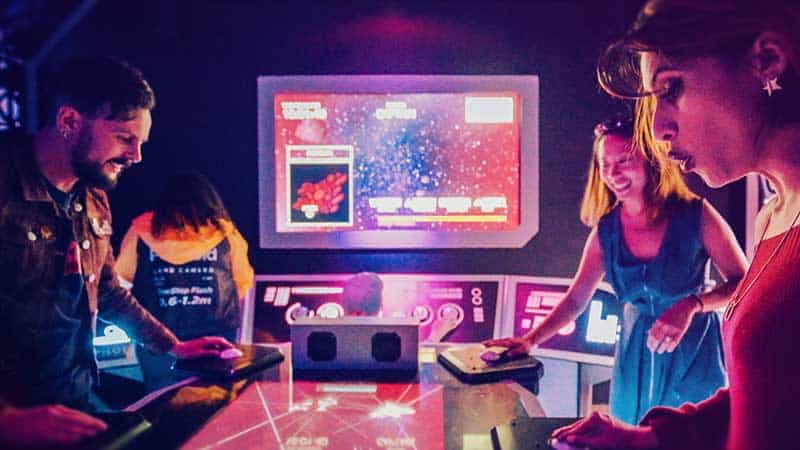 Eric Gradman, CTO of Two Bit Circus, explained how the cool new attraction is "bringing back to life carnival entertainment with high tech … there's weird stuff behind the walls!"
Eric's aim is to "try to bring people together to play together" and is proud that the activities encourage strangers to "create micro friendships".
"with every facebook selfie I die a bit inside"
Two Bit Circus combines high tech with low tech to create an engaging experience, but mobile phones are not welcome. Eric days, "my goal is to keep people interacting with one another … with every facebook selfie I die a bit inside".
An adult scavenger hunt is generated live for each individual: "free hands should be holding a treasure map not a phone".
With their own take on an escape room Two Bit Circus is all about interactivity. In Space Squad in Space, roles and activities are available depending on the personality of the visitor and how much they want to take part in the escape game.
"Different people will play the room differently so we need them all to have fun," says Eric. There are the natural leaders who will want a lot of action and challenges but for those people who are happier sitting back and letting others do the hard work there's an arm cycle and a giant button to allow them to fulfil "a mundane but vital role".
Club 01 is interactive game show theatre with 100 seats, touchscreens, drinks and food. The format is half video game, quarter game show and quarter theatrical. Wine and whisky tastings are held in the same venue with visual displays on screens: "you've never seen graphs be so exciting – and it helps if you have a drink".
With more innovative and fun experiences in the pipeline we can't wait to visit!
Interactivity and guest experience
Three fantastic presentations, with completely different viewpoints. From TJ we learned that data capture can help deliver the personalised experience that guests crave and drive increased satisfaction and revenues. Dana highlighted some really ground breaking examples of mobile based interactivity in the museum sector and showed that storytelling is still important to establish a connection with visitors. And Eric showed that sometimes we need to put down our phones to have fun with friends.
Thanks to our speakers and to our friends at InfoComm and Avixa for supporting our attractions technology sessions.
Our other sessions at InfoComm were:
Images: Dali Museum, Getty Villa/Read Riordan, Two Bit Circus