London's bridges are being illuminated in a new project to create the longest public artwork in the world on the River Thames, offering a free attraction for Londoners.
Illuminated River will transform London after dark, lighting up to 15 bridges on the River Thames at a cost of £45 million.
The Illuminated River Foundation's artwork was conceived by artist Leo Villareal and architects Lifschutz Davidson Sandilands.
"The Illuminated River will give London free art," said Sadiq Khan, Mayor of London. "The project also means that a wasted asset and wasted resource will now be used. The team had thought through how the project is sustainable, how it will be energy efficient and use less energy."
Transforming London after dark with LEDs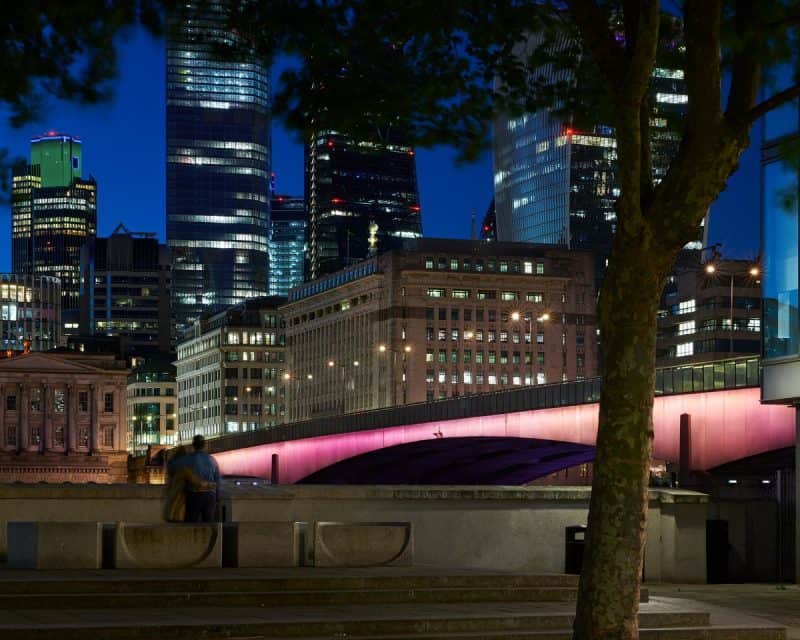 Each bridge is being affixed with around 10,000 LED lights. The first phase has seen London Bridge, Cannon Street Railway Bridge, Southwark Bridge and the Millennium Bridge lit up with the LED displays created by Villareal.
In 2020, another five bridges will be illuminated, followed by the remaining six, with the project due to complete by 2022. Running from Tower Bridge to Albert Bridge, it will be the longest public art commission at 4.5 nautical miles.
The environmentally-friendly project uses energy-efficient lights and will decrease the overall light emissions created by the bridges' previous lighting.
The new LED lights will be turned off at 2am every night to reduce energy costs, and light pollution will also be reduced.
Lighting up to 15 bridges on the River Thames
Chair of the Board of Trustees, Neil Mendoza, said: "A tremendous amount of work has been done since the winning team of Leo Villareal and Lifschutz Davidson Sandilands was announced almost two years ago.
"Much of that work has been undertaken in collaboration with organisations up and down the river, including one of the largest and most detailed planning processes London has seen. We are grateful for the contribution of all our partners and look forward to continuing our work together."
Each bridge will cost approximately £3 million. The Illuminated River Foundation will fund and maintain the project for 10 years.
It's estimated that 60 million people will view London's illuminated artwork every year, with more than 1 billion viewers by the time the project completes.
Images: Illuminated River