The audiovisual system integrator Kraftwerk Living Technologies has launched a new look website. Visitors can now enjoy picture and video-rich insights into the company's work around the world.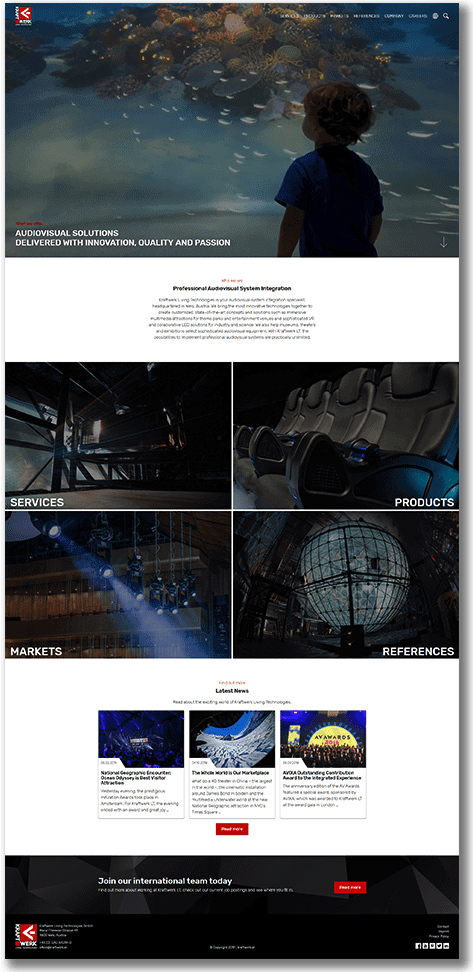 In addition, a new corporate image has been developed, which will be featured on all of Kraftwerk Living Technologies' branded materials in the near future.
The redesigned website follows the company's last brand relaunch almost six years ago. Since then, the Austrian firm has developed into a major global player in the AV industry. As such, it was felt the time was right to modernise its digital presence.
"Our website was outdated," says Kevin Murphy, Kraftwerk Living Technologies' director of sales and marketing. "Our company has evolved over time along with the technology we use. The web has also matured –  the rules have changed."
The new website has been designed to be more attractive and informative for customers, partners and recruits. There is now a strong emphasis on showcasing experiences made possible via technology. While the old site was available exclusively in English, the new content is bilingual, also available in German.
Murphy reflects on the changes at Kraftwerk Living Technologies over the past few years: "Whilst hardware was the focus many years ago, we now provide complete solutions to our customers. With our new website, we want to convey exactly this. We are designers, engineers and installers, and with technology we create experiences that inform, inspire and entertain".