Visitors to the National Geographic Museum's new Queens of Egypt exhibition in Washington DC can take a virtual tour through one of the most well-preserved tombs in the Valley of the Queens. The 3D experience was produced by Falcon's Creative Group.
Opened on March 1, the exhibition showcases more than 300 objects and artefacts. This includes monumental statues, eye-catching jewellery, and remarkable sarcophagi. Falcon's contribution features a stunning virtual reconstruction of Queen Nefertari's tomb as it was originally in Eygpt's 19th dynasty (around 1250 BC). This was done according to how archaeologists believe it may have looked like at that time.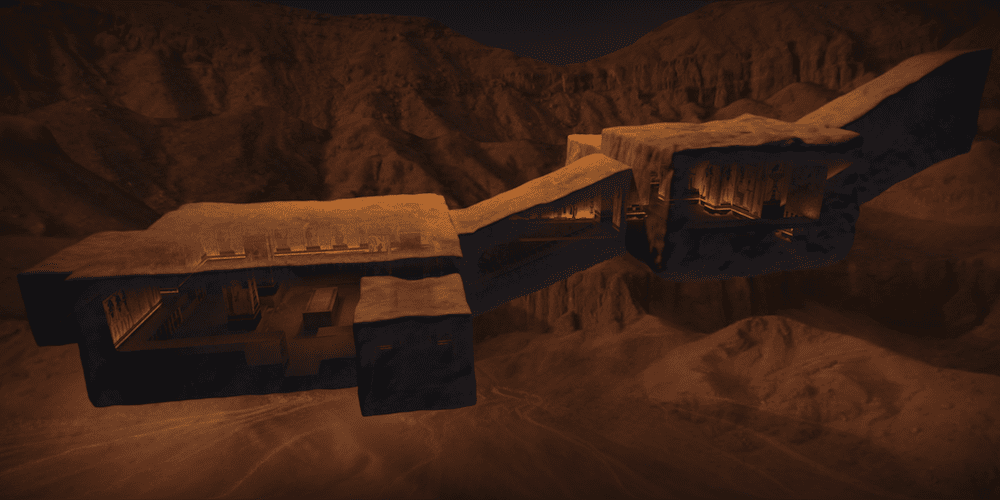 "This exhibition pushes the boundaries of what visitors to the National Geographic Museum can experience without actually traveling all the way to Egypt to stand in the tomb of Queen Nefertari," says Alan Parente, the museum's creative director. "Through our collaboration with experience designers like Falcon's Creative Group we're finding new and exciting ways to enhance storytelling and guest immersion."
Seamless projection and immersive media content
Seven projectors are used to create a 3D theatre experience across 10-feet high (3m) walls. An additional eight projectors cover the floor. Furthermore, in order to create a single seamless and engaging vantage point for the audience, all 15 projectors are edge-blended. The media content is produced at 10K resolution and features 7.1 surround audio accompanied by an original musical score.
Falcon's Creative Group, whose other ongoing projects include a collaboration with the public service broadcaster PBS, has been working with the National Geographic Museum over the past few years. Together they have produced content for what Parente describes as "the next-generation of technology-forward exhibitions."
"We're truly inspired by their influence in the realm of education, conservation and research as well as their dedication to bringing natural and historical narratives to the masses," says Falcon's vice-president, David Schaefer. "This is an exciting project that utilises a wide array of technology to bring the tomb of Nefertari to life and immerse guests in the culture of ancient Egypt."