Leading AV specialist, Christie, has packed the power of 40,000 lumens into the smallest, lightest omnidirectional projector on the market.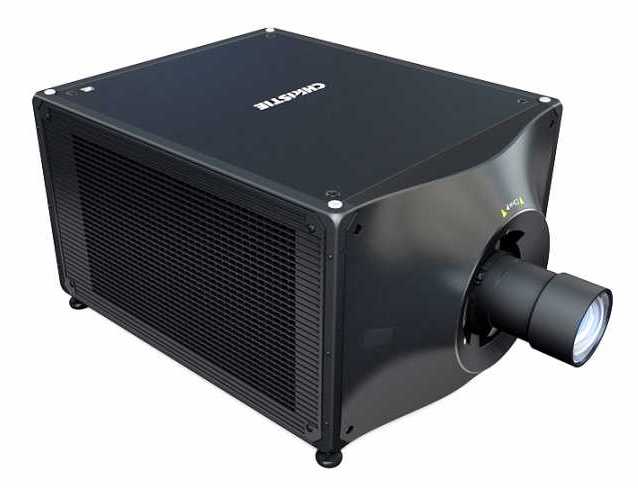 Featuring TruLife electronics and RealLaser illumination, the new Christie D4K40-RGB3DLP laser projector delivers rich, vibrant true-to-life visuals despite being less than half the weight of its closest competitor.
According to Mike Garrido, Senior Product Manager at Christie, neither image quality nor durability have been compromised:
"There are no heavy external chillers, remote laser racks, or special pedestals; everything is incorporated into a single, all-in-one solution," he says.
"This is pure laser, pure performance and pure excellence all rolled into one projector that our customers are going to love. Our customers will also love that the D4K40-RGB is compatible with most Christie Boxer lenses, resulting in further cost savings."
D4K40-RGB features latest advancements in laser technology
Delivering over 30,000 hours of operation to 80 percent brightness, 5000:1 contrast ratio, and up to 120 frames per second, the Christie D4K40-RGB also features a new, patented, sealed optical path.
Essentially, what this means for the customer is 8-plus years of stable, uncompromised, virtually maintenance-free operation. Powerful yet energy efficient, the Christie D4K40-RGB operates on single-phase 220V power, making it significantly more cost-effective than competitor models.
What's more, the projector features the company's latest advancements in laser technology, enabling 4K DLP at 120Hz performance. With its 12G-SDI, DisplayPort, Christie Terra SDVoE input card, Christie Link and more, connecting multiple sources is trouble-free.
Available from December, the new projector has been designed for large venues, sports facilities, domes, giant screens, planetariums and theme park attractions.
This latest product news follows the announcement of a number of key awards for the AV specialist. Christie's Velvet Core Plus won Display Product of the Year at the 2018 AV Awards. At the same event, Christie was named Most Influential Company, an honour specially created to mark the AV Awards' 20th anniversary.