Microsoft Corp and the NBA have joined forces to put basketball fans courtside in a virtual experience during live games using Microsoft Teams' new Together mode.
Microsoft is reimagining how fans experience basketball, as the 2019-2020 season prepared to kick off without any attendees on July 30 in Orlando.
Together mode uses artificial intelligence (AI) segmentation technology to bring people together in a shared background, giving the feeling of sitting next to one another at a live game.
It uses scientific principles of cognition and social perception, and is more than just a virtual background in that it makes being together virtually feel like being together in-person.
Bringing people together in a shared background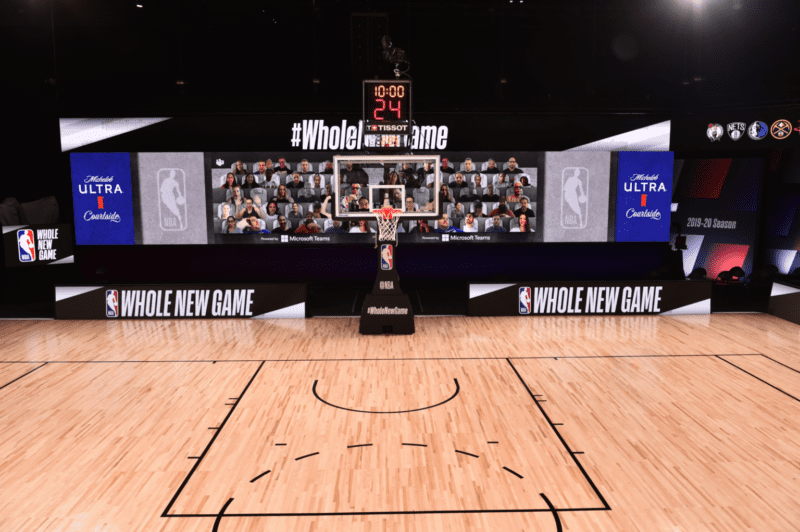 Users can maintain natural eye contact and register other participants' emotions as they react to what's happening. Players will experience the energy and support of participants, and viewers at home will feel the crowd's energy.
As of July 30, the NBA will fit each game court with 17-foot-tall LED screens that wrap three sides of the arena.
The stands will be populated with more than 300 fans who will join the game using Together mode. Participants can view their fellow fans and watch a live feed of the game within Teams.
"We are excited to partner with Microsoft to virtually incorporate NBA fans into our season restart," said Sara Zuckert, Head of Next Gen Telecast, NBA.
Game courts fitted with 17-foot-tall LED screens
"This unique live game experience will allow fans to maintain a sense of community as they watch their favorite teams and players."
In addition, the NBA announced new in-venue and digital enhancements to create a more immersive and communal viewing experience for fans during the 2019-20 NBA Restart.
The NBA and Microsoft recently teamed up to create next-gen experiences for basketball fans, including a new fan engagement platform offering personalised, live and on-demand game broadcasts.
Last year, NBA Experience opened at Walt Disney World Resort's Disney Springs, and Microsoft announced an addition to its $125m AI for Good programme, AI for Cultural Heritage.