A new website by Sears Davies has been launched to coincide with the birth of the new brand – 'Story Engineers'.
Sysco Productions was originally founded in 1998.  It's a world class experience delivery company that works for high calibre global clients in the museum & heritage, exhibition, and sports & leisure industries. Their first project was the Millennium Dome's visitor experience. Since then they have worked with a wide variety of clients including the Imperial War Museum, The V&A, the Science Museum, Twickenham Stadium and Ascot Racecourse.
To support their evolution from systems integration into the world of storytelling and narrative engagement Sysco have rebranded as 'Story Engineers'.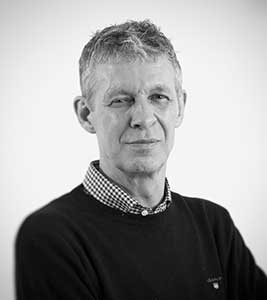 "It is the trinity of space, storytelling and engineering that are the three pillars of our approach," says Hugo Roche (right), Managing Director of Sysco. "Stories with a clear narrative need to evolve from the client's creative vision and the challenge is about framing this story within the discipline and physical constraints of the space."
At the heart of every experience, regardless of whether it's a museum, an exhibition, an arena, visitor centre, theatre or stadium, there's a story.  As Story Engineers, Sysco reimagines space with technology. They maximise the potential to create memories and trigger emotions, producing an experience that lingers long after the event.
There are four key phases in the process: Imagining, Engineering, Implementation and Synthesis. The process begins at the very beginning of the project with the clients' creation ambitions.
"The focus should be to always try to find appropriate technology to complement and enhance, rather than overpower and distract," says Graeme Bunyan, Director of Technology. "Our mantra is that technology is an enabler, it should never dominate the story…if it's doing its job correctly you may never even know it's there."
The tool that underpins their approach is best described as a grid. This has become the cornerstone of the new brand and brand identity. The company's new logo is a visual representation of the grid.
Sysco explains that the grid creates order and structure.  It allows clear communication across all stages of a project, whether it's the initial drawings of the design application or production engineering and system calibration.
There is a shared understanding within the company that projects start with people and not just systems.  The mission and promise at the very core of Sysco – Story Engineers is to deliver world class experiences, engineering imagined ideas into powerful realities.
Sears Davies have developed a new website, to coincide with the launch of the new brand.  The site demonstrates a range of experience projects around the world.  It also showcases a brand video encapsulating the very heart of Sysco's ambition as Story Engineers.