A Terminator VR experience called Terminator: Guardian of Fate has launched at Dave & Buster's. The new "adrenaline-fuelled" attraction is now available at 130 locations of Dave & Buster's across North America.
According to a press release, Terminator: Guardian of Fate is an intense, action-packed, interactive experience – with Linda Hamilton voicing Sarah Connor.
The virtual reality (VR) attraction also features new characters created for the original narrative. There are four randomised player avatars, a variety of weapons, and weapon upgrades.
"We have really created something very special with Terminator: Guardian of Fate," said Chanel Summers, VRstudios' VP of creative development. "This is an all-out adrenaline-fuelled interactive experience that is a roller coaster of intensity.
Linda Hamilton is voicing Sarah Connor in VR
"The Terminator is the ultimate movie monster and just when players think they have destroyed it, it comes back! The action is so relentless that you will barely have time to catch your breath!"
Players join Sarah Connor and her team to stop the deadliest ever Terminator from destroying a target who will be valuable to the future of the Resistance.
Sarah Connor guides players as they outrun and outwit the Terminator, ensuring the target and her work escape to safety.
Terminator: Guardian of Fate also boasts a zombie-style shootout with the Terminator, and culminates in a massive showdown.
Another chapter of the game is coming out soon, with multiple endings and more surprises.
'An all-out adrenaline-fuelled interactive experience'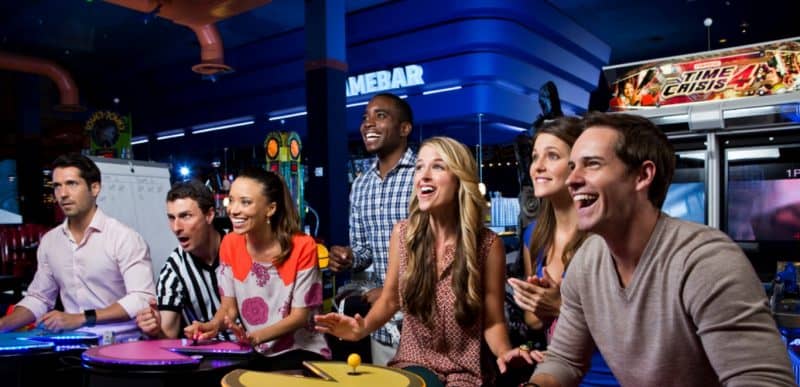 VRstudios once again teamed up with development partner Strange Reptile on the Terminator VR experience.
The companies have worked together on Star Trek: Dark Remnant and Men in Black: Galactic Getaway for Dave & Buster's.
Earlier this year, Dave & Buster's announced new VRcade Arena experiences, including VRcade PowerPlay and Barking Irons Gunslinger.
Elsewhere, The VOID and Sony Pictures Virtual Reality (SPVR) have teamed up for an immersive Jumanji VR experience, called 'Jumanji: Reverse the Curse'.
Images: Dave & Buster's /  VRstudios