Crown Prince Mohammed Bin Salman has unveiled plans for THE LINE at NEOM, a $500 billion flagship 'revolution' in urban living.
The development aims to transform the concept of a conventional city. THE LINE will extend over 105 miles and comprise a belt of hyper-connected communities, without cars or streets. The Crown Prince says it will house a million residents in "carbon-positive urban developments powered by 100 percent clean energy". THE LINE will be part of the NEOM development that covers an area overlooking the Red Sea and the Gulf of Aqaba – 33 times the size of New York City and nearly the size of Belgium.
"Why should we sacrifice nature for the sake of development," HRH Prince Mohammed bin Salman said in a rare televised appearance. "Why should seven million people die every year because of pollution? And why should we accept wasting years of our lives commuting? We need to transform the concept of a conventional city into that of a futuristic one."
Designed around people not roads
THE LINE will preserve 95 percent of the nature within its boundaries. All essential services (schools, clinics, leisure facilities, green spaces) will be accessible via a five-minute walk. Longer journeys (no more than 20 minutes) will rely on ultra-high speed transit and autonomous vehicles.
"NEOM is a bold and audacious dream," says the project's website. "It is a vision of what a New Future might look like. It's an attempt to do something that's never been done before and it comes at a time when the world needs fresh thinking and new solutions." The blueprint for the giga- project includes towns and cities, research centres, ports and enterprise zones.
Cognitive cities – AI, robotics and human-machine fusion
NEOM will also feature sports and entertainment venues, and tourist destinations. One aim of the project is to give people more time for health and wellbeing. Communities will be powered by AI, constantly learning how to "make life easier, creating time for both residents and businesses." It's estimated that, while existing smart cities use one percent of data to enhance infrastructure capabilities, THE LINE will use 90 percent.
NEOM has partnered with STC to establish its 5G network infrastructure, "one of the most advanced 5G technologies in the world", to exchange data between its residents and the city's infrastructure.
"NEOM's infrastructure will utilise AI, robotics, and human-machine fusion to deliver greater predictive intelligence and enable faster decision making across all NEOM sectors," said Nadhmi Al Nasr, NEOM's CEO. NEOM's 5G will enable the Internet of Things (IoT), data analytics, VR, AR, smart homes and autonomous vehicles.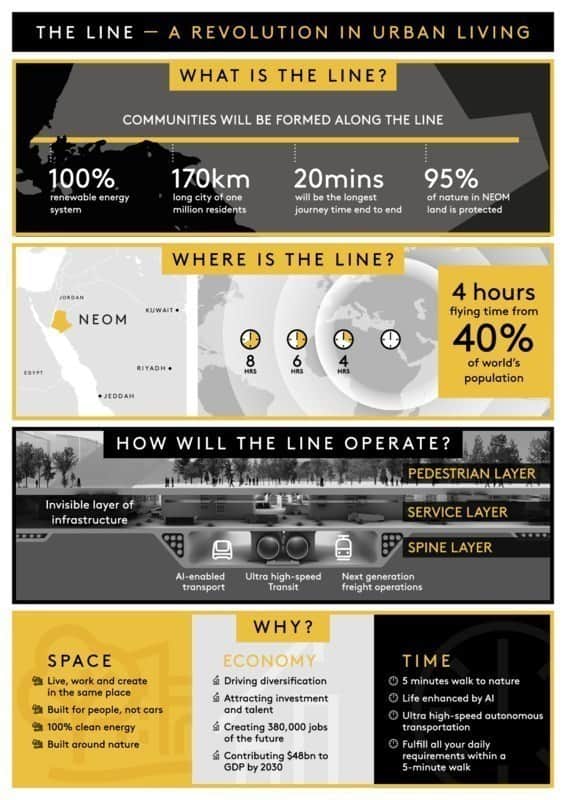 Tourism key part of 2030 Vision
The project is part of Saudi Arabia's 2030 Vision with the aim of growing and diversifying the Saudi economy and its position in global development, and reducing its reliance on oil. The country has launched a series of giga-projects over the last few years,  including Amaala, the Red Sea Project, and Qiddiya, alongside NEOM.
The Red Sea Project is being developed over 28,000 kilometres on Saudi's west coat and will include luxury and hyper-luxury hotels alongside leisure and entertainment amenities – the first phase is slated to open in 2022. Uber-luxury resort Amaala will focus on wellness tourism, integrated alongside arts, culture and sports, while Six Flags Qiddiya will be the largest, most costly Six Flags park to date.
Domestic and global investment
NEOM will initially be funded by Saudi Arabia. The cornerstone investor for the project is Saudi's Public Investment Fund (PIF). The new city is expected to create 380,000 jobs and add $48 billion to the kingdom's GDP.
However it is ultimately intended to be an international project – "led, populated and funded by people from all over the world."
The website points out that the region is located at the "crossroads of the world" with 40 percent of the world's population able to reach NEOM in under four hours. More details on THE LINE development are to follow.