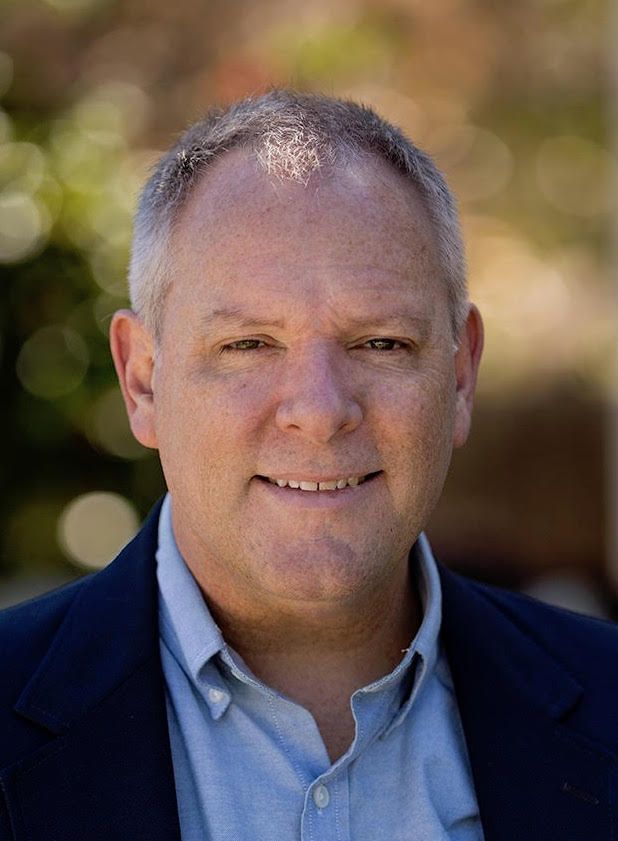 The Walt Disney Imagineering and Lucasfilm creative teams had a key decision to make when they started planning the first Star Wars theme park land: should they take visitors to a familiar planet like Tatooine or Hoth or journey to a new location in the cinematic universe?
"This was probably the biggest question: Where are we going to go?" said Margaret Kerrison, the Walt Disney Imagineering managing story editor for Star Wars: Galaxy's Edge.
See also: What to expect when Galaxy's Edge opens at Disneyland and Disney World
The decision to take visitors to the planet of Batuu on the outer rim of the "Star Wars" galaxy naturally raised a host of additional questions.
"What is this place? Where do we want to bring people? What's the most compelling story that we want to tell? What do we want to see?" Kerrison asked during a media preview event.
Creating a layered backstory for Star Wars: Galaxy's Edge
The answers created a layered Backstory for Star Wars: Galaxy's Edge. This was filled with mythology, folklore and culture that provides the history of Black Spire Outpost, a remote village on Batuu.
The challenge was to create a real-world environment that would feel like an authentic part of the "Star Wars" galaxy of films, television shows, books, comics and video games.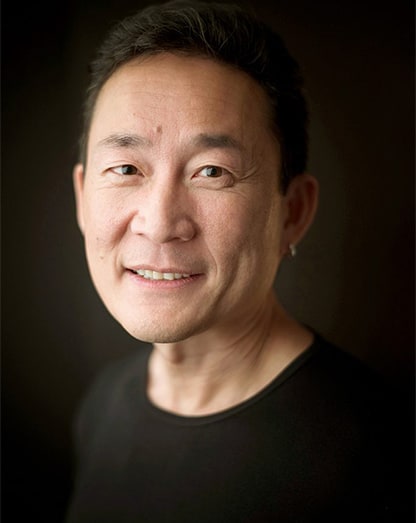 "We're trying to anchor something that's very grounded in the Star Wars universe yet add something new to it," Lucasfilm vice president and creative director Doug Chiang told StarWars.com.
"So it's a very fine line of where that balance should be. For this land in particular, we were very careful because we wanted to create something fresh that would be timeless. You know, like a film, these have to exist for years and years. So we wanted to make sure that we captured that perfect note."
New planet, new adventure
Galaxy's Edge is set in a single village on a single planet in the Star Wars universe rather than a string of familiar yet disparate locations from the fictional galaxy.
Imagineering and Lucasfilm worked together to create a new planet in the Star Wars canon. The planet has its own backstory, geography and inhabitants.
So why not create a theme park land based on a place familiar to fans of the 40-year-old-plus film franchise?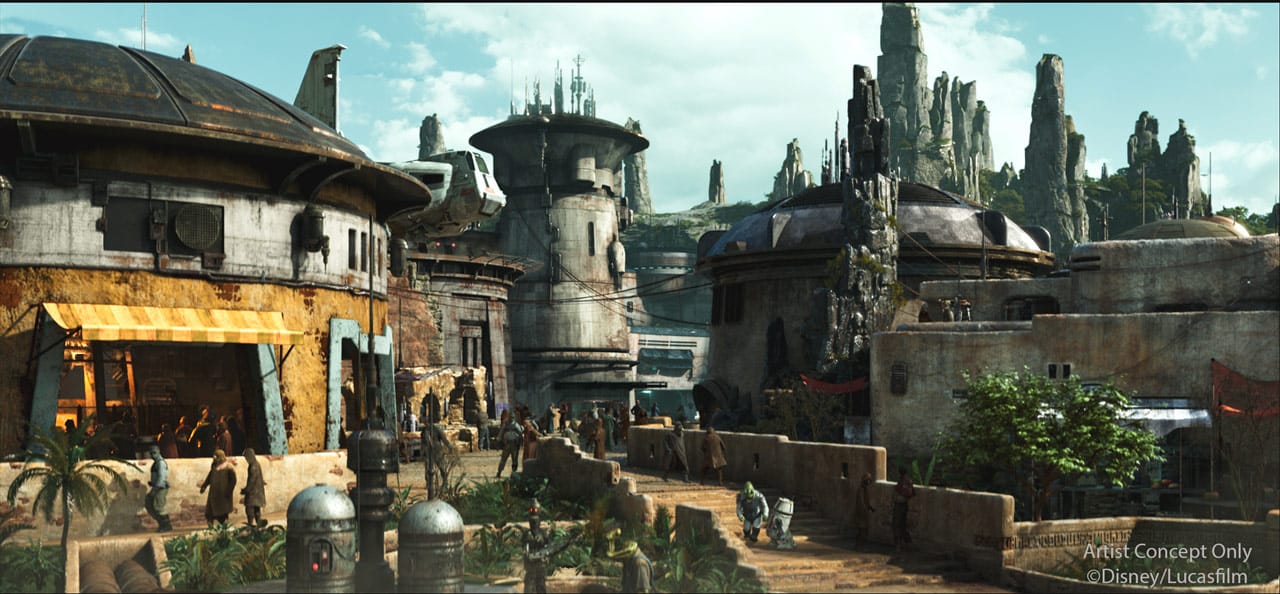 "The answer really is we know those places and we know those stories that happen there and we know that we're not in them," said Walt Disney Imagineering portfolio creative executive Scott Trowbridge. "Black Spire Outpost is an opportunity that's designed from the very get go to be a place that invites exploration and discovery. A place that invites us to become a character in the world of Star Wars. And to the extent that we want to, to participate in the stories of Star Wars."
See also: Inside the Millennium Falcon, the 'hunk of junk' at Disney's new Star Wars: Galaxy's Edge
Those two core ideas framed all the decisions made by Lucasfilm and Imagineering throughout the development of Galaxy's Edge. One: We're going to a planet we've never seen before. Two: You're the hero of this Star Wars story.
A planet left behind by hyperspace
That new adventure takes place along an old intergalactic trade route.
The remote planet on the galaxy's edge once served as a busy crossroads along popular trade routes. Batuu was a hub of trade and commerce for the first interstellar explorers heading out into a territory on the edge of uncharted space known as the Unknown Regions.
"It is an amazing stepping off point for new Star Wars stories," said Trowbridge, the Imagineering creative executive for the global Star Wars portfolio. "It's a remote frontier planet somewhere on the edge of wild space. A place that in days of yore was a necessary stopping off point for food and provisions and to refuel as you were exploring the outer reaches of the galaxy."
See also: Galaxy's Edge debut could bring 200,000 people and 10-hour lines to Disneyland
The birth of lightspeed and the rise of hyperspace travel left this once-bustling planet behind. Trade routes relocated to core galactic planets. This left Batuu on the frontier between the known Star Wars universe and the galaxy's fringe.
"Over time, and especially with the advent of hyperspace travel and faster-than-light travel, it kind of fell in prominence," Trowbridge said. "It's kind of like an old Route 66 story a little bit. This is a place that got bypassed a little bit."
Smuggler's Roost
The decline of the planet left Batuu home to smugglers, pirates, rogue traders, bounty hunters, opportunists and con artists.
There is an inscription on the map on the back of a collection of Galaxy's Edge trading cards. It calls Black Spire Outpost "a beacon for drifters, the forgotten, the lost, the broken and the tossed".
Today, the still-thriving spaceport of Black Spire Outpost has become a safe haven. Safe for those looking to remain discreet, stay out of the mainstream and avoid the attention of the First Order.
In short, an off-the-beaten-path home for the galaxy's most colorful and notorious characters.
"I like to think of them as all the interesting people," Trowbridge said. "And a great place for us to start our Star Wars story."
Darker than all the rest
In Star Wars lore, Batuu was once known for its lush trees and mountain spikes. Thousands of years ago, the trees eroded, petrified and became way-finders that captured the imagination of intergalactic travelers.
For the first settlers, the petrified remains of the once-towering trees became iconic landmarks of Black Spire Outpost, guardians of the village and the heart of the outpost.
There is an unexplained black spire at the center of town. It was darker than all the rest gave the outpost its name.
"There is a mystery to it. We kind of like that idea that there is no answer to it," Kerrison said. "There is something unusual about it. There's talks and whispers among the locals about why that thing is blacker than all the rest."
Outpost Marketplace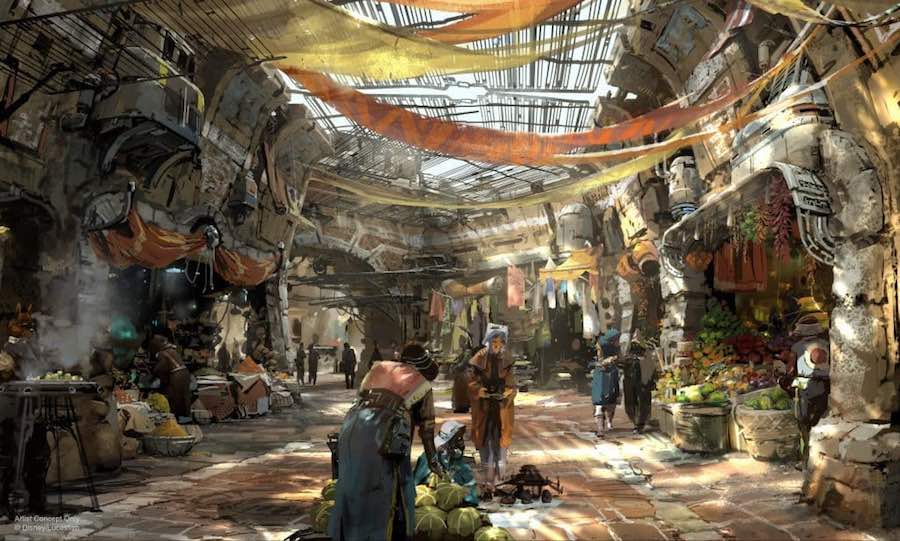 A centuries-old marketplace grew up around the mysterious black spire. Cylindrical buildings with domed roofs were built into the brooding petrified spires. A cantina dominated the center of the village. The ruins of an ancient civilization stood at the edge of town.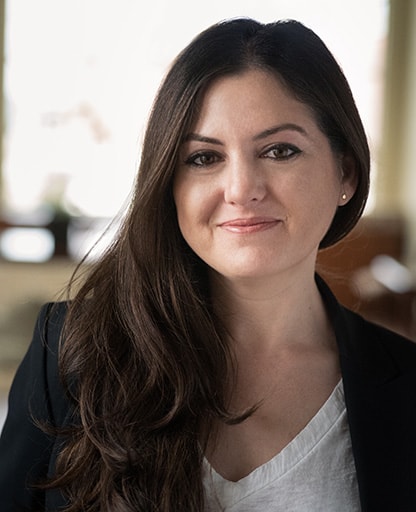 The Imagineering and Lucasfilm creative teams spent years sorting through hundreds of possible names for the village before settling on Black Spire Outpost.
"You want to hear it and think, 'I want to go there,'" said Carrie Beck, Lucasfilm vice president of animation and live action series development.
Creating a Star Wars history
Imagineering and Lucasfilm have been using films, novels and comic books to build up the Backstory for Star Wars: Galaxy's Edge, Black Spire Outpost and Batuu. The books help weave the smugglers outpost on the far-flung planet into the existing Star Wars story canon.
"This is part of our way of creating that history," Kerrison said. "We want to give the impression that this planet has always been around. We're coming into it as travelers for the first time. There are layers and layers of history and all these familiar and new characters who have come and gone to this planet."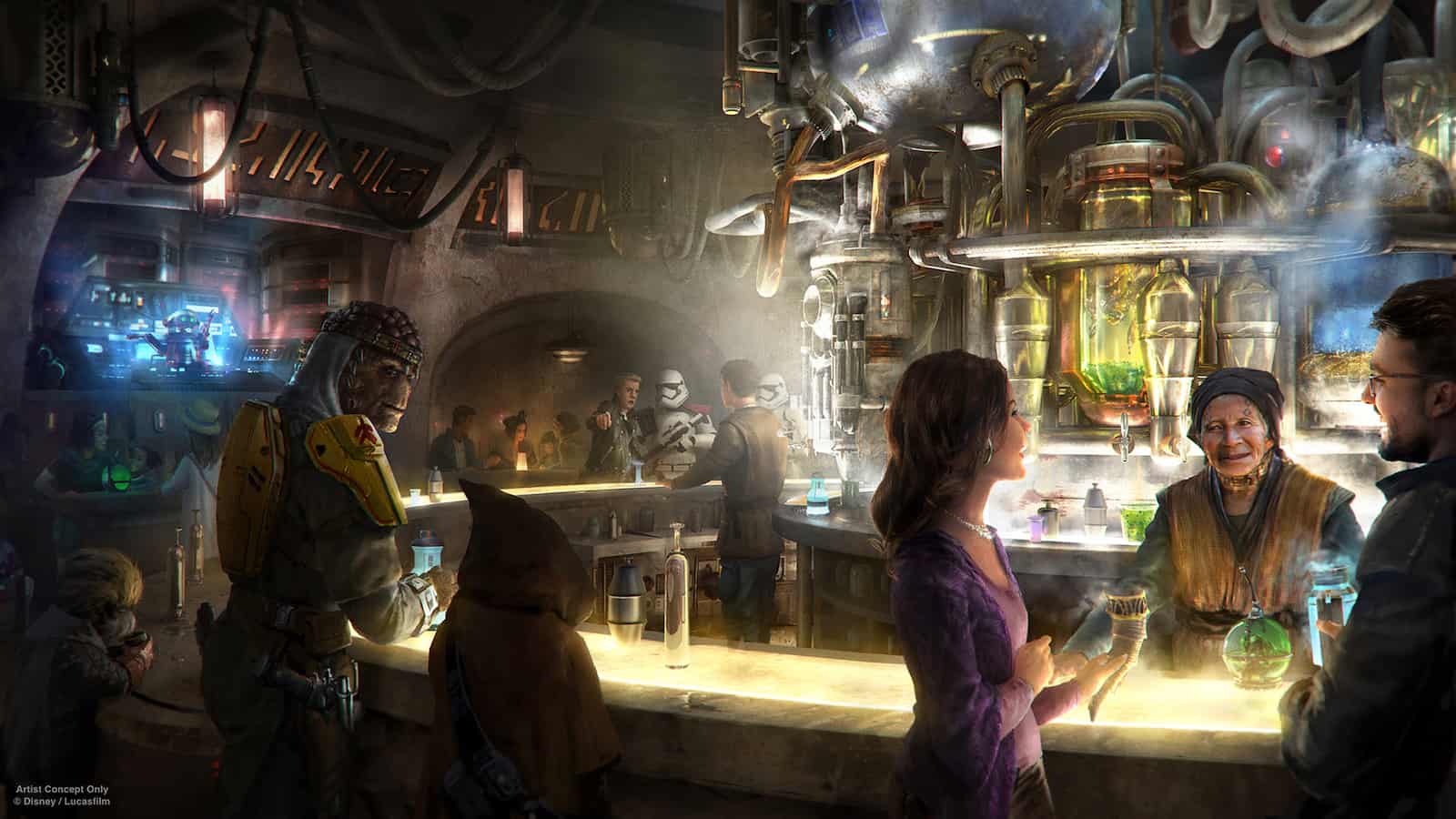 In the new book "Thrawn: Alliances," Anakin Skywalker notes that Black Spire Outpost has "the mixed sense of intrigue, desperation and ruthlessness that he'd seen in so many similar settlements."
See also: Rise of the Resistance – a sneak peek inside Disney's new Star Wars: Galaxy's Edge attraction
Even the Star Tours attraction has added Batuu to its list of destinations. This adds further layers on the history of the ancient trading-port planet. It also offers visitors a sneak peek at what the future holds in Galaxy's Edge.
The creation of the backstory for Black Spire Outpost doesn't end when the Star Wars: Galaxy's Edge themed lands open. This will be May 31 at Disneyland and Aug. 29 at Disney's Hollywood Studios.
Imagineering and Lucasfilm plan to update the Backstory for Star Wars: Galaxy's Edge. They will also integrate new stories and characters from upcoming films into Galaxy's Edge.
"There are things that exist within the land that suggest that there are stories that are still waiting to be told," Beck said. "Those things can be integrated with some of the stories that may go into future."
All images for Backstory for Star Wars: Galaxy's Edge, © Disney Parks. Carrie Beck, Doug Chiang © Lucasfilm.