The attraction, which roots its themes in the haunted past of historic ship the Queen Mary, made its debut a decade ago. Since then, Dark Harbor has seen attendance and profits increase each year. It is now one of Southern California's premier haunts.
Blooloop spoke to the people behind the compelling event, who chart its creative evolution over the decade.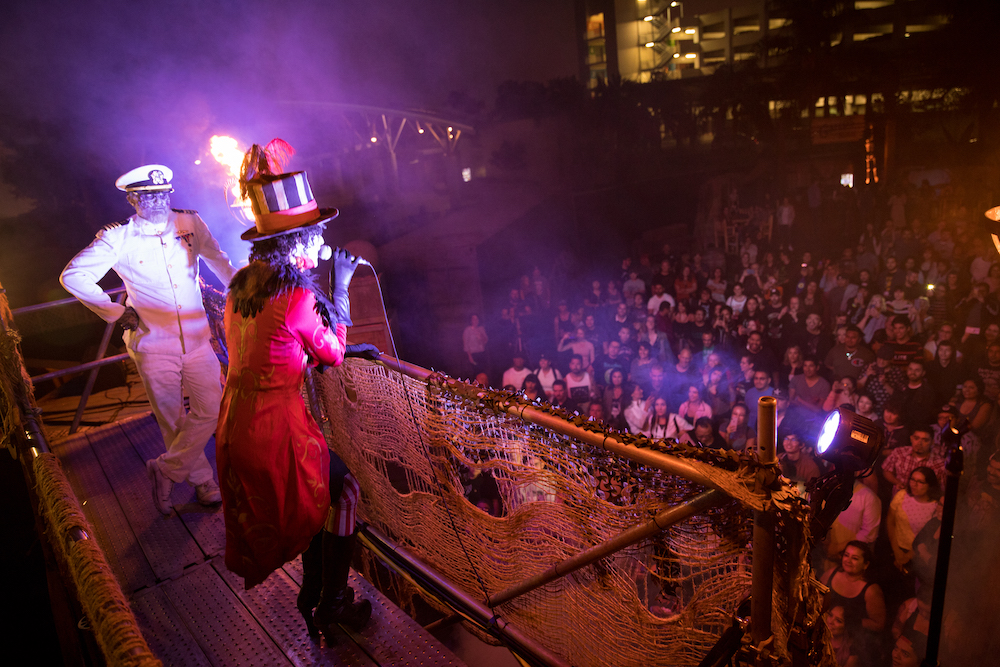 An immersive Halloween event
Steve Sheldon, EPIC Entertainment Group and Dark Harbor Co-Executive Producer told Blooloop:
"It's really exciting to see how Dark Harbor has evolved over the years. What started as a somewhat traditional haunt event has truly become one of the more immersive and interactive themed attractions in the U.S.
"It dives into the legend and lore of The Queen Mary herself to develop characters and maze concepts. There is a huge variety of entertainment options throughout the event. Layering in new and engaging experiences for our guests has transformed Dark Harbor into a unique haunt destination."
The origins of Dark Harbor
David Wally is the Co-Founder and Chief Creative Officer of Mycotoo, a global leader in themed entertainment, live events and immersive brand experiences. He has directed over 1,000 actors at Dark Harbor since 2010.
Explaining the genesis of the event, he says:
"Some friends from a company I had worked with previously called me. They said, 'Hey, we're starting this new Halloween haunt down in Long Beach. We want you to come and direct the actors.'
"I said, 'You want me to direct people to say Boo?' I went down and I met with them. What they were creating was this big, beautiful, scary, event on and around the Queen Mary in Long Beach. There were mazes on board the ship and scare zones in the surrounding area. And there was a maze in the giant white dome that once housed Howard Hughes' famed Spruce Goose aircraft.
"I discovered there were a lot of people that love to do this: to come and scare once a year. I met and auditioned them."
"It was the first year of Dark Harbor, which was replacing a previous Halloween event at the Queen Mary. It was a wholly new production, with new theming, new operations and new production staff. We were creating a completely new thing.
"Teaching people to say 'Boo' didn't sound very interesting to me. But I came to understand that this was a big theatrical sandbox. My job was to do an operatic level of immersive theatre."
The early years of Dark Harbor and Mycotoo
The first year was a success. After the first season, Wally realised: "It was actually the most fun I'd ever had at work."
"The following spring, Cliff Warner, a friend since college days, resigned from his company. Over the ensuing weeks, he and I got together and talked about what he wanted to do next. This evolved into talking about what we wanted to do next, and that evolved into the founding of Mycotoo."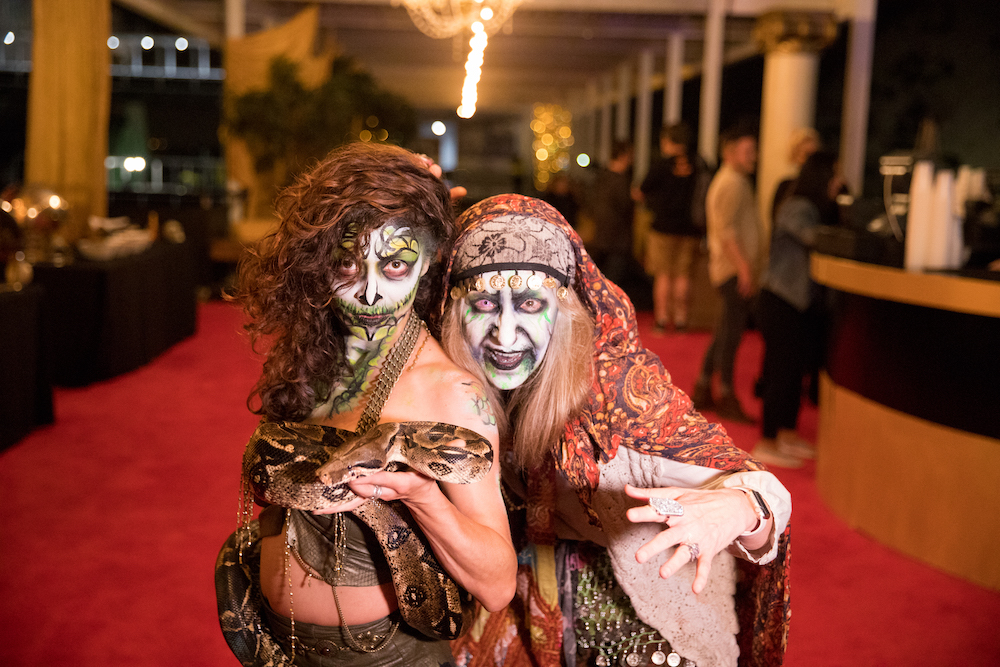 In the summer of 2011, Wally was contacted again by the Queen Mary team.
"So Dark Harbor became one of the first things that I did as part of Mycotoo. And both the company and Dark Harbor have enjoyed a steady upward rise ever since then."
Wally attributes Epic Entertainment – headed by Steve Sheldon and Charity Hill – with providing great stewardship of Dark Harbor and growing the event from year-to-year.
"This year is the 10th anniversary of Dark Harbor. In addition to this, our teams – led by Epic Entertainment and funded by Urban Commons – are launching the first season of our sister production, Dark Horizon, in Orlando. It's back to 2010 all over again for me, except that now I'm doing two productions instead of just one."
Dark Horizon is Epic Entertainment's new haunt in Orlando. It will, like Dark Harbor, draw inspiration from regional folklore, showcasing tales of piracy, murder and voodoo.
A top scare in LA
Dark Harbor now ranks among the top three Halloween events in Los Angeles.
"It is daunting to think about that because it's the event that all of us have worked on for 10 years," says Wally.
https://youtu.be/tSIYnHU4ksY
"We catch our breath for a couple of months after it's over, then Epic Entertainment reforms the team and we all start thinking about the next year. But we're so micro with it that sometimes we forget to step back and appreciate the event from a macro prism. It is one of those things I'm very proud of."
Wally attributes the event's growing success to several factors. The first is a sense of community:
"It's the sense of pride and ownership. I think it's a part of all of us. We've had tremendous stability for years now. Occasionally, someone from a department leaves. But there has been a passing of the baton to another person deeply involved in the production.
"This year, I'm having to step back to play an executive talent director role for both events, because I can't be in both places at once.
The Queen Mary is the most tremendous backdrop…It's almost a hundred years old and reputed to be one of the great haunted places of the world.
"My co-directors in Orlando and in Long Beach – David Ruzicka and Arroya Karian – are both deeply invested in the event and Mycotoo's approach. They understand my expectations, so it's a seamless sharing of responsibilities. And they have the respect of Steve and Charity to run with the ball when I'm not there – I think that's huge and I am so proud of them both."
The authenticity of Dark Harbor
Authenticity is another factor in escalating attendance and profits.
"The Queen Mary is the most tremendous backdrop for our event," says Wally. "It's an ocean liner that is almost a hundred years old and reputed to be one of the great haunted places of the world. That is, for those who believe in hauntings."
"So we have this great old haunted dame as our backdrop. Then, one of the big factors in the success of Dark Harbor is the unifying themes and stories around the legends of the Queen Mary itself."
Haunted mazes
Guests can go on board the ship in three different mazes:
"This is another thing that nobody can match. And then there is the theming. All events have things that they do beautifully, but most of them don't have a unifying theme. They tend to be a collection of wildly disparate stories and themes.
"They also tend to be in the theme park world, which means they're very spread out. We, however, have such a small footprint. So, you never feel like you're stepping outside of Dark Harbor.
https://youtu.be/wEKrPNrMBNw
"In every maze, you're seeing a story that is based on something that truly happened on the Queen Mary. That storytelling and that sense of placemaking make it really unique.
"Our Lullaby Maze is themed around a little girl who once died in the pool. The B-340 Maze is based on a true story of somebody who was found dead in a room on the ship. And The Feast Maze is based on a chef who was put in the oven by his crew."
New for 2019
There is also a new maze for 2019 called Rogue. It is themed around the true story of the Grey Ghost, as the Queen Mary was renamed during its World War II iteration an Allied transport ship.
"During one of its journeys, near Scotland, during a powerful storm it sort of fell into a hole in the ocean," says Wally. "It was faced with a 90-foot wave that buffeted the ship, and brought it within five degrees of completely capsizing."
The maze uses technology and design elements to simulate waves crashing over the vessel, as well as tilting and uneven walking surfaces.
Live entertainment on the Queen Mary
In addition to the monsters and ghoulish sliders, the live entertainment element is something else that sets Dark Harbor apart.
"We have a fire troupe that do exquisite fire performances, and a stunning troupe of aerialists performing nightly. Some of them come from Cirque du Soleil, as well as magicians, hula hoopers, and so on.
"You could forget all the scary stuff, and just see six hours of performance on the two stages all night long.
"Mycotoo's 'one dream, one team' philosophy was born in Dark Harbor," says Wally. "It's where the sense that we have this common purpose and a common goal that we're all trying to achieve together was born."
Dark Harbor's creative evolution
Bonnie Hallman is the Director of Creative for Mycotoo. She has been involved with Dark Harbor from its beginnings.
"When David [Wally] took his dive into dark Harbor 10 years ago, he asked me to come with him, because of my theatre, creative and company management background.
"Since then, I have been a Creative Director in the themed entertainment industry. I focus mostly on writing attractions and directing live shows for on-location experiences. I've really found a market in writing and directing for Theme Parks."
"I always like to joke that people don't realize our job exists until they realize it exists."
Describing Dark Harbor's creative evolution, she says:
"It has changed a lot over that decade. When David and I started, it was just us. We were the team for the whole talent portion. Now, we have a team of up to 12 people working full-time.
"It's not that the job has changed; it's that we've now figured out how to utilize other team members. During that first year, it was David and me alone in a room bluffing our way through.
"We needed a 12 person team back then, but only had two. So, necessity being the mother of invention, we put actor and company management systems into place that we still use 10 years later. Now we have figured out ways to perfect the efficiency."
Acting roles in demand
"Managing 400 people in any circumstances is hard," says Hallman. "And this is a very outside-of-the-box job. Added to that, half of them are highly trained actors who have done this before. But for the other half, this is the first time they've ever done this job."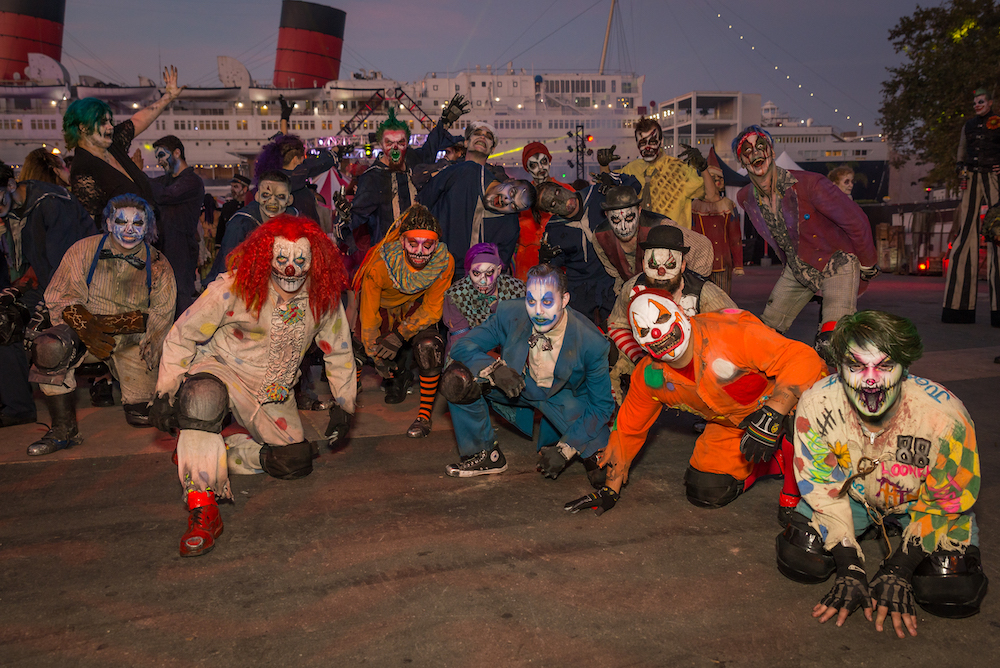 Part of the task is understanding how to manage that discrepancy.
Now that Dark Harbor is a leading Halloween destination, actors are flocking in droves to audition for it. This, Hallman says, is something else that has changed:
"Performers now seek us out. 10 years ago, we were hopping on the phone begging people. Saying: 'Hey, we're doing this weird thing, I can't really explain it. Just come on down.' Now, auditions are three days with lines out the doors."
Many actors come back year after year.
"It speaks volumes when the folks keep coming back," says Hallman. "There are several actors who have done this every year; 10 years on they keep coming back. I think it's a testament to how we're running things."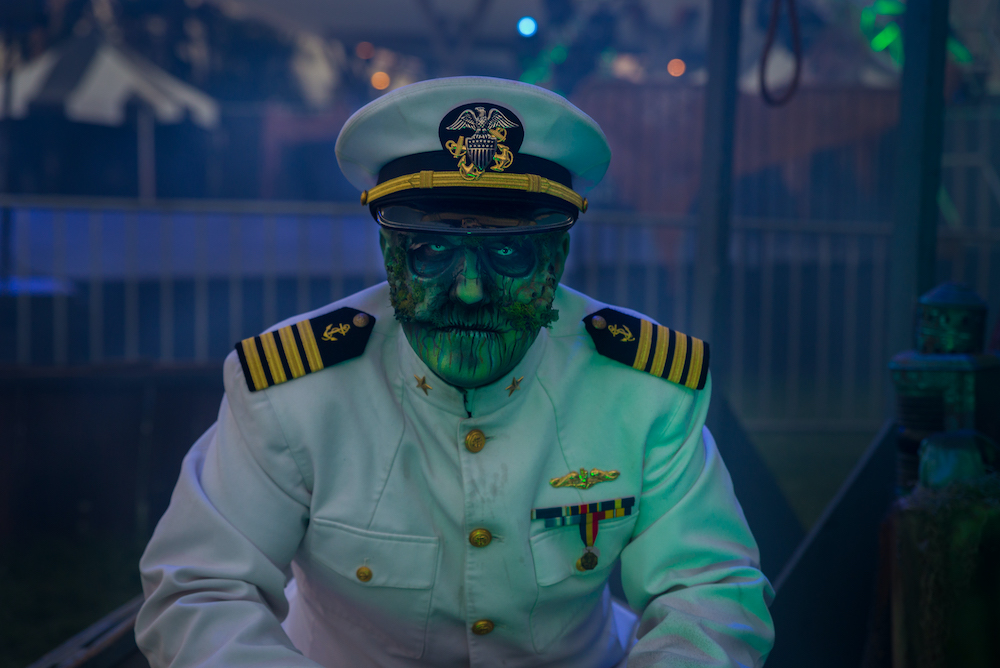 Mycotoo and Halloween
Last year, while still peripherally involved with Dark Harbor, Hallman directed a Halloween event on the Warner Bros backlot.
Mycotoo is the King of Halloween, that's for sure
"The year before that we wrote some attractions for Halloween at Six Flags," says Hallman. "This year, as well as Dark Harbor we have Dark Horizon out in Florida, so we're doing double time.
"Mycotoo is the King of Halloween, that's for sure. But when you put in these 80 and 90 hour weeks, you have to remember to keep your sense of humour. We're just so lucky that this is what we do with our lives. It's better than working for a living."
Scripting the unscripted
In terms of performance, Hallman says: "We find ourselves in the weird position of having to script unscripted events."
"With Dark Harbor, some of the monsters speak, some don't. For those that do, we give them the character's outline, the rules, parameters, and sample dialogue. This will change depending on the guests they are interacting with."
"It takes a special kind of performer. They need, basically, to be able to write, direct and produce themselves.
"Both David and I come from film and theatre. And we've had a lot of people whom we've worked with in more traditional forums who have come out and tried to do this, and who have been unable to do it or to do it well. If they can stand on a mark and say a script, they're brilliant. But this immersive environment is different. It's a really specialized skill.
"Essentially, we do what we call world-building for these performers. Our job as directors is to make sure that they understand the world, where they are, who they are. A lot of that is improv work, around responding to guests, and foreseeing what guests might do or say."
Keeping up with audiences
This is complicated by the fact that guests, especially in Los Angeles, are used to the immersive scene. Sometime they will try to catch a performer out, tricking them into stepping out of character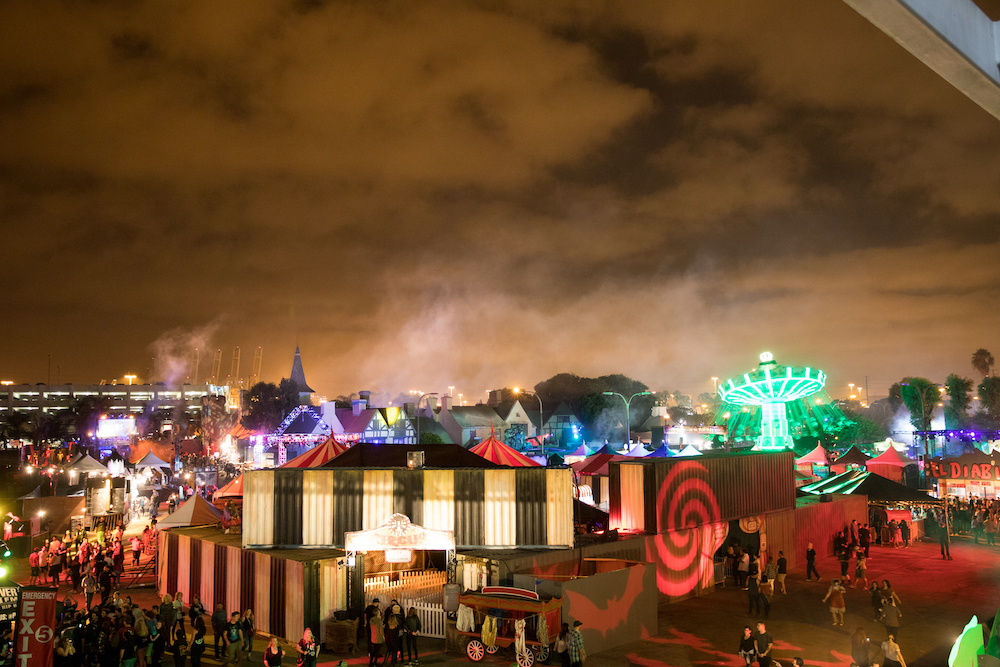 Audiences generally are changing, she says:
"We live in an escape room environment right now. Previously, there was always a kind of veil. People would see a door or a prop and think: 'I mustn't touch.'
"Now, people think: 'I need to touch it, open it, see if I'm supposed to interact with it.' Audiences are way more curious, which is both wonderful and challenging. You have to prepare."
Changing the Halloween scene
Dark Harbor has had a transformative effect on the region.
"There is a vast difference between the Haloween scene in LA 10 years ago when we started this. Before, maybe you saw a pamphlet for Dark Harbor in a store. Now you can't turn on the TV without seeing something about Queen Mary on the travel channel, or on Ellen, or on USA Today or one of the big media outlets."
"Not only does it have a huge reach through Southern California, but it also has a huge reach across the country. Dark Harbor has become a destination.
"And the difference in Long Beach is noticeable everywhere, from restaurants and stores to the number of tourists. Even in the Long Beach Convention Center, which sits within sight of the Queen Mary. They hold a massive horror Halloween convention in August. This year they have had 30,000 people walk through their doors."
Dark Harbor: A go-to Halloween destination
Fri Forjindam is Chief Development Officer at Mycotoo. Her background encompasses both theatre and business strategy. This gives her a unique perspective on the elements that come together to make Dark Harbor such a phenomenon.
It is, she says, a massive undertaking:
"Consider the fact that it's one of the few Halloween events of its type that is not in a major park, and that it has become a go-to destination in a place that just used to be an empty parking lot for the ship. It makes it a great case study of how, over time, the notion of storytelling and live events can really create a destination."
Describing how she became involved, she says:
"When Mycotoo started, Dark Harbor was still David's, for lack of a better word, side gig.
"We knew that it was a role he had taken on prior to starting Mycotoo and that in the month of October he would be out of the office. That meant our office of three people would be down to two for the month.
"We always teased him a little bit, turning our nose up at him in a way that was fun and supportive, but just a little bit dismissive. We thought it was just a fun dress-up show."
Stepping into the role
"Cut to 2013," says Forjindam. "The cast is essentially the brand. They are the faces of Dark Harbor that the guests have come to expect. Each has a backstory according to the different worlds that have been created over time."
https://youtu.be/lHO896J3PvM
"One of the main characters is the Voodoo Priestess. But the actor who usually played the character was going to be taking a year off.
"David approached me and said, 'Hey, we need someone to fill in. Would you like to do it?'
"My first reaction was, 'Uh, no. I'm the owner of a company; we're still trying to get off the ground, and we're working with these theme parks right now.'
At that time, we were working on Bollywood at Motion Gate: I was a Creative Director and neck-deep in it. The last thing I wanted to be involved in was going to play dress-up at some Halloween boo-scare event."
An insider experience
When Wally described the breadth of the created worlds at dark Harbor, Forjindam, an ex-performer, was tempted.
https://youtu.be/Cdq9ZFvaN5g
"A part of me was seduced. It resonated with my background; it wasn't too as much of a stretch."
She also felt she needed to know first-hand what it was like to be at the event:
"At that point, I was in the role of business development. I needed to be able to speak about this, with authority. If I was going to be able to talk about this experience as something compelling and engaging, a great example of how we work in our design process, as well as the ROI that comes with sticking to these immersive and compelling live events, I needed to experience it."
The Dark Harbor destination
"Dark Harbor is essentially creating a destination," says Forjindam. "It is a huge revenue driver for Urban Commons, the developer, and for the Queen Mary.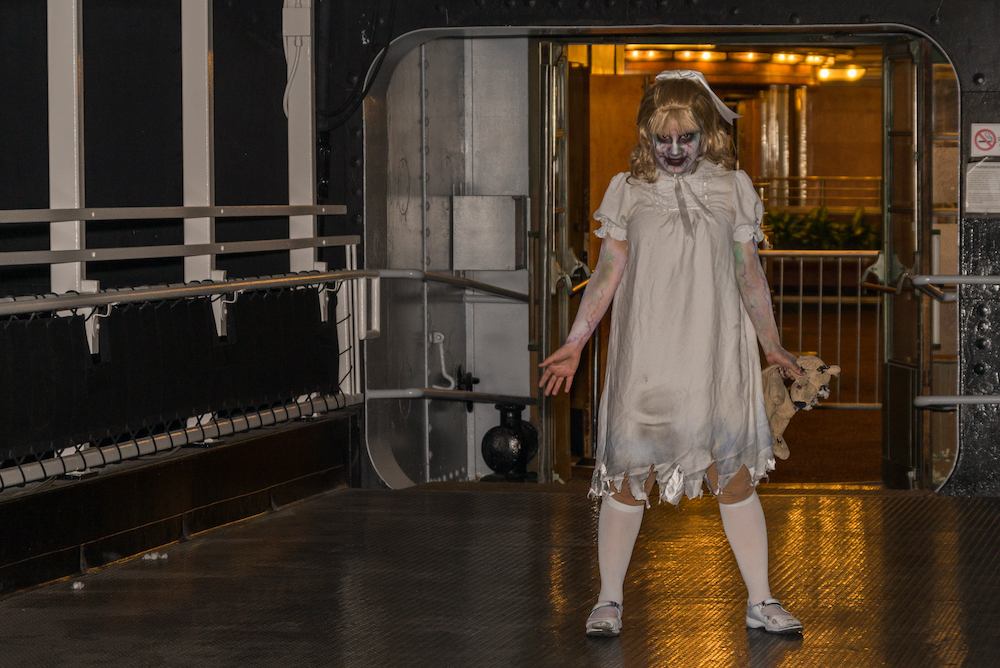 "This was a great excuse to not just come as a guest because I don't like being scared. So my first time at a Halloween haunt was as a main character. And I was hooked. I fell in love with the ensemble."
At that point, there were around 200 monsters, as opposed to the 300 there are today.
A family affair
"The behemoth logistics of makeup, hair and costuming that goes into getting all of those monsters in character in time for the show was staggering," says Forjindam.
Dark Harbor is different…there really is a human connection and a human fear factor. It is way more compelling than any animatronics.
"There was the tech crew of about a hundred, though there are even more now, all coming onto this haunted ship every night. They were coming from different parts of Southern California. Some were making a two-hour drive every single night.
"And there was a reason why people were doing this. There's a reason why some of these monsters even today have been doing this for ten years, every October.
"It's a family. It's theirs. That's a testament to how David Wally and the Mycotoo teams work."
"It's also a testament to how Epic Entertainment, the overarching producer group, have trusted us to be able to nurture and develop that. Because a lot of times with these partnerships it can just be about the bottom line.
"We are different, and Dark Harbor is different. Because there really is a human connection and a human fear factor. It is way more compelling than any animatronics."
After that first year, Forjindam had a new respect for Wally, and for Dark Harbor itself. It grew into an event that Mycotoo uses to showcase how they work.
An established IP
"It is now an established IP, especially within the Southern California market," says Forjindam.
"But when it started up, it was a risk. The experience that Dark Harbor replaced hadn't been successful. That precedent created an environment of nerves, hyper caution and vigilance."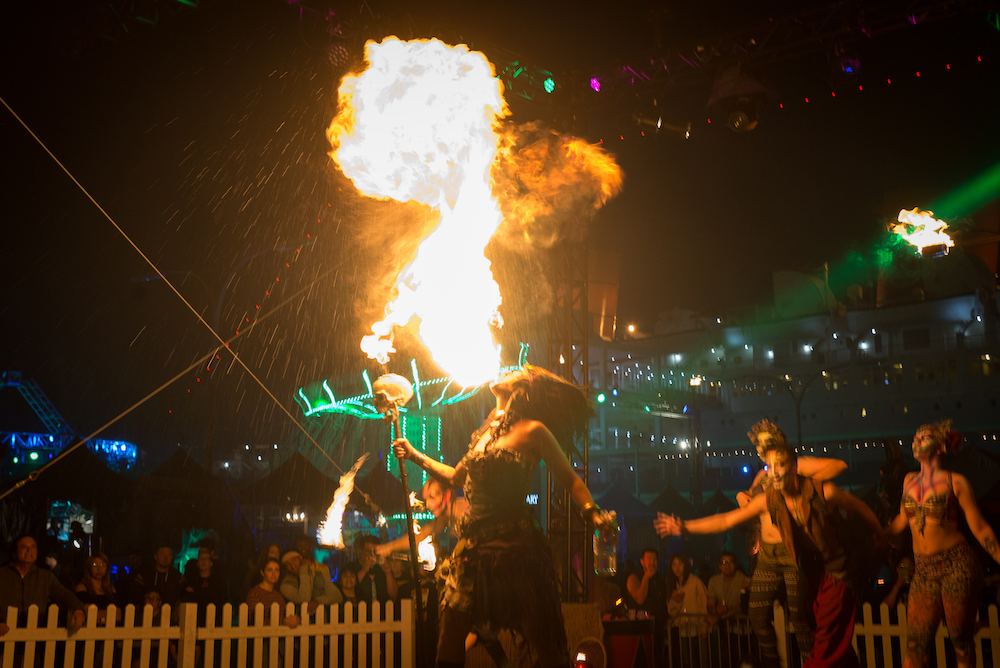 "And for investors, development with new IP tends to be about as risky as it gets. They know they have their target audience, their algorithms that can determine the price per square foot and can throughput all these things.
"But then there's that remaining portion that is more like alchemy. It's more of a gut check, and that is the creative portion, the story.
"And while the execution and the how and what of it can be pretty well, regimented, that initial inception is a gut check. That can be the difference between why things fail or succeed tremendously.
"I'm not a Halloween person. But I go to that development, and there is a commitment to story and characterisation. The worlds that have been created around those characters are consistent and detailed."
"It started out small, but it required thinkers at the production executive level – the Urban Commons, Epic, Mycotoo – to allow it to evolve into what it has become. It started out with them being able to trust that creative vision, and provide the technical and design solutions to be able to execute it."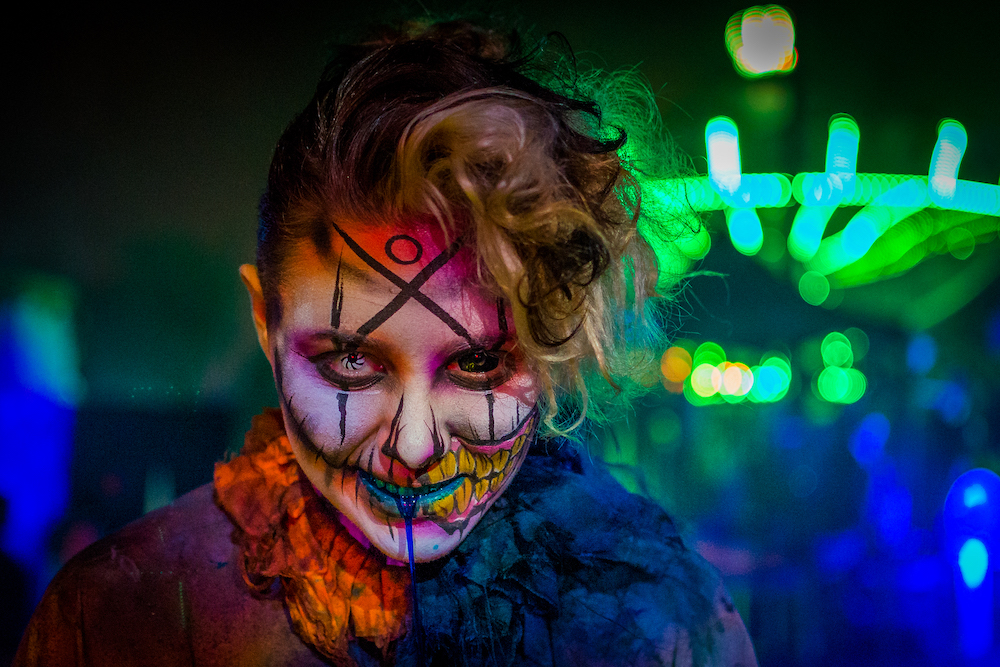 A unique Halloween experience
Charity Hill, EPIC Entertainment Group, Co-Executive producer of Dark Harbor says in conclusion:
"Dark Harbor has really become its own experience, unique to any haunt in the country. The Queen Mary is one of the most haunted locations on the planet, according to Time Magazine. Dark Harbor delivers one of the only truly haunted scream parks in the world.
"I think the secret immersive bars, incredible live entertainment and legendary characters continue to fuel its popularity. We strive to create a unique themed experience for adults and youth alike. There's literally something for everyone at Dark Harbor."
The screaming continues on the Queen Mary until November 2, 2019.
Top image credit: Michael Wada Photography