Drayton Manor Park

is a theme park and zoo in Drayton Bassett, Staffordshire. It

hosts around 1.1 million people each year and covers 280 acres. The family park is home to over 100 rides and attractions. This includes the popular multi-million pound Thomas Land, Europe's only Thomas and Friends themed attraction.
George Bryan is the grandson of the founders of Drayton Manor Park. Along with his brother and cousins, he grew up in the family business, working – albeit unofficially – from the age of 12 or 13. This career began with menial tasks, before progressing to more complex aspects of operations. Bryan went on to develop expertise throughout the whole business.
Later, a family business consultant was brought in. From this point, the park developed structural professionalism and formal roles. George's brother, William Bryan, became managing director while George moved out of operations to work at board level.
George Bryan spoke to Blooloop about the history of the park, his family's involvement, and his current role.
Drayton Manor's rich history
"The park began on October 16th 1949," says Bryan. "We're 70 years as a business this year, but 70 years operating next year. My grandfather started it with my grandmother." 
His grandmother's family had previously owned a pleasure park, California-in-England, located in Wokingham, near Berkshire. This park was essentially a predecessor of Drayton Manor, a working model to go on.
California-in-England was opened by Alfred Cartlidge in 1931. The park was in a wooded location near Wokingham and grew to encompass many attractions. This included a zoo, boating lake, ballroom, miniature railway and circus as well as the amusement park.
Cartlidge's daughter Vera Bryan and her husband George Bryan took the park on when he left the army after the Second World War. However, in the aftermath of the war, the business went bankrupt. After this, the couple decided to create something similar elsewhere.
Bryan says, "They looked in World's Fair, which is possibly the oldest leisure or fairground industry paper. And they found a plot of land: Drayton Manor."
Drayton Manor had been the residence of Robert Peel, twice Prime Minister (1834–35 and 1841–46)
Starting from scratch
Bryan says, "The land came up for sale because the previous owners got themselves into a huge amount of debt. They had to sell all their land and property.
"My grandparents bought the land and 80 acres. It included some of the servants quarters and a clock tower, which was all that was left of the original building. This had been demolished in 1929: blown up by a scrap man in Tamworth for free, to sell the lead on the roof.
"So they moved into the actual building with my father, who was a year old at the time. The property had been left for many years. The home guard had been in possession for a while, so there were old army huts left over.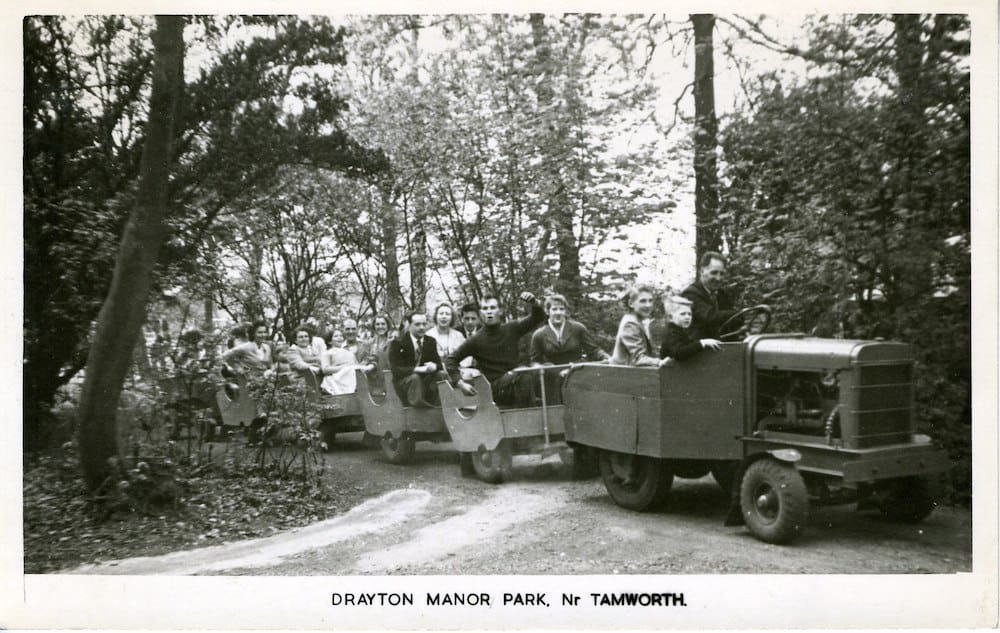 "My grandmother and grandfather had to shape the land into how they wanted it. It was a massive job. Especially as rationing went on for seven years after the war, so there weren't many materials easily available. They had to do a lot of bartering. My grandfather bought a lot of old military equipment that was going cheap because the war had finished. Then they bought a couple of hand-turning rides, and that is how they started."
A breath of fresh air
"Interestingly," says Bryan, "we'd class it as a wellness or wellbeing retreat today. My grandparents' original park, California-in-England, had two naturally fed spring lakes. People used to leave London and go there as a respite. There were lots of trees, and a lake to swim in.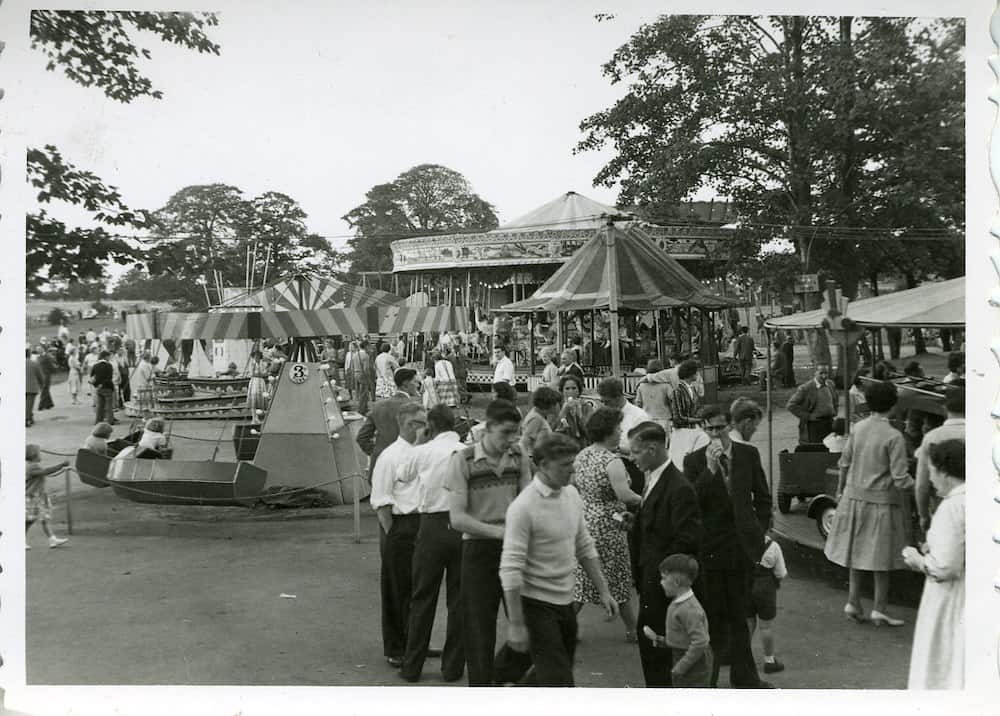 "It was the same here at Drayton. There were three lakes then, and a lot of trees leftover from the Peel estate. It was all about coming with your family, and getting out into the fresh air. Tamworth was a very heavily industrialised area and heavily mined. So, people needed fresh air for their health." 
While Bryan's grandparents built the business, they didn't realise its full potential.
"My father, Colin Bryan, and my uncle, Richard Pawley, were the ones that grew the business," says Bryan. "They put in the big roller coasters and so on over the late 80s, early 90s and 2000s. We still have those rides, as well as a hotel, a campsite and, of course, Thomas Land."
Drayton Manor is now, at 280 acres, the fourth largest amusement park in the UK. It hosts around 15,000 visitors a day.
A 10-year strategy for Drayton Manor
The Drayton Manor Park team are working on a ten-year strategy for the park.
Bryan says, "We're working on a strategy with the family and the senior 'directors of'- we have a director for all areas of the business involved to enable us to get a full overview of each area when developing the strategy. It's really interesting and enlightening because it's not just the family now making the decision. There is a whole process and a lot of people to get involved. This ensures we are doing the right thing for the business at the right time.
"We have lots of new and exciting plans coming up which will be perfect for our target audience.  It will really help pave the way for the future Drayton Manor Park."
Conservation at Drayton Zoo
Drayton Manor Park's zoo covers 15 acres and is home to 100 animals. The attraction is involved in several research and conservation initiatives.
"Our zoo is concentrating quite hard at the moment on improving and developing our conservation efforts and collection to attract new visitors," says Bryan.
The experience economy
Bryan sees the growth of the experience economy and the increasingly competitive nature of the sector as both a challenge and an opportunity.
"At the moment, I think that pretty much everything is a threat, not only to our industry but the economy as a whole.
"While I think staycations will be a thing on a moderate scale, I don't think it will be as big a thing as is currently being predicted. People are mindful about spending money until they know how it is all going to play out."
Getting people away from the lure of the technology in their homes and out to attractions can be a challenge. However, this is not, Bryan says, too much of an issue for Drayton Manor Park:
"It's an issue getting people out and about, particularly teenagers, but that's not our market any more. Ours is family units, with children up to twelve or so. Market research shows that it tends to be the mother who makes the decision about activities, and about where to go, and when. With our developing product, we have the perfect solution to escape the everyday pressures of life"
New technology
In terms of ride technology, Bryan says, "I think the whole VR thing is something of a flash in the pan, personally. It's a good technology to add to an ageing ride to re-vamp it. It's cheaper than buying a new ride and the content can be improved and updated, but I don't think it's a necessity. I think it's nice to have, but not essential."
"We'll be going to the IAAPA Expo Europe show in September," says Bryan. "While fast pass technology isn't really necessary for us, we'll be looking at tech to enhance the customer experience, whether that's purchasing a ticket, entering the park or even purchasing goods and products in the park."
"There is a large amount of time and money spent on systems. There is also effort spent on removing friction and improving the visitor experience. It is the sort of background stuff that customers don't see. But it has a huge impact on our guests."
All images kind courtesy of Drayton Manor Theme Park