Huanyu Technologies, a s

pecialist in

large-scale events and creative multimedia shows

, will be exhibiting at the upcoming Theme Park Expo Vietnam 2019. 
Huanyu Technologies is pleased to announce that it will have a presence at the Theme Park Expo Vietnam 2019, which is taking place in Ho Chi Min City, Vietnam, on the 21st – 22nd August. Over 3000 trade buyers are expected to attend the trade show when it meets at the Military Zone 7 Indoor Sports Complex, along with over 50 exhibitors. This includes professionals from the theme park, water park, FEC, zoo, aquarium and museum industries, amongst others.
In addition to the large trade show, the event will host a range of interesting speakers from the attractions industry, including Pham Quoc Dinh, Sales Manager of Vietopia, Brad Loxley, General Deputy Director of Sun World and Andrea Bisi, Director of Business Development at Embed.
Topics covered will include the rise of FECs in Vietnam, the benefits of cashless technology and an exploration of the waterpark industry in South East Asia.
Huanyu to showcase new projects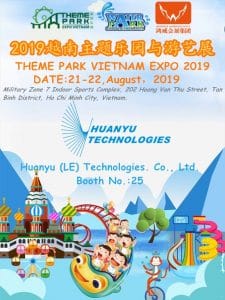 Huanyu Technologies will be using its booth at the event to share its technical expertise in complex project management and looks forward to meeting attendees and discussing their needs. Huanyu Technologies will also be showcasing recent projects at the show.
Visitors to the Huanyu booth can learn about the company's capabilities in planning and design, advanced performing arts equipment, as well as their completed projects in areas such as cultural tourism, attractions, theme parks and more.
Last year, Huanyu Technologies was responsible for designing and producing a spectacular show telling the story of ancient Yunnan at Yunnan Happy World Theme Park. Almost three years in the making, the Yunnan show required an impressive team of industry professionals. The project brought together leading names across multiple disciplines including creative design, dance, equestrian, stunts, music, costume design, props, engineering and design.
The company also recently exhibited at IAAPA Expo Asia and China Attractions Expo. The Huanyu Technologies team will be found at booth #25.