US-based international theme park, resort, and tourism development company, Cora Alpha, will be starting work on the smart, sustainable Elysium City project in Spain this year.
Elysium City, in the Castilblanco municipality, will be located on a site once considered for Euro Disney. It will be home to a number of attractions, including a theme park, water park, hotels, an 18-hole signature golf course, a marina, and a residential district. Elysium City will also be built on the river that flows through the region.
The multi-billion-dollar city will be completed in two different phases. The first is expected to be completed in 2023, the second in 2028.
John Cora and Cora Alpha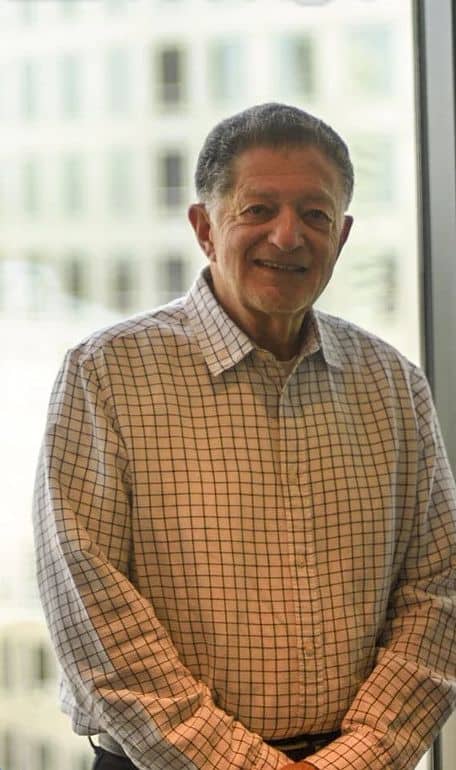 The founder and chairman of Cora Alpha, John Cora, spoke to Blooloop about the ambitious leisure and hospitality destination project.
"I spent 33 years with Disney. For 20 of those, I was responsible for every aspect of the operation of Disneyland and Disneyland Resort. For the last five years, I was responsible for the expansion of the Disneyland Resort. This expansion project included Disney's California Adventure, Downtown Disney, and Disney's Grand California Hotel.
"Having done all that, I ended a 33-year career. I retired to start my own company, which is now Cora Global. It was, when it originally started, called Vision Maker Worldwide, and later changed to Cora Global. So the project that we're doing now is under Cora Global but we formed a new entity with my Spanish partners, which is Cora Alpha."
Elysium City – a leisure and hospitality destination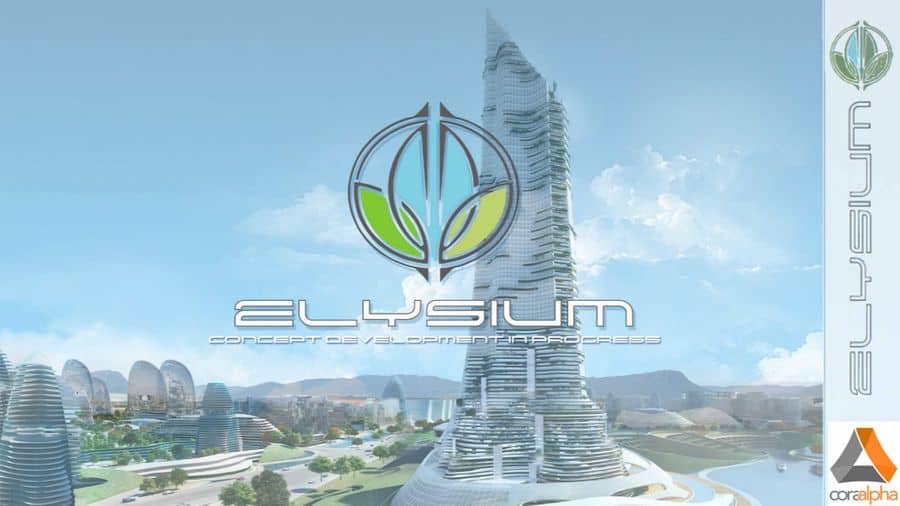 The project is ambitious. Cora, talking about how the idea came about, says: "My Spanish partners identified the site and brought me into the project. We got a creative team and our internal staff. Along with our Spanish partners, one of whom has a career in smart cities, we got together to form what we thought the menu should be for this city.
"It was at this point that we decided that if we're going to be on the leading edge of whatever we do, whether that is creating a theme park or an entire city, which in this case is what we're doing, it should all be totally smart."
A master Smart City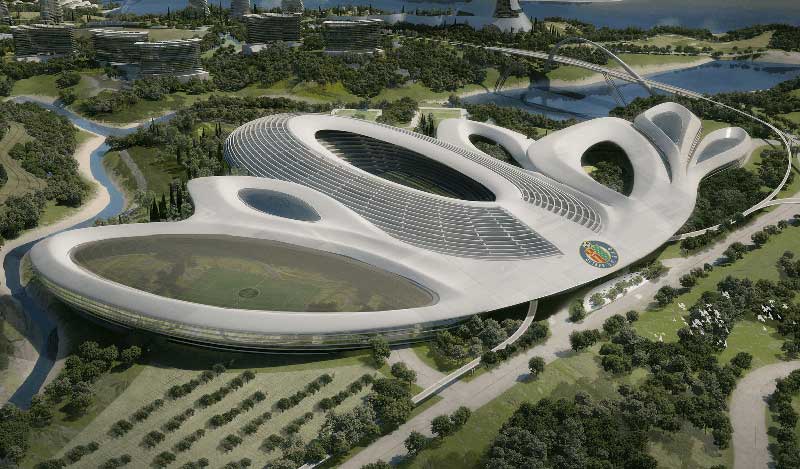 "It should have the capacity to tell you when you should arrive, when you should leave, where you should go, what your directions are," says Cora.
"In the residential areas, every home will be a smart home. It will be equipped with technology. In terms of when the lights go on and when they go off, Wi-Fi, the Internet of Things, traffic conditions; everything you can imagine with all the gadgets we play with today.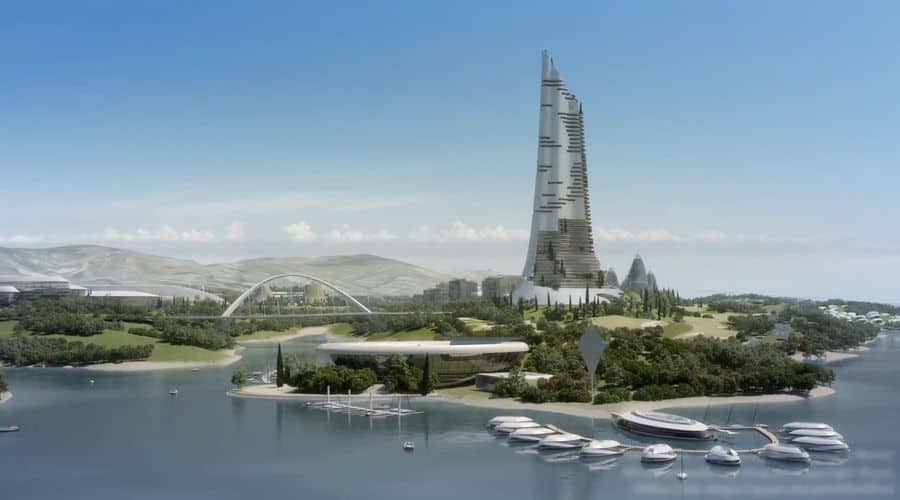 "It's a master smart city just as the name implies. For the theme parks that we are planning to build, and the adventure waterpark we are going to build, guests will be told what time to enter, where to enter, the best time to visit whichever attractions, the shortest lines. A virtual reservation system will say, 'if you want to go on attraction A, here is your timeslot'. It's much like the fast pass I created at Disney.
"Guests will be completely immersed in smart technology, in everything they do."
John Cora on a smart and sustainable project
The Elysium City project is being publicised as both smart and sustainable. The city will run on 5G, facilitating high-speed connections, and will feature free, city-wide Wi-Fi.
Visitors will be able to create a profile, inputting information such as their preferred activities and dining options, to streamline the updates available to them. Kiosks will provide data on parking, traffic updates, weather forecasts and so on.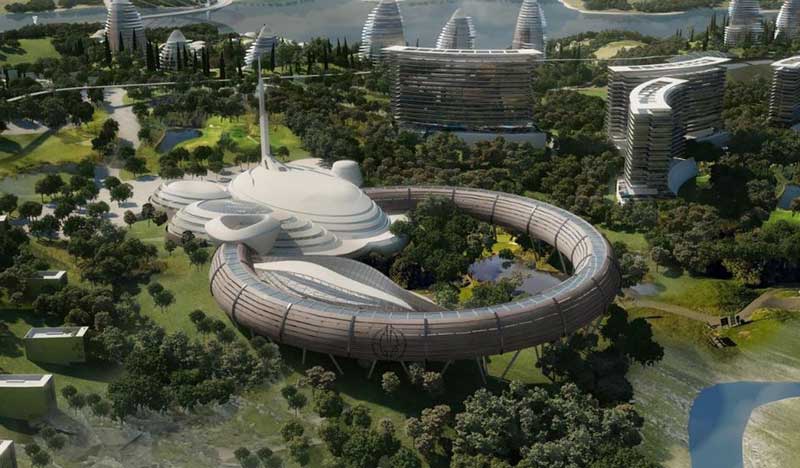 Cora says: "It will be solar-powered. Every modern technology will be utilised.
"We're building from the ground up, that's the beauty of it all. So while renewable and sustainable power sources are being added to the Disneyland resorts across the world, we are going to start from the ground up. This means we can think it through, and lay the groundwork and the infrastructure to do this properly."
Cora explains that Elysium will incorporate sustainable technologies, with entertainment pieces at its core. These will include a major, Disney-level theme park, and a cutting-edge adventure water park that will feature landscaping and rockwork, and showcase the local area's natural environment with additional activities like mountain biking, hiking and bungee jumping.
Multiple phases for Elysium City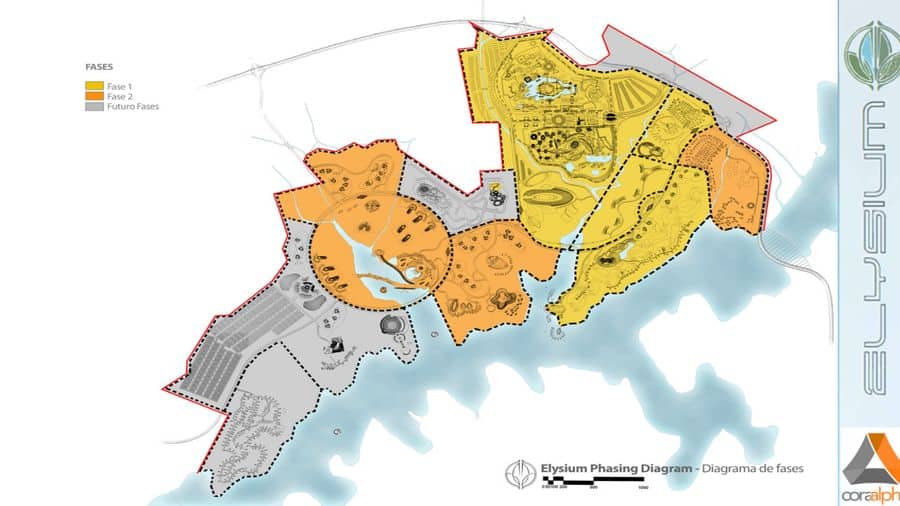 In terms of the timescale involved, Cora says:
"We are going to do this in many phases. Phase One will probably take the first three to three and a half years. This will be the residential piece of about 2000 residents, four hotels with casinos, and a golf course. There will also be a conference centre, a data centre, a marina, a heliport, and maybe a retail dining entertainment centre."
He adds: "Our grand design includes bike paths and nature trails. This is because the site that it sits on is absolutely gorgeous. It's located right on the main river that runs through the country, which is actually drinking water. So it's very blue, very clear, very fresh."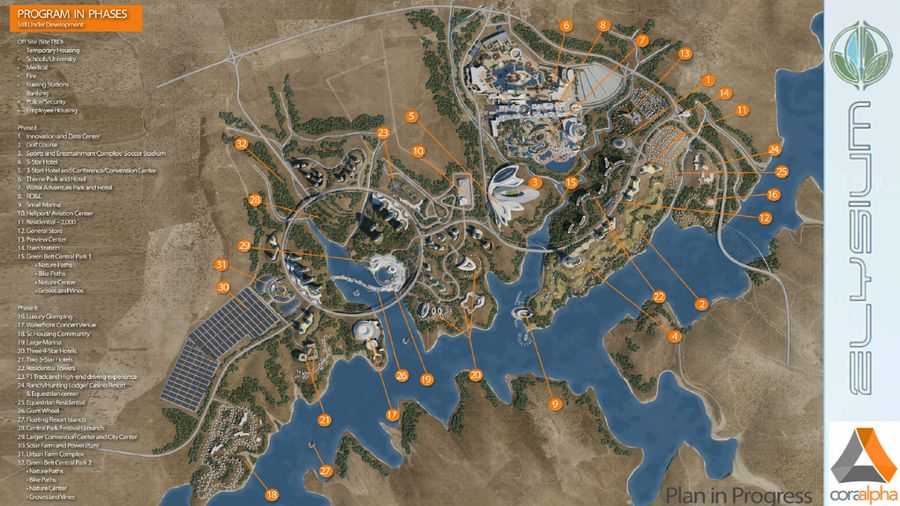 The second phase will include another five or six hotels, and, possibly, a Formula One track and equestrian centre. There will also be a number of further attractions that the company is still determining, as well as the theme park.
John Cora says: "Because it takes a good five years to do a theme park, it will be in Phase Two. This will include the adventure water park, and a couple of additional hotels. We haven't really refined much beyond that, at this point.
"We do know, however, that along with that there will be things like the public services: a hospital, our own police department, fire department, and utility companies."
Emphasis on environment planning & sustainability impact
Of the chosen site, he says: "It's outside of Madrid on a beautiful spot. It is on raw land, that's the beautiful part, so it's kind of like a blank canvas. The weather is very much like that of Southern California and it's in a spectacular location. It is just an hour and a half by car from Madrid. It's on a hill, part of which overlooks the entire river."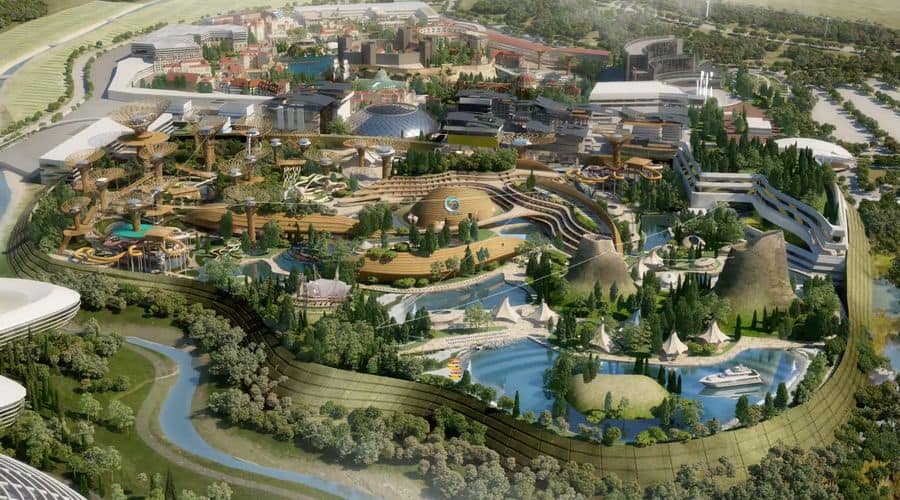 The project must, surely, have a significant ecological impact.
Cora says: "This is something we are studying right now. Preliminary studies indicate no harm or negative effects on the local ecology or environment."
Over the past quarter, Cora Alpha has been focusing on refining the feasibility plans, financial projections and funding. This is especially in regard to the environmental components of the Castilblanco region. There is an emphasis on the environmental planning and sustainability impact. This will ensure that Elysium City preserves the beauty and heritage of the region.
Cora says: "We plan to preserve as much of the land as is possible. We also plan to create a wildlife reserve, wherever that is most appropriate. That has been uppermost in our minds throughout the planning process."
Setting sights on Spain, Europe and then China
The local government in Extremadura passed the Extremaduran Law for Large Leisure Complexes (Ley Extremeña de Grandes Instalaciones de Ocio or Legio). This stipulates that a resort project should cover at least a thousand hectares and include 3000 hotel rooms.
It should also represent a minimum capital investment of a billion euros while making the casino portion of a resort development exempt from the existing local licensing regulations. These require a public licence tender and allow only one casino per 500,000 inhabitants.
In terms of market, John Cora says the project will target the moneyed middle class in Spain initially. And then, it will move to the whole of Europe, with an eye to China:
"It will be primarily Europe. We'll tap into some Chinese markets. Because a certain segment of China loves to travel and has the disposable income to be able to do it. This is the tourism base we have been studying, and has very high potential."
Transportation and mobility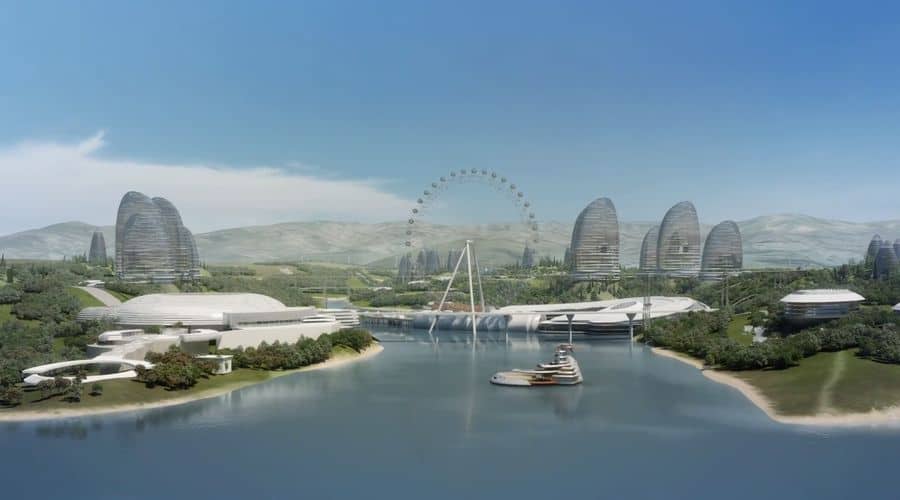 Transporting the high volume of expected visitors won't be an issue, he says:
"The government has promised us an international airport. This is actually already 20 minutes from our site, having been built a few years ago for another purpose. They presently only fly cargo out of it. However, they are going to expand it to accommodate the level of tourism we expect.
"Then there is a high-speed train that goes from Madrid all the way to Portugal. They are going to make a loop that will go to our project outside of Madrid. The transportation to our site will be excellent."
Boosting Spain's economy as a city of the future
The idea is that the project will enhance the region through a profound positive economic impact and significant job creation while maintaining the eco-integrity of the site.
Cora says: "This project is going to be a tremendous boost to the economy of Spain. Employment isn't great there at the moment, but in construction alone, we'll be creating 4-5 thousand jobs. Once we become operational, we will be taking on 10 to 15 thousand employees for just Phase One. And in Phase Two we will be hiring something in the region of 20 to 25 thousand employees. So it'll be a tremendous, lasting impact.
"The direction from the start was that Elysium City will be a place where you live, you work, and you play."
A project with a similar concept, Europa City, is planned to open near Paris in 2027, with the aspiration of achieving a carbon-neutral status.
John Cora doesn't feel the two projects will be competing for the same visitorship. However, he does foresee a trend for these large scale city destinations:
"I think we'll be bringing this to a totally different kind of level. But these cities are the future, without a doubt."
All images kind courtesy of Cora Alpha.