Other projects on Jerre Kirk's resume include Typhoon Lagoon, Disney's Hollywood Studios, Toy Story Midway Mania! and Hong Kong Disneyland. Four years into his retirement, he talks to blooloop.
"I always tell people Disney found me, I didn't find them," says Kirk, who moved to Florida in 1988 after taking up a job at Walt Disney World during the construction of the resort's first water park, Typhoon Lagoon.
"I had worked in my father's construction company from the age of 16. That's how I learned the business. I opened my own construction company in '83, but then the recession happened in '87."
Jerre Kirk and Typhoon Lagoon
It was while he was with Heery Program Management (now part of CBRE), which had a water park division at the time, that Kirk was asked to work on Typhoon Lagoon.
"Initially it was just a four-week consultation project. Then I got a call asking if I'd be interested in taking over the estimating for Typhoon Lagoon. I started on 12 December 1988 and gave almost 27 years of service to the Mouse before retiring on 30 September 2016."
For the first six years of his Disney career, Kirk served as an estimator with Walt Disney Imagineering (WDI). This brought him into regular contact with project planners, construction teams, general contractors and vendors.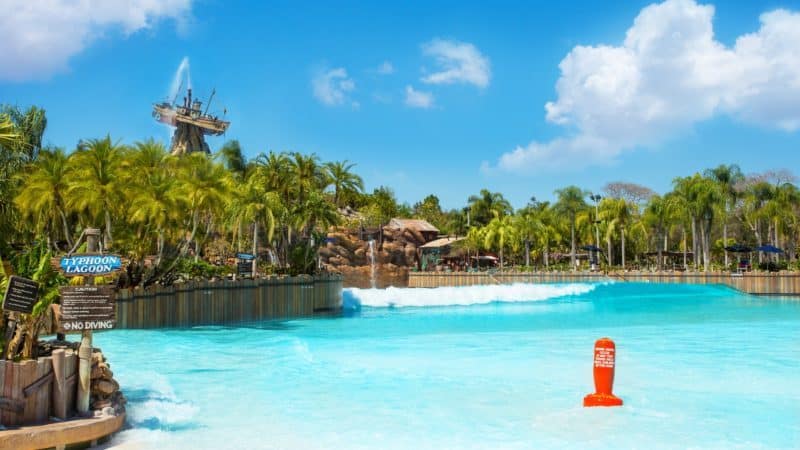 Opened in June 1989, Typhoon Lagoon was, he says, "An amazing project to be on. They were innovating while they were building. We actually had the first machine in the world that could generate waves."
The local competition, when it came to water parks, was Wet 'n Wild over on Orlando's International Drive.
"Typhoon Lagoon created an environment with a storyline. from the moment you walked into the park and all the way through. It was completely different from Wet 'n Wild, where you walked in and just went on rides. The typhoon, the ramshackle buildings, and how the boat got up on the mountain – they were all part of the story."
The launch and expansion of Disney-MGM Studios
With just two theme parks on-site at that point (the Magic Kingdom and Epcot), the water park's purpose was also to keep people on the Walt Disney World property for an extra day. But it wouldn't be long before a third 'dry' park opened.
On 1 May 1989, Disney-MGM Studios opened, a year ahead of Universal Studios Florida. It proved so popular initially that Kirk and his colleagues were soon working on an expansion.
"People were coming in droves. So we were under pressure to deliver a lot of product. We were working at 100 miles an hour, as hard as we could go."
One of Kirk's projects was the Let's Make A Deal game show on one of the sound stages. "We did that in 72 days. Right after that, it was Honey I Shrunk The Kids, in just nine months. It's now the Sci-Fi Dine-In Theater and ABC Commissary; two restaurants connected by a kitchen."
"The culmination of it all that was Tower of Terror on Sunset Boulevard in 1994. That really took us over the top for capacity and allowed us to fully meet the demands of the guests."
Hollywood comes to Florida
In 2008, the park rebranded to Disney's Hollywood Studios after the end of Disney's licensing deal with MGM (Metro-Goldwyn-Mayer).
"My team had to do the name change all around the Disney World property," says Kirk. "Because of nomenclature, you had to go to every bus stop, every hotel, every point of entry. Anywhere that said Disney-MGM Studios. It was quite the undertaking, for about a year, to change out all the signage at night while the guests were sleeping."
Once home to working studios, several of the park's former MGM sound stages have been repurposed. Two such buildings were combined to house Toy Story Midway Mania! Kirk was part of the team that helped bring to life this interactive dark ride. A celebration of classic toys and carnival games, it practically invented a new game-ride genre.
"Midway Mania! is a very immersive ride," he says. "We went to great pains to make that thing immersive."
Such immersion into the movies, rather than a 'behind the scenes' peek, has guided the recent development of Disney's Hollywood Studios as new lands like Toy Story Land and Star Wars: Galaxy's Edge have launched.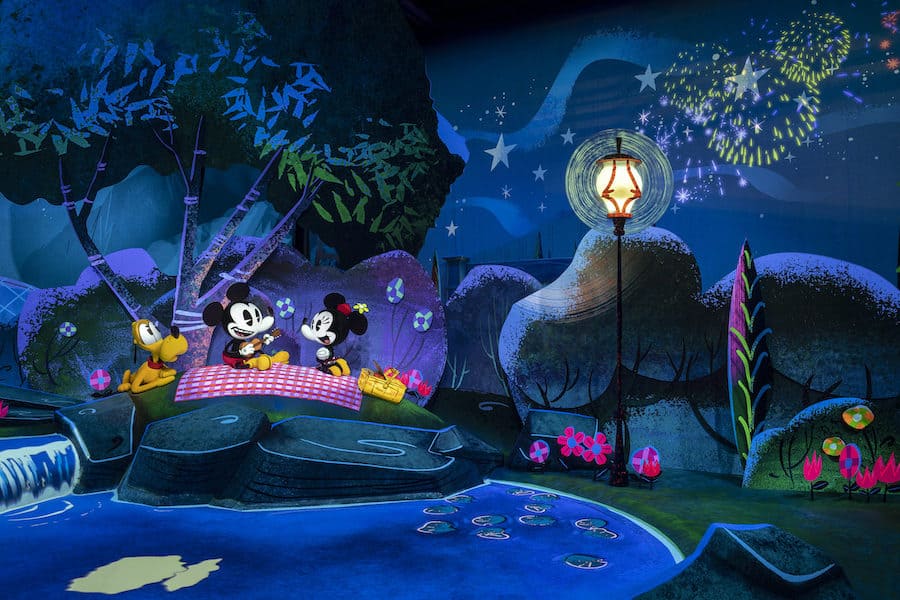 "The new ride in the Studios, Mickey & Minnie's Runaway Railway, is just so immersive. The technology and effects are fantastic."
Splash Mountain at Magic Kingdom
At the start of the 'Disney Decade' (the 1990s), many of the Imagineers that had worked on Disney-MGM Studios were transferred to Disneyland Paris. Jerre Kirk and Bob Weis, now President of Walt Disney Imagineering, were among the exceptions. They would both go on to work on Magic Kingdom's version of Splash Mountain, and later Shanghai Disney Resort.
For Kirk, the flume ride provided a particularly steep learning curve. It opened at the Florida park in June 1992, three years after the original Splash Mountain at Disneyland, California.
"I had done a waterpark, but I had never done a water ride," he says. "And I certainly didn't know the intricacies of a ride like that."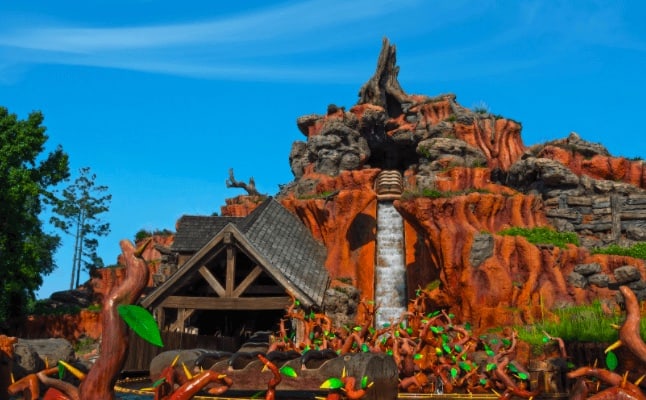 "You have the component of the water system, but what a lot of people don't know is that Splash Mountain is a water ride and a roller coaster. The boat is launched in the dip like a coaster vehicle. It's a very interesting design. On top of that, you have the immersion of the guests into a story that goes beyond the individual layers.
"The ride has 24 scenes, with animated props, foliage, rock work. There's integration everywhere. It taught me a lot about water systems, about tolerances on concrete, how to built integrated buildings on the job. The control systems were very state of the art. In those two-and-a-half years, I probably got more education than anything I ever worked on."
Walt Disney Imagineering, then and now
Whilst 14 different vendors worked on Splash Mountain, it was notable for being designed and engineered in-house by Walt Disney Imagineering.
"Our ride division did blueprints, they did production drawings. They then contracted out everybody to build components. But it wasn't, 'Here's the money, go engineer it, build it, ship it, install it, integrate it'. It was all done by Disney people."
During his career, Jerre Kirk made many trips to the headquarters of WDI in Glendale, California.
"I was based in Glendale for six months during the development of Splash Mountain and would visit every two weeks during the Studios expansion. That's when I first got to see first hand all the mock-ups, models shop, animation shop; everything that was Imagineering.
"To walk the floor and watch those guys putting the animated figures together, to go to the model shop and walk up to them and ask questions, was just unbelievable. I learned the company word of mouth. That's the way Imagineering works. They're all very humble people who want to share what they've learned."
"When I was hired back in the day, we were a pretty small group compared to how they are today. You could walk down the hall and know 50 percent of the people on a first-name basis."
Controlling costs at Imagineering
One myth that often surrounds Disney's theme parks and resorts is that money is no object for Imagineers when designing new attractions.
"People's perception is that we just throw money at stuff," says Kirk. "It's completely wrong. They are very rigorous with their money control."
"My job was to estimate and settle changes with the general contractors. The budget had already been set, I had to negotiate as hard as I could to get the amount down from the ask to the final result. As I got further into my career, I was in project control, setting and managing budgets for seven or eight years before I went into construction management."
Jerre Kirk on Animal Kingdom and working with Joe Rohde
It was two years before the opening of Disney's Animal Kingdom, in 1996, that Jerre Kirk progressed to other roles within Imagineering. First as Principal Construction Manager, and later (1998 onwards) Director of Construction. He held the latter post right through until his retirement.
"I helped set the budgets for Park Central, which ended up being Discovery Island, and Dino Land," he says of his work at Animal Kingdom.
"I then became Construction Manager for those two lands along with Camp Minnie-Mickey. That was where they put Avatar recently and moved the Lion King theatre to Africa, which is where it should've been from day one. I did not really work on Africa, but that is a big mass of land; north of 250 acres."
Animal Kingdom was built around the creative vision of recently retired Disney Imagineer Joe Rohde. Life with the idiosyncratic attraction designer was never dull, says Kirk, who worked with him on plans for the fourth WDW park as far back as 1992. Back then, the team was small; just 15 people.
"Working with Joe was an adventure every day," says Kirk. "I still use the statement that Disney moves at the speed of art direction. Joe taught me so much. I remember him making sketches of Animal Kingdom on a pad of paper on a stand-up easel. These became the basis of the park in front of the team almost every day in our working sessions."
Jerre Kirk's WDI mentors
Kirk cites four individuals as his mentors at Walt Disney Imagineering.
"Jim Thomas was Vice-President of Project Management and retired in 2009. He really led me along that path that transferred me into construction management. He was a legend in the company, but one that people didn't know unless they were in management."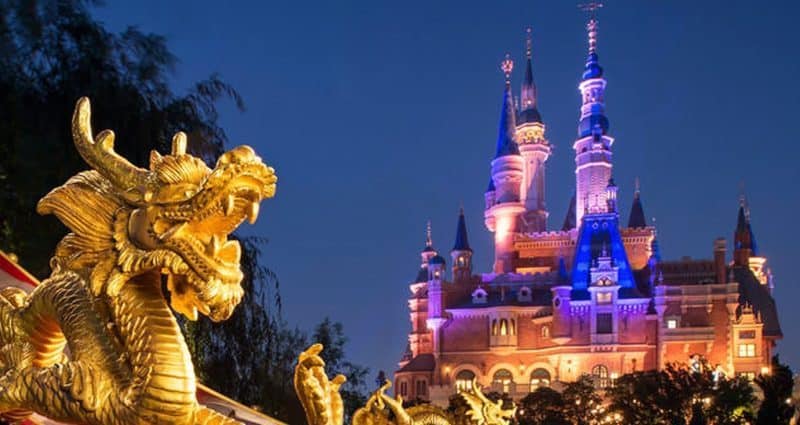 "As VP of WDI Hong Kong, John Verity ended up hiring me to go to Hong Kong Disneyland. Jack Blitch, VP/General Manager of WDI Florida, was a great teacher of process and technical decision making. And then there's Don Goodman, President of Walt Disney Imagineering. He was and still is a teacher of strategic decisions and process.
"I was blessed in my career to have worked with the most talented construction management teams I could ask for. They are the reason for my success."
China calling
"The greatest experience I had in my life," says Jerre Kirk, "was in Hong Kong. Those people are some of the finest people in the world. What an experience to live in that city. As an ex-pat, it's easy to talk to the cab drivers, the shop keepers. I stay in constant contact with my team from Hong Kong Disneyland. Five of the guys I hired are still at that park."
"The toughest thing about working in China was educating the local team. There's a huge amount of artisans in Europe, so it's much easier to train people in the Disney way. In Asia, stuff like that had never been done. They've built high rises, but theme parks? No."
"Literally from the day I got there, I was teaching Disney, Disney, Disney. People like John Olsen with the theming facades and Skip Lang with the rock work, they did almost a year's training on Hong Kong Disneyland."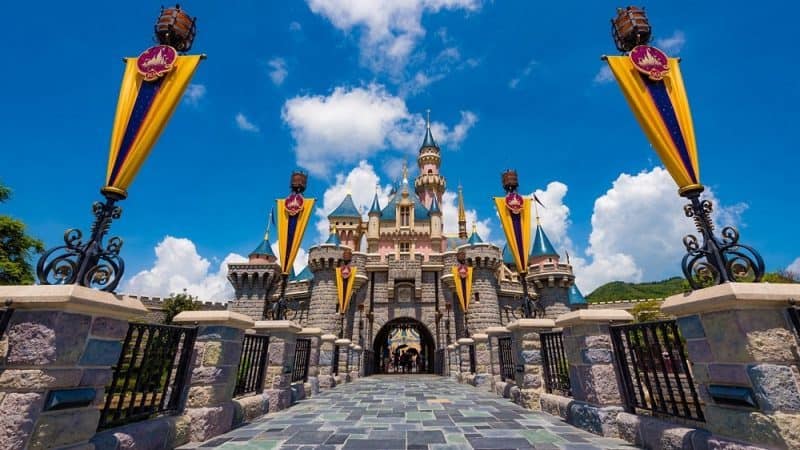 Jerre Kirk says he learned enough Mandarin to get by when working on Shanghai Disney Resort. "But I wasn't fluent by any means.
"In Shanghai, it made sense to outsource construction management with all the regulatory stuff. The strategy was a little different to Hong Kong, where we direct hired all our senior staff."
A colourful tale from Hong Kong Disneyland
Over the past year, remote working has become a way of life for many people across the globe because of COVID-19. It was while working on Hong Kong Disneyland in 2003, when the region was struck by an earlier coronavirus, that Kirk got a taste of the limitations of video conferencing.
"We had to send home most of the workers to protect them from the SARS virus. Very few of us stayed behind to continue the project. We had to do a lot over video conference."
The technology may have been straightforward enough, but the task in hard certainly was not.
"I remember picking paint colours with Katie Olson, one of our colourists for the park. There I was holding up colours to the camera. Finally, she said, 'Jerre, just pick the colour yourself, you know what I want'."
"You think managing a contract is hard? No. Picking colours over a video camera with your colourist who is in charge of a brand new Disney theme park; that is the most stressful thing I ever did. Put yourself in that position if you chose the wrong colour!"
Jerre Kirk's toughest and most beloved Disney projects
"People ask what's the hardest thing I ever built. I say Main Street. They say, 'You gotta be kidding? And I say yes because it's precision construction. It's so iconic and you cannot miss a thing, because people pick it up."

"Building rides is easy. The components of a ride are all the same. A round ride, a roller coaster, a water ride; I've built them all. They all just snap together. The control systems, electricals? Easy. The rock work around it? Not so easy."
"The second hardest thing I built was the castle in Shanghai. It's a huge monument, but it was still not as hard as Main Street."
"One of my most beloved projects, believe it or not, is the Hong Kong Disneyland Railroad station. It was actually the last thing we finished on Main Street in Hong Kong. If you stand back and look at the architecture on that train station, it's a marvel. There was so much hand cutting, matching, colouring, repainting and touching up.
"The great thing about that station is everybody's eyes are on it all day as they're coming and going."
Comparing castles
In November 2020, Hong Kong Disneyland unveiled a new look, and significantly larger, castle than that which stood at the centre of the park on opening day in 2005. Kirk explains the thinking behind the two structures.
"We took the blueprints [for the original castle] from Disneyland and digitised them. If you look at a picture from opening day, it's a close to Disneyland 1955 as there's ever been. That was the mission: to build that park in China, in Hong Kong. I don't think there was a second thought when we were building it as to how big it was. But we had a very stringent budget, as every Disney project does, and it fitted the venue."
"For years, Hong Kong had been the only Disney park in China. But then Shanghai opened with that massive castle I worked on. Hong Kong went, 'We've got to do something about this'."
So, the Castle of Magic Dreams was born.
Splash Mountain makeover and attraction endurance
"Throughout my career, I always said I wanted to work on iconic things that wouldn't get torn down," says Jerre Kirk. "Like the castles or Main Street. But I keep a list, and 14 attractions that I worked on have been torn down since I retired."
At the Magic Kingdom in Florida, Splash Mountain is still going strong. However, along with the original version of the ride at Disneyland in California, it is set for a makeover. This will see the original storyline replaced with the Princess and the Frog.
"Songs of the South is dated," says Kirk. "That was very much a product of the 1940s and '50s. I'm sure the new storyline, with all the diversity behind it, is going to be tremendous. It's a great ride, very compelling, and I'm pleased that it's going to live on. But you know what? Fifty years from now, if it's still here, they'll change it again."
In fact, adds Kirk, 50 years would be a good run in today's theme park climate.
"I built Buzz Lightyear [Astro Blasters] for opening day in Hong Kong. They already tore it out and put in Ant-Man. Now if you put Ant-Man into Walt Disney World, no one would ride it. But you have to do the locally loved product."
Immersive attractions and the technology of tomorrow
"I think this industry is going to be more of a 'tear down and put back' industry," says Jerre Kirk. "Who else can afford the amount of money we spent on a theme park in Shanghai? I don't think that's going to happen for a long time. Even in China, even in India, even in Brazil, wherever the money is in the next 20 years.
"Built-to-purpose features like the castles will be there forever. But you are going to have more of these black box immersive rides, where you take out one story and put in another."
Yet the basic premise of storytelling has not changed, says Kirk. "The only thing that has changed in the 33 years since I joined Disney is technology. You're still telling a story, still trying to immerse the guests in the story. The rest of its just construction and technology.
"Technology will drive this business forever. It's becoming micro. In 10 years, RFIDs that have a range of 100ft today will be 10 times smaller and have 10 times the range. You're going to be able to track everything. You'll walk up to a theme park and they'll know who you are, the last ride you went on, what you want to eat. It'll all pop up on your phone."
Fortune favours the nimble
Working now with a variety of clients through his part-time work as a Project Execution Executive for experience design firm AOA, Kirk has been able to gain some perspective on how other attraction operators run their business.
"Take someone like Merlin Entertainments, who are very successful. They build smaller parks, they immerse guests in a storyline, they have very good product. Guys like that are going to grow this business."
"I think Universal and Disney are going to have to be more nimble like they were in the old days. When I came to work for the company there were four theme parks. Today there are 12 worldwide. In my lifetime in the company, we built eight theme parks, 17 hotels, cruise ships, a sports complex and the town of Celebration.
"I use the example all the time, but moving Disney today is like turning an aircraft carrier. In the old days, we were like a nuclear frigate. We could turn the company in no time to do anything that we needed to do. Now it's a huge entity with assets everywhere."
Behind the magic
Disney has, however, become more open when it comes to showing fans what happens behind the scenes at its parks and resorts.
"Do you think in the old days Imagineering would have let people backstage to show them how to build a model or do some rock work?" asks Jerre Kirk. "That stuff was all secret. Now you just go on Disney+ or YouTube and it's all there. The only thing that's secret any more is the intellectual property. And there's so much more IP and brands that they're dealing with since the acquisitions of Pixar, Marvel and Star Wars."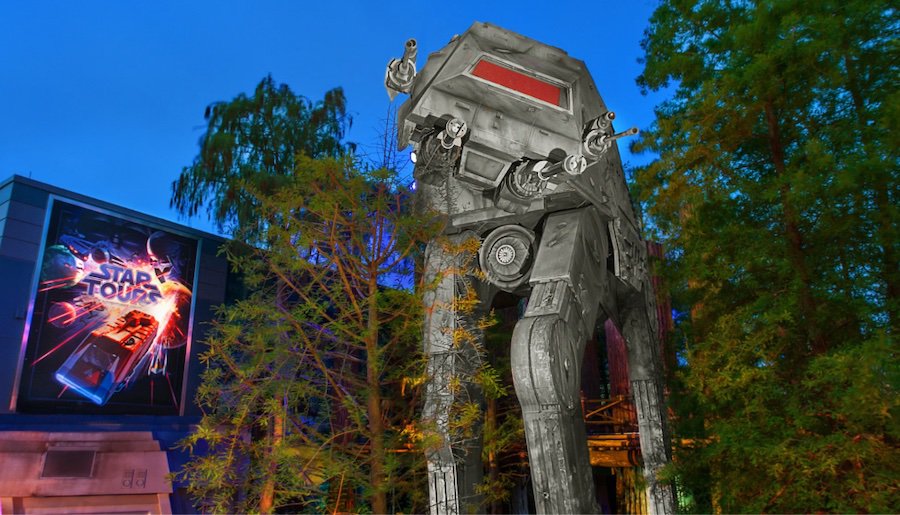 Kirk worked with George Lucas while he was art directing on the Star Tours attraction at Disney-MGM Studios. Opened in 1989, this came long before the partnership between Disney and Lucasfilm.
Creativity out of a crisis?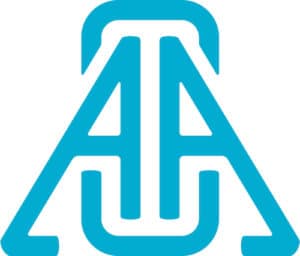 Having made tens of thousands of lays offs recently due to the coronavirus crisis, Disney Parks, Experiences and Products may be forced to be more nimble. And maybe we'll see a new wave of creative companies formed within the industry. Just as happened following the wealth of talent looking for work after the opening of Epcot, leading in turn to the birth of the Themed Entertainment Association.
"I think over the next two years you are going to see a lot of new production houses emerge out of this downtime," says Kirk. "Companies like AOA are a good benchmark. People can hire them, they come in, get the project done, and away they go. I think that's going to more the shape of the industry."
Kirk says that when AOA founders Mike Ostendorf and Tom Acomb left Disney, neither had aspirations to set up a company with the scope of theirs today.
"They just wanted to survive. And they came together because they like one another. That's what this industry is about; if you like each other you work together. There are so many talented people out there that are not ready to retire."
An active retirement for Jerre Kirk
Jerre Kirk is enjoying family time in his retirement. Yet he also likes to keep in touch with the theme park and attractions industry, and his role with AOA gives him just the exposure he needs.
"They bounce stuff off me all the time. I know so many people who I worked with, in this industry for over 27 years, plus seven years as a consultant. It's more strategy related; 80% of my job was strategy related. A lot of their stuff is not Disney. It's partly retail, partly restaurants. There's a lot of overseas work; stuff in Korea, Saudi. It keeps me interested."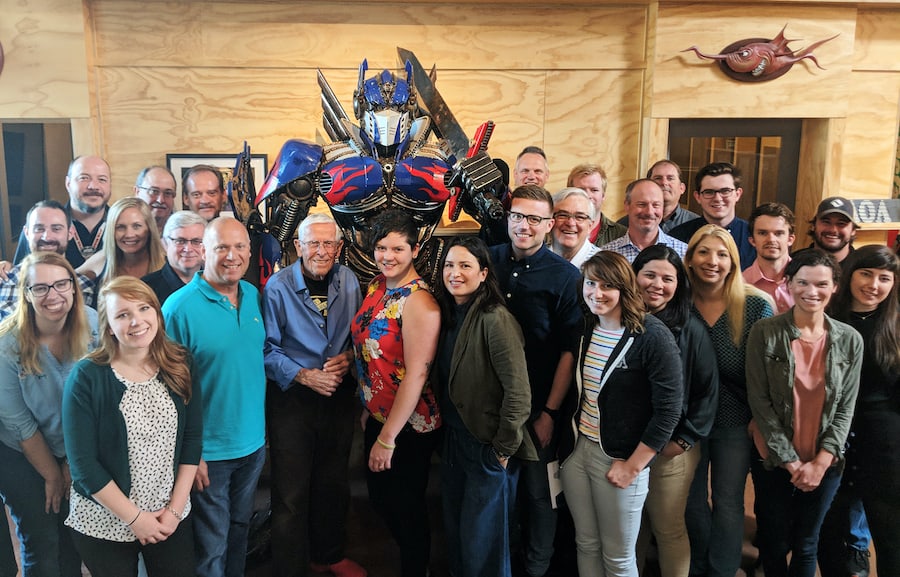 Finally, what are Jerre Kirk's hopes for the next generation of theme park designers?
"I hope they can maintain and build upon the legacy of those who have set the table for them. And to develop the next generation of attractions to wow guests."
Images courtesy of Disney Parks, Jerre Kirk, Eric Horotia and Dusty Dill