Following fresh backing from Abu Dhabi's Mubadala Capital, Looping founder and CEO Laurent Bruloy speaks to Bloooloop.

With 15 properties in seven countries, the French operator is smaller than some of its rivals but has ambitions to become Europe's largest regional leisure park operator.
Now 54 years of age, Laurent Bruloy's attractions industry career began in 1997 when he founded a small waterpark in the northern French seaside resort of Le Touquet, named Aqualud. Ten years later he sold the facility to Parques Reunidos. However, it would be only a few years before he was back in the park business. And this time he was doing the buying.
With funding from HIG Capital, Bruloy acquired seven parks from Compagnie des Alpes (CdA) in 2011 and formed the Looping group. The following year he added France's Cobac Parc to the portfolio, and then the Spanish park Isla Magica in 2013. CdA sold its remaining 30% stake in the group in 2014.
Over the past five years, Looping has picked up additional properties including Planète Sauvage, Mer de Sable and Zoo de la Flèche in France, Fort Fun in Germany and Portugal's Parque Aquático de Amarante. Just last year (2018), Looping acquired the UK's West Midland Safari Park, where it sees great potential.
Since 2016, the group's main shareholder was Ergon Capital, followed by Banque Publique d'Investissement (BPI). This October, it was announced the two parties would sell their majority stake to Mubadala Capital. The sovereign wealth fund from Abu Dhabi will take control of the company alongside Laurent Bruloy and general manager Stéphane Da Cunha, subject to antitrust approval in Germany.
Looping's park portfolio
Today, Looping entertains around 4.3 million annual guests across its 15 sites, generating turnover in excess of €110 million. The group's current collection of parks comprises:
Aquaparc. Indoor/outdoor waterpark overlooking Lake Geneva, Switzerland.
Avonturepark Helledoorn. Dutch amusement park founded in 1936, now with summer slide park.
Bagatelle. Well established regional amusement park in Hauts de France.
Cobac Park. Family leisure park and water park in Brittany, France.
Fort Fun. Far West theme park in Sauerland, Germany
Grand Aquarium St Malo. Located in the Brittany port city.
Grand Aquarium de Touraine. In the Loire Valley (Pays de la Loire).
Isla Magica. Large theme park in Seville, Spain. Includes Aqua Magica water park.
Le Mer de Sable. Far West theme park on the outskirts of Paris, featuring over 30 rides and attractions, live shows and equestrian performances.
Mini Châteux. Located in the hills above Amboise, Loire Valley.
Parque Aquático de Amarante. Portuguese water park overlooking the Tàmega river.
Planète Sauvage. French animal park featuring over 1,000 animals amid Asian and South American themed landscapes.
Pleasurewood Hills. English amusement park near the East Coast in Suffolk.
West Midland Safari Park. The 80-hectare UK property was founded in 1973 and also features amusement rides.
Zoo de la Fléche. Ranked as one of the five most beautiful zoos in France, in a leafy Loire Valley setting.
Regional parks with unique identities
Over the next few years, Looping plans to triple the volume of its business by maximising opportunities at its existing properties, developing accommodation and acquiring additional parks.
In addition, the company wants to offer its experience to various public and private bodies by establishing management contracts at other properties. European players such as Compagnie des Alpes and Parques Reunidos already do this.
CdA essentially sold its smaller parks to Looping so that it could concentrate on larger venues including Parc Astèrix, Futuroscope and the Walibi chain of parks. Laurent Bruloy says the parks he acquired will continue to be run as independent concerns.
"We are really two different companies, on two different journeys," he says. "It's like comparing an industrial and artisanal spirit. We are not vertical at all; we are a very decentralised organisation."
And Looping's CEO says he is not interested in developing a branded network of attractions. "Perhaps for the waterparks, it would be a good idea to have one brand. But for the other parks, each already has a very strong brand in its own region.
Some parks are now being visited by the third generation of families. Hellendoorn was built in 1936, Bagatelle in '55; the same year as Disneyland in the USA. These parks are still very interesting."
More than just managers
Laurent Bruloy likes to foster an entrepreneurial spirit in each of his parks. "Each manager is the shoulders of the company," he says.
Selling up needn't be an exit strategy. He cites the example of Stéphane Da Cunha, former owner Zoo de la Fléche. Rather than sell outright, he traded the animal park for a 12% stake in Looping. Other managers are encouraged to invest in the group, too.
While individual park managers are given the autonomy to respond to local market conditions, those without the resources to run dedicated departments such as marketing, merchandising or finance are given support at the group level.
Shared roles and responsibilities
François-Jérôme Parent, general manager at Bagatelle, is now providing support in the design and execution of ride development projects across the group. His signature can be seen on the Thunderbirds (Zamperla Air Race) and Isla Calavera (a mini flume ride with an adventure trail in the middle) attractions installed last season at Fort Fun and Isla Magica respectively.
Planète Sauvage general manager Aurélie Chevallier-Chantepie is now co-ordinating digital marketing across the group's French parks. Carole Pivert, F&B manager La Flèche, has brought her restaurant refurbishment flair to Aquaparc and La Mer de Sable.
From Grand Aquarium de Saint-Malo, France Simon and Patricia Limpalaer are co-ordinating retail activities (merchandising, buying etc) for all of Looping's parks.
Several managers now have responsibility for more than one park. This includes Hellendoorn general manager Lyan Van den Bosch, who is also supervising operations in Pleasurewood Hills, Fort Fun and West Midland Safari Park. Meanwhile, Isla Magica general manager Guillermo Cruz is also supervising operations at Parque Aquático de Amarante
Spanish success story
Bruloy singles out Isla Mágica, located in the southern Spanish city of Seville, as one of Looping's star performers.
Constructed on the former site of Expo '92, the attractive theme park was built to accommodate a projected annual attendance of 1 million, yet struggled to achieve it. When it was acquired by the French group in 2013, the venue was attracting closer to 440,000.
One of Looping's first moves was to add a water park. This made perfect sense given the local Andalusian climate and the popularity of the park's existing water rides. Agua Mágica, featuring slide and attractions from Polin Waterparks, opened in 2014. It's proved to be a great investment.
"For the past year, we had over 700,000 people [at Isla Magica + Agua Magica]," says Bruloy. "We are very happy to have this park in our portfolio; it's been a big success."
Laurent Bruloy on Authenticity Vs IP
So far, Looping has resisted integrating any external intellectual property (IP) into its parks. Maybe it's not found the right brand or deal yet for any of its venues, but there's also another reason.
"Everyone speaks a lot about IP," says Bruloy. "Perhaps it is an opportunity for us in the future, but one of the key points for Looping is authenticity. Many of these parks have a natural environment because they were built a long time ago. Every year we put in new trees and plants.
You can put in a ride with an IP, and the product is very nice, but we think contact with nature is very important to the family experience. Sometimes IP can be a little plastic."
It's for similar reasons that Looping cancelled the indoor waterpark that had been planned at West Midland Safari Park by its previous owner.
"We prefer to develop the core business of West Midland," says Bruloy. "Probably there is a place for a waterpark, but it is not our priority for the next years."
A new elephant exhibit is on the way, along with six lodges for guests who wish to stay overnight. According to Looping's director of operations, Charles Bennet, these new additions will be "very immersive, in the style of La Fléche."
Animal attractions and conservation
Laurent Bruloy believes the public's expectations are changing at animal parks and attractions. "What's important for their legitimacy is education and conservation. We have in our portfolio three wildlife parks, one zoo and two safaris. The focus at these parks in future will be on the preservation of endangered species. In the next months, we want to create a conservation foundation."
Certainly, Looping's CEO sees great potential for his UK safari park, located about 20 miles (32km) east of Birmingham. "We are very optimistic about West Midland," he says. "I think in the five next years we will probably invest more in this than other parks. The catchment area is amazing; more than 8 million people 1.5 hours by car."
New for 2020 at Looping
Further investments across the Looping portfolio in 2020 will include a Vekoma Junior Coaster with mine train theming at La Mer de Sable, plus new lodge accommodation at Planet Sauvage and Zoo de la Fléche.
"We believe accommodation is extremely attractive for our business," says Bennet. "In the short term, we have a hotel project at La Fléche, and we believe there is potential for a larger hotel at West Midland Safari Park. Again, we believe in the immersive approach. Animal exhibits and accommodation is a very strong concept."
"We have a five-year plan for the group," adds Bennet. "The intention is to develop accommodation and invest every two years with a major ride in each of our amusement parks."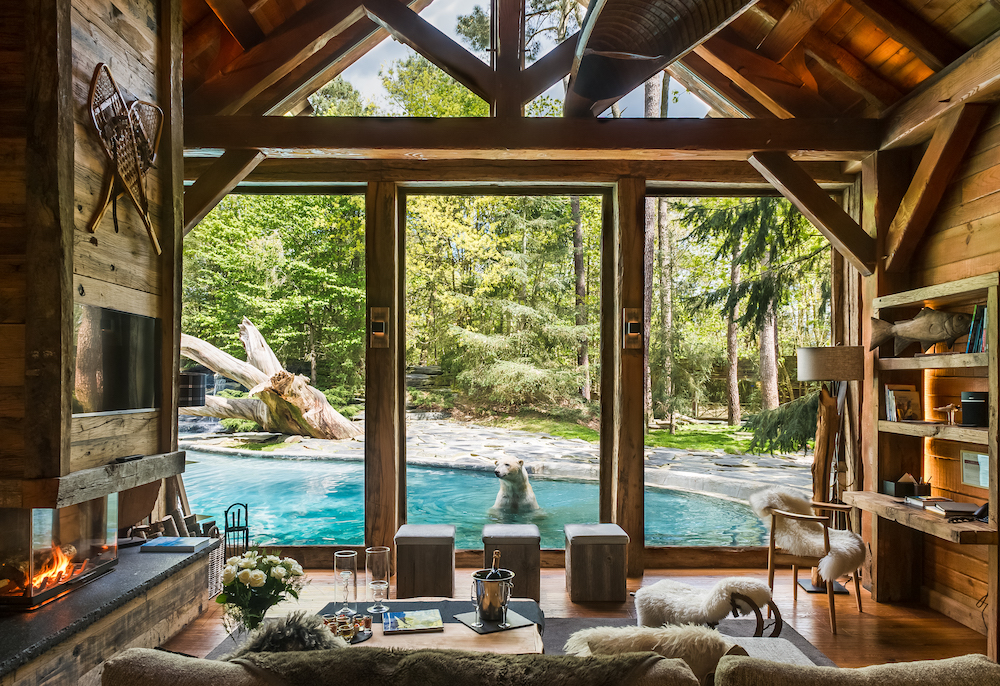 New opportunities
Another goal over the coming years will be to balance out the group's portfolio by expanding the geographical footprint and variety of venues.
"It is very important to have a balanced portfolio between the north and south of Europe," says Bruloy. "I think a key part of our development will be to build a new, probably standalone waterpark in the south. It is probably easier to build a new park in northern Europe, but these countries are more weather sensitive, so we have to consider indoor as well."
And what about Eastern Europe? "In countries such as Poland and Hungary, there are opportunities. But it is difficult for us as a little group. The top management is five or six people, so when you want to build a new park from scratch it's not easy. A waterpark it's possible, but an attraction park is more difficult. We will wait for the right opportunity."
While markets such as the Netherlands might be somewhat saturated, Laurent Bruloy believes there is still potential in his home country.
"The maturity of the Netherlands is perhaps above 80%," he says. "But it's not the case in France. We have Disney and some other parks, but across the country, the maturity is not very high, between 30 and 40%. Some regions in the south of France still have no attraction parks."
Laurent Bruloy on finding a niche in the market
Laurent Bruloy knows Looping's position in the market, and he's happy to let the big(ger) boys do their own thing. Like, for example, the Aspro group of Spain, he has been able to occupy a niche nurturing of the kind of venues Compagnie des Alpes, Parques Reunidos and Merlin Entertainments might not consider viable.
"In general we want to operate regional parks with an audience 200,000 to 1 million," he says. "However, if a big park is in a unique situation, like Isla Magica, we can find room for it."
Images courtesy Looping group and parks/attractions featured. Main image, top of page: Jaguar suspended looping coaster at Isla Magica.