In the last 10 years, we have seen a lot of technological advancements in the world of themed dark ride attractions. So let's take a look at the decade's Top 11 most impressive and influential dark rides.
We've seen great advancements in the movement of riders through the attraction and the visual presentation of the attraction to guests. And we have seen some incredible IPs brought to life in ways we would have never previously thought possible.
Note that this list is in the order that these attractions first opened. It is not in any kind of order of supremacy.
Top 11 influential dark rides
2010 – Harry Potter and the Forbidden Journey at Universal's Islands of Adventure
Perhaps more than any other ride on this list of influential dark rides, Universal's Forbidden Journey really changed our perception of what a dark ride was capable of. Universal dreamed up the concept of attaching riders to the end of an industrial robot arm, on a motion-vehicle on a bus-bar system. It travels through both physical set-pieces mixed with physical and projection effects.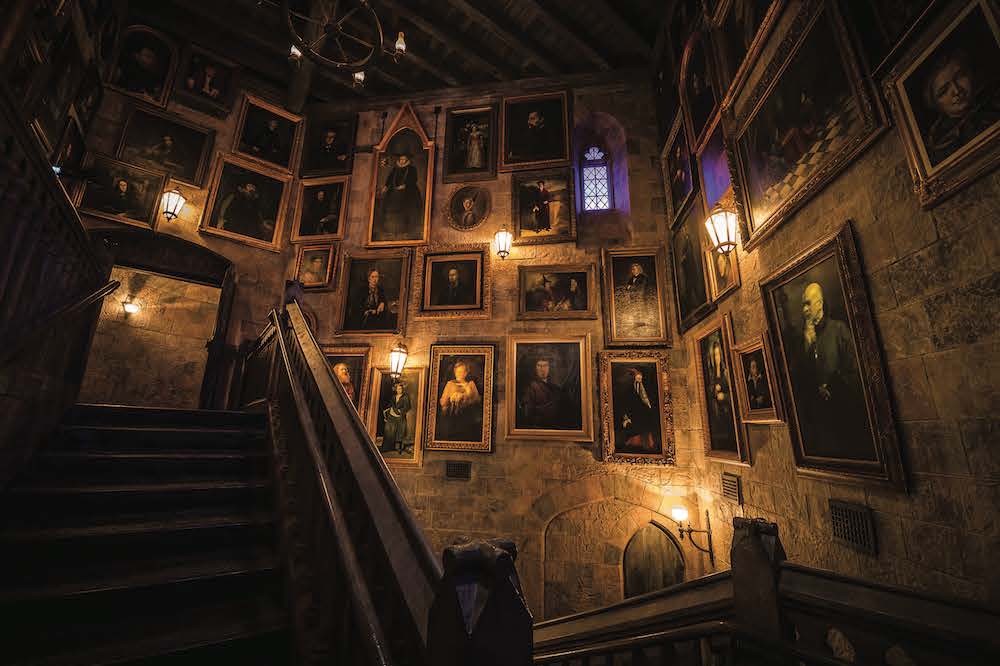 It also incorporates some simulator style action in front of screens that, at times, travel along with vehicle's movement. This attraction also successfully anchored the launch of the world's first Wizarding World of Harry Potter-themed land. It is easy to see that there was a lot riding on the success of this wild new ride concept.
2012 – The Amazing Adventures of Spider-Man (v2.0) at Universal's Islands of Adventure
This may be cheating a little since the original version of Universal's Spider-Man attraction opened in 1999. But in 2012 they re-launched the attraction once again. This time with 100% fully re-animated footage on the attraction's screens. Other upgrades included new 4K HD projection hardware and a new sound system for the ride vehicles.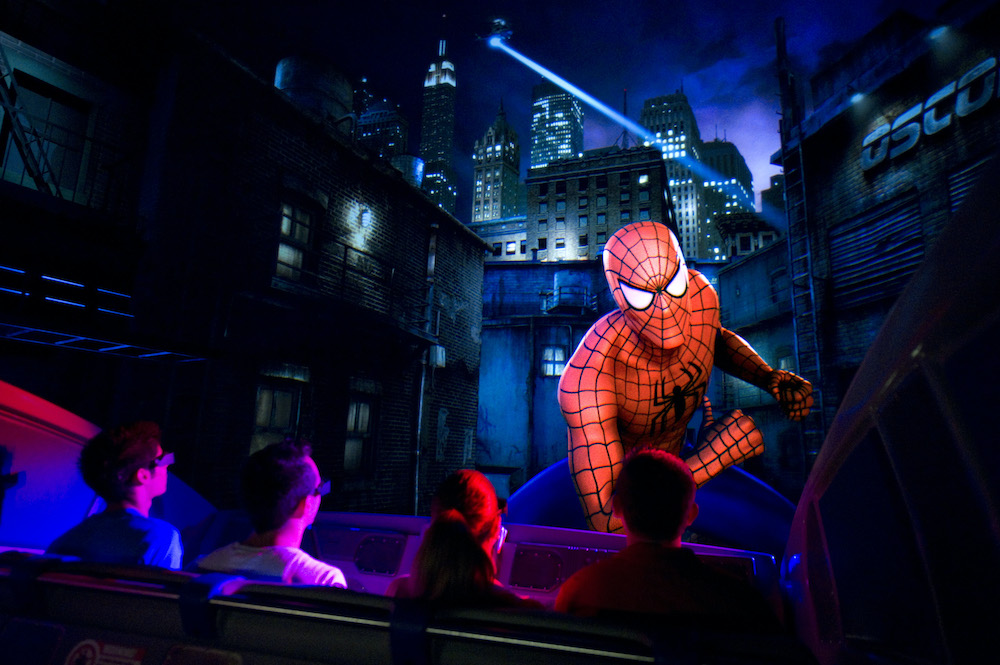 In short, they re-booted the entire attraction. It was already a fine example of what a next-gen dark ride could and should be from 1999, and they made it even better! After all these years, Spider-Man can still hold its own with the best of them. It is a not-to-miss attraction.
2012 – Radiator Springs Racers at Disney California Adventure
Walt Disney Imagineering took a big step here with the opening of Cars Land. This was the final piece of a $1 billion dollar multi-year upgrade plan their California Adventure theme park. The anchor attraction for this epic new expansion revamps a ride system first built in Florida for Epcot's Test Track attraction.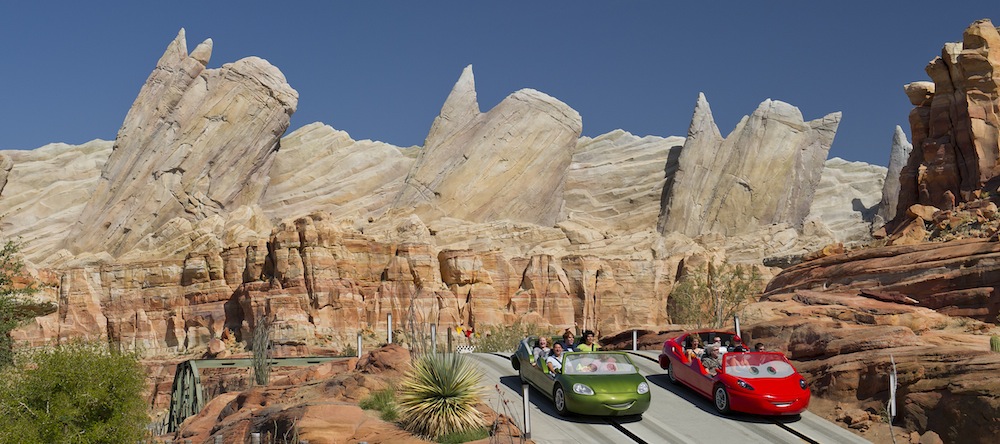 The ambitious attraction has dark ride sections featuring life-size animatronic figures of characters from the film. It also includes high-speed outdoor track sections. For example, a section of side-by-side racing action through the highly themed landscape of Radiator Springs.
2013 – Mystic Manor at Hong Kong Disneyland
Not wanting to create another clone of Disney's famous Haunted Mansion attraction, popular at Disney parks around the globe, Hong Kong Disneyland instead did something entirely new.
It features trackless ride vehicles that can move about the mansion's interior in unpredictable ways. An entirely new supernatural story weaves around the idea of a collection of ancient artefacts coming to life after Albert the monkey opens a cursed music box.
Plus there is a musical score from the acclaimed composer, Danny Elfman. Here, Disney created a custom themed attraction classic in an era where many feel they need to use a proven IP for everything.
2014 – Arthur – The Ride at Europa Park
Mack Rides invented a unique new ride system for Arthur – The Ride. And it is one that is just starting to make waves in the industry. The powered inverted coaster system allows for high-speed action and slow cruising through dark ride scenes. It also has the ability to stop completely for full show scenes, with ride cars able to spin around to face the riders to look at each scene as needed.
Europa Park worked with Director Luc Besson to bring the world of Arthur and the Invisibles to life. The ride takes guests into the shrunken world of the "Minimoys" for a grand adventure. Since then we've seen this unique ride system in use in Dubai with a How to Train Your Dragon themed attraction. Universal will also use it for the Jurassic World themed attraction when the new Universal Studios Beijing theme park opens in 2021.
2014 – Harry Potter and the Escape from Gringotts at Universal Studios Florida
Universal Creative approached their second Harry Potter-themed land with the idea of creating another new attraction concept. One as unique as the first ride that opened in 2010. From this, the concept of a Special Effects Coaster was born.
It uses vehicles able to stop and rotate for show scenes, both physical and through the use of 3D projection screens, and move ahead through the attraction aided by powered track sections. It even features a magnetic launch finale.
Meanwhile Universal was able to thread the needle by telling a unique new Harry Potter-themed story. This takes the guests on their own adventure through the Gringotts bank. The scenes take place in parallel to the action taking place when the characters break into the Gringotts bank during the film, Harry Potter and the Deathly Hallows: Part 2.
2016 – Pirates of the Caribbean: Battle of the Sunken Treasure at Shanghai Disneyland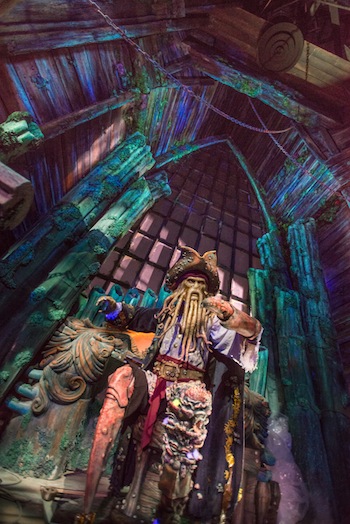 With this next entry on the list of influential dark rides, Disney raised the bar once again. This ride shows off what modern technology can add to the concept of a water-based dark ride. Rather than drift along with the water current, the movements of the boats (including some spinning motion) are now carefully controlled through the use of magnetic motors.
The previous Disney attractions were used as inspiration for Disney's modern "Pirates of the Carribean" film series. However, this was the first ride to be built from the ground up to tell a new story based on the film franchise. It uses animatronic figures resembling the actors, projection-based scenes and an assortment of modern practical effects.
2017 – Guardians of the Galaxy Mission: Breakout! At Disney California Adventure
Taking an older existing attraction and giving it a new theme seldom creates something more popular than the original. But this is an exception to that rule.
Some may still miss the original Twilight Zone theming. However, it's hard to argue that the overlay of an all-new theme has not been a smash hit. And it keeps all the physical thrills of the original.
But the new theme allows Disney to create an entirely different atmosphere for the attraction. One that is based around the idea of fun chaos, music, and comic-inspired character action sequences. Rather than just relying on the concept of creating tension, leading up to a big drop.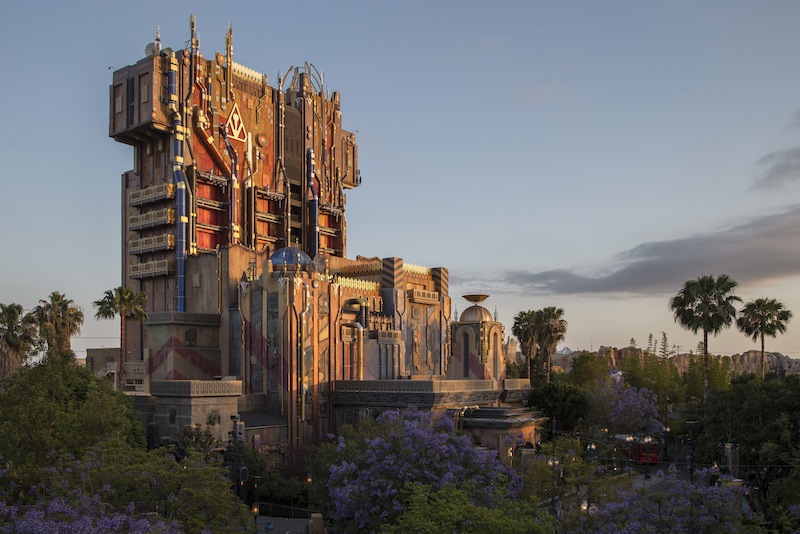 The new version of the attraction was also built with the concept of quick transitions into seasonal overlay modes. For example, a Halloween season version was also produced called Guardians of the Galaxy Monsters After Dark. This acts as a sequel to the events that take place during Mission: Breakout!
2017 – Symbolica at Efteling
Efteling in The Netherlands is famous for its collection of highly themed dark rides. The latest of these is Symbolica.
Symbolica features trackless ride vehicles that depart in groups of three. These separate into three slightly different tours of the castle themed as the Hero tour, Music tour or Treasure tour. Based on which tour you select, you are taken to visit one specific scene along the way that the other tours do not get to see. So, you have to ride it three times to see everything there is to see inside Symbolica.
2019 – Pacific Rim: Shatterdome Strike at Trans Studio Cibubur
Most may be unfamiliar with this new dark ride attraction that just opened at the entirely new Trans Studio park complex in Indonesia. This borrows the IP of Legendary Pictures giant monster-fighting robot film, Pacific Rim.
The new dark ride, designed and produced by Legacy Entertainment, manages to pull off some tricks that are unlike anything seen before. Guests line up to experience what they think is just another dark ride. Then, things take a turn when it is revealed that the theme park itself is under attack from one of the giant Kaiju creatures.
From there they are pulled out of the queue and into an escape vehicle, only to be attacked by the creature and forced to leave the ride vehicle on foot for a creepy walk-through adventure. Guests are then rescued by the good guys and led through the Shatterdome complex to another ride vehicle.
This merges into one of the giant Jaeger robots to fight off the Kaiju invasion. While built on a budget far less than what you might see at a Disney or Universal park, the attraction's pacing and staged adventure concept is something I think we may be seeing more of in the future. It is certainly successful at creating a more immersive environment.
Influential dark rides of the decade – honourary mentions
Before I mention final attraction in this list of 11 influential dark rides, I wanted to take a moment to give a couple of other attractions an honorary mention.
One would be Justice League: Battle For Metropolis, crated by Sally Dark Rides. This has been installed at numerous Six Flags theme parks across North America. While once again, these were constructed at less of a budget than what you would see from a Universal or Disney park, I must commend Six Flags for making these.
The park chain is known mostly for their coasters and comic character-themed flat rides. So, creating a dark ride of this magnitude for their parks really showed some vision. And perhaps even a glimpse of what we could expect to see from next-gen Six Flags parks. Particularly as they enter the international marketplace with new parks in China and Saudi Arabia.
The other honorary attraction I wanted to mention was Batman: Knight Flight at Warner Bros. World Abu Dhabi. This attraction is said to use a similar ride system to the one that Universal created for Harry Potter and the Forbidden Journey.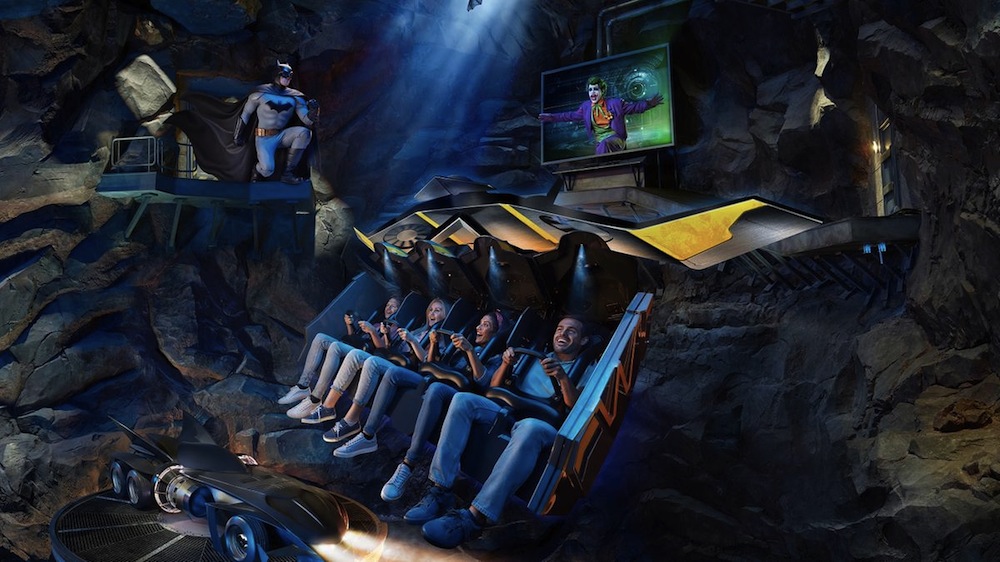 I'm highly curious about this potentially impressive new ride experience. Unfortunately, I don't know anyone who has ridden it yet. Thus far I also haven't been able to find a single video of the ride in action online.
The newest in a series of influential dark rides
Our final entry to this list of top influential dark rides is a new attraction. One that hasn't even been open a week yet. But I think this one is going re-set the bar to an all-new high for the themed ride design industry. Yes… I'm talking about:
2019 – Star Wars: Rise of the Resistance – Disney's Hollywood Studios
Star Wars: Galaxy's Edge opened earlier this year on both coasts with an impressive video game inspired ride experience. This is themed around the idea of flying the Millennium Falcon. However, everyone knew that the true masterpiece attraction was still to come.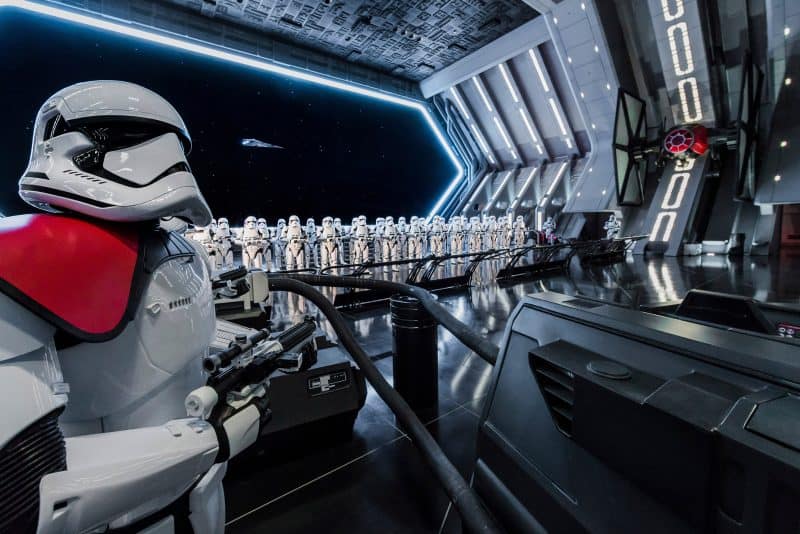 Much like the Pacific Rim attraction, Rise of the Resistance is a multi-part experience attraction. The actual adventure begins in the queue. You are then loaded onto a starship to leave the planet surface, only to get captured by the First Order.
Taken prisoner, guests are taken on an impressive walk-through experience through larger-than-life sets. Then, they are broken out of their cells and led onto a wild escape adventure ride. This leads them through the starship and back to the planetary surface.
It is easy to say that you've never seen anything quite like Star Wars: Rise of the Resistance. This attraction's design has already had quite an impact on the industry this week alone. I think you're going to see more influential dark rides inspired by this multi-part experience concept.