Blooloop profiles the Plopsa Group's new bee-themed world.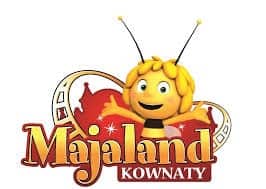 The 10,000 square metre park features a variety of characters. These come from the intellectual property (IP) portfolio of Plopsa parent company Studio 100. The park was named after Maya the Bee, a hugely popular character in Poland. Whilst the Plopsa name might not be front and centre as with the group's parks in the Benelux, its fingerprints are all over it.
Around €20 million was spent on phase one of the project, which features both indoor and outdoor attractions. In-house designer Piet De Koninck oversaw the conceptual drawings for the indoor/outdoor destination, just as he did at Plopsaland De Panne and the Plopsa Indoor parks in Hasselt (Belgium) and Coevorden (the Netherlands). There are repeats of tried-and-tested attractions from all of these parks, as well as Plopsa-owned Holiday Park in Germany.
Together they create a colourful and cohesive themed world, as opposed to the more piecemeal theming found at up and coming parks like Legendia and Energylandia. This lead Martijn van Rheenen, CEO of investor Momentum Capital, to describe Majaland Kownaty as "the first real theme park in Poland" during its VIP-packed opening event on September 29.
Majaland Vs Mayaland
Majaland Kownaty is Plopsa's largest theme park built from scratch (rather than acquisition). There's already an indoor Mayaland at Plopsaland De Panne (Maja's name is spelt differently for Flemish and French-speaking audiences). However, at 5,000 sq m, it's only half the size of Majaland Kownaty. The Belgian experience is also offered as part of the main Plopsaland ticket price rather than a standalone park.
"We took the best practices from our other parks, and implemented them in Poland," says Plopsa Group CEO, Steve Van den Kerkhof. "I think we have a product that is of a very high standard for the market. But it is necessary, because the Polish market is growing fast. If you build below that quality, in five to 10 years you would have a product that is old-fashioned."
Majaland Kownaty is in the west of Poland, roughly midway between Szczecin and Wroclaw. It was originally due to open last May. However, a laborious process when it came to seeking permissions for everything from rides to food and drink licences slowed things down. But the delay had some advantages. With the high season out of the way at its parks elsewhere, Plopsa was able to pool resources and bring in staff from Belgium and Germany to help get things up and running for September.
Polish progress
Several things have changed since Plopsa revealed, back in 2014, that it planned to expand into Poland. Plans for the wider Holiday Park Kownaty development that Majaland was supposed to be part of have been curtailed. That means it will not benefit from the added business the resort might have generated. However, it has freed up more funds for the development of the park itself.
The Plopsa CEO is also proud of the fact that Majaland Kownaty's management was recruited locally. "I think it is really important to put Polish people in charge of a Polish park," says Van den Kerkhof.
"We also had a Polish subsidy helping during construction. This helped a lot, especially when you are doing it for the first time. We could speak our own language and transfer our knowledge. As with all our parks, the directors in Belgium are in very close contact."
A bee with brand appeal
Both the Maya TV shows and animated movie, which was released in 2012, have been a hit in Poland. However, Van den Kerkhof says he was reassured of the brand's appeal when he went for a business meeting in the country. "I was sat in the reception waiting for the my contact to arrive. I noticed the secretary had on her arm a tattoo of Maya. It was quite funny."
The cartoon bee is joined at Majaland Kownaty by other characters including Vic the Viking, Heidi and the Bumba the clown. "Bumba's not so famous in Poland, but I am sure when children see him they will like him."
As Blooloop noted in an interview with the Plopsa CEO in 2017, the company uses its parks as much as a platform to nurture characters as to piggyback on their TV success. It's all part of the group's 360-degree strategy.
Fully-themed rides and attractions
When it came to attraction selection at Majaland Kownaty, Van den Kerkhof says the company chose to play it safe rather than go for any "firsts". Yet while the ride patterns may be familiar, their theming elevates most attractions from those found in other local theme/amusement parks.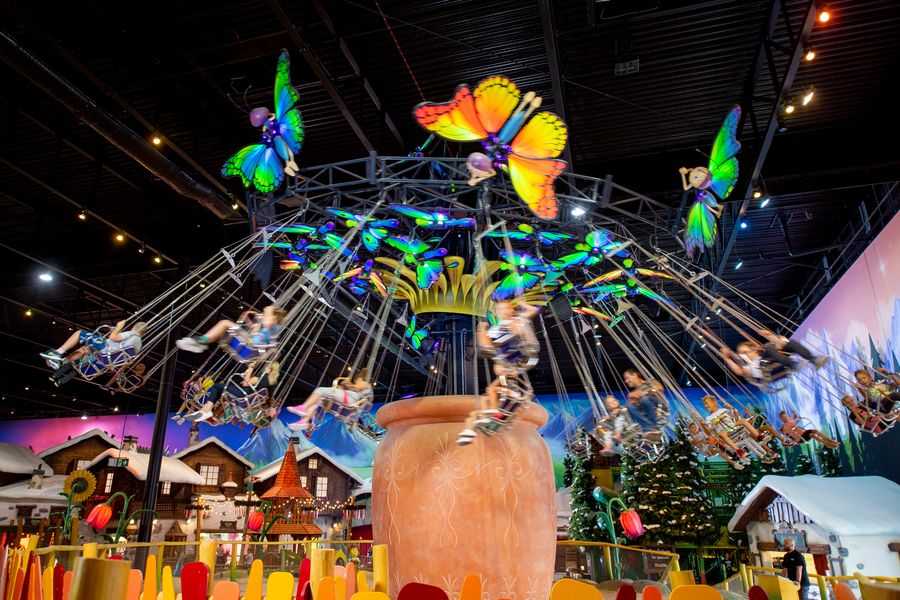 Karuzela Moty (Butterfly Carousel) is a wave swinger from Wood Design – pictured above – featuring Maya the Bee. This ride is, for now, unique to Kownaty. From the same manufacturer comes the attractive Zakręcona Farma (Farm Carousel) – pictured below. With its carved, unpainted wooden animals, the rustic-looking ride is similar to versions at Plopsaland and Holiday Indoor, the €7.5 million all-weather facility opened this summer at Holiday Park in Germany.
Majaland Kownaty debuted with just one coaster. Named Rollercoaster Wikingów (after Vic the Viking), the coaster is 222 metres in length and disappears into a themed cave. Similar rides exist at the two Plopsa Indoor parks and, with a different theme, at Holiday Indoor.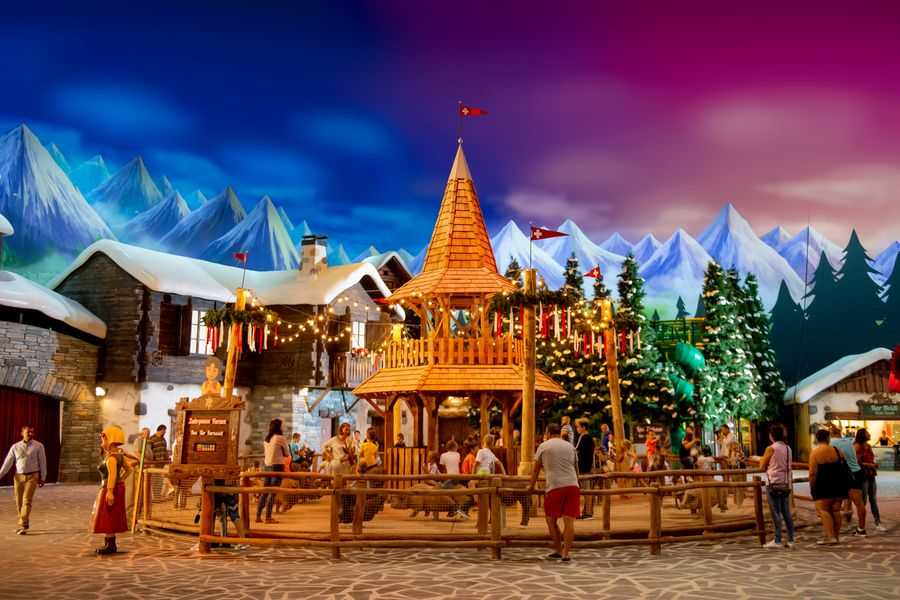 Repeated from Plopsaland De Panne and Holiday Park is Karuzela Kwiatów (Flower Carousel), a colourful custom-themed Flying Fish ride by Zierer. Most of the remaining rides in Kownaty come courtesy of Zierer and Zamperla, both regular Plopsa suppliers. The full list appears at the end of this article.
MK Themed Attractions created statues of Maya, Heidi and Vic for the park. The Danish company, formerly known as Tema Design by MK Illumination, also produced further decorative elements such as oversized flowers and butterflies.
Expansion plans and repeat business
Further plans will see the park expand from 10 to 12,000 sq m with the addition of more outdoor attractions. A highlight will be Poland's first wooden coaster, by Great Coasters International. It is hoped the ride will boost attendance from the current projection of 300,000 to around 350,000 visits a year.
Open for 12 months a year, the park also needs to secure a good level of repeat business. At 149.90 zł ($39.50/€34.75), its season pass is just over twice the price of a single day's admission, which is 69.90 zł ($18.50/€16.25).
As well as Polish guests, Plopsa is also targeting families over the border in Germany (Berlin is just 150km away). Around 20% of the park's marketing budget will be committed to this market. This will be spent mainly on leaflets and flyers rather than the multi-platform – including TV – campaign that has been used to attract Polish consumers.
A park for all seasons
Plopsa has great faith in the Polish market. As a result, it is already in negotiations for land to build a second indoor park in Warsaw.
Back in Belgium, the group is also mulling over the options for doing something indoors at Plopsa Coo. This is its smaller Belgian park which was acquired in 2005. Although the undercover areas at its outdoor theme parks do not, unlike Plopsa Indoor, operate over the winter they nevertheless offer obvious operational advantages.
At Majaland Kownaty, however, the fun doesn't stop just because it's cold outside. This festive season, Polish families could even spend Christmas Day with Maja and her friends. Now wouldn't that have made a unique gift?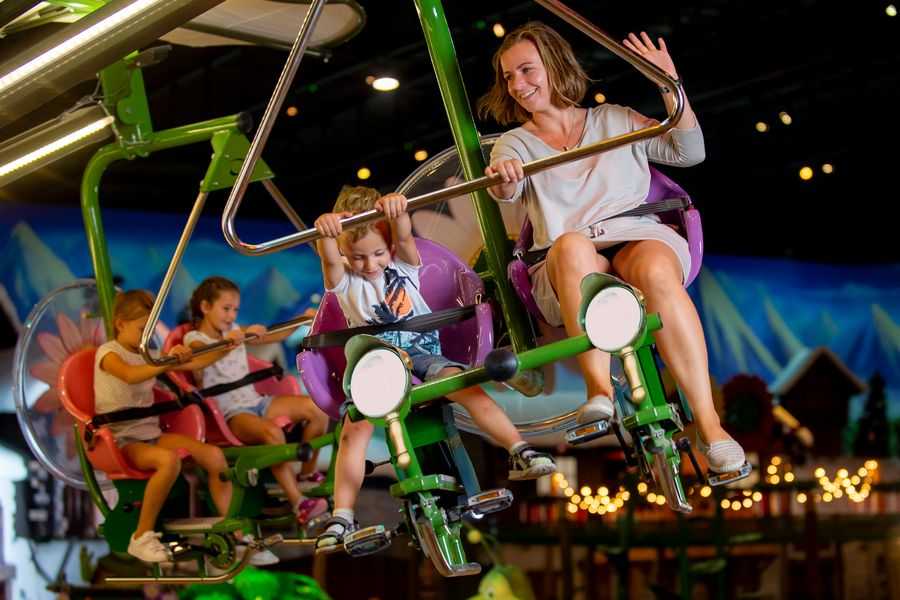 Majaland Kownaty – rides and attractions
INDOORS
Rollercoaster Wikingów (Zierer Force Two Coaster)
Totem Wikingów (Zierer Family Freefall Tower)
Łodzie Wikingów (Metallbau Emmeln duck carousel, viking theme)
Wielki Drakkar (Zierer Kontiki)
Szkoła Latania (Zamperla Magic Bikes)
Żabki (Zamperla Jump Around)
Karuzela Moty (Wood Design wave swinger)
Zakręcona Farma (Wood Design farm carousel)
Samochodziki (Bertazzon bumper cars)
Las Zabaw (Ameco fun house)
Plac Zabaw Mai (playground by Eibe)
Kulki (ball pool)
Super Ślizg (slide)
Theatre
OUTDOORS
Karuzela Kwiatów (Zierer Flying Fish)
Mali Strażacy (Zamperla Fire Brigade)
Żabki (Zamperla Jump Around)
Miasteczko Samochodowe (SB International driving school)
Pryzgoda Z Flipem (Metallbau Emmeln pony-trekking ride)
Plac Zabaw Gucia (playground by Krambamboul)
Wulkan (Metallbau Emmeln climbing mountain)
Heidi's Farm
Dancing fountains