Mark (Fish) Fisher, chief development officer at Merlin Entertainments, has been with the company since 1996. During this time, it has grown to become the world's second-biggest attractions operator, after Disney. Here, he speaks to blooloop about Merlin Entertainments' strategy in China, a booming market.
A fast-growing market
Fisher begins by giving an overview of some of the recent changes in this market, notably the rapid growth of the middle class, which has led to an increase in consumer spending on leisure. This increased demand has brought with it some changing expectations:
"From a consumer point of view, the rising expectations of Chinese consumers has led to massive growth, not just in demand generally, but demand for quality."
This boom in new parks and attractions will, Fisher says, lead to a 'survival of the fittest' situation: "Those will be the parks that are really catering to that consumer demand."
In order to explore Merlin Entertainments' approach to China, Fisher also talks about the company's global portfolio and its overall strategy. Currently, it has over 130 attractions in 25 countries around the world, including its Midway attractions – brands like SeaLife and Madame Tussauds – and its resorts business, including the popular LEGOLAND parks and resorts.
"We have had a strategy for a long time about diversity within Merlin. And the thing that fits very well with the Chinese story is the geographic side of that diversity.
"We've been looking at market diversity with regard to customer segmentation so that we're spread across families, young adults, and the preschool market. We've also been looking at weather diversification, so we have indoor and we have outdoor attractions. But most importantly, we are working on our geographic diversity. So our aim is to get to a position where we have a third of our business in America, a third in APAC and a third in Europe."
New Merlin Entertainments projects underway in China
Merlin Entertainments has several new projects underway in the region.
"By the time we will have finished these, by 2025, we will be pretty close to having a third in each. So that mission that we set out on 15 years ago will come to fruition and we'll see ourselves really diverse across the world, with diverse teams.
"All of those diversifications can lessen the impacts of events that happen outside Merlin, things like the pandemic or economic events, and also give us a much more steady growth pattern.
"We have 14 businesses in China today, and they're mainly made up of the Midway brands, from Legoland Discovery Centres to Peppa Pig World of Play. We have well-known brands like SEA LIFE and also experimental brands like Little Big City."
"We've spread ourselves out geographically within China. This really started in 2007 when we acquired the Tussauds group, with the Hong Kong Madame Tussauds and the Shanghai Madame Tussauds, and then through a series of acquisitions up to 2012 with Sydney Attractions Group and Living and Leisure Australia.
"We acquired other businesses like Changfeng Ocean World in Shanghai, and that really gave us a foothold with some really good Chinese colleagues. This enabled us to start the organic growth process that you've seen Merlin use elsewhere in the world."
Since then, Merlin has opened five Madame Tussauds, four Lego Discovery Centres, one Little Big City, one Dungeon, four SeaLife Centres and one Peppa Pig World of Play in China.
"That's given us a really good platform to then move on to some of the bigger projects," says Fisher.
A pioneer brand
Merlin Entertainments regards Madame Tussauds as an excellent 'pioneer brand' when entering into a new market, says Fisher:
"It is one of our power brands, in that Madame Tussauds is extremely well known internationally. Local markets are aware of it already. But it's also very adaptable. So, when we take it into new markets we can change the format to make sure that it has got that 'host city-ness'. We're able to tap into local partners, and more importantly, local talent to be the people that are actually displayed in the attraction."
"More than anything else, I think the international appeal of fame knows no boundaries. So people, wherever you go, are really interested in this. If we enter new markets we are unsure about, it's probably the most economically viable one to take in there first."
Three new LEGOLAND parks
Now, Merlin Entertainments has three new LEGOLAND parks under construction in China: in Shanghai, Shenzhen and Sichuan, with an investment of over $2 billion.
"Within those parks, we have a combination of theme parks, hotels, and water parks, and these are big projects; they're probably the biggest LEGOLAND projects that we have undertaken across the world. We're going to open three of them within the space of 36 months. This is something, on the branded theme park side of things, that I don't think anybody's ever tried before."
There are three models that the company uses when putting together deals in different jurisdictions:
"Firstly, we have the Merlin investment model, for instance with LEGOLAND New York. This is where we make a deal on the local land, we build a LEGOLAND and we operate it. Then we have joint ventures, where we will invest some of the money and then we'll have other partners. For example, in Malaysia, the government is heavily involved with us in the LEGOLAND that we built in Johor Bahru.
"Finally, we have management contracts. Dubai would be a really good example of this, where we will work closely with the partner, with their investment. We will develop it, and then we'll operate it for them."
Partnership working
"So what we do is we find a number of partners, or those partners find us," continues Fisher. "Normally, these things start with some sort of market study agreement. We will use Merlin's expertise, and we'll use some expertise externally, and we will put together a top-line business plan and a top-line outline of how the park might look.
"Then we'll sit down with a partner, and work to understand what they want to get out of the project, whether it's a straightforward investment to get a straight return or whether it's a pump primer for other investments that they've got in the area."
"We use a number of partnerships at the beginning, particularly companies like FORREC that help us do the master planning.
"Once we're up and running and we have the overall piece of land and we have the master plan, there are hundreds of people, not just within Merlin but with some fantastic partners that we bring together. People like architects, engineers, ride manufacturers, LEGO model production in house, and LEGO themselves. And we have to coordinate everybody into agreeing and understanding what we're going to produce."
Merlin Entertainments brings LEGOLAND to China
For Merlin, it's also important that each of these parks has a degree of uniqueness, says Fisher:
"We've been designing that principle into the three parks in China. And, at the same time, we've got the old favourites that we know make LEGOLAND successful. For instance, we've got Ninjago, we've got the castle, and then we'll have things like Miniland as well.
"Once we've gone through all of that, we go through the build process. That build process typically, from breaking ground, probably takes about18 to 20 months."
"We're coming to the end of the process for LEGOLAND Korea. We're aiming to launch that in Q2, in 2022. So, within a five year period, we'll have opened five new LEGOLAND parks, with New York, Korea and the three Chinese parks.
"A very experienced operational team will slide in six months before and set up all the operational procedures that we need. Then we'll move towards a soft opening, which is a chance to fine-tune. We have something called first play in LEGOLAND. This is a bit like a dress rehearsal for a play. They are honoured that they are the first people to come and see it. But we might be sharpening our pencils on a few of the operations."
LEGOLAND expands
Merlin Entertainments' new LEGOLAND parks in China are generally being built on a larger scale than some of the existing parks elsewhere in the world.
"The Chinese market is big enough to do this straight away," says Fisher. "We've got partners that want to be big and impressive. Actually, if you take any of the projects here they're no bigger than somewhere like LEGOLAND California. But the difference is we probably built California over a 10 year period."
"We built the park, and then we built the second and third hotel, and then we added the waterpark. Here, instead of putting those out over a number of years, we're putting them out in one go.
"The other thing that drives this is just the sheer size of the market in China. If you're in some of these markets, if you don't go big, you're not going to hit that consumer expectation, because, hopefully, there's going to be an awful lot of people coming to visit."
Merlin Entertainments navigates cultural differences in China
As with all new markets, taking into account cultural differences is key.
"When we were doing development for the Dungeons brand in China, we took on a couple of cultural advisors from one of the universities in Shanghai. They took us through some of the things that we were and weren't allowed to do," says Fisher.
"You might know that ghosts are not something that we should be talking about too much in China. Culturally, they have a different meaning. The other thing was that we worked very closely with the local Shanghai government. They weren't keen that we did lots of blood and guts, they just didn't want that."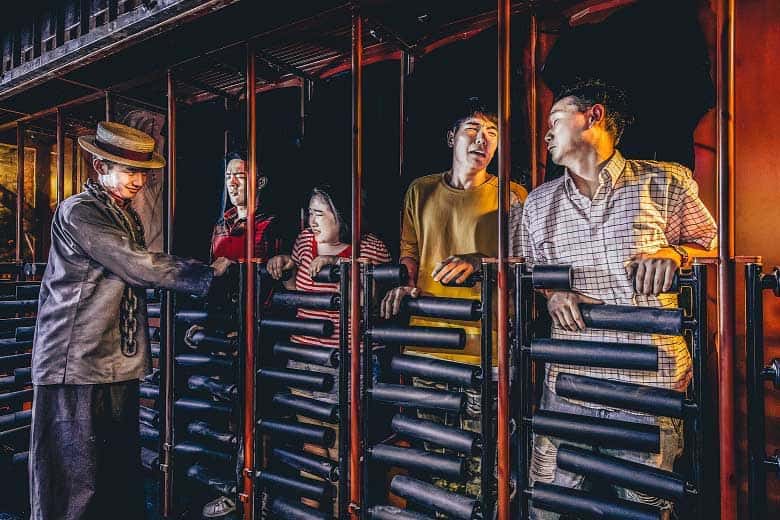 "So, the Dungeon focuses on the scare, but it also focuses on that sort of comic piece of it. That 'scary fun' that we all like from a visit to the Dungeons. With all of our attractions, wherever we go in the world, not just China, we need that cultural nudge to make sure that we're talking the right language to the customer."
The company also ensures that its teams are local:
"What we don't try and do in Merlin is import lots of people. We very quickly employ local teams and that gives us a proper insight. Of course, the other thing is we research everything. We make sure that we're talking to the consumers and giving them what they want."
Peppa Pig Theme Parks
As well as its LEGOLAND resorts, Merlin Entertainments is also expanding the presence of the much-loved Peppa Pig IP in China.
"We have a really great relationship with Hasbro, where we're looking at putting Peppa Pig into location-based entertainment. There are two products that we have at the moment. One is the Peppa Pig World of Play, which is typically a 1200 square metre indoor children's play. And then the second is the Peppa Pig full Theme Park."
While Merlin is in the process of building a Peppa Pig Theme Park next to LEGOLAND Florida, set to open in 2022, it has also signed a deal with a partner in China.
"This means that we'll build the first completely standalone Peppa Pig Theme Park to open in 2025 in China. That has got some real potential. We think that there's the opportunity for at least 20 parks, if not more, around the world. There is certainly more opportunity within China's tier one and tier two cities."
A bright future for Merlin Entertainments in China
"China is one of the biggest growth markets that LEGO has ever had," says Fisher. "Things are going from strength to strength. And then we think there's more of a market for the Peppa Pig Theme Park being a preschool brand, one that is marketed a little bit more locally.
"We're also working with a number of third party brands at the moment to see what other theme parks we will be able to do in various parts of the world. Some of those discussions are pretty far down the line. We're looking forward to some really exciting projects."
"The future's looking pretty good for us, particularly after the year and a half hiatus that we have all been through. Merlin made a decision very early on in the pandemic that we would keep investing and we would keep trying to do new things because we knew that there was sunlight on the horizon. That's enabled us to hit the ground running, as we start to return to normal around the world."
Sustainability
In recent years, sustainability has become one of Merlin's priorities as it continues to expand.
"We're doing an awful lot of work in this area, we're introducing new things. But we all have to keep striving to be better, in this industry."
If you're not there as a company, I think very soon consumers will start to walk away from you if they don't see you making a proper effort
"Something that came up in a recent meeting was the fact that not everything has to cost you more to be sustainable. People can think that they can't afford to do it. But that's not true, it's often just about a change in behaviour or change in technology. It can be one of the simplest things.
"There's a business reason for doing it because you can make a business more profitable. But I also think there's a moral element. If you're not there as a company, I think very soon consumers will start to walk away from you if they don't see you making a proper effort."
Accessibility is key for Merlin
Another priority is accessibility, as Fisher explains:
"If you look at Merlin today, accessibility probably sits within our top three things that we're trying to do. We have a big accessibility steering committee here, that I sit on and two of the other board directors sit on. Also, we have reached out to a number of organisations. We've been working with all sorts of different people to try and do small things that make a difference.
"In addition, we've reached out to a number of ride manufacturers. We're working with them on how to make sure that rides become more accessible."
"The one thing I've learned more than anything else on this journey is that accessibility is such a broad spectrum. It isn't just somebody in a wheelchair. It could be a small child that's got ADHD and can't queue, it could be somebody with hearing impairment. Or it could be somebody who's got an impairment in seeing. So, they can't read the leaflet if we haven't done it in the right way or we've used the wrong colours.
"At the moment, it's probably one of the most important things for us. We've got a long way to go. But there's a real drive and there's a real commitment going forward. It's a huge piece of the market and companies need to take it seriously.
"Merlin has been a company, all through my lifetime, that has always wanted input and participation from every single person, and we want everyone to be able to take part. We've got a duty to do that."