LEGOLAND New York in Goshen is the largest LEGOLAND Park to date and will open to the public in early 2021, following delays due to COVID-19.
Stephanie Johnson, whose professional background spans a range of industries, from retail to commercial real estate, was named Divisional Director for LEGOLAND New York Resort in January 2020.
Johnson graduated from Syracuse University's Martin J. Whitman School of Management and earned her MBA at Nova Southeastern University. She previously held the role of Regional Vice President of Marketing for Simon Property Group's Premium Outlets division. Before that, she was the Senior Director of Retail Development and Operations at Ralph Lauren.
Joining the Merlin Entertainments family
"I am a Merlin newbie, so to speak," says Johnson. "I've been here just about a year. My background is very much in tourism, attractions, property management and working with large brands.
"Most recently, I was with Simon Premium Outlets. I worked for Simon Property Group where I was the regional vice president of marketing. Yeah, I had the privilege to sit Woodbury Common Premium Outlets, the world's largest shopping outlet centre, very much an international tourism destination."
"I also had the opportunity to work with the Orlando properties; both Orlando Vineland and IDrive Orlando, which were also key drivers for both domestic and international tourism.
"Prior to that, I was with Ralph Lauren. I held various roles both on the operations side and in the retail development world. Being able to work for such a powerful brand was something that has really stuck with me.
"This role has allowed me to take the best of all I've done in previous experiences, and do the parts that I like the most every day."
The LEGOLAND New York journey
As someone who grew up in Orange County, there are personal influences at work, as well. She says:
"About 10 years ago, my husband and I decided to move back to the region. We live a town over from where LEGOLAND New York will be and have chosen to raise our family here."
Johnson has watched LEGOLAND New York come to life over the past five years:
"I saw what Merlin is really all about, how they were going to be an amazing community partner, and that, ultimately, this project would be an economic engine for this region which we absolutely need. And I felt like I wanted to be a part of it."
"I have two small boys, eight and three. Before LEGOLAND New York was even a prospect, we were LEGO fanatics. We live and breathe LEGO in our household. Now it's just a really fun project to be able to share with them, as well."
A large investment
LEGOLAND New York will be the 9th LEGOLAND Park worldwide, and the third park in the US.
"This is Merlin's largest investment in a single attraction," says Johnson "For this project, the creative team has taken the best elements from our sister parks, brought them to New York and added some New York twists with nods to certain thematic elements and to New York's heritage."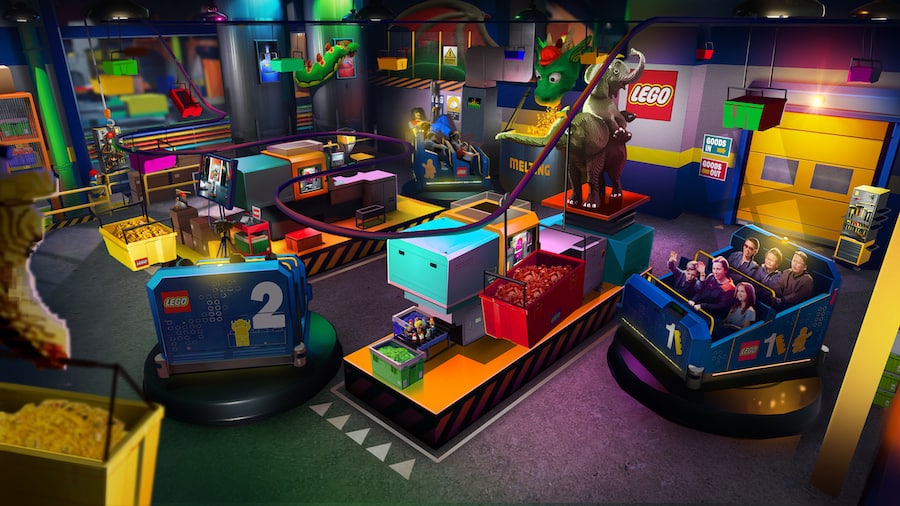 "But we've also added some newness to US, in particular, and then we will have the exclusive LEGO Factory Adventure Ride, which will be a world premiere for LEGOLAND New York."
Introducing Brick Street and Bricktopia at LEGOLAND New York
Detailing the elements that are new to the US, Johnson says:
"LEGOLAND New York will have two lands that you don't see anywhere else in the US: Brick Street, and Bricktopia.
"Brick Street is the main thoroughfare where you enter into the park. It looks as if it's being built by LEGO mini figures. The buildings have LEGOs that are coming to life on them, and we have our BIG Shop here – some 10,000 square foot. It's a retail space with fun interactive moments for the entire family to enjoy."
"Bricktopia is that land where anything goes. It's a celebration of creativity and what you can build out of LEGO. You see lots of bright colour and whimsical LEGO models throughout the area. This is the location of our building test space; it is where our creativity workshops are.
"Smokey's Brick-B-Q, the first sit-down restaurant that you encounter when you enter the park, is situated here."
Inside, it appears as if the baby dragons have taken over and are cooking the food.
LEGOLAND New York and COVID-19
The COVID-19 pandemic affected construction, meaning the site was shut down from the end of March to the end of May.
"We were only able to continue work on infrastructure," Johnson says:
"So some of the traffic improvements that we were doing could progress, but, by and large, all of the work in the park and the hotel stopped for two months. When we came back at the end of May, it took a bit to get everybody up and running."
"Now, however, it has been full steam ahead since summer. We have an excellent contractor team that has put in extremely rigorous protocols relating to COVID, including temperature checks and daily health screenings for every person, COVID training for all employees, and stringent contact tracing. If anyone shows any symptoms, they are immediately treated as if they are positive, and isolated, as are any of their close contacts on site.
"We manage that phenomenally. We've got no outbreaks linked to the site to this point.
"The team has also done some really non-sexy things that you have to do in this environment, such as adding more porta-johns and more hand sinks, making sure that the contractors can stay safe, giving them the right tools so that we can keep the project moving."
Pent-up demand for entertainment
Johnson is confident that the pandemic will not have diminished the public's love of this type of entertainment.
"What we have heard from Merlin as a whole is that when we were trading in the summer, we had incredible pent-up demand. So many folks were wanting to come out and have fun in a theme park, even when we were under restricted capacity numbers. People want to have fun with their families."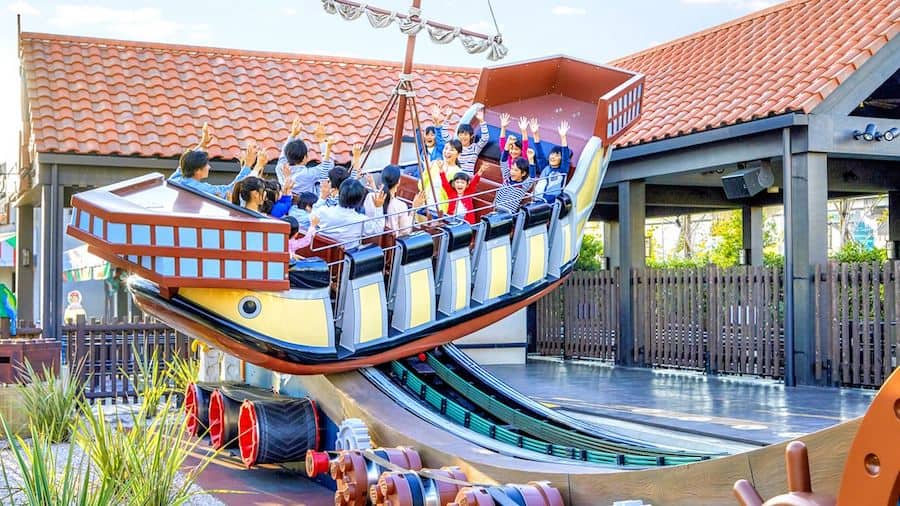 "They want to do it in a safe way. We have to have very strict protocols in place to make sure that happening, of course, but Merlin has wonderful health and safety protocols, and we've been partnering with New York State to make sure that when we do get guidance to open a theme park and amusement park, we will do that safely and responsibly."
Safety is key
The situation has made a degree of adjustment necessary:
"We have started reimagining certain operations little by little, and we'll see this come to life in 2021 when we open. We are, for example, making all of our passes digital, so there is no paper and less interaction with employees."
"Plus we're looking to add a reservation system, and a virtual queuing system so that there are added measures on top of social distancing that allow folks to enjoy their journey and their experience through the park, without having to remember that they are in a pandemic world. They want to forget that."
There are also touches such as cashless apps for ordering food and beverages without standing in line.
The enduring appeal of Lego
LEGO, which had its inception in a Danish carpentry workshop in 1932, is as popular as ever, and has had a profound influence on popular culture over the years.
Johnson, considering its enduring appeal, says:
"Whatever you dream or whatever you can imagine, with LEGO, you can build it."
"It's something that can be enjoyed by everyone, whatever their age, as evidenced by my 3-year-old son and my father. It's about the ability to harness your creativity and build what you imagine, which is just wonderful.
We talk about bringing LEGOLAND New York to life. It's a much better iteration to actually see this massive LEGO-world overall, and experience that for yourself. It's really super fun for us."
Target audience
In terms of demographics, Johnson says:
"When we open a LEGOLAND theme park, we are very focused on the domestic drive market. We are a regional-based attraction, and that's where we will put our focus in our first few years, regardless of COVID.
"We are close to New York City, which, coupled with the fact that no other theme park has opened in this region in decades, we have a lot of interest and a big market right on our doorstep."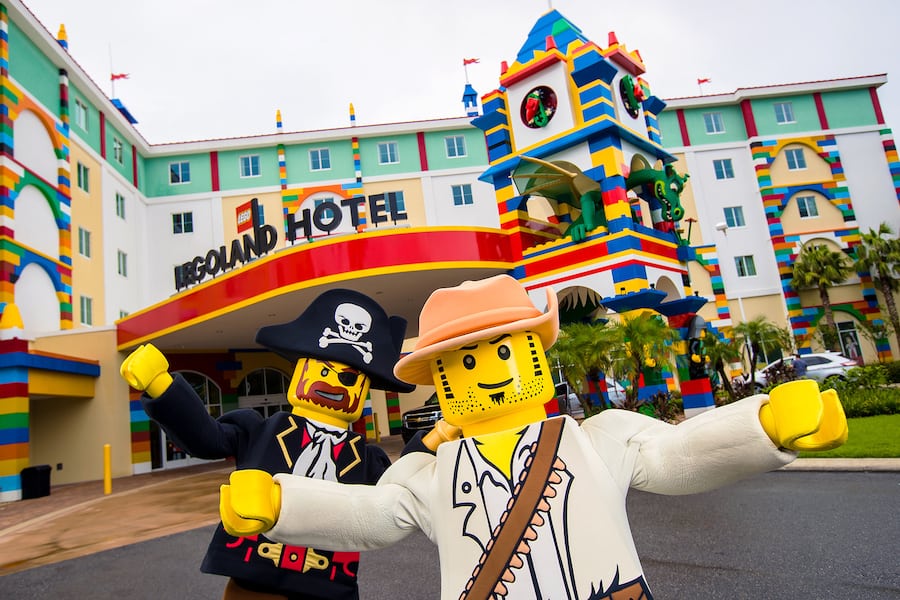 It makes sense to start there. However, she adds:
"We will, of course, l have the LEGOLAND hotel that comes online in 2021 as well."
"The LEGO themed hotel will comprise 250 rooms specially designed for families, with imaginative LEGO features and themed play areas, as well as a host of additional features such as in-room scavenger hunts, kids' entertainment, and a resort-style pool."
LEGO Factory Adventure
The exclusive and unique feature of LEGOLAND New York is its ground-breaking LEGO Factory Adventure Ride, created in partnership with Holovis and ETF Ride Systems:
"It's not a typical factory tour, but a fantastical journey through the LEGO factory.
"At other parks, you can experience a literal factory tour where you can see a brick being moulded in the moulding machine. Here, by contrast, on this ride, you actually take a whimsical journey with Professor Brick through the factory."
"You get to participate in a Minifigure transformation, as you are 'shrunk' down to the size of the product, and can see yourself on screen in LEGO Minifigure form. Because Professor Brick is running an experiment, you might sometimes come up as the LEGO Hot dog first.
"The journey then ends with you being packaged, then opened in a child's bedroom, where you play with the other toys. It's completely unique, and will be a fun moment that really brings people into the LEGO world."
Welcome to MINILAND
MINILAND will allow guests to see a whole country comprising 10 destinations from coast to coast; from breathtaking scenery to iconic skylines, all built from LEGO bricks.
"MINILAND will include some exclusive New York City landmarks," says Johnson.
"You will see the Empire State Building, which is over 20 feet tall and uses 98,000 LEGO bricks. The master model builders have told me it took over 700 hours to build that particular building."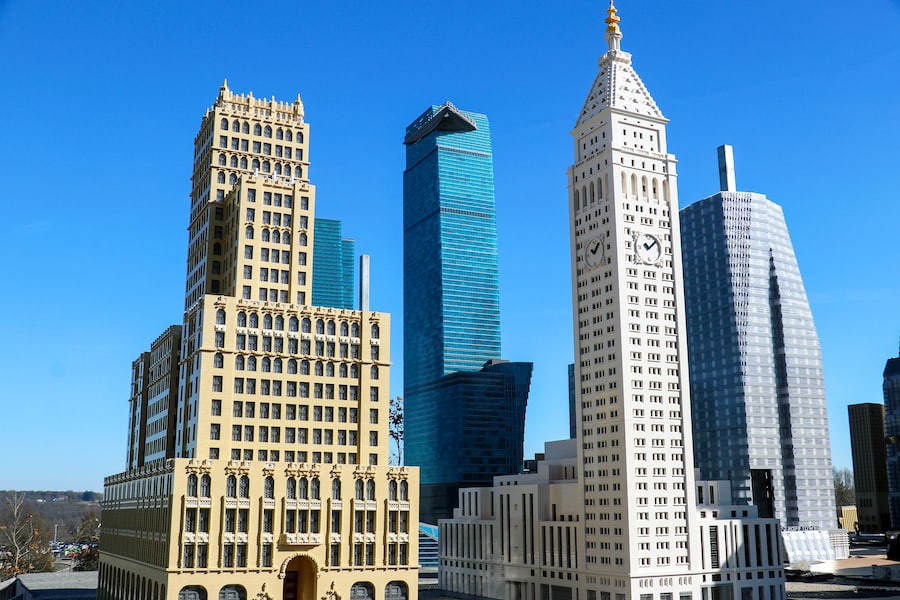 "You'll also see One World Trade Center, Times Square, Yankee Stadium and all of the boroughs that make NYC amazing."
And then, very much like at the other LEGOLAND parks, you take a journey across the US.
"It truly is kind of a ride. You have this animated car that travels through the different cities across the US, from Washington DC over to New Orleans., Texas, Las Vegas. You see Mount Rushmore, which is animated, and you end in San Francisco.
"It's a nice nod to everything that is the USA, and there is a very specific cluster relating to New York City. And then, of course, we've done a very small nod to the town of Goshen itself."
LEGOLAND New York highlights
The park covers 150 acres, sitting within 500 acres:
"150 will remain undeveloped, so there will be a park-within-a-park feel."
Listing some of the attraction's highlights, she says:
"There are seven lands; Firstly there is the LEGO Castle, where we've got the Dragon Coaster, which is a child's first rollercoaster. Then there is the LEGO Ninjago World where children will get to go on Ninjago, the ride, and to practice the ancient art of Spinjitzu, to balance forces of evil. It's my boys' favourite ride; they can't wait to see it here."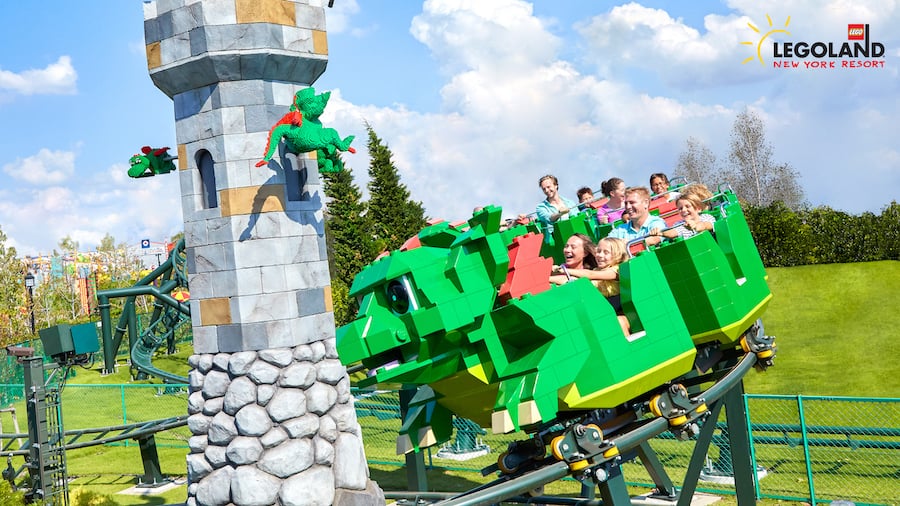 "We've got the iconic Main Street LEGO City Driving School where children can get their first driver's license, and then we've got LEGO Pirates, our water play area, which is where Splash Battle and our jet ski ride will sit. I think that will absolutely be a hit, allowing children to splash water at not only their neighbours but also at innocent bystanders.
"I think there's a really nice rounded offering here that is going to get everybody very excited."
LEGOLAND New York list of rides by land:
Brick Street
Brick Party (Carousel)
Bricktopia
LEGO Factory Adventure Ride
DJ's Dizzy Disco Spin
DUPLO Express
LEGO NINJAGO
LEGO NINJAGO the Ride
Jay's Gravity Force Trainer
LEGO Castle
The Dragon
Dragon's Apprentice
Merlin's Flying Machines
Tower Climb Tournament
LEGO City
Driving School
Junior Driving School
Coast Guard Academy
Fire Academy
LEGO Pirates
Splash Battle
Anchors Away!
Rogue Riders