This was the beginning of a new company, Mack Animation.
Blooloop spoke with Michael Mack and Holger Tappe about the company, its ethos, and its creations. Mack Animation works on projects both with Europa-Park and for external clients.
The Mack Family have been in the business for almost 240 years. The company began in the tiny village of Waldkirch, at the edge of the black forest in 1780, when Paul Mack started building carriages and stagecoaches. By 1880, the Mack company was building organ wagons and caravans for travelling showmen. It was the beginning of an involvement with the attractions industry that lasts to this day.
The Mack family legacy
The first Mack wooden roller coaster made its appearance in 1921. Michael Mack says:
"I think it's in the DNA of the Mack family for each generation to try to reinvent the business and that is literally the fact while we succeeded for 240 years.  We started doing carriages, then rollercoasters. We founded Europa-Park and brought the hotel business to fruition.
"Now, we are about to open our second park, Rulantica: one of the biggest indoor water parks in Europe. It always seems that the eldest one of the family tries to step into new areas of entertainment."
Michael Mack's father, heading the seventh generation, came up with the hotels and a second park.
"And as the eldest of the eighth generation, while I'm not trying to succeed my predecessors, I am trying to come up with new ideas. Ones that fit with how business and society are changing.
"I saw the trend for rides becoming increasingly content-driven coming from the US."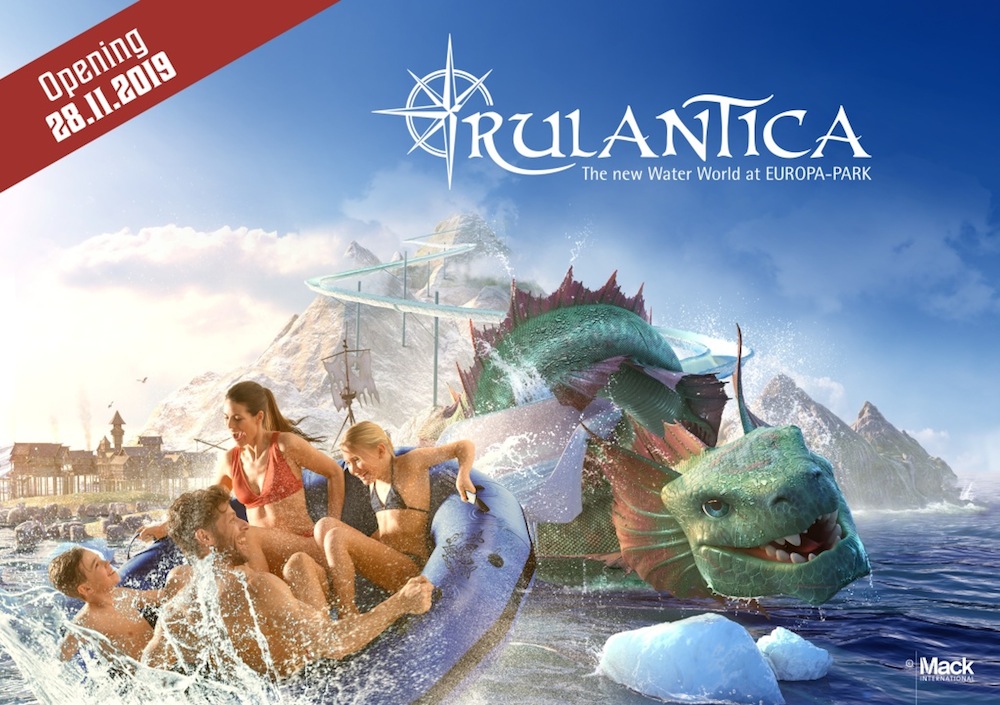 Michael Mack on the origins of Mack Animation
In 2009, Mack had conversations with Luc Besson. This eventually led to the start of Mack Animation.
"I thought Luc's ARTHUR brand would integrate beautifully at Europa-Park," says Mack. "So, we opened ARTHUR and shortly afterwards it won the THEA award for the "best ride system" in a theme park.
"It was not so much AV and picture-driven, but more a replica of his animated movies with animatronic figures. Since I dived into the world of Arthur and the possibilities of animation films it was my dream to create our own worlds and bring Ed and Edda (the Europa Park mascots) to life."
He discussed the concept with Besson. However, he came to the reluctant conclusion that it would just be too expensive.
"I put the idea to my father, who was not as enthusiastic about it as I was. We come from a hardware-driven company, which is more about engineering and capacity than the arts and animation."
And then good fortune struck:
"My head of sales in Hanover told me about a successful little company called Ambient Entertainment. He said; you might want to ask them."
Holger Tappe's Ambient Entertainment
Ambient Entertainment was founded in 1999 by Holger Tappe and partner Stephan Mischke. It grew into a high-quality all in-house production studio for animated films and computer-generated media production.
"I called Hanover," says Michael Mack. "It happened that the CEO, Holger Tappe, took the phone and I said to him, 'Listen, I'm from Europa-Park…' Before I could even finish the sentence, he said to me, 'Don't tell me: you want to do an animated movie for your 4D cinema at Europa-Park.'
"It turned out whenever he went to Switzerland skiing, he would make an overnight stop. It happened to be at Europa-Park."
Holger Tappe had been producing animated movies for the cinema for 20 years. The prospect of tapping into a theme park market intrigued him.
In 2011 the first 4D film with Ed & Edda was produced, which was not only successful at Europa-Park but was also licensed to other parks worldwide. After Time Carousel in 2015, the second 4D movie they made together, Mack looked into buying a flying theatre from Taiwanese company Brogent.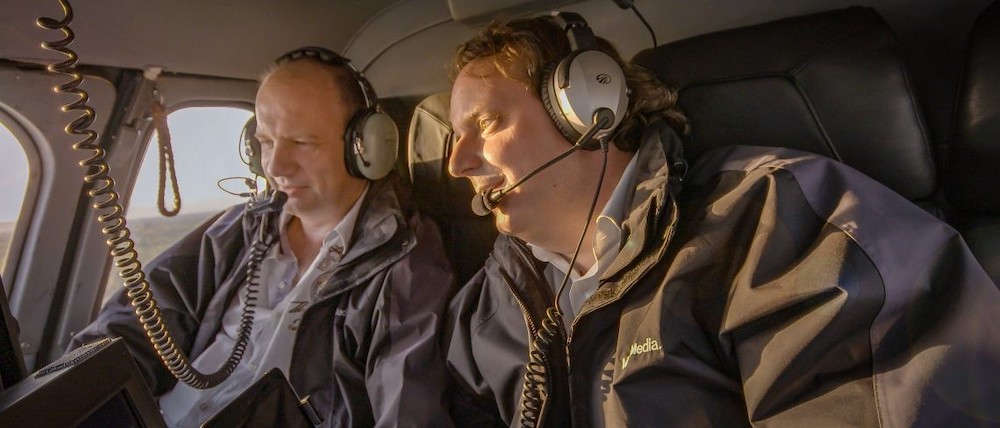 Flying theatres
"We were looking at different systems of flying theatres around the world. We had nobody who could film or link to content for the beautiful ride.
"I had been big-mouthing to my father that of course building a theatre with a movie wouldn't be a problem. I realized it's not that easy. You can build a flying theatre, but it's not easy to get the right content. It was Holger Tappe who got me out of that trap."
In live-action filming for special formats, the market is, he says, very much American dominated:
"I asked Holger if he would dare to join the adventure with me and to do the movie. The result was just great."
The rest is history.
Unique experience
In terms of the work Mack Animations does for external clients, including flying theatres and media that can be integrated with attractions, the company's background in feature film animation gives it's content an unparalleled quality and depth.
"Many of our competitors in the European and Asian markets tend to focus on doing a hardware experience," says Mack. "Then they get some mediocre content on the screen.
"I would say, without arrogance, that we, coming from producing high-quality content for the cinema, have a totally different understanding when it comes to the rhythm of content, its story-driven-ness."
"We are predominantly content-driven, and the way we implement content is theatrical. It's sometimes very difficult to persuade the customer in the market that content is of great value. Most still see the attraction itself as the point; the movie is forgotten till the last moment.
"For us, content comes first, and then you choose the right system for that content."
The shift of focus away from hardware is, Michael Mack explains, the biggest change so far in the family's history:
"I'm really happy to be heading up this – not evolution, perhaps, but transformation. We have always been an engineering family. Thinking in terms of hardware, throughput, durability, long-lasting mechanical quality.
"And now we become more and more content-driven. This is interesting when I look at my family because it's really two different worlds and a completely different approach."
Michael Mack on working with IP
Michael Mack contends that working with the right intellectual property (IP) is crucial:
"It depends really on the park, on what your set up is, on your DNA.
"With us, the problem was that we are so European; we live through our architecture. A Marvel ride, for instance, wouldn't fit in our environment, because people would feel it to be a bit wrong. It is important to think carefully; it might not be valid for all the parks around the world.
"You have to choose your IP carefully: what fits into your guests' expectations? What do you consider your brand to be? It needs to integrate nicely with the rest of your experience in the park.
"And that was one of the reasons, in our case, that ARTHUR perfectly fitted in, because it was an all-family European story and authentic to our concept."
Keeping it fresh
One major advantage of content-driven rides is that the content can be changed easily. The ride can be given a fresh lease of life, with new IP, if necessary.
"I would always go for content-driven or AV content-driven ride systems," says Mack. "Because you can easily change the content once the IP is not in demand anymore. That's all we did with the VR coaster. It's a case of having changeable content without changing the surroundings.
"So I think, in short, the key to success lies in a mixture of choosing the right mechanical ride, knowing your customers and what they really want, and in choosing the individual content or IP which fits your surroundings."
Michael Mack on Snorri Touren
Europa Park's new attraction, 'Snorri Touren', is based on the popular mascot of the new Water Park and the story world of Rulantica which was developed in-house.
The ride features detailed sets with animatronics, effects and an extensive range of cutting- edge media elements. It combines the current trend for nostalgia with an immersive 21st-century family ride and attractive IP.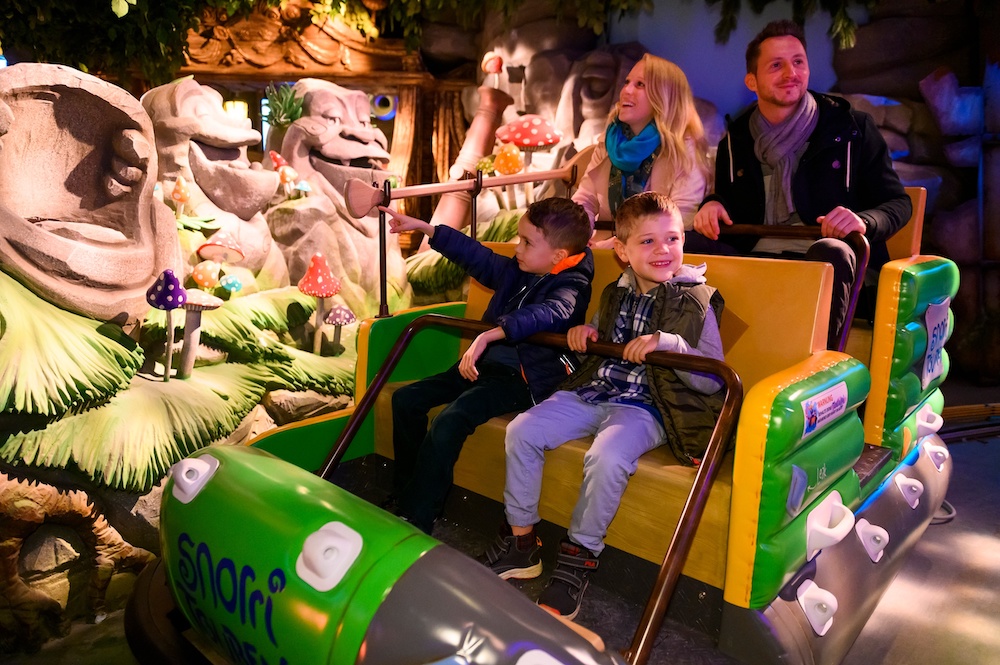 The narrative is that of Snorri, who has started a business in the basement of the Scandinavian area of Europa-Park offering magical tours to his home, the magical island of Rulantica.
Guests are taken around the island. They meet trolls, mermaids, and venture into the eerie shipwrecks. They also explore the ice world, Winterhal. Mack Animation produced the content for 17 media elements. It created effects, brought characters to life and expanded the sets beyond the physical limitations of the space.
Crucially, the quality of the computer animations is at the level of Disney or Pixar animated features.
Michael Mack collaborated closely with all the companies involved – Jora Vision, Electrosonic and sister company Mack Rides – in all elements of design and media integration. He believes that a seamless experience requires seamless collaboration:
"I believe it is a beautiful demonstration of how to build an IP, bring it to live and integrate it into your ride."
The future of themed experiences
Contemplating the industry's future, and the imperatives for those working in that industry, Mack says:
"It's so important to be innovative, to think about what the future of themed experience could be. Everything is a competitor in this market: people won't spend the money twice.
"Invest globally. It starts with your staff wearing beautiful clothes. It's the quality of your operator, the quality of your content, your food offering, your toilets. I think it will continue to be about entertaining people and giving them a break from their regular life for a couple of hours.
"It needs to be 360 degree and immersive. You need to study trends. Good content and all-round quality of experience are key. In short, it is a mix of all.
"There is no easy answer, no easy formula which can be applied in every case. But I would certainly always invest in a great quality of movie content. Because you just don't get away with bad content."
Holger Tappe on Mack Animations
Holger Tappe, CEO of Mack Animation, is, with 6 internationally released animated feature films to his credit, one of the foremost feature animation directors and producers in Europe. For 20 years he has been on the cutting-edge of animation and film technology innovation.
Tappe produced the first computer-animated film in Germany, the first 3D film and the first European produced Flying Theatre Film.
Speaking to Blooloop about the importance of storytelling in attractions media, he says:
"Storytelling is a big topic. It is very important, but also often very much misunderstood. I started with commercials and have since moved into feature films. That's a large range: from 20 seconds to 90 minutes of storytelling."
According to Holger, attractions sit somewhere between:
"A common problem is that, because everyone now talks about storytelling, many people want to tell too much story in a 3-minute ride. For me, it's important to take the visitor on a little adventure. Something that is special and surprising, but not overloaded with storytelling.
"Sometimes getting a 3 minutes story right can be more challenging than a feature film script."
IP and emotional connections
Speaking about how media can engender an emotional connection with IP, he says:
"IPs have become very important. I don't think everybody should license IPs for every ride; sometimes it makes sense, sometimes not.
"Creating and building your own IP can also be a good alternative. For that, media-based attractions are ideal. You can tell more elaborate stories and emotionalize your characters. You can't do that on other rides. Animation is the best way to make your mascots become beloved characters."
He gives an example:
"With Europa-Park, we have constantly developed the story of the mascots 'Ed' & 'Edda' in the 4D movies. Europa-Park is now also doing a great job in building the IP for 'Rulantica'. The story of the new Water Park is told in a novel series, in a Musical and now the new 'Snorri Touren' attraction is also part of that story world.
"Owning and controlling your own IP takes perseverance and time to build. However, it is absolutely worth the effort. Emotionally connecting with your guests is a huge value."
How Mack Animation is different
Identifying the company's unique capacities, and how it differentiates Mack Animation from other providers in terms of the quality of 4D movies and attractions media, Holger Tappe says:
"We have been making feature films and short films for 20 years now. So, we approach things differently. Very often attraction projects are dominated by mechanical engineering and decoration. But we always start with the story and emotions we want to convey, coming from a cinematic point of view.
"In matters such as script, acting, costume and set design, music, sound, light, editing and effects, a film requires much the same professions as an attraction.
"I try to think of an attraction as a short movie. It has the added possibilities of an immersive environment, physical motion, playing to all senses.
"Practically, our feature film experience also helps us every day. We are using all the feature film processes and techniques in our attraction media projects. We like to do extensive previsualization. This means everybody involved gets a very good idea of the final film before we start production. That has proven to be very helpful for Flying Theatre Films.
"We have the size and rendering power. So, we have no problems working with the very demanding high resolutions of many attraction projects. We can produce media in 6K or 8K resolution. This really makes a difference for some media-based-attractions."
Integrating rides and media
"I think 'Snorri Touren' shows that media-integration in a dark ride can work really well," says Tappe.
"It combines the classic dark-ride elements (animatronics and decoration) with some clever media integration in a seamless way. Working so closely with Mack Rides was really helpful. Because a great media dark ride needs a very close integration between the ride system and the media elements. We can learn a lot from each other in that matter.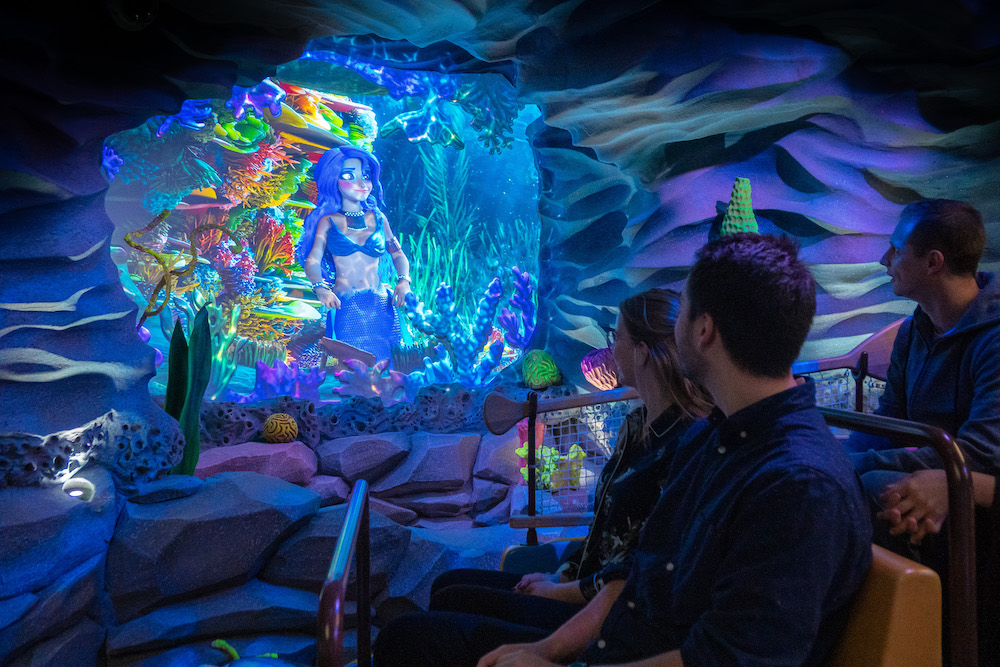 "We are looking to expand in this field. And, like Mack Rides, we also enjoy working for external clients, beyond Europa-Park.
"Finding new and innovative ways to integrate media with different ride system is definitely an exciting field for us. It is one that we want to explore further.
"Flying Theatre films are also a part of that. We have just finished our second film for an external client. And we are in discussion for more Flying Theatre films in the next year.
"I just really love this format; it is such a great canvas to work on for a filmmaker."
Holger Tappe on the immersive trend
The immersive trend that has been prevalent for a while continues to gather momentum.
"Everything is becoming more immersive; media is a big part of that," says Holger Tappe. "That is why we are seeing combinations of roller-coasters with media or water-rides with media. I think the greatest possibilities lie in the clever combination of all elements.
"We will see more and more mix-ups of classic attraction types. The attraction is not the ride system anymore, but the total experience you create."
"Media integration gives you the possibility to expand your ride in ways that are simply impossible by other means. And if done perfectly, you are not experiencing a ride system, looking at animatronics or screens anymore.
"You forget about all that and just feel transported into a different world. New higher resolution projection and LED technology helps the screens feel invisible.
"Technically, this is absolutely possible. The challenge is that we all have to think past our profession, and not just make the attraction a collection of effects, but understand it as one collective immersive experience."