The world's first theme park designed with special-needs individuals in mind opened in 2010 and is the only non-profit theme park on TripAdvisor's 'Top 25 Amusement Parks – United States'.
Not only is it non-profit, but admission for those with special-needs is free – no questions asked. The theme park celebrates inclusion and has a just opened a revolutionary ultra-accessible splash park.
Gordon Hartman, CEO and founder of Morgan's Wonderland, spoke to Blooloop. He explained how a simple dream of inclusion for his daughter lead to this one-of-a kind theme park which has been "designed with special-needs individuals in mind and built for everyone's enjoyment". His hope is that others in the industry will follow suit, making theme parks truly accessible and affordable – for everyone.
Morgan – the spark behind the Wonderland
Hartman's work life started young. He started out at just 15 in the landscaping business. At age 19 he had saved enough money to start his own homebuilding business. By the time he was 23 he owned a land development company, building homes for low- to moderate-income families. Over time, Gordon Hartman Homes grew, becoming the largest locally owned homebuilding and land development enterprise in San Antonio, Texas.
He married, and his wife Maggie gave birth to their daughter, Morgan. The little girl was born with a series of cognitive and physical challenges. As she grew she underwent numerous operations.
a place where everyone can play together, whether they have special needs or not
The catalyst for Morgan's Wonderland occurred in 2005 while the family were on holiday. Hartman watched Morgan approach a group of children playing ball in the hotel pool. All she wanted to do was join in, but the other children seemed scared of her. "Those nice kids grabbed the ball and got out the pool," says Hartman, because they didn't understand what it would be like to play with Morgan. "She turned to me. She just didn't get it." This was the tipping point for her father. "I kept thinking about that look," says Hartman. "I thought there has to be a place where everyone can play together, whether they have special needs or not."
The Hartmans founded The Gordon Hartman Family Foundation. The dream was to help both children and adults with special needs. "The aim was to break down the barriers," says Hartman.
Building Morgan's Wonderland
Gordon Hartman brought together a wide array of people to sit around the table and brainstorm a totally accessible park. "Morgan's Wonderland attractions emanated from many wonderful ideas," he recalls. "They were put forwards by parents of special-needs children, medical professionals, special-education teachers and many others connected with the special-needs community."
He started out with a blank piece of white paper and ended up with eight and a half pages of dense type. Hartman and his team decided to work predominantly with people who had never been involved with the attractions business before. This meant that everyone (even the architects and designers) came without preconceptions. They had a fresh eye and were powered by people who had or understood having, special needs.
"Then we set out across the United States to see if we could find accessible parks. Our search proved to be unsuccessful," says Hartman. "So, we turned to Chance Rides. Through close collaboration we were able to modify some of their rides and make them ultra-accessible."
The Wonderland-Chance collaboration ensured that the requirements of people with special-needs were understood and catered to. Chance now offer completely-wheelchair-accessible rides to other parks who wish to accommodate those with physical and cognitive challenges.
Morgan's Inspiration Island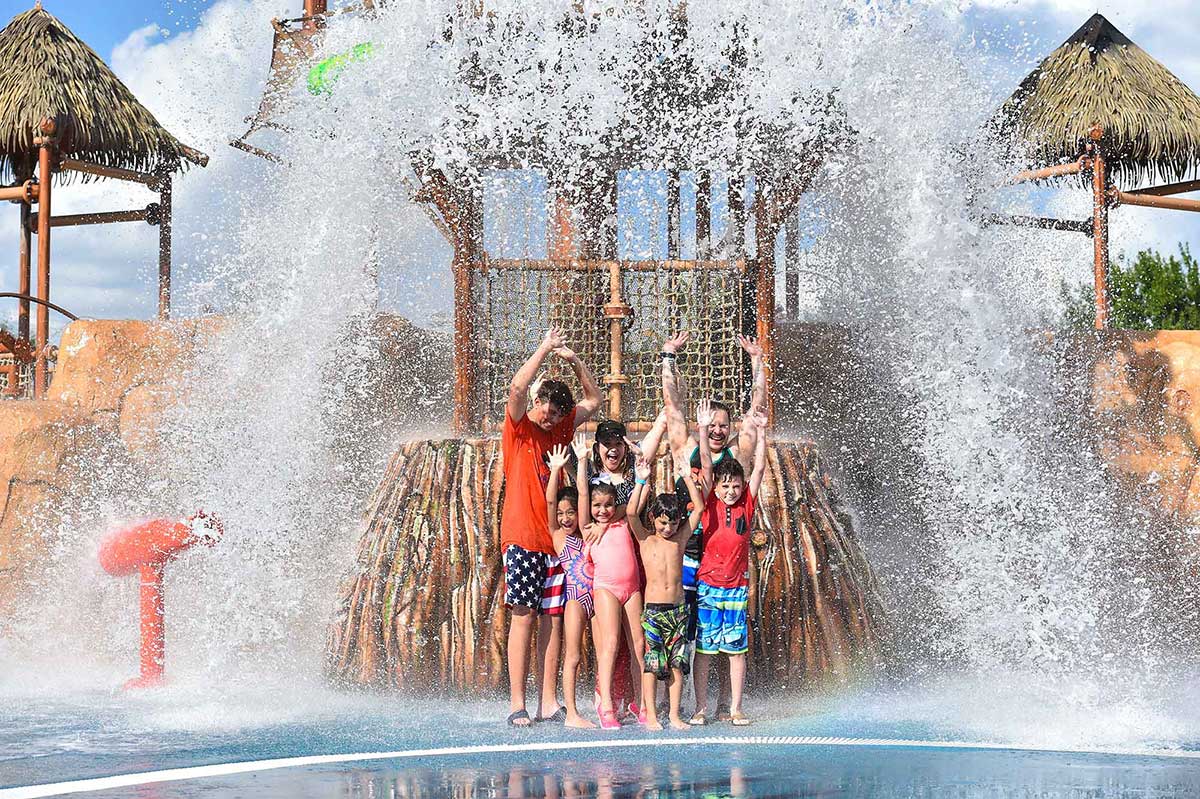 A considerable amount of brainstorming was also needed to create the world's first ultra-accessible splash park. The waterpark, called Morgan's Inspiration Island, opened on June 17. It features five tropically-themed splash pads, and a River Boat Adventure Ride. Everything is completely wheelchair accessible, which created a unique challenge to the team.
Standard battery-powered wheelchairs are heavy and expensive. The team recognised that most guests would not be able to afford to get them wet. This was the major issue surrounding disability-friendly waterparks.
So the Morgan's Inspiration Island team collaborated with the Pittsburgh Human Engineering Research Laboratories at the University of Pittsburgh. "They developed PneuChair™, revolutionary waterproof wheelchairs propelled by compressed air," explains Hartman. "Without heavy batteries or electronics, the PneuChair weighs about 80 pounds overall. That compares to battery-operated chairs which weigh up to 400 pounds. It also takes just 10 minutes to recharge compared to eight hours to charge an electric mobility device."
The PneuChairs are available for use, free of charge, on a first-come, first-served basis. There are also two other waterproof wheelchair models. Firstly there's a push-stroller type for guests needing assistance from a caregiver for mobility. Then there's a rigid-frame manual wheelchair for guests who can push themselves.
"Little things are big things" – it's all about the detail
The aim is to make absolutely everything accessible to absolutely everyone. "The plan is that people with special needs can do everything," says Hartman. There are small reassurances built in to every detail. For example, complimentary swim diapers are available to allow those who need them to enjoy the splash pads and River Boat Adventure ride. Certified service animals are also welcome (and have their own "relief area" with waste disposal bags).
an ethos of patience and understanding built in
Seeing that theme parks often get very crowded, the team were determined to build a 'good environment.' This means that visitor numbers are limited so the park is never too busy or frenetic. It also means that there is an ethos of patience and understanding built in. Hartman says that maybe someone just wants to ride the train, over and over. Elsewhere that would be a problem but not at Morgan's Wonderland.
At Rainbow Reef the water can be conditioned to a warmer temperature. This ensures that guests with sensitivity to cold can still splash and play.
Thoughtful support for carers within the park
Morgan's Wonderland uses a range of inventive measures to ensure, not just the inclusion and enjoyment of every visitor but also their safety. During the initial consultation phase carers said, "Give us a place that is safe" and that has been a driving force for the park.
One big draw is the RFID (Radio Frequency Identification) wristbands that are available on request. Catered specifically to each group, they identify the whereabouts of individuals within the park. Scan a wristband at one of the Location Stations around the park and all the members of the group, with their locations, will appear on screen.
Give us a place that is safe
"It means that, if Johnny runs off, it's okay, you can find him easily," says Hartman.
Making fun affordable as well as accessible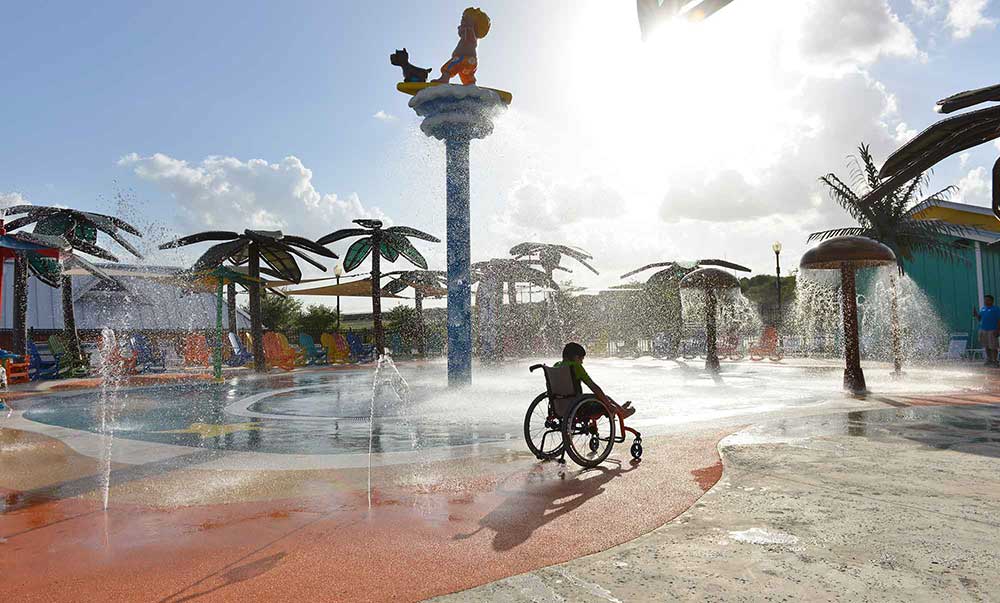 There are snack bars available around the park for those who don't have specialised dietary requirements. Plus there are spacious restrooms and changing areas for children and adults with special needs.
we want Morgan's Wonderland to be as affordable as possible
"There is also the Picnic Place, where guests can bring in and consume their own food and non-alcoholic drink," says Hartman. "We did this as we want Morgan's Wonderland to be as affordable as possible. It's particularly important for families with special-needs members who often face sizeable medical bills."
Making fun affordable as well as accessible is built into every level of Morgan's Wonderland. The park is a not-for-profit organisation. It also receives no funding from government entities. Only a quarter of Morgan's Wonderland's revenue comes from ticket admissions. "It's important to note that since the opening in spring 2010, anyone and everyone with a special need gets in free of charge," says Hartman. The park doesn't demand proof – it takes people on trust.
So the park's operation relies on the generosity of individuals, families, corporations and foundations. Year-found fundraising is essential. A major fundraiser is the annual dinner gala held in September.
In 2012, the world's largest automotive manufacturer Toyota joined the Morgan's Wonderland team. The company is a leader in mobility solutions for disabled drivers. It entered into a long-term philanthropic agreement, allowing them to become the presenting sponsor for the park.
'The Proof is in the Pudding' say over a million happy guests
Morgan's Wonderland has clearly filled a niche. TripAdvisor alone has over 200 rave reviews for the park. Reviewers have called it a "unique park specially, but not limited to, anyone with special needs," and a "true gem."
One particularly enthusiastic visitor left this heart-warming review:
"Cannot share (enough) positive joy about this place. A wonderful place for people with mental and physical disabilities. It's an amazing time of laughter and smiles. A place where EVERYONE can ride the rides and experience what it all is about to go to a 'theme park'. It's as easy as you would expect to get around, great facilities with bathrooms and water fountains. You will meet a new friend, guaranteed."
A unique park specially, but not limited to, anyone with special needs
"Morgan's Wonderland has welcomed more than a million guests since opening. They have come from all 50 states in the U.S. and 67 other countries from around the world," says Hartman.
Word of mouth is key. "We don't have a marketing budget," he adds.
Paving the way for inclusive attractions worldwide
Morgan's Wonderland is the first of its kind. However it could well pave the way for a whole new type of attraction. With cutting edge technology and support from a global giant, it's hardly surprising that other operators in the industry are turning their heads towards the disability-friendly theme park.
The key to lessons learned and new initiatives is to listen carefully to guests
It's long overdue. Hartman points out that in the US alone, 15 per cent of the population have special needs. He is also keen to stress that the park is not just for people with disabilities – it's about inclusion. It's a place where a 20 year old with a mental age of five or six can play in a sand circle with children of the same mental age. It's a place where people with and without disabilities can come together and learn about one other.
Hartman is more than willing to share information and advice. "The key to lessons learned and new initiatives is to listen carefully to guests," he says. "You need to incorporate their good ideas into improved operations and facilities."
The park has already received enquiries from more than 25 communities and individuals from around the world, asking how to adapt and improve accessibility.
Looking Ahead to The Academy at Morgan's Wonderland
So what's the future for Morgan's Wonderland? Hartman says that after Morgan's Inspiration Island, he'd like to develop The Academy at Morgan's Wonderland. The aim is to accommodate more students with special needs between the ages of 12 and 24.
"Other plans call for building a socialising centre where young adults with special needs can come together for interaction and additional learning," he says. "As well as medical facilities to serve special-needs individuals."
It's not a special needs park; it's a park of inclusion
But for now the focus is on Morgan's Inspiration Island. Hartman's hope is that it "will inspire guests with special needs to do things previously thought not to be in their range of capabilities."
He also hopes it will be a beacon of inclusion. "Those without disabilities and those with, including individuals in wheelchairs, guests with hearing and visual impairments and even guests on ventilators, will be able to play alongside each other and gain a greater appreciation of one another. It's not a special needs park; it's a park of inclusion."
Images: Morgan's Wonderland