Rise of the Resistance is one of the most complex attractions designed by Walt Disney Imagineering to date. Not to mention one of the most eagerly new anticipated rides in the world.
When Rise of the Resistance first opened at Disney World in Florida in December 2019, and at Disneyland in Californa the following month, fans were bursting with excitement to finally experience this epic ride. It is located within the new Star Wars: Galaxy's Edge themed land, where guests are immersed into a rich new world – Black Spire Outpost, on the planet Batuu.
Star Wars: Galaxy's Edge opened last year, and fans had already been getting glimpses of the new ride as they enjoyed the other attractions on offer. For example, Millennium Falcon: Smugglers Run, Oga's Cantina and the Droid Depot.
Paul Bailey first joined the Walt Disney Imagineering team in 2015, where he led the concept development for the technology underpinning the storytelling throughout Star Wars: Galaxy's Edge. Then, in 2017 he took on the role of Principle Technical Director, working on the themed land's highly-anticipated new ride – Star Wars: Rise of the Resistance.
He spoke to blooloop about the experience of being a part of such an exciting project and what it took to make the ride a reality.
A 'mind-blowingly massive' project
"The scale of what they were endeavouring to do was just mind-blowingly massive," says Bailey, on his reaction at first joining the team and learning about the concept. "It was way beyond anything I had ever seen or hoped to experience before."
He begins by giving an overview of the guest journey for the Rise of the Resistance ride:
"You're on the planet Batuu and you have an opportunity to go and join the Resistance. So, you find your way out to the outskirts of town, to the resistance base. This is kind of a local, temporary installation. Here, you get inducted into the resistance and receive a message from Rey, which is your mission."
"You board a transport ship, and you're going to head off to the real resistance base, where all of the main resistance members are. You blast off into space. And just as you get outside of the atmosphere, you are captured by the First Order and pulled into a star destroyer."
Rise of the Resistance provides a seamless guest journey
"You disembark from the ship that you've left Batuu on and you step on to the hangar bay of a star destroyer with a garrison of stormtroopers looking you down. Then you're taken off and put into detention."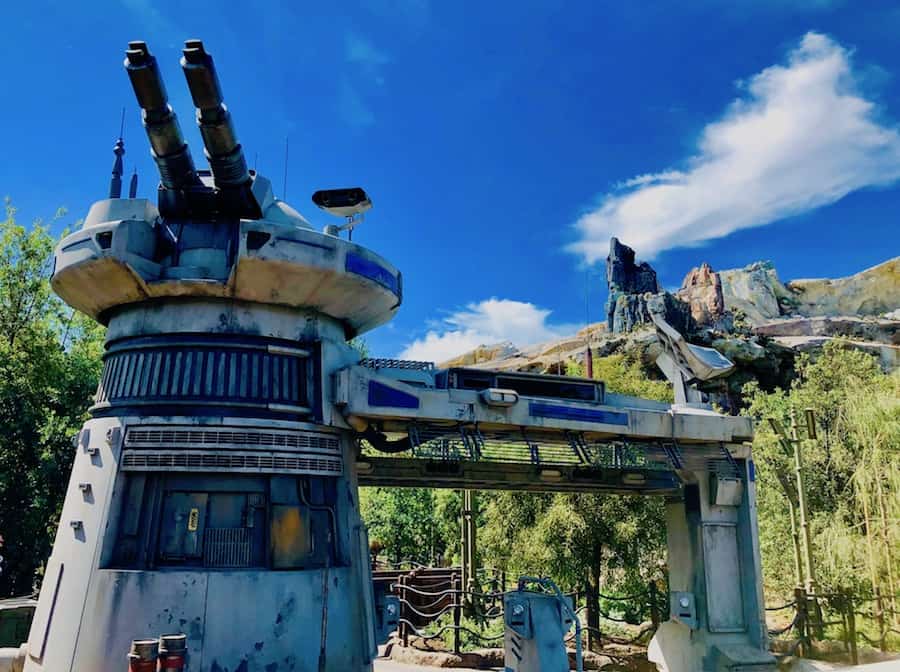 However, all hope isn't lost:
"There are some friendlies, some resistance fighters that have infiltrated the first order and they break you out. They put you on these little transport ships and you ride with a seemingly confused direction, led by your droid, to an escape pod. And the idea is that you are going to leave the Star Destroyer and fly back down to the planet.
"You drive into the escape pod and you blast your way back down to the planet. This is just in the nick of time before the Star Destroyer itself is destroyed."
Creating an immersive experience
There were many challenges in creating such a seamless, in-depth immersive experience, as Bailey explains:
"Well, the machines are massive, obviously. And there's an awful lot of systems that have to hand off between guest area and guest area. Without going into the details of the ride system, you can probably start to imagine all of the technical challenges with that."
"These ride vehicles are trackless. And there is a continuous music score throughout the entire experience, a John Williams score. Then, on top of that, there's the onboard audio and off-board audio. All of those components come together to make something that is technically extremely challenging, especially given variations and timing.
"Then add on top of that, we built this in two places, more or less simultaneously, with two crews. There was a core group of people, at one point in the project, that was travelling back and forth, coast to coast. We also ran three shifts, 24 hours a day.
"So you can imagine the scheduling that needed to occur to plan out who was going to be on what coast, doing what, at what time of day, with what turnaround. That problem alone took an army of people to get their heads around.
"The technical challenges were just astoundingly huge, doing it at scale. The charge from Bob Iger at the time was – have Star Wars be the most ambitious thing that Disney's ever done. And I would argue that Rise of the Resistance is really the most ambitious part of that most ambitious thing. Just based on the scale and the number of components that had to come together to make it occur."
A huge team
Another challenge was the fact that a project of this scale required several different people. More specialists joined the team throughout, for different elements of the process.
"The biggest piece of doing something large like this, in any leadership or management role, is that you spend a significant chunk of your time being an educator, and constantly reapplying the goals of the overall," says Bailey.
"But in doing that, and in setting up the design filters for everybody, you give them the ownership of the item. You allow them to take it and internalise it. You make it part of their personal set of goals where they can flourish along the way.
"That's really the key to doing something massive like this, you have to lead an army through their hearts."
Leading with empathy
On working closely with vendors and external teams on the project, Bailey also says:
"It's about partnership. It's about bringing the vendors and partners in early and having them sit beside you. As opposed to there being this arm's distance relationship. The big trick in managing something like this is the extension of trust. Plus, the extension of a true human understanding of the needs of the other partner."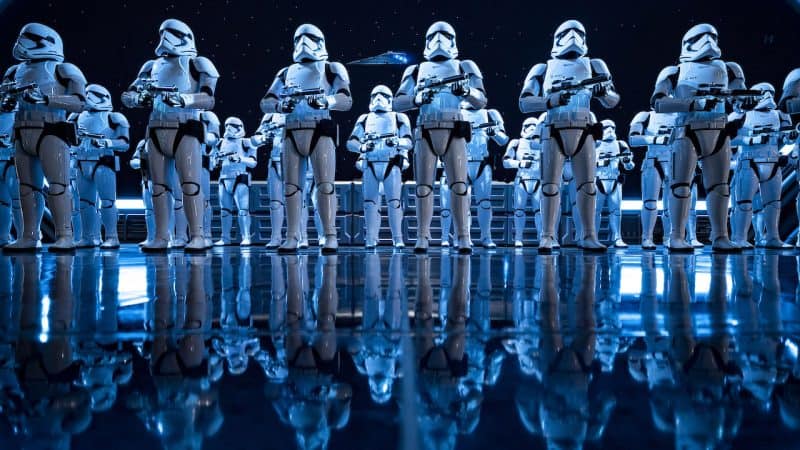 "We had a goal on my team, which was to lead with empathy. We tried to, wherever possible, consider what is going on situationally with the other person. To understand things from the perspective of assuming the best intents. And that approach extended both to the internal staff and the partners themselves.
"Rise of the Resistance was a tough project – any project of this magnitude is going to be tough. And you can't forget that it's the people there that are doing the work. The people are truly are the magic behind making it happen. So, you need to invest in the people by being compassionate, showing empathy, and most importantly, extending trust. That's the magic sauce behind pulling something big like this off."
Finding motivation
"You can't endeavour to invent everything," says Bailey, speaking about the realities of dealing with such a complex project. "You have to pick and choose the moments and the elements.
"Sometimes you find a way to use an off the shelf part and modify it. Or you find an off the shelf piece of software and modify it. Or sometimes you take two or three modified things, and you stick them together to make a new thing, as opposed to wiping the slate clean and starting completely from scratch."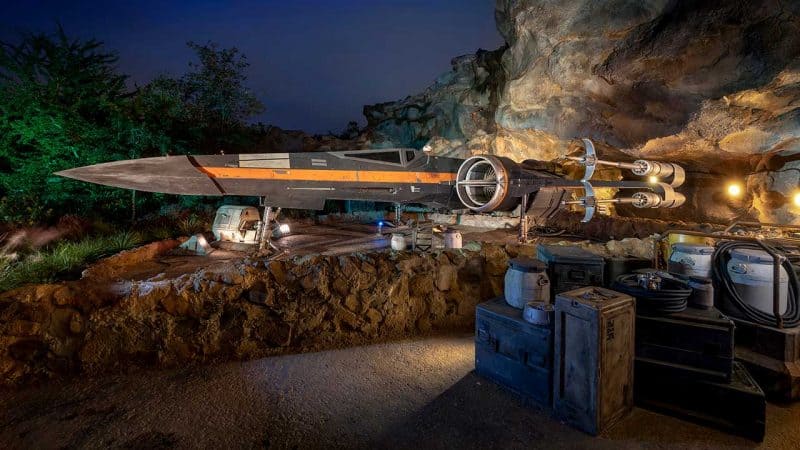 "We had a mantra, at least on my team. It was – just get 10 yards, just give me 10 yards every single day. Just give me a 10-yard day, that's all I need. I don't need touchdowns. I don't need anything crazy. Just 10 yards at a time. Get the stuff behind you that you possibly can, carve away at the scope and come up with a plan."
Budgeting Rise of the Resistance
On such a large project, it can be a challenge to manage the budget. Particularly since there are many complexities and uncertainties at the beginning. Bailey talks about the reality of running to budget on Rise of the Resistance:
"It was a big challenge. Of course, I can't talk in specifics of numbers. But what I can say is, it wasn't lavish by any stretch. It was a big number, but it wasn't lavish. We knew, based on the size of the thing we were endeavouring to build, that we needed to maximise every dollar possible. And we needed to put as much investment in front of the guests as we possibly could."
"So it was really about squeezing every ounce of value that we possibly could out of everything that we were buying. And it really pushed us into entertaining methods and relationships that, otherwise, we may not have done.
"It also hastened a lot of decisions. Because, as any decision or piece of information became stale, it would tend to cost more and more money. We strategically bought some things early and some things late due to the budget. And I think that that helped us to kind of self organise and keep the budget on track."
"We recognised fairly early on that it was going to take a village, no pun intended, to get the whole project done. I think one of the most positive things that came out of it was, aside from the vendor partnerships that we had, the partnership with the stakeholders at the resort.
"The relationship got a lot closer, in some cases there. And it was phenomenal to finally be having conversations about the total cost of ownership when we were making purchasing decisions early on."
A talented team
"The technical side of things on Rise of the Resistance rarely woke me up in the middle of the night," says Bailey. "We had such a tremendously talented group of people. And I knew that that was just a matter of eating the elephant one bite at a time. We had the talent and we had the people applied in the right way at the right time.
We had the talent and we had the people applied in the right way at the right time
"Honestly, I knew that problems would be resolved. Even in the moments where there was a problem that was persisting for days and days. Everybody would turn focus and that would be that. The thing that most kept me up at night was the changes to the schedule. And the effect that had on the humans.
Seeing things come together
Seeing such a complex project take shape was quite an experience, says Bailey:
"For me, seeing the steel for the AT-ATs go up was just astounding. Standing at the foot of one of those things and looking up. Steel always looks bigger in real life. There was something about that particular object which is mind-blowing. That and also watching some of the truly gigantic ride steel come in. I have no idea how that stuff got onto the site. It was bigger than I think I've ever seen."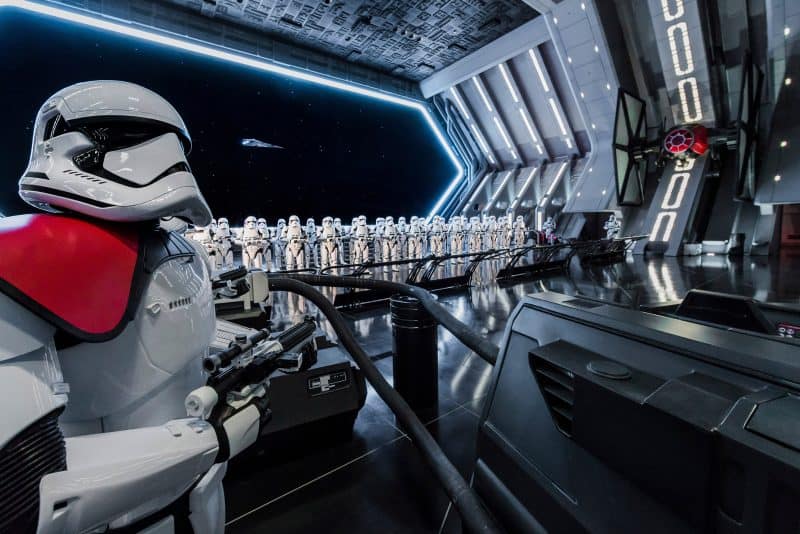 "Going directly from opening Rise of the Resistance here in California, after having come back from opening with the team in Florida and then more or less going immediately into quarantine because of COVID has been a really wacky experience.
"It's a little melancholy in that there isn't the contingent here in California of people enjoying it and tweeting about it on a daily basis."
See also: Fed up California theme parks demand to reopen
The success of Rise of the Resistance
"Watching the faces of the people come off it is astounding," says Bailey. "One of the things that was so striking about this whole project from the beginning to the end is how secretive the information was. The team knew that it was going to be outright fantastic and they didn't want to give anything away.
"It's incredible. I saw women and men weep coming off of it in Florida when it first opened. It's super impactful."
"Most people just come off with their jaw agape. We figured that there would be cheering at the exit. And really more often there was just dead silence, as people were still trying to process. I think that that was when the team really knew that we got them.
"John Larena, [Executive Creative Director for Walt Disney Imagineering] really envisioned and fought for something astounding and game-changing in our industry. For all of the people that he surrounded himself with, all the professionals and all of the different disciplines that brought Rise of the Resistance to life, I think it was a once in a lifetime kind of thing to be a part of."