Over the past 39 years, Sally Corporation has grown from an animatronic specialist into one of the world's leading creators of dark rides and attractions.
Credited with the birth of the interactive (shooting game) dark ride, the launch of Justice League: Battle for Metropolis signalled the company's paradigm shift into mixed media attractions.
Blooloop spoke to Sally Corporation Co-Founder and CEO, John Wood. He spoke about the dark art of creating dark rides that consistently exceed the expectations of both clients and consumers.
And, why a company started by three Johns (John Wood, John Fox and John Rob Holland) came to be called Sally.
Retail – the Road to Nowhere
When Sally Corporation was first established in 1977, the company built moving, reprogrammable animatronic figures that could speak.
Their decision to base themselves in Jacksonville, North Florida, rather than in the entertainment heartlands of Orlando or Los Angeles, might appear counter-intuitive. However, at the time the company had no ambition to woo the leisure industry.
"Initially, we took the animatronics to the retail industry. We believed these moving, talking figures were ideal for promoting certain items, and that we may be able to upgrade visual merchandise with them, " explains Wood.
"But, as it turned out, that wasn't very successful."
In an effort to drum up interest, Wood drove around the state of Florida with an animated character in the back seat of his vehicle. He stopped off to demonstrate to potential customers along the way. It was his decision to call in at a few tourist attractions that changed everything.

One Giant Leap
"I sold a figure to the Kennedy Space Centre, " he says. "And, there I ran into a guy who told me about the amusement park show, IAAPA; he said that was where I needed to be.
"And, we've never looked back since."
Unlike the reluctant retail sector, the IAAPA audience saw the potential in a heartbeat.
"We'd found home, " says Wood.
And, so to the origin of that unusual company name…
"One of the co-founders, John Rob Holland, was a dentist, " explains Wood. "He was the inventor, and had created the first character in dental school to help with a presentation that he had to make. Her name was Sally, named after a classmate, and it just stuck. When we were going after the retail industry, we thought it was appropriate as a name, as it's memorable. It was less appropriate when we morphed into the theme park industry. We kept it and it has now become a brand."
Animated Musical Shows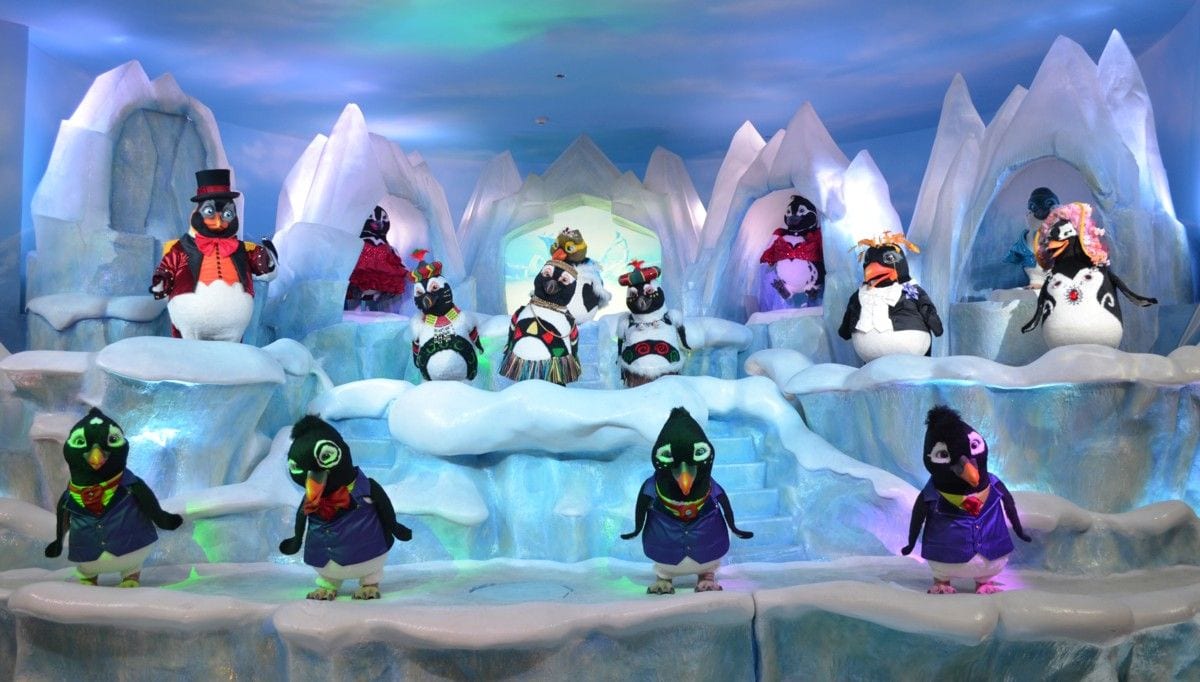 That brand initially took root in the world of family entertainment centres where animatronics were soon in high demand.
"We created a number of animated musical shows for Chuck E Cheese Pizza Time Theatre and Showbiz Pizza Place, which took our technology and our entertainment value to a new level, " says Wood.  "We expanded our design department, our sculpt and mould and art department, and brought in people who were good at writing scripts, producing soundtracks and likeable entertainment formats."
For various reasons including restructuring of the Chuck E Cheese brand, that work dried up.
"We looked around, and said, what do we do now? The obvious choice for Sally Corporation was to follow in Disney's footsteps. We should attempt to rejuvenate dark rides and the regional theme park market.
"Our big break probably came about that same time when we landed a big project called Baltimore Power Plant, with Six Flags and Gary Goddard."
Baltimore Power Plant
Baltimore Power Plant was Sally Corporation's first major production. The attraction, which opened in 1985 in a former power station, was a museum theme park, themed around a fictional eccentric inventor, Phineas T. Flagg and featuring faintly macabre robotic carnival exhibits, with a turn-of-the century feel.
Its steampunk ambience (which might have found favour in later years) coupled with the bold decision to dispense with rides, failed to attract the crowds. Baltimore Power Plant closed after just two years. However, as far as Sally Corps was concerned, the sizeable project had served a purpose, raising their profile and extending their mastery of animation technologies, show control and the technical form.
"There, we took another major step forward with technology; the ability to control the 72 characters in the show that we built, the' Magic Lantern Theatre', with rotating turntables and animated props. It helped us move our art, entertainment and technology to new levels. It also exposed us to a lot of other suppliers in the industry that proved valuable to us in the long term."

Sally Launches its First Interactive Dark Ride Concept
This was the moment that Sally Corporation turned from musical shows towards bringing a dark ride component to regional theme parks. At the 1986 IAAPA they showcased their first interactive dark ride concept, Ghostbusters: the Dark Ride.
"The concept got a lot of people's attention, " says Wood. "We were recognised as a company who could do a dark ride from that point on, even though we didn't make the sale."
Sally has since produced more than 60 dark rides around the world, many of them combined interactive games and themed attractions.
"We looked at different ride manufacturers, at scenic contractors, special effects people. As our company grew, we took on more and more responsibilities for our rides, doing more of the actual work for each, rather than sub-contracting."
The company landed a number of refurbishment projects, among them one at Alton Towers, one at Candy Lake, and one, a small, cost effective ride: the conversion of a former Mexican restaurant at the declining Family Kingdom, Myrtle Beach. This landmark, family-oriented, interactive dark ride concept was The Great Pistolero Roundup.
The Great Pistolero Roundup
"This was the first actual interactive dark ride that we designed and built, " says Wood.
A hit with both adults and children, it was something completely new. Complete with animatronic characters, reactive cartoon pop-ups and props it was designed for the existing building.
The Great Pistolero Roundup earned IAAPA's Brass Ring Award for Best New Product (Major Rides and Attractions) award. It was honoured again the following year in the Family Entertainment Centres category.
"After completing the first design-build, we were pretty much solidly a dark ride company at that stage. And, from that came the North Pole Adventure, Ghost Blasters, Scooby Doo's Haunted Mansion and a variety of other attractions we've built since.
"We refined our approach, continued to develop new concepts, then landed our first design-build complete dark ride in Tokyo: Zombie Paradise."
One of the largest haunted-type dark rides in the world, Zombie Paradise, used the first trackless ride system.
Challenge of Tutankhamon
"Our second big break probably came when we got a project at Six Flags Belgium (now Walibi) where  we were able to create what is still one of my favourite rides: a fully animated immersive attraction called Challenge of Tutankhamon, with a multi-ending trackless ride vehicle, interactive with our laser system, it has a good pace and is a quality experience all the way through.
"I'm told it's still one of the most popular rides at the park."
According to Wood, the most interesting project is 'always the next one':
"But, in fact, that would be the movement we took first in Australia with Justice League:Alien Invasion at Warner Bros. Movie World."

Justice League: Battle for Metropolis
"Then, we worked with Six Flags Corporation to create the more dynamic Justice League:Battle for Metropolis. We integrated video action and interactivity into a practical environment, featuring Oceaneering's multi DOF (degrees of freedom) motion-based simulator dark ride vehicle.
"We saw the trend when Toy Story Mania came out and interactive dark rides shifted definitively towards video media. It was at this point that we took the decision to make a paradigm shift into a mixed-media interactive attraction. There were other similar attractions, of course. Spiderman was always inspirational to anyone in the dark ride business.
"We felt, at this point, we could take everything we had learned and combine all the factors that worked very effectively in our standard dark ride attraction, with an upgraded interactive video technique, 3D, and a motion-based simulator dark ride vehicle, like the one we get from Oceaneering , and we were really able to create a true blockbuster attraction.
"Justice League: Battle for Metropolis is a very special family ride.
"We're doing three more this year: one in Atlanta, then California at Magic Mountain, and then New Jersey."
Technology aside, storytelling is, and always has been, a key component of rides.
"If you don't have a back story, it's difficult to create lasting appeal, " observes Wood.
"Every one of our rides has a story, and yet in some, the story plays truer than the game. The game is an integral component."
Three Key Components of a Dark Ride
"There are three key things you need in a dark ride.
"One of them, obviously, is marketability. A new attraction drives more people through the gates. Our dark ride has to be a serious attraction.
"It has to have the ability to keep up with capacity. If you have one it's a big demand and you have to create that capacity.
"And, it has to be repeatable. In a regional park, they really are dependent on people coming more than once a year. If the dark ride is just a story ride, it has diminishing returns over a period of time because guests already know the ending.
"But, if it's an interactive ride, then it's different every time, because you're competing with other people; you're finding new elements and targets; it becomes not a new experience, but a different experience every time you play. Interactive dark rides remain just as popular as they were when they opened, 10-15 years ago. They're still getting the same numbers."

Dark Rides, Projection and Evolving Technology
Where is technology evolving fastest in terms of delivering a better ride experience?
"Interestingly, it's mostly on the projection side that things are changing. There are new projectors; as you know, you start with a 1080 base, then 2k then 4k. The resolution quality in our video game world is so lifelike, and so personal. That technology is evolving, and so is the ability to project it. We're looking forward to the laser technology that's just around the corner, but they just came out with 4k and it's evolving pretty quickly, as is the video game quality.
"So, when you're shooting at the Joker's henchmen, they react, and it's not pre-rendered, it's self-rendering. When you hit a target, the window breaks. The fire in the gas barrel explodes. And, all of that is rendered in real time. So, it's a really strong element that gives you a much stronger feeling. And, the integration of it is obviously very special, too. With the show and the show elements around it, it's a real machine. It takes a lot of preparation on the front end to make it work every day consistently."
Closer Than Ever to Disney and Universal
"This evolution of taking a dark ride and turning it into a major attraction is a lot of fun. We're closer now to the strengths of Disney and Universal than we've ever been, " he says.
"And, they will continue to develop dark ride experiences. We will enjoy and work from and try to emulate these for our customers. We've just begun to really penetrate the storytelling capabilities of dark rides and regional parks. It proves that they're popular, reliable and they can be a significant major attraction for the regional park.
"One of the advantages of what we're doing now is that we're working with some other great people in the industry. These are the suppliers, ride manufacturers, various scenic people and the studios in LA that provide the professional voices and talent. It's an evolutionary process, and we're enjoying the opportunities that await."
What is it about Sally Corporation that has allowed it to successfully ride out the market's frequent squalls and occasional storms for nearly four decades?
"Probably fear of failure, " says Wood.
"I think it's because we are decent businessmen. We understood that you needed to have the ability to run your business. You need to keep it alive, save your money and keep it for a rainy day. But, I think it is also the fact that whenever we ran into a wall, we would huddle and try to figure out how to scale that wall. And, we have a good reputation in the industry, and there was is ongoing need for our type of product.
"I'm excited about the future, " he says.
Image credits: Sally Corporation
Save