The first of Disney's two Star Wars themed lands is now open. Brady MacDonald was at the four day media event for the grand opening. Here are 51 Star Wars: Galaxy's Edge photos to show you what it's like inside Disneyland's newest land
Star Wars: Galaxy's Edge has finally arrived at Disneyland and we have a sneak peek for you inside the Black Spire Outpost village on the Star Wars planet of Batuu, the setting for the new 14-acre themed land.
These photos take you inside the Millennium Falcon: Smugglers Run attraction, Oga's Cantina, Savi's Workshop – handbuilt Lightsabers, Droid Depot, Docking Bay 7 Food and Cargo, Ronto Roasters, Dok-Ondar's Den of Antiquities, Toydarian Toymaker, Creature Stall and much more.
Black Spire Outpost
The Walt Disney Imagineering and Lucasfilm creative teams built an elaborate backstory for Star Wars: Galaxy's Edge. It is a story of mythology, folklore and culture. It provides a rich history to Black Spire Outpost, a remote village on Batuu.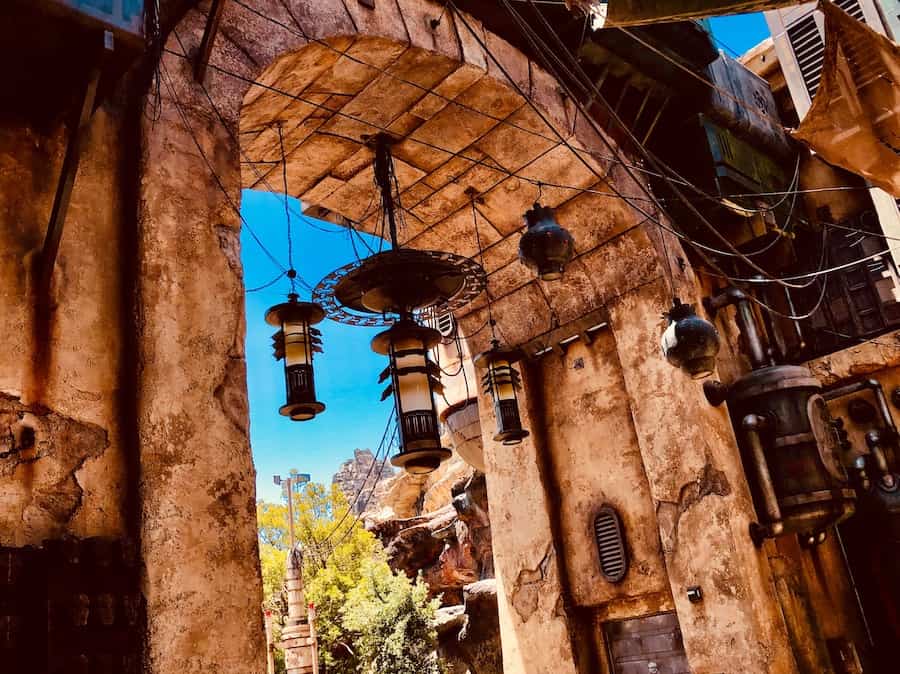 Millennium Falcon: Smugglers Run
The first of the two major rides at Galaxy's Edge is now open. Millennium Falcon: Smugglers Run takes visitors on a thrilling, interactive experience.
This motion-simulator ride allows up to six people to sit in the cockpit and fly the ship. They can also fire its cannons and manage its controls.
Black Spire Marketplace
The marketplace at Black Spire Outpost is home to a number of vendors. These include the Creature Stall, Black Spire Outfitters and the Toydarian Toymaker.
Oga's Cantina
Oga's Cantina is one of five food and drink locations at Galaxy's Edge. Its design was inspired by the Mos Eisley bar where Luke Skywalker met Han Solo in the original 1977 "Star Wars" film.
Savi's Workshop — Handbuilt Lightsabers
One of the ways in which Disney is pushing the envelope with Galaxy's Edge is the range of interactive expeirnces available to visitors. These include building lightsabers at Savi's Workshop.
Droid Depot
Another of the nine immersive, shopping experiences at Galaxy's Edge is the Droid Depot. Visitors can create – and then buy – their very own droid.
Docking Bay 7 Food and Cargo
This themed restaurant will serve a range of spicy meals. Cargo crates double as eating stalls. Dining options include Fried Endorian Tip-Yip (fried chicken with roasted vegetable mash and herb gravy) and Kaadu Ribs (sticky pork ribs with blueberry corn muffin and cabbage slaw).
Ronto Roasters
Ronto Roasters  features a giant podracer engine as the cooker. The eaterie is all about the "meat and the heat". Food will include turkey jerky and the signature Ronto Wrap (a pitta bread filled with grilled sausage, roasted pork, cabbage slaw, and a spicy 'clutch sauce').
Dok-Ondar's Den of Antiquities
Dok-Ondar is a hammerheaded alien with bulging eyes. He also boasts  two mouths in a curved neck.  The audio-animatronic shopkeeper is a dangerous creature who tends to barter with customers.
Toydarian Toymaker and the Creature Stall
The Toydarian Toymaker sells toys and games. He also sells musical instruments and a collection of dolls  based on Star Wars heroes and villains.
See also: Breaking down the costs of Disneyland's $1 billion Star Wars: Galaxy's Edge
The Creature Stall is another opportunity to buy out-of-this-world merchandise. It features a lineup of interactive toys including a groaning Tauntaun, an oinking Puffer Pig and a wailing Wampa."
The Rise of the Resistance
Disney has confirmed that Rise of the Resistance will open later this year at both Disneyland and Hollywood Studios. The second major ride at Galaxy's Edge (after Smuggler's Run), it promises to be, "the most epic attraction Disney ever built".
Galaxy's Edge will be updated and expanded in line with new Star Wars films and as a result will be in a state of continual evolution.
Star Wars Galaxys Edge photos kind courtesy Brady MacDonald.