Tayto Park, Ireland's only theme park, re-opens in April 2017. Themed around Ireland's most famous crisp brand, the amusement park is located in Kilbrew, near Ashbourne in County Meath.
Just 30 minutes from Dublin City Centre, Tayto Park has become a hugely popular attraction since it opened in 2010. It now attracts around 800, 000 people a year. Owner
Ray Coyle expects the upward trajectory to continue and hopes for 1.5m people by 2022.
The theme park hosts a variety of activities and attractions for all ages in an idyllic setting. The attraction is also known for its zoo, and its factory tours.
Blooloop spoke with Charles Coyle, Tayto's Park general manager, about this Irish success story, and probed his plans for the future.
Charles Coyle (below) is the son of entrepreneur and Tayto Park founder Ray Coyle. He started working for the park just ahead of its opening in November 2010. In 2012 he started running the operational side of the park, in conjunction with others. He became general manager around the middle of 2013.
From Tokens to Wristbands to an All-inclusive Price
At present visitors pay a ticket price for entrance. This costs €15 for visitors over three years of age (with discounts for senior citizens and students). Under-threes and carers go free. The ticket grants access to the whole park, including the zoo, the factory tour, the playground and a selection of the family-friendly rides. Visitors can buy further rides with tokens.
"The small rides are worth two tokens, which equates to two euros, and go up to five tokens for the rollercoaster, " says Coyle. "Alternatively, you can purchase a wrist band, which costs €15. This is great value, and it's something we try to steer people towards purchasing."
This is the second year that the park has been using wristbands. Coyle hopes that by adding attractions that augment the value of the wristband, customers will perceive their value and other payment methods can be phased out. "Our plan is gradually to move towards an all in one price in a year or two, " he says.

Tayto's Three Keys to Success
Coyle attributes Tayto's impressive and sustained visitor numbers to several factors. First of all, the Tayto brand is known by Irish people the world over. "It receives immense brand loyalty. The fact we are called Tayto Park has been incredibly beneficial. It has been a great relationship for us and Tayto."
In addition, Tayto is the only theme park in the country, guaranteeing the novelty factor. "When we add rides to Tayto Park, we can be certain that nowhere else in the country has them, " says Coyle.
A third factor is the roller coaster. It's the only roller coaster built in Ireland and one of Europe's biggest wooden roller coasters. "When it opened the amount of media coverage we received was fantastic, " says Coyle. "It was on the front page of all the dailies in Ireland. We hit the 6 o'clock and 9 o'clock News as well. That generated a huge amount of publicity for us, and awareness. It attracted people who hadn't heard of us before. But it also showed people who had heard of us what we had to offer. That was a contributor – a huge contributor – to the increase in visitor numbers."
The Power of Mythology and the Environment
The Gravity Group designed The Cú Chulainn coaster. Over a kilometre long, and 32 metres high, it's no kiddie coaster. Cú Chulainn is one of Ireland's most famous mythological heroes. A great warrior with mystical powers, his name means 'Hound of Culann.' The story goes that he killed a ferocious guard dog belonging to a smith named Culann. The great warrior offered to take the place of the guard dog until a replacement could be reared. It's a fitting name for a giant Irish coaster.
Coyle explains that great care is taken to ensure the attractions fit in with the landscape. There's no denying that Tayto is a particularly beautiful park, with a huge amount of greenery. "That aesthetic was one of the reasons we went with the wooden coaster, " says Coyle. "Everything in the park is designed in wood and [with the environment] in mind. The admissions building, the restaurant, all our concession outlets, the cinema building itself are all wooden. It fits in really well with the landscaping of the park."
A Wide Variety of Attractions and Entertainment
Tayto Park has an eclectic array of attractions, appealing to a wide range of age groups. "We have a track train by Severn Lamb, " says Coyle. "It's free to everyone who purchases access to the park and is mainly used by young families. It's incredibly popular, and it's a great looking train."
A fair number of rides come from amusement rides company Zamperla. These include The Endeavour, a 48-seater air ride that reaches a height of 68 feet and speeds of 40km. Meanwhile Windstar (below) allows riders to choose how high they go.
The Rotator is a Frisbee style of ride that spins you round in all directions. It opened in Tatyo Park in 2015 and is made by SBF Visa.
It's not just rides. Tayto Park has a 5D cinema from Simworx. The ultimate is virtual entertainment, it includes sensory experiences such as air gusts and leg ticklers. Tayto also boasts Ireland's only life size animatronic dinosaur attraction.
One of the park's busiest attractions was its first, the hugely popular Ropes Course, which was installed by UK adventure play company Innovative Leisure.
The Third Largest Zoo in Ireland
"We're not just a theme park, " says Coyle. "We also have the third largest zoo in Ireland." The zoo is set in stunning grounds and everything is geared to keeping the park as picturesque and as beautiful as is possible. As Coyle points out, "I mean, look at successful
parks across the world: the successful ones have always been the beautiful ones.
We wanted it to be a picturesque, beautiful place. It is somewhere people can just walk around and enjoy before they even think about going on the rides."
"We have a multitude of animals, " he says. "From amber leopards and tigers, meerkats, birds, right through to otters and squirrel monkeys. There is a huge amount and variety here in the park."
Even if people don't enjoy rides, they can still enjoy a great day at the zoo. "We wanted to try and get animals that you wouldn't see anywhere else in Ireland, " says Coyle. "Most of the animals we have here, you won't see them in Dublin or Belfast. It gives people added value; something else to enjoy."
Tayto Park is expanding its zoo with a new falconry show, set to open later in the year. "Trainers are working with the birds at present, " says Coyle.
Conservation Initiatives are at the Forefront
"We are participating in some important breeding programs and conservation initiatives, " says Coyle. He is keen to point out that the zoo is very far from being simply just a small add-on to the theme park. On the contrary, it is large and significant part of Tayto Park.
The zoo is a member of BIAZA, the British and Irish Association of Zoos and Aquariums. This is the professional body representing the best zoos and aquariums in the two countries. They are also in the process of inspection to join EAZA (the European Association of Zoos and Aquaria). "We're very excited, " says Coyle. "We think we are ready, and hopefully, once the inspection is done, we will begin the process of joining EAZA."
Tayto Park Zoo is also a Balai approved Zoo. The Balai Directive sets out conditions for the import and export of various species.
The Future's Bright for Tayto Park
So what's next for Tayto Park? "There is something in the works from ride company Interlink which will, hopefully, be ready in 2017, " says Coyle. Pressing him for more details, he smiles. "Marketing would kill me, " he says. "But I can say that we're opening a new ride in 2017.
In addition to that, providing numbers go well, there are a multitude of options we are looking at." He won't be pressurised into giving more details. "All I can say at the moment is that they would be the high thrill experiences, the excitement packed rides."
Coyle is certainly keeping coy about a number of other ventures which are, for the moment, being kept strictly under wraps. However he does offer a glimpse of the future.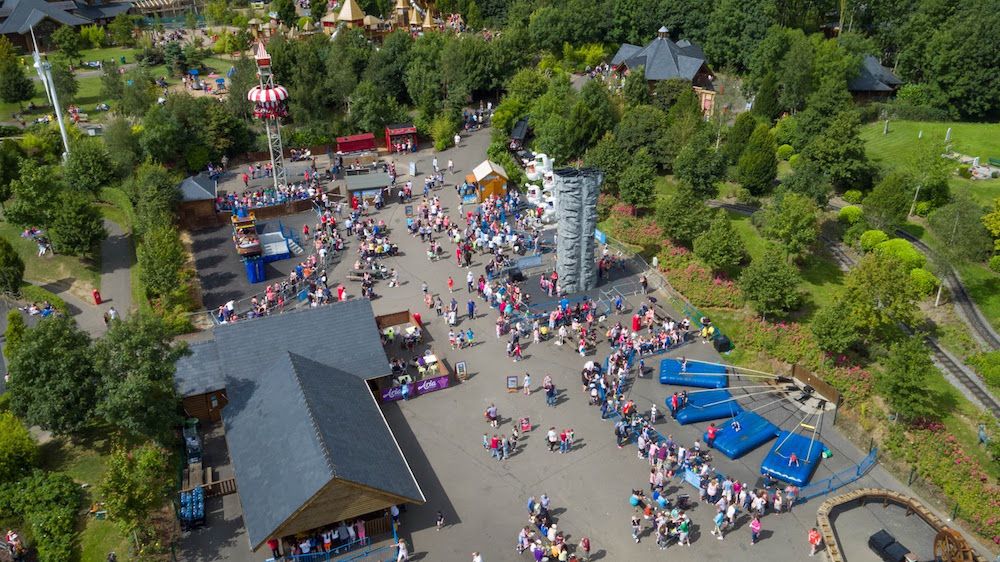 "We will look at the construction of something else in 2018, " he says. "And, if numbers continue to be good over the next three to five years, we will look at doing a hotel. We have early plans and conceptual art but we are not going to commit to anything at this point."
Whatever form the future takes, it's bound to be interesting. Tayto Park may be Ireland's only theme park but it doesn't take its unique status for granted. With its combination of innovation, aesthetics, conservation and white-knuckle rides, Tayto Park is onto a clear crisp winner.