Clark Kirby always intended to go into the family business. Village Roadshow was founded in Aus
tralia by his grandfather, Roc Kirby, in 1954. He began working for the company at the age of four, cleaning the kiddie rides at the family cinema.
However, despite his passion for the business, he went into investment banking after university. He was looking for a way to broaden his horizons.
"It was amazing, wonderful, and I learned an awful lot – but it did reaffirm my love and passion for our business," he said.
Village Roadshow Theme Parks
Kirby has been CEO of the theme park division of Village Roadshow since April 2017. At the time the parks were struggling due to an accident at Ardent Leisure owned Dreamworld the previous year. A raft on the Thunder River Rapids ride flipped over after colliding with another raft.
"Four lives were lost, and it really shook the foundations of the whole theme park industry, both in Australia and worldwide. Since then, it has been a process of bringing people back into the parks and reminding them what an incredible experience theme parks do offer."
Village Roadshow is Australia's largest theme park operator. Its properties include Warner Bros Movie World, Sea World Gold Coast, Paradise County and two Wet 'n' Wild locations.
"I came into the business with the assets being in a great condition. That was a great nod to our former management," Kirby said.
"What I think that I have brought to the company, with my senior executive team, is an initiative called Project Voice, which is all about listening to our customers and listening to our employees."
Project Voice
Project Voice is the key strategy underpinning Kirby's vision. It enables both visitors and staff at the parks to have their voice heard.
"Part of this Project Voice is putting in place the structures and the forums to allow us to listen to our employees, and listen to their ideas, and hear what they are seeing around the park," Kirby said.
"To take one step back, Project Voice is all about the voice of our customer, and the voice of our employee. It is recognition that our customer is central to everything we do, and the customer experience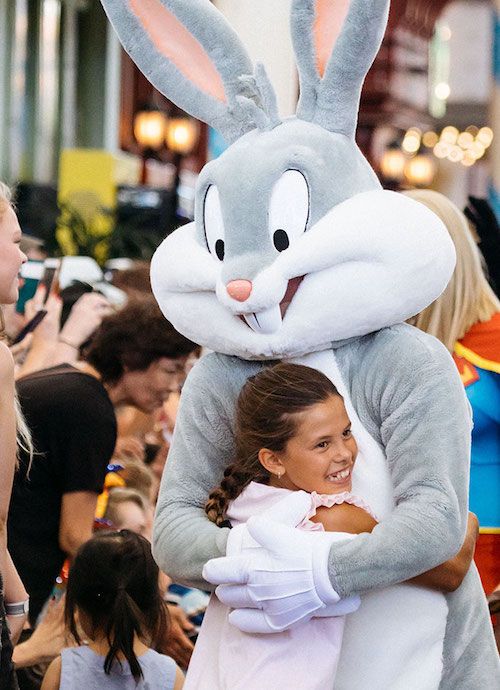 is really the reason we are in existence."
The company set up forums to give employees a space where they can air ideas and suggestions. To get the opinions of guests, Kirby's team is monitoring online forums and conducting surveys in an effort to understand what will impact the customer experience in the strongest way.
Some of the changes made due to this feedback have been simple. They include ensuring all outlets in parks are open from the first moment a customer enters in the morning. This helps create a sense of excitement and theatre, Kirby said.
"We've introduced concierge service, so as you walk in, staff and team members are coming up to our guests and talking to them about their day, helping them find areas or plan their day," he added.
The company has also increased the number of performers in its parks.
"This is something that is incredibly impactful for our guests, and for the children seeing and interacting with the characters."
Changing business practices
The feedback from visitors has caused more wide-ranging changes to Village Roadshow's business practices as well.
"As part of this project, we are removing things like our credit card booking fees," Kirby said. "We are
removing charges for the lockers around our rides. We are changing the fast pass structure. It is all about finding what the pain points are, and what is impacting the day's experience for our customers and reacting to it quickly."
Technology is another area where innovations have made a difference. The company has launched a new app for Sea World that helps guests plan their day at the park. Kirby said that the plan is to roll similar apps out across all parks.
He added: "We have a whole new ticketing system coming in through Accesso, which will allow us to have a much deeper conversation with our customers, to know them a lot better and to respond to and personally tailor the day's experiences for our customers."
The Accesso Passport ticketing suite goes live this spring at the majority of Village Roadshow parks.
Technological innovation
However, Kirby is adamant that technological innovation should serve a purpose, rather than being an end in itself.
"It's a challenge to find that balance, and to resist going too far down the virtual reality side of things," he said.
"We continue to look across our group at different virtual reality concepts and how to integrate them into the experience. We see technology as having a far better digital potential. Not just to sell tickets, but to enhance the customer experience.
"Guests can plan their day, book their rides and have the photos from the day delivered directly to their phone. All these things are coming to the park in the next year."
Nevertheless, Kirby is still looking at ways to enhance existing attractions. The Scooby Doo Spooky Coaster is a case in point. Later this year it will re-open as a dark ride, enhanced with technology that involves projection mapping.
"We are using some incredible technology, integrating it with the traditional theming, so it's going to be extraordinary," he said.
DC Rivals HyperCoaster
Village Roadshow has made a substantial capital investment in its parks over the last couple of years. Kirby is particularly proud of one of the rides they have developed.
"Our new DC Rivals HyperCoaster [at Warner Bros Movie World] officially opened on 22 September 2017. We still consider it as new – it's probably the best all-round rollercoaster anywhere in the world. The experience is just extraordinary."
The DC Rivals coaster – made by Mack Rides – was Village Roadshow's largest-ever investment in an attraction. The most expensive ride in Australia, it is also the longest, fastest and highest roller coaster in the southern hemisphere.
Kirby believes it is vital to continue to invest in the company's parks. "We saw the reaction from the public on the DC Rivals HyperCoaster, and we are keen to look at some big attractions for Sea World here," he said.
Village Roadshow is about halfway through the process of revitalising Sea World. The park has a new splash zone, a new Nickelodeon kid's stage area and a new seal show. In April, a sea jellies exhibition opens, in partnership with Griffith University, that will show the creatures illuminated.
Animal welfare
Kirby is aware there can be a conflict between animal welfare and the need to provide a spectacle.
"We have moved dramatically away from animals performing," he said. "Everything we do has, firstly, a conservation message. Secondly, we try to display the animals in a much more natural environment, to give people a true sense of the animal and how it lives in the wild."
Finding the right balance continues to be a challenge, Kirby added. The company is always looking for ways to highlight the plight of the oceans and the issues the animals face.
Village Roadshow is continuing the work of the Sea World Research and Rescue Foundation, which
launched in 1998. It is a nonprofit organisation dedicated to funding and promoting independent marine research projects.
When looking to the future, Kirby is bullish on the outlook for theme parks. He believes that increased Asian tourism will be an important factor.
"We have two projects underway at the moment, and three major projects through Southeast Asia that are in the advanced stages of negotiations," he said. "We see that the enthusiasm for theme parks right through Asia is only growing."
All images Village Roadshow Theme Parks except Constricor at Wet 'n ' Wild courtesy WhiteWater.